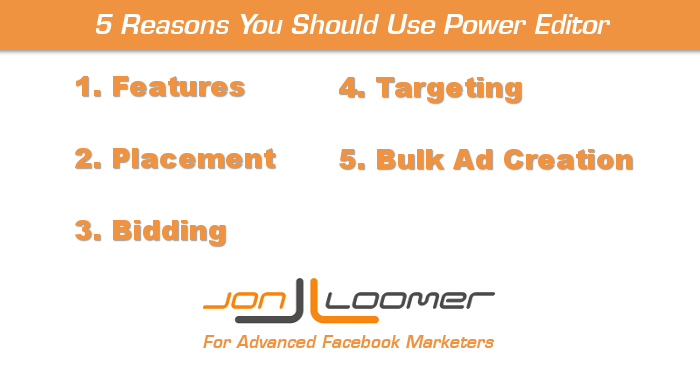 If your experience with Facebook ads revolves around clicking the "Boost Post" or "Get More Likes" buttons, this post is for you.
If the only Facebook ad campaign you've created was through the self-serve ad tool, it's time you start playing with the big boys (and girls).
Stop doing what you've been doing. You're wasting your time and throwing away money. You are shielding yourself from the true power of Facebook advertising.
You need to create all of your campaignsThe campaign is the foundation of your Facebook ad. This is where you'll set an advertising objective, which defines what you want your ad to achieve. More within Power Editor.
Power Editor is a browser plugin created by Facebook as a way to manage and bulk edit ads. Here are five reasons you should be using it…
1. Features
The self-serve ad tool was created for the mainstream marketer. The mainstream marketer isn't ready for more advanced tools and features. As a result, new features are first rolled out to Power Editor and the ads API (utilized by third party tools) before surfacing on the self-serve ad tool (if ever).
You are too sophisticated for the self-serve ad tool. You want the most powerful features available. You are ready for Power Editor.
Since this is constantly changing, I'm not going to make grand proclamations about what isn't currently available in the self-serve ad tool. But I will say that the following features are examples of some of the things that weren't available to the mainstream while first being rolled out to Power Editor:
That's a ton of features! If you aren't using Power Editor, you have no idea what you're missing.
2. Placement
When you click the "Boost Post" button or create a Facebook campaign within the self-serve ad tool, you have absolutely no control over where the ad appears.
Within Power Editor, you can select any of the following:
All Facebook
Desktop
News Feed (Desktop and Mobile)
News Feed (Desktop Only)
Mobile Only
Any advertiser worth their salt knows that it's important to split test ads. And a big part of split testingSplit testing (or A/B testing) allows you to test changes in Facebook variables like ad creative, audience, or placement to determine which approach performs best. More is placement.
The success rate of ads is often drastically different depending on the placement. And the cost also differs accordingly.
So what you should be doing is split testing your ads to determine which placements are most efficient, leading to the lowest cost per desired action.
If you are using Power Editor, you can do this. Otherwise, no dice!
3. Bidding
If you click the "Boost Post" button, you have no control over your bid. It's automatically Optimized CPMCPM measures the cost per 1,000 impressions. It's a good metric to evaluate competition level and costs to reach your audience. More. In fact, you even have very limited options for budgets (you probably know these costs have gone up!).
You could promote the same post through Power Editor and use Optimized CPM, CPM or CPCFacebook reports on CPC (All) and CPC (Link Click). The first refers to all clicks and the second on all internal and outbound links. More. You could set your bid for CPM and CPC. You could set a budgetA budget is an amount you're willing to spend on your Facebook campaigns or ad sets on a daily or lifetime basis. More of whatever you want.
When setting bids within the self-serve ad tool, your options look something like this:

That's it.
Within Power Editor, it looks like this: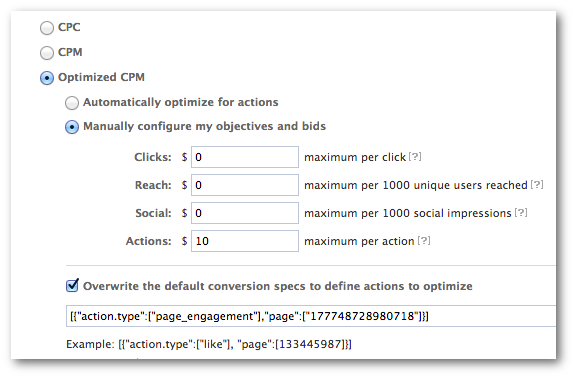 Your options are as follows:
CPC
CPM
Optimized CPM
Automatically Optimize for Actions
Manually Configure ObjectivesThe campaign objective is the ultimate goal for your Facebook ad. Your selection will impact options, including optimization and delivery. More and Bids
Overwrite Default Conversion Specs
That's right, you have far more freedom to customize your bid — and determine exactly what it is you're bidding on — with Power Editor.
4. Targeting
When you create an ad within the self-serve ad tool, you have most — but not all — of the targeting options available within Power Editor. As mentioned earlier, some of Power Editor's features are bound to move over to the mainstream eventually. But you can't currently do the following within the self-serve ad tool:
Create a Custom Audience (you can select one, but it must be created within Power Editor)
Create a Lookalike Audience
Target by Partner Categories
If you click that "Boost Post" button to promote a post, of course, you have minimal control over targeting. In fact, you can't even target Fans-only now.
If you instead promote that post through Power Editor, you can focus your ad spend on a very specific audience.
5. Bulk Ad Creation
You can create a single ad within the self-serve ad tool without much problem. The options are limited, but you can get it done pretty quickly and painlessly.
That said, you should be creating multiple campaigns. You should be creating up to dozens of ad variations. You probably know by now that this is a huge pain within that self-serve ad tool.
Not so difficult within Power Editor. The main reason for this is that duplicating ads takes very little time. And you can use Saved Audiences to easily segment your targeting so that you don't need to waste countless minutes picking countries, languages, interests and more.
Are You Using Power Editor?
It's no secret that Power Editor is clunky and not particularly user friendly. But if you're serious about your Facebook advertising, this should be the only way you create ad campaigns (or with a third party tool that utilizes the ads API).
Do you use Power Editor? What other benefits am I forgetting?