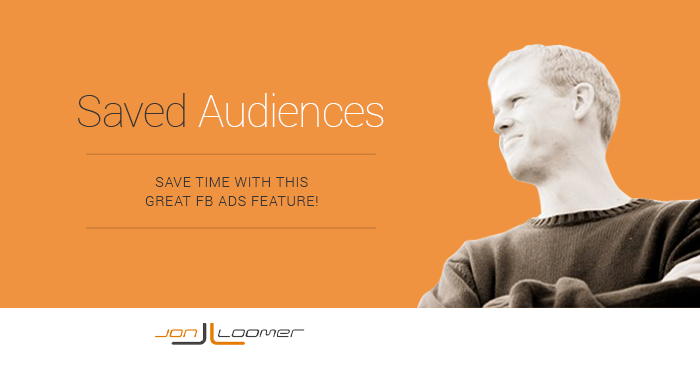 I strongly encourage that you use Facebook Power Editor to create your Facebook ad campaignsThe campaign is the foundation of your Facebook ad. This is where you'll set an advertising objective, which defines what you want your ad to achieve. More. It provides many features not available within the self-serve ad tool, and it also makes bulk editing a snap.
One of the activities that can take the most time when creating many different ads within a campaign (you need to split test!) is the creation of audiences.
When you create an ad, you need to determine the following targeting:
Countries, states and cities
Ages
Genders
Precise Interests
Broad Categories
ConnectionsWithin your ad set, you can further narrow targeting by adding a connection to a page, app, or event that you control. More
Custom Audiences and Excluded Audiences
Interested In
Relationship
Languages
Education
Workplace
That's a lot of stuff! And if you're creating a few dozen ads, it's going to be a major pain to do this for each one!
Luckily, you can create Saved AudiencesA saved audience allows a Facebook advertiser to save often-used targeting settings to easily use later. More (also known as Saved Target Group) so that you can easily select an audienceThis is the group of people who can potentially see your ads. You help influence this by adjusting age, gender, location, detailed targeting (interests and behaviors), custom audiences, and more. More that you're going to use over and over. This will save a ton of time!
[Tweet "One reason to use Power Editor is for Saved Audiences. Save time with this feature…"]
1. Create Audience Using Ad
A shortcut to the creation of a saved audience is to simply find an ad that represents the audience you want to use.
Within that ad, click the button that reads "Create Audience Using Ad."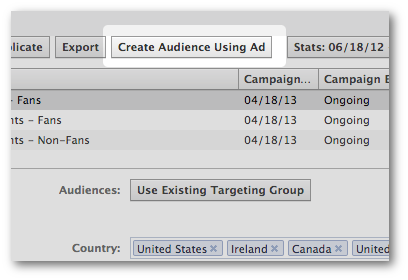 After that, you will probably want to change the name of the audience (by default, it will be the name of the ad it was saved from) for easy reference in the future.
2. Create Audience From Scratch
Otherwise, you can create an audience from scratch. Simply click "Audiences" on the left and then "Saved Target Group."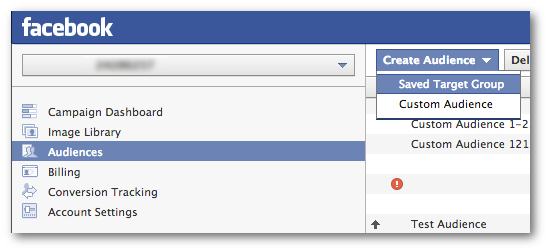 You then create the audience in nearly the same manner you would when creating an ad…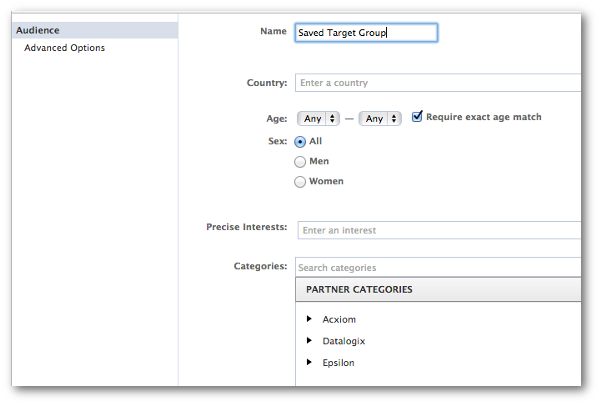 3. Use the Audience
Now when you create an ad, go to "Audience," click "Use Existing Targeting Group" and select the audience you had saved.
Piece of cake!
Need some help? Watch the video at the top!