Facebook has been rolling out new advertising tools at a feverish pace. Have you been able to keep up?
The latest new tool is Partner Categories, which will give Facebook advertisers even more targeting control.
Here I'm going to talk about what Partner Categories are, how to use them and some examples of how you can benefit.
Make sure you watch my video about Partner Categories from my video blog at the top.
What Are Partner Categories?
Here is Facebook's definition of Partner Categories:
Choose your audienceThis is the group of people who can potentially see your ads. You help influence this by adjusting age, gender, location, detailed targeting (interests and behaviors), custom audiences, and more. More based on information that data providers have about things people do off of Facebook. For example, partner categories let you show your ads to people who have a history of purchasing pet food.
Facebook has partnered with Acxiom, Datalogix and Epsilon as sources of this data. As always, advertisers do not have any user info, but only the size of the audience that will be targeted with your advertising.
There are currently more than 500 partner categories, and Facebook will be adding more. The Acxiom categories are focused on demographic info (home owner, renter and annual income) while Datalogix allows you to target users based on their purchase history (type, model and price of car; date of purchase; purchase history of products that include beverages, cereals, children's foods and a whole lot more).
[I don't yet have categories provided by Epsilon.]
The possibilities here are pretty much endless, and I'll get to those later.
How Do You Use Partner Categories?
I've heard that Partner Categories will be rolled out to the self-serve ad tool, but I currently only have it within Power Editor. You need to use Power Editor anyway!
While creating an ad within Power Editor, go to Audience. Under Precise Interests, there is now an option for Partner Categories.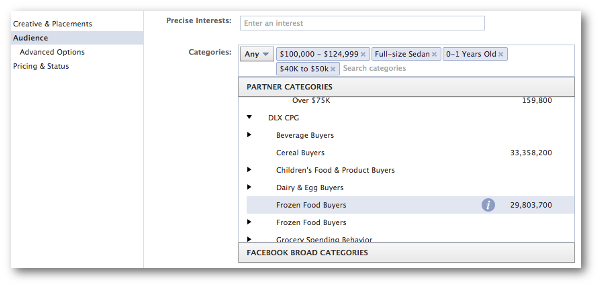 Simply go through and select the categories that apply to your ad. You can use these categories in addition to any other targeting you are already doing like Custom Audiences, Lookalike Audiences, etc.
How Can You Benefit From Partner Categories?
Let's assume you sell new Ford trucks. You can now target people who have previously purchased trucks — even Ford trucks — and live close to your dealership. Even more, you could target people whose trucks are at least five years old.
While you already have some demographic and interests info available for targeting, this provides a much better idea of what someone is willing to buy based on purchase history.
Powerful, powerful stuff!
How Would You Use Partner Categories?
I'm still figuring out how I would use this for my business. How about you? Let me know in the comments below!