A week ago, Facebook announced that they were rolling out a new feature called Lookalike Audiences to advertisers using Power Editor.
A week later, I have it. I'm excited. This could be big.
The purpose of this post is to explain what Lookalike Audiences are, how they could be effective and how you can create them.
What Are Lookalike Audiences?
You may be aware of a Facebook advertising feature called Custom Audiences. With this tool, you can upload your customer lists (email addresses, phone numbers or Facebook UIDs) to target these users in Facebook ads.
This is a significantly powerful tool since it allows advertisers to target users who may have previously proven to purchase from them in the past. If the lists were well segmented, it also allowed for extremely targeted ad opportunities.
Enter Lookalike Audiences.
According to Facebook:
Lookalike audiences help you reach people who are similar to your current customers for fan acquisition, site registration, off-Facebook purchases, coupon claims and brand awareness.
Facebook analyzes your Custom Audience list and creates a new segment that is optimized based on either similarity or reach.
How Are They Useful?
While Custom Audiences tend to be extremely effective since they allow marketers to create highly relevant Facebook ads, effectiveness of such ads can be short-lived since the composition of that list tends to change slowly.
For example, you could target your email list in an ad campaignThe campaign is the foundation of your Facebook ad. This is where you'll set an advertising objective, which defines what you want your ad to achieve. More with the goal of increasing your Facebook Page Likes. Eventually, the people who have not yet liked your Page probably never will.
You've exhausted that list, and Lookalike Audiences allows you to expand that list to reach more — and similar — users who will have similar interests.
InsideFacebook.com reported that a travel site boasts 70 percent lower costs per action using Lookalike Audiences while an online shopping site saw 94 percent lower costs per checkout.
Interested? I know I am. My email list is still rather modest, so this could be hugely useful for me.
I've already created my Lookalike Audiences, but I've only begun to use them. I will report back with results later.
In the meantime, here's how you can create and test your own.
How to Create Lookalike Audiences
Creating a Lookalike Audience is incredibly easy. I assume you've already created a Custom Audience. If you haven't, read this first.
Click on the Audiences menu item on the left. Select the audience that will be the basis of your Lookalike Audience. Then click "Create Similar Audience."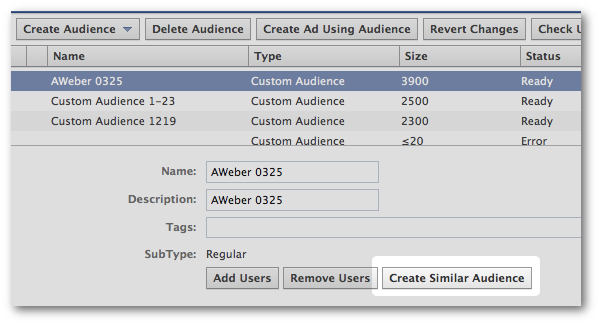 You can only target one country at a time, so you may need to create multiple Lookalike Audiences for multiple countries.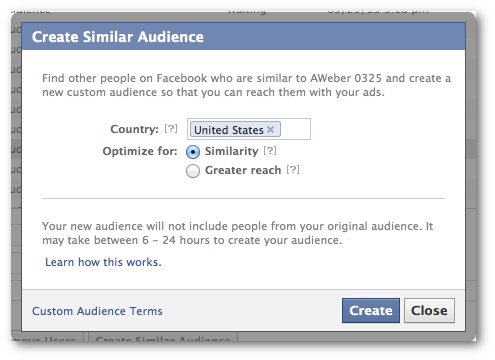 When creating Lookalike Audiences, you can optimize for similarity or greater reach.
Optimize for Similarity: When you optimize for similarity, Facebook will find the people who are most similar to your existing Custom Audience. The estimated Reach of this new audience may be smaller, but it will be precise.
Optimize for Greater Reach: When you optimize for greater reach, Facebook will find more people who are similar to your existing Custom Audience but the match will be less precise.
Facebook says that targeting for greater reach includes the top 5% of users while optimizing for similarity includes only the top 1%. When you optimize for greater reach, that segment will include the list optimized for similarity.
Split TestSplit testing (or A/B testing) allows you to test changes in Facebook variables like ad creative, audience, or placement to determine which approach performs best. More!
As always, it's best to split test like crazy to find what works best. The logical assumption is that optimizing for similarity will be more effective, but more expensive.
I created eight different Similar Audiences to work with. My readers fall into a sweet spot of four main countries, so I created Lookalike Audiences optimized for both greater reach and similarity for each country.
I'm going to then use those audiences as targets in ads for multiple purposes. I'll report back soon with my results!
Your Turn
Try your own Lookalike Audiences. What results are you seeing? Let me know in the comments below!