Back in November, Meta announced that they would be removing detailed Facebook ads targeting options. I covered it on a Pubcast Shot as well. Except, the changes that would be made were far more significant than anyone had expected.
Thousands of detailed targeting options were removed on January 19. Let me tell you: Meta wasn't messing around!
Of course, this may negatively impact your advertising if you rely on targeting options that are no longer available. In this post, let's cover the following:
The targeting that we expected to be removed
The surprise removals
How removals impact current ad setsAn ad set is a Facebook ads grouping where settings like targeting, scheduling, optimization, and placement are determined. More
What you should do
Let's go…
The Original Announcement
When Meta first discussed removing detailed targeting options, the focus was on targeting related to sensitive topics, "such as options referencing causes, organizations, or public figures that relate to health, race or ethnicity, political affiliation, religion, or sexual orientation."
We would see detailed targeting removed related to health causes ("Lung cancer awareness"), sexual orientation ("LGBT culture"), religious practices and groups ("Catholic church"), political beliefs, social issues, causes, organizations, and figures.
My biggest concern at the time was for non-profits that would want to target people who showed interest in their cause. While I understood these updates, I worried most about that specific scenario when targeting would be used for good.
Of course, that was only the beginning.
The Surprise Removals
Once the changes actually went into effect, Meta made another announcement about what it was doing, and the removals would be far more drastic.
The first paragraph (emphasis mine):
Starting Jan 19, 2022, we're removing some Detailed Targeting options because they are either not widely used, they may be redundant with others or too granular, or because they relate to topics people may perceive as sensitive, such as targeting options referencing causes, organizations, or public figures that relate to health, race or ethnicity, political affiliation, religion, or sexual orientation.
I admit that at first, I thought I simply missed this in the original announcement. But that original announcement made no mention of removing options that aren't widely used, may be redundant or are too granular.
Based on reports we've been seeing in my communities, there are a ton of detailed targeting options that were caught up in this. And many have nothing to do with sensitive topics, but instead fall into the other groups.
How Removals Impact Current Ad Sets
If you created ad sets prior to January 19 that use any of the impacted targeting options, they should continue to run until March 17. At that point, expect the ad set to stop running. You'll see a warning on any impacted targeting options you've used.
So, if the ad set is still working well using those targeting options, great. But, you should start planning for an immediate future without those targeting options.
What You Should Do
The easiest solution is to find other interests or use Lookalike Audiences. That's easier said than done, of course, if you've been using tried and true detailed targeting options that have worked great.
You can, of course, use broad targetingIn most cases, mention of Broad Targeting refers to the removal of all potential targeting filters: No custom audiences, lookalike audiences, or detailed targeting. Instead, rely only on location and letting the algorithm do the work. More (gender, age, and location), custom audiences, or turn on Targeting Expansion or Lookalike Expansion. But, I doubt those options will seem all that appealing to those who have found great success with detailed targeting that has been removed.
Here's what I recommend you do to find other relevant detailed targeting options…
Within the detailed targeting text box of your ad set, type in a core audienceThis is the group of people who can potentially see your ads. You help influence this by adjusting age, gender, location, detailed targeting (interests and behaviors), custom audiences, and more. More that fits your needs.

Then click the "Suggestions" link.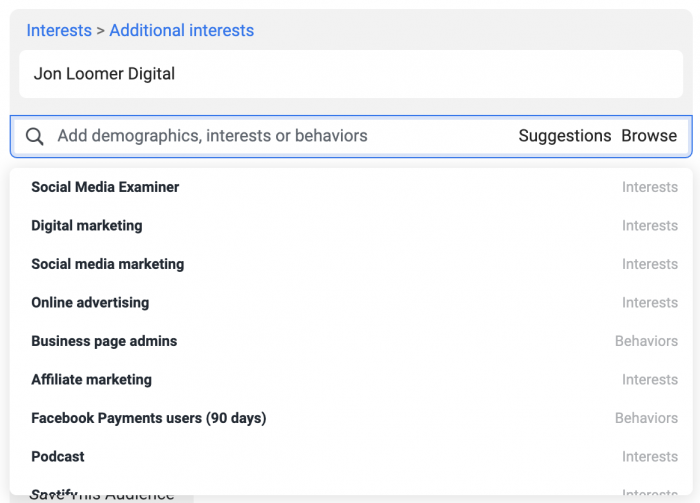 Facebook tends to do a pretty good job of providing related suggestions that you may not have considered. Here are some that are recommended for the "Jon Loomer Digital" interest (luckily, it hasn't been removed!):
Social Media Examiner
Digital Marketing
Social Media Marketing
Online Advertising
Business Page Admins
Podcast
Digital Strategy
Digital Marketing Strategist
Go ahead and add another to see how it impacts the suggestions. Theoretically, giving Facebook more info will help refine the targeting suggestions.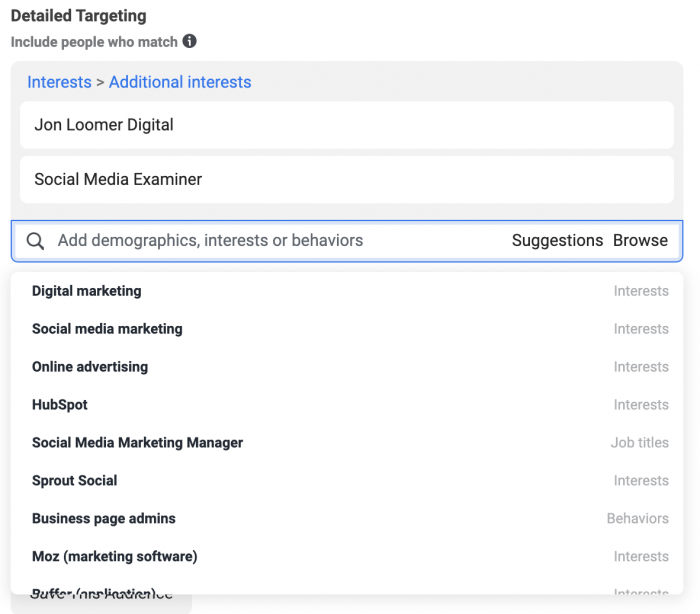 Try it!
Your Turn
Did you have any significant targeting options removed on January 19? What did you do about it?
Let me know in the comments below!