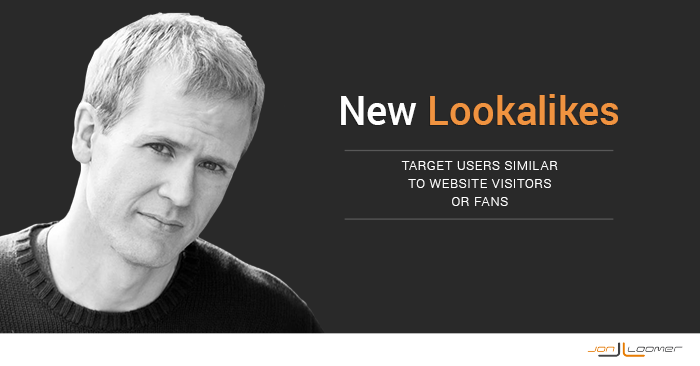 [AUDIO VERSION: I also recorded an audio version of this blog post. Click below to listen. Let me know if this is something you find helpful!]
Facebook announced expanded capabilities for Lookalike Audiences so that you can target even more users who are similar to those closest to your brand.
Let's take a closer look at the following:
What Are Lookalike Audiences?
Lookalikes of the Past
Lookalikes for Website Visitors
Lookalikes for Conversion Pixels
Lookalikes for Pages
Lookalikes for Mobile App Users
How to Create
How to Target
[Tweet "Facebook now lets you target users similar to your fans and website visitors. Here's how…"]
What Are Lookalike Audiences?
Lookalike Audiences have been around since March 19, 2013. They allow advertisers to target Facebook users who are similar to their customers away from Facebook.
Advertisers could ask Facebook to find the top 1% (optimize for similarity) or 5% (optimize for greater reachReach measures the number of Accounts Center accounts (formerly users) that saw your ads at least once. You can have one account reached with multiple impressions. More) of users in a specific country who were similar to their customers.
This is great for expanding the net since small customer lists of 1,000 people could often be turned into Lookalike AudienceLookalike audiences allow advertisers to reach people who are similar to an audience of people already close to you. Lookalike audiences are based on custom Audiences, which tend to include your current customers or people who have engaged with your business. More targeting capabilities exceeding 1 Million users.
Lookalikes of the Past
In the past, this was a two-step process:
Create a Custom AudienceThis is the group of people who can potentially see your ads. You help influence this by adjusting age, gender, location, detailed targeting (interests and behaviors), custom audiences, and more. More
Create a Lookalike Audience from that Custom Audience
In the vast majority of cases, marketers were uploading an email list to create that Custom Audience. Facebook would match up those email addresses to actual Facebook users to allow advertisers to target them in ads.
Advertisers could then turn around and ask Facebook to find users similar to those on that list. While email lists were most common, this could also be done with lists of phone numbers and UIDs.
Lookalikes for Website Visitors
Back in January, Facebook launched Website Custom Audiences. This amazing feature allows advertisers to target visitors to their websites. This includes any general visitor as well as visitors to specific pages.
Soon after, Facebook briefly made Lookalike Audiences available for WCAs. But that period of time was very short-lived. Until now.
This is great news on several levels.
First, you can find users similar to any visitor to your website. If you don't get much traffic, this will allow you to target relevant users while expanding the net from what was otherwise a very small group of people.
Second, you can find users similar to those who visited a specific page of your site. You could use the success page following a conversion, for example, as your basis for a Lookalike Audience. So Facebook would then find users similar to those who bought a particular product (though that will come up again shortly).
Finally, you can find users similar to those who visited a specific section of your site. For this to work, the URL structure needs to include that category within it — or visitors need to be guided to specific landing pages when looking for product types.
An example would be visitors to a retail website that sells men's and women's clothing, shoes, hats and bags. It's important that Website Custom AudiencesA website custom audience matches people who visit your website with people on Facebook. You can then create ads to show to that audience. More be created for visitors to each individual section so that they — or their Lookalikes — can be targeted on Facebook.
Lookalikes for Conversion Pixels
Facebook now also allows advertisers to generate Lookalike Audiences for a specific Conversion Pixel. This would allow marketers to target users similar to those who converted (sale, registration, lead, etc.).
Keep in mind that this can essentially be done via WCA Lookalike Audiences, too. There has actually been talk of merging conversion pixels and Website Custom Audiences, and here is an example of why that may be necessary.
Regardless, a dynamic way to target Facebook users similar to those who have bought from us is an important development. While you could target a Lookalike Audience based on email addresses of customers in the past, that email list was not dynamic.
Lookalikes for Pages
Quite possibly the most interesting development of all. Advertisers can now generate a Lookalike Audience of pages within their control so that they can target users similar to their own fans.
[NOTE: No, you cannot create Lookalike Audiences of pages outside of your control.]
This will be very helpful for brands looking to grow, but lacking substantial traffic or an email list.
Lookalikes for Mobile App Users
Finally, advertisers now have the option of generating a Lookalike Audience of users who currently use their mobile apps.
Mobile App Custom Audiences are relatively new (they came out along with Website Custom Audiences) and allow marketers to retarget those who make specific actions within their apps.
Now they'll be able to target users similar to those who make these actions.
How to Create the New Lookalike Audiences
First, click the Ad Tools drop-down at the top right of Power Editor and select "Audiences."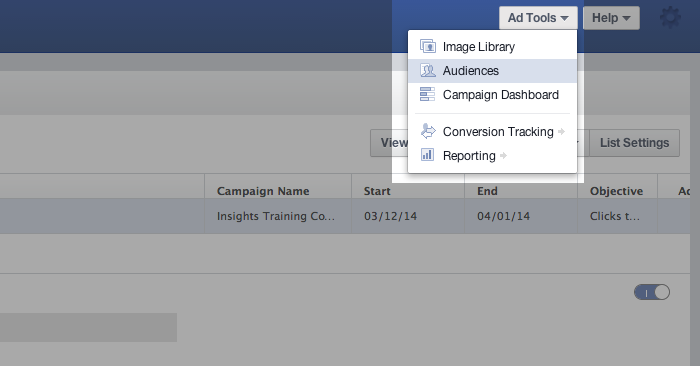 Next, click the Create Audience drop-down at the top left and select "Lookalike Audience."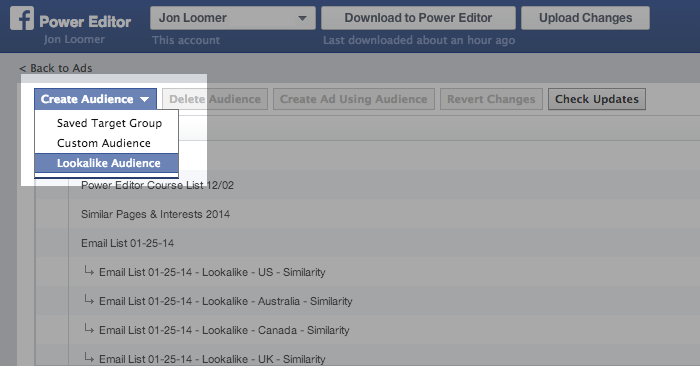 That will give you a dialog that looks like this…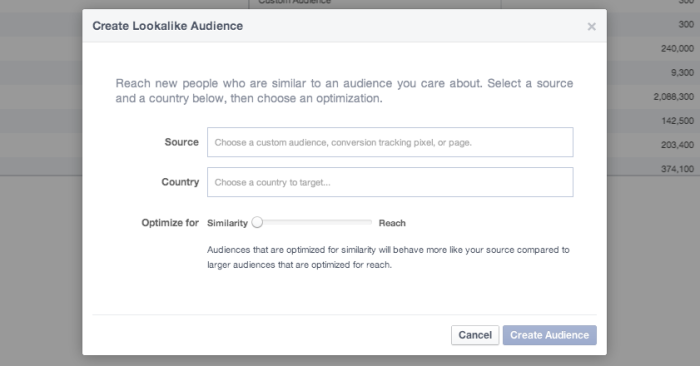 Within the "Source" text box, you can select a page that you control…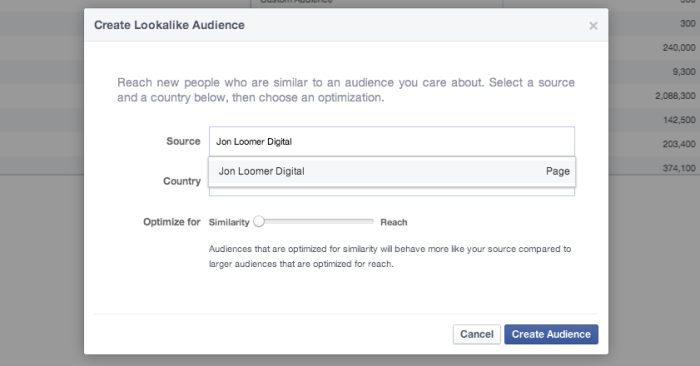 …a Custom Audience (including a Website Custom Audience or Mobile App Custom Audience)…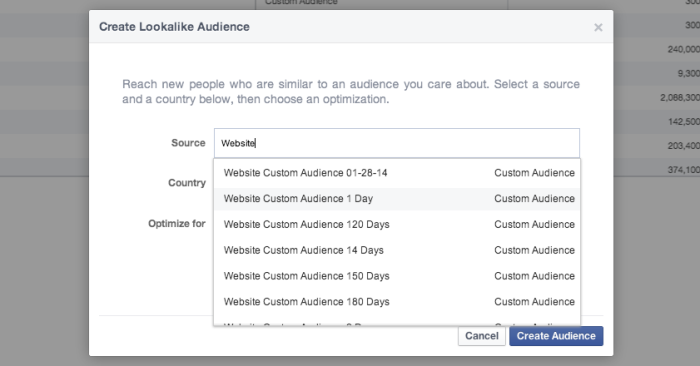 …or Conversion Pixel.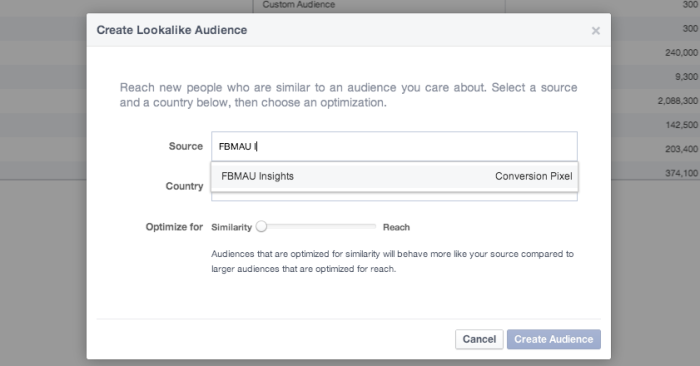 You will then need to select a country (your native country is chosen by default). Note that you can only generate one Lookalike Audience per country at a time. But you can create as many as you want if you want lookalikes for other countries.
Finally, use the slider to determine whether you want to optimize for Similarity or Reach. In the past, Facebook only gave you the option of one or the other. Now you can pick your audience size.
When I keep the slider furthest to the left on Similarity, I can generate a Lookalike Audience for my page of 2.3 Million people…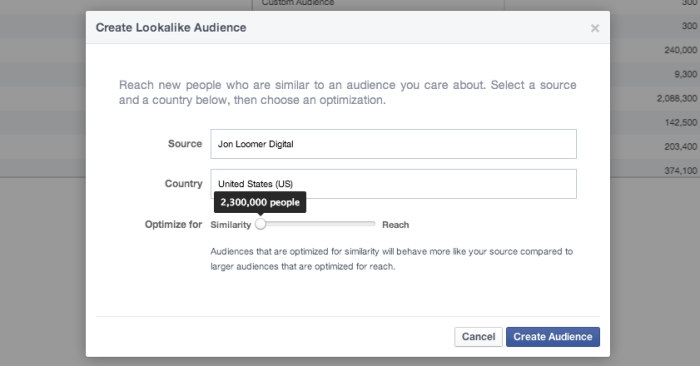 When I move that slider all the way to the right to optimize for the greatest Reach, that potential Lookalike Audience expands to 23 Million…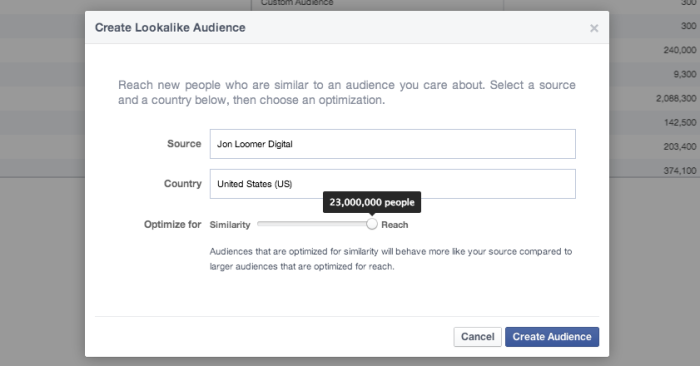 Once you click the "Create Audience" button, Facebook will start building your audience. Expect it to take 6-24 hours to complete.
How to Target Lookalike Audiences
Once that Lookalike Audience is ready, you can target it in your ads.
This is done within the Custom Audiences text field of the "Audience" step of ad creation…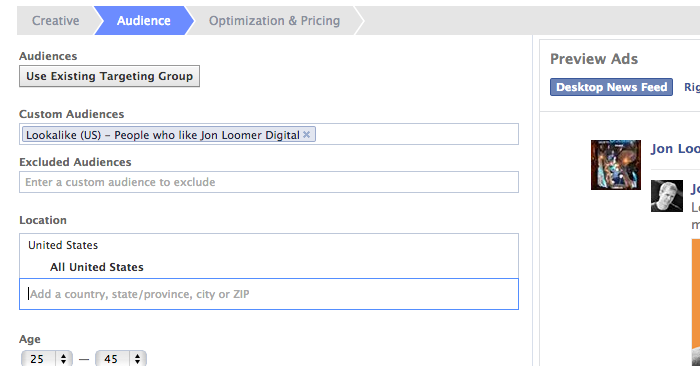 You can also exclude Lookalike Audiences.
Your Turn
Have you started creating these types of Lookalike Audiences yet? What results are you seeing?
Let me know in the comments below!