Dennis Yu wrote a terrific post that opened my eyes about Facebook advertising conversion tracking. If you haven't already, make sure you read it first.
The Most Amazing Thing You've Never Heard Of On Facebook, If You're a Direct Marketer
I've labeled 2013 as The Year for Tracking Success, and this new tool from Facebook needs to be added to your arsenal.
First, let me be clear: You will initially be overwhelmed and confused when you read about Conversion Tracking.
Second: It's actually not that complicated.
Sure, there are some advanced ways that you can apply Offsite Pixels that include Google Analytics. At that point, it does get a bit more complicated.
But the actual creation and application of an Offsite Pixel is actually quite basic. I'm convinced that anyone can do it. Read the following steps or watch my video tutorial at the bottom to learn how and create your own Offsite Pixel today!
The Who, What and Why of Offsite Pixels

Before I get to how you can create your own Offsite Pixel, it's necessary to take a step back and provide a little background.

Conversion Tracking, per Facebook:
Conversion tracking helps businesses measure the return on investment of their Facebook Ads by reporting on the actions people take after viewing those ads. Advertisers can create pixels that track conversions, add them to the pages of their website where the conversions will happen, and then track these conversions back to ads they are running on Facebook. Conversion tracking also helps businesses leverage optimized cost per impressions (oCPM) to show ads to people who are more likely to convert off Facebook.
Conversions, per Facebook:
A conversion is an action that a person takes on your website such as checking out, registering, adding an item to the shopping cart, or viewing a particular page. Virtually any page on your website can represent a conversion, and you can create and add the conversion tracking code on any page of your website.
In a Nutshell: With the help of a piece of code (Offsite Pixel) that Facebook provides and you place on specific pages of your site, you can track much more than simple clicks to your Facebook ads. You can now track conversions.
Additionally, with the help of Optimized CPMCPM measures the cost per 1,000 impressions. It's a good metric to evaluate competition level and costs to reach your audience., Facebook will show your ad to people most likely to perform the desired actions (checkouts, registrations, leads, key page views, adds to cart or other website conversions). Finally, you will be able to track the success or failure of your campaignThe campaign is the foundation of your Facebook ad. This is where you'll set an advertising objective, which defines what you want your ad to achieve. based on actual results.
Based on early returns, costs of such conversions have been cut by 40%. Did I hear someone say "ROI?"
1. Use Power Editor
Don't be scared. It's a simple and free tool, a Chrome plugin used instead of the self-serve ad tool to create and edit your Facebook ads. If you've never used Power Editor before, go here first for a quick tutorial.
You currently need to use Power Editor (or a third party tool that uses the Facebook ads API) to create an Offsite Pixel, though you can technically use the self-serve tool to select Offsite Pixels for your ads later. But this tutorial will be focused entirely around Power Editor to keep it as simple as possible.
2. Create an Offsite Pixel

Within Power Editor, click on "Conversion Tracking" at the top right. Then click "Create Conversion Pixel."

From there, simply name your pixel whatever you want (make it something that is relevant to what you're tracking) and then select one of the following categories:
Checkouts
Registrations
Leads
Key Page Views
Adds to Cart
Other Website Conversions
After selecting a category, click the "Create Pixel" button.
Here is a screen grab for reference.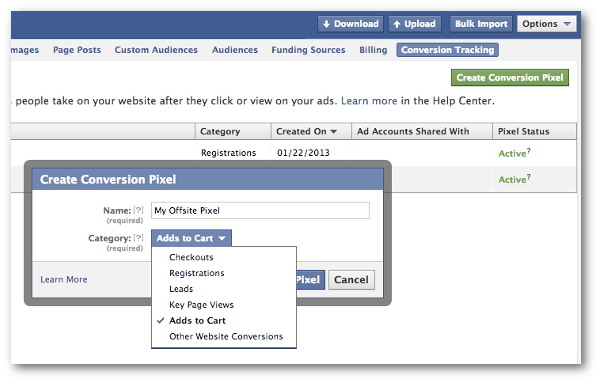 3. Select the Code

You will now see a message indicating that your Conversion Pixel has been created.

Click the "View Pixel Code" button. You will then be presented with some code that looks like this…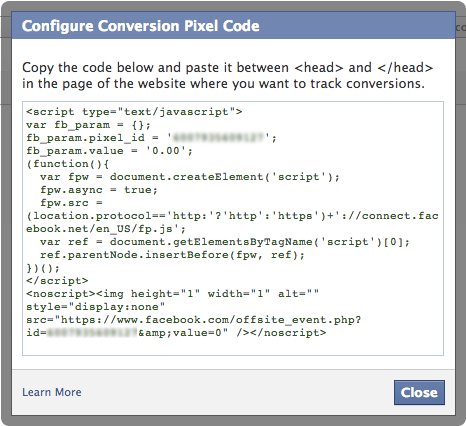 Select all of the code within the box and Copy it.
4. Paste the Code

After copying and closing the code box from the step above, you'll notice that the pixel status is "Unverified." That's because the code needs to be placed on the page of your website that would indicate a conversion.

This should all start to make sense now. When you run an ad that drives people to a product page, for example, you want Facebook to be able to report when that ad resulted in a purchase. You do this by placing the Offsite Pixel code on the page that would be displayed immediately after purchase.

This is an important distinction. It will go between the < HEAD >< /HEAD > tags on the page that indicates success. It shouldn't go onto all pages or even the landing page for your product. It should go on the page that would be shown when the transaction is complete.

Where this is done will depend on your CMS. My website is built on WordPress, and more specifically on the Genesis Framework. At the bottom of my Theme SEO Settings for an individual page or blog post, I have a box for Custom Tracking/Conversion Code. I also build landing pages with Premise. There, too, there is a box for Header Scripts.

Essentially, your theme or CMS should allow you to edit header scripts. This is where you paste the Offsite Pixel that Facebook gave you in the step above.

Once you've added the pixel, refresh the page that has the Facebook code in it. Then go back to the Conversion Tracking area of Power Editor to confirm that your pixel is now Active. You may need to refresh Power Editor.

5. Create Your Ad

Now you create your ad as you typically would, either within Power Editor or the self-serve ad tool (I'm going to assume you are creating your ad in Power Editor).

From the Creative tab of the ad create flow, the final option will be to select an Offsite Pixel. Simply check the box and select the appropriate pixel for this ad.

6. Monitor the Results

Now when you view the performance of your ad within the self-serve ad tool, the "Actions" will actually represent conversions, giving you a much clearer picture of success and making it easier to measure ROI.
Your Turn
Now go try it. Create your own Offsite Pixel and track conversions of your ads. Let me know how it goes in the comments below!