If you're looking to reachReach measures the number of Accounts Center Accounts (formerly users) that saw your ads at least once. You can have one account reached with multiple impressions. More a cold audienceThis is the group of people who can potentially see your ads. You help influence this by adjusting age, gender, location, detailed targeting (interests and behaviors), custom audiences, and more. More of people who are likely to act on your Meta ads, a good place to start is with a lookalike audienceLookalike audiences allow advertisers to reach people who are similar to an audience of people already close to you. Lookalike audiences are based on custom Audiences, which tend to include your current customers or people who have engaged with your business. More.
Sure, you could experiment with interests and behaviors, but that's always a bit of a guess. The nice thing about lookalike audiences is that they are modeled after people who may be your current customers.
Let's walk through it…
What Are Lookalike Audiences?
Lookalike audiences first rolled out in 2013 (when this post was originally published). They allow you to reach people who are similar to your existing customers or others who are closely connected to you.
Lookalike audiences are based on a source audience that you've already created. Meta's system builds it using information such as demographics, interests, and behaviors from your source audience to find other people who are most similar to them.
You can control the size and similarity of your lookalike audience by setting a percentage from 1 to 10 to focus or broaden your audience based on the country or region these people are pulled from.
Source Audiences
Meta recommends the source audience have between 1,000 and 5,000 people, though the quality of that audience also matters. The more closely aligned the source audience is to your goals, the more likely the lookalike audience will be valuable.
For example, if you used a very broad and large source audience, there may be very few tight similarities between those people. Meta may struggle to put together a lookalike audience that will be effective for you.
Your source audience must contain at least 100 people from a single country in order to create a lookalike audience off of it in that country.
How to Create Lookalike Audiences
Go to the Audience Manager section of your Business Tools to create a lookalike audience.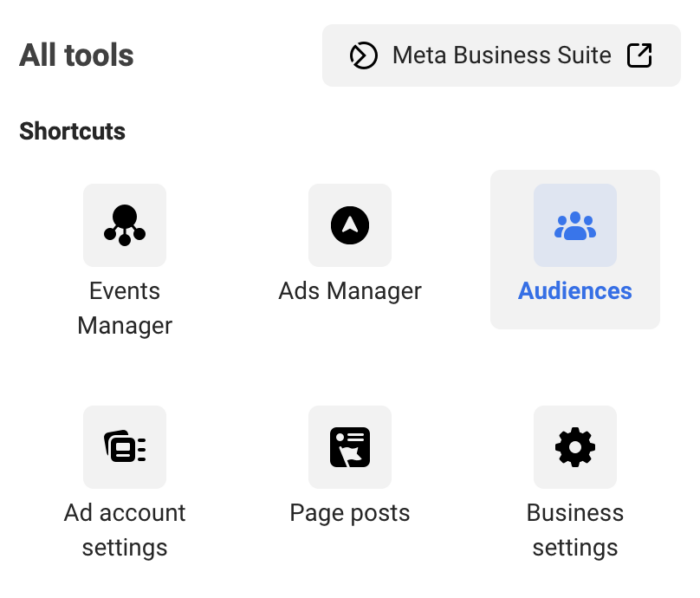 At the top left, click the blue "Create Audience" button and select "Lookalike Audience."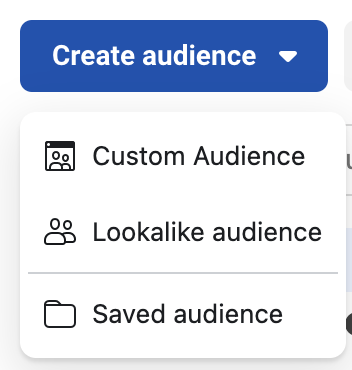 It will look like this…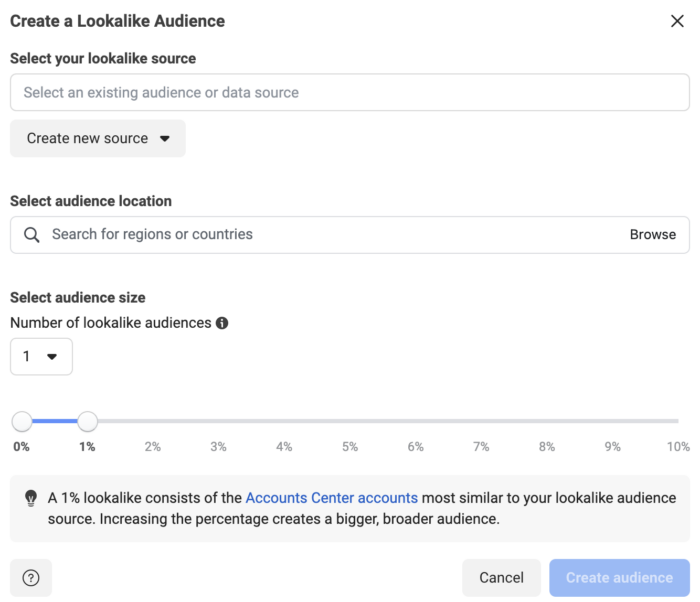 The first thing you will need to do is select a source. Meta prefers you select a value-based source, but it doesn't need to be. Examples of value-based sources would be (assuming you pass value with purchase events)…
Meta pixel
App
Product catalog
Offline events
After selecting the lookalike source, you'll need to select an event source (either Website or Store).

Then select which event with value you want to select. By default, Purchase is selected (and recommended). But you can select another.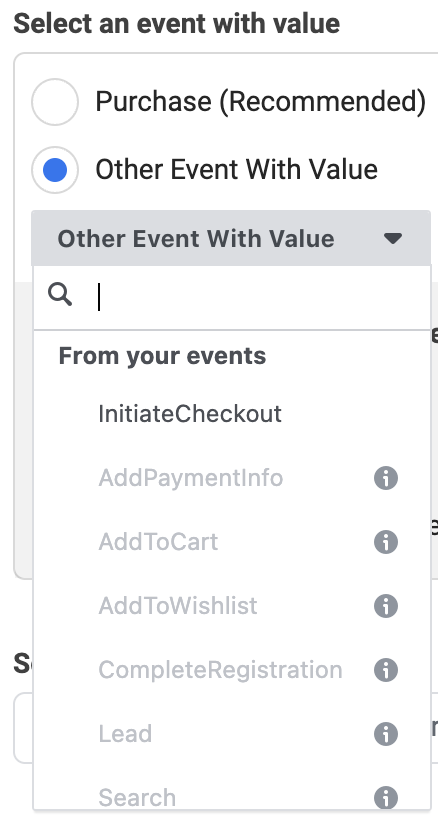 Meta will tell you the highest and lowest values passed as well as the number of unique customers and events during the past 60 days.
Of course, you aren't required to select an event with value. When selecting your lookalike source, there's a tab for "Other Sources."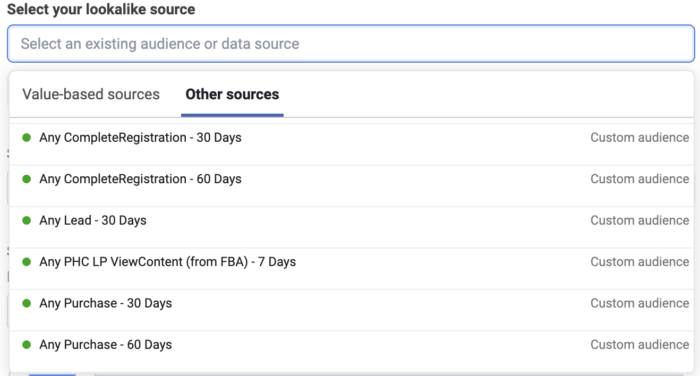 Unlike the Value-Based lookalike source where you could simply select your pixel and an event, you won't have that option here. You'll see a list of custom audiences and page names. You can type the name of an audience into the search bar to find it.
After entering your lookalike source, select your audience location by entering at least one region or country.

Next, you'll need to select the number of lookalike audiences that you want to create. We're only going to create one, but you could create up to six at once if you wanted.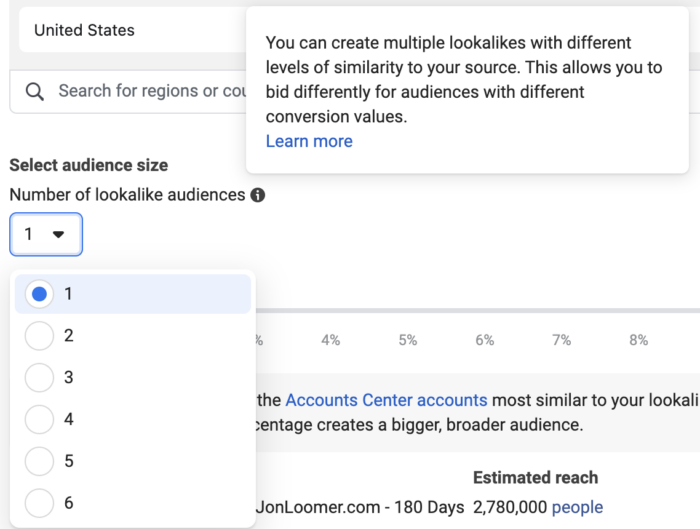 Next, you'll need to select the percentage you want to use. The size of a 1% audience in the United States will always be the top 1% of all Meta app users in the United States who are most similar to your source audience. The size of your source audience won't impact the size of the lookalike audience.
I'm going to use 1% since this is most relevant and still equals 2.8 Million people in the United States. But if you use smaller countries, you may want to increase this percentage.

The final product looks like this…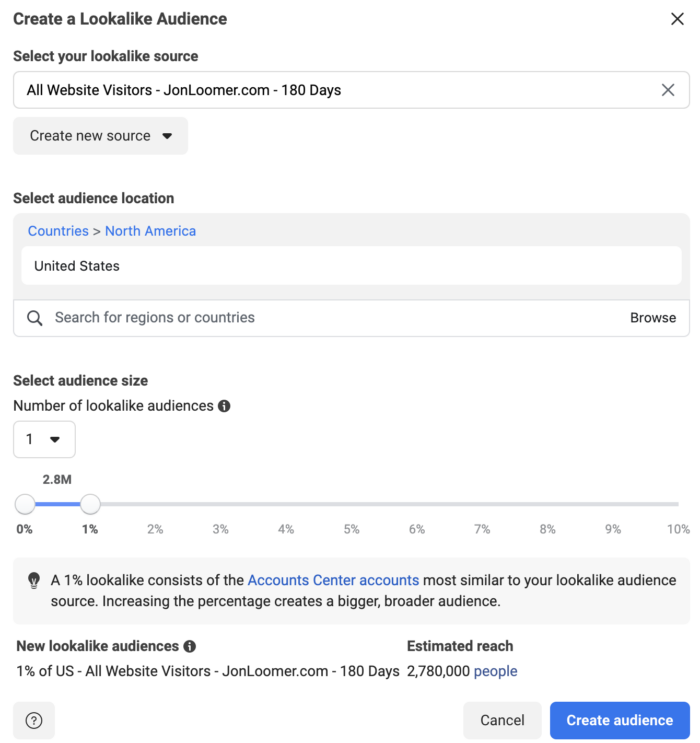 Create from Ads Manager
Another (and possibly easier) way to create a lookalike audience is directly from the ad setAn ad set is a Facebook ads grouping where settings like targeting, scheduling, optimization, and placement are determined. More in Ads Manager.
After selecting a custom audience in the Audiences section, click the little arrow to the right and select "Create Lookalike Audience."

That custom audience will be automatically selected as your source audience.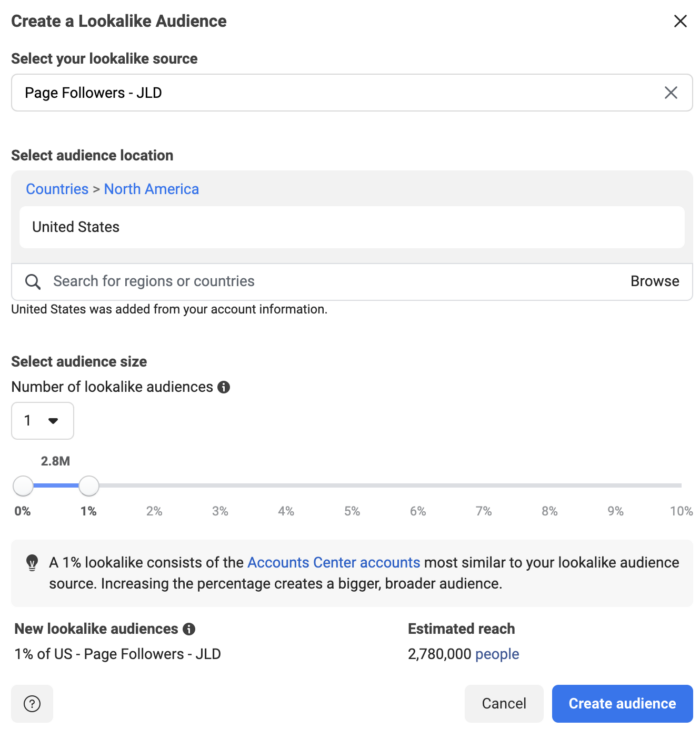 Populating and Updating
Meta says it should take between six and 24 hours for your lookalike audience to populate. However, you can still use it for targeting while you wait.
This audience will continue to update every three to seven days, as long as you're actively targeting it in an ad set. It will stop updating otherwise, though updating will restart as soon as you begin using it again.
Within Audience Manager, there are columns to see when the audience was created and last edited.

Targeting
To target a lookalike audience, enter the name and select it from the Custom Audiences field within the Audience section of your ad set.

Note that your targeting will automatically exclude people in the source audience that your lookalike audience is based on.
You could also choose to exclude a lookalike audience.

Advantage LookalikeWhen turned on, Meta can expand your audience if it believes you can get better results by doing so. That expansion will be achieved by increasing the percentage of your lookalike audience, using the original custom audience for training. More
One reason to go with a 1% lookalike audience, regardless of the size, is that you can turn on Advantage Lookalike. This is one of the Advantage Audience Expansion products.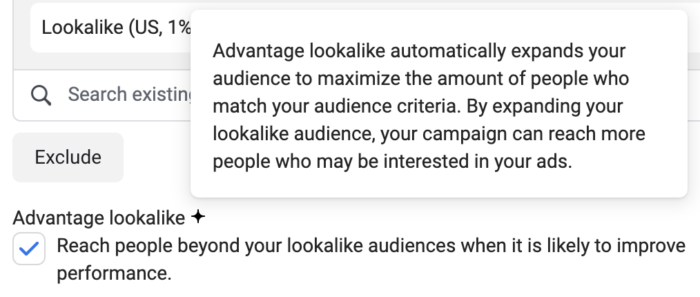 When Advantage Lookalike is turned on, Meta can expand the percentage if it will lead to better results. There are times, based on objectiveWhen you create a campaign, one of the first things you'll do is select an objective. The campaign objective is your ultimate goal. Your selection will impact options, including optimization and delivery. Options include Awareness, Traffic, Engagement, Leads, App Promotion, and Sales. More, when you won't have the option of turning this off.
Should You Target Lookalike Audiences?
Back when lookalike audiences were first launched, they represented a huge advancement in cold targeting. Lookalike audiences simplified the process of finding the ideal group of people to target when prospecting.
Lookalike audiences likely represent a better option than interests and behaviors these days as more interests are removed on a regular basis. But you should still test it.
Of course, completely broad targeting has emerged, as well. Is there an advantage to using lookalike audiences (with or without Advantage Lookalike turned on) instead of removing all targeting filters?
That's for you to figure out. Like everything, there is no universal rule. Always experiment and find what works for you.
Your Turn
Do you use lookalike audiences? What do you think?
Let me know in the comments below!