Last week, I wrote about a little utilized tool called Domain Sponsored Stories that allow you to create Facebook ads around shares of your website content.
It's quite possible that you've never seen one of these — or realized what it was when you saw it. It's more likely that you've never considered creating one.
What's different about these ads is that they are not connected to your Facebook Page in any way. You are leveraging people sharing articles from your website to their friends.
I'll write a separate article about my experiences with this approach (I get a CTR of 1-2%, depending on the virality of my current content), but the purpose of this post is to explain how you can create your own Domain Sponsored Story.
Who Should Create Domain Sponsored Stories
Before I get to the steps involved, let me be clear that this isn't for everyone. If you have a new or little trafficked blog, you're going to create ads that generate no activity.
You need to leverage the traction you already have. The goal is to have someone with a significant following share your content so that Facebook can promote that for you. If very few people share your content — or if those who do have a small following — there are fewer opportunities to generate ads.
If your website already generates a high number of shares, here's how you can create your own Domain Sponsored Story…
1. Claim Your Domain

The first thing you need to do is alert Facebook that you own your domain so that you can generate ads around it.

Within your Insights Dashboard, click on the green "Insights for your Website" button.

Next enter your domain and link it to a personal account, Page or app. If only you need access to the stats, you can link it to yourself. If you need a team of people, select the app or Page so that all admins can access it.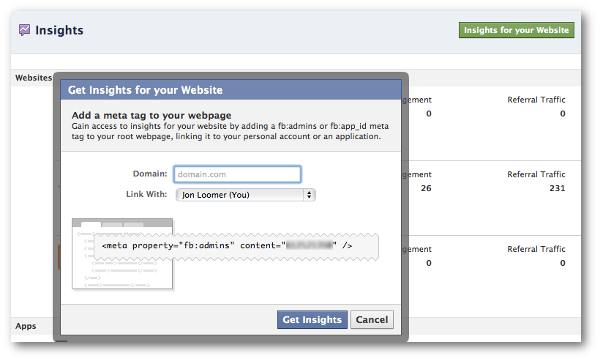 Then copy the code Facebook provides (you'll use that in the next step).
2. Paste the Code

You'll now need to paste the code you copied in the first step between the < head > tags of your site.

Where you do this will depend on your CMS. I use the Genesis Framework WordPress theme, and I can easily add Header scripts within the Genesis Theme Settings or within Simple Hooks. The All in One Webmaster plugin also has a field to enter Header scripts.

There will be two ways to know if you did this correctly: 1) stats begin to accumulate for your website in the Insights Dashboard, and 2) the next step is possible. If your domain isn't set up and claimed properly, you will not be able to select it when creating an ad.

If your site uses subdomains, you'll need to claim each one separately in the same manner.
3. Create Your Ad

You could create your ad through the self-serve ad tool. But I want you to get into the habit of using Power Editor (a free Chrome plugin), so these instructions will assume you are doing it that way. If you need help with Power Editor, make sure that you read this tutorial.

Create a campaignThe campaign is the foundation of your Facebook ad. This is where you'll set an advertising objective, which defines what you want your ad to achieve. as you typically would. See mine below as an example. This is explained in more detail in my video at the bottom of this post.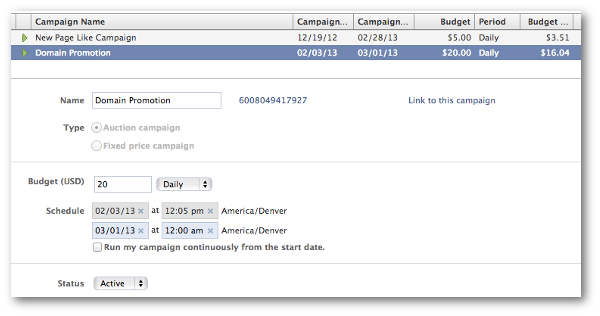 The key to setting this up will be in the Creative step. Click "I want to advertise something I have on Facebook" and then select your domain (should be at the very bottom of the drop-down selections). Then click "Sponsored Stories" and select "Domain Sponsored Story."

From there, set up your ad as you normally would. You may want to target people most interested in your subject matter.
The Results

PageLever had reported seeing close to 10% CTR on their Domain Sponsored Story. As mentioned at the top, I'm seeing about 1% overall, and over 2% on certain days.

It will depend on how viral your content is at that time and who is sharing it. In PageLever's example, they had great success because Sean Parker shared their article. I'm also getting between 15 and 25 cents per click. I'll detail that more later.

Need help setting up your Domain Sponsored Story? Schedule a One-on-One Coaching session!