Some of the most helpful tools are super simple. The Facebook PixelThe Facebook pixel helps advertisers track events that occur on their website and reach people who performed those events with ads. More Helper (is it the Meta Pixel Helper now?) is such a tool.
The Facebook Pixel Helper is a Chrome browser extension. It's not new. But, it's extremely valuable for Facebook advertisers, and it's free.
What is it?
First, you need to use the Chrome browser. If you do, you can add the Facebook Pixel Helper browser extension.
It's a troubleshooting tool that detects the presence of a pixel on the current URL you're viewing. It also detects the standard events, custom events, and custom conversions that are firing.
Let me provide a couple of examples of how it can be used…
Managing Clients
Maybe you're managing a client or are considering a potential client. You don't have access to their Ads Manager, but you want to get a better sense of what they're doing.
An example: I host one-on-one sessions. I'm not a hands-on contractor, but more of a short-term (45 minutes) consultant. I don't have or desire access to your Ads Manager, Events Manager, or Business ManagerEvery organization should have their own Business Manager to organize their assets (pages, ad accounts, pixels, and more), and then provide appropriate access to those assets to partners. More.
Prior to our session, I have the client complete a questionnaire to tell me more about what they're doing and what they hope to accomplish. They also provide a list of domains related to their business.
This allows me to poke around a little bit without any direct access. Do they have the pixel installed? What kinds of events are firing? It doesn't give me a thorough review, but it provides some surface-level context.
Testing Tool
Yes, Facebook has its own testing tools within Events Manager. You can use them, too. And while they may be best for viewing how the pixel is firing across your website, I prefer the Facebook Pixel Helper for testing individual pages.
The extension makes it super easy to immediately see if the pixel fires when the page loads. It also allows me to test whether certain events fire when they're supposed to, in real-time.
Learning Tool
It's a great learning tool! When I write about the custom events running on my website, you can actually test them out for yourself.
You've already been on this page for a while. You've scrolled. You should also click the audio player at the top. Then click the helper to see the exact events that are firing.
Try it!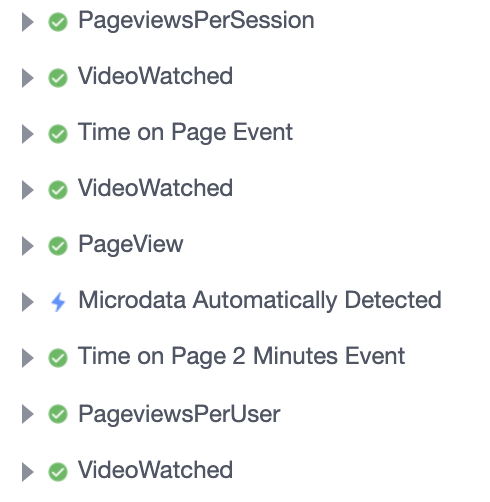 You can even expand each event to learn more about the parameters used.

Your Turn
Do you use the Facebook Pixel Helper, or do you prefer other testing tools?
Let me know in the comments below!