If you've created short-form videos, you've likely discovered one major annoyance: Your videos don't appear the way you expect them to.
This is due to a few issues that cover or impact your videos:
1. Icons displayed by the app on the right side
2. Text and descriptions at the bottom
3. Dead space at the top due to the device
4. Cropped out content on the sides
These things happen on all platforms for short-form video (TikTok, Instagram Reels, Facebook Reels, and YouTube Shorts). Each of these issues taken separately are minor annoyances. Taken together, they could seriously impact the viewability of your video.
These four things especially impact two primary aspects of your videos:
1. Captions. Your captions will often spill off into the icons on the right or get covered by text from the app on the bottom.
2. Screen shares. If you use screenshare videos or screenshots, you'll likely see important areas get impacted. The sides get cropped slightly, which would make those screens more difficult to understand.
Because of this, a Safe Zones template for all of these platforms is necessary. I know there are other templates out there, but I wanted to create my own instead of trusting someone else's.
I use the template below with my own videos. I've also updated this file as I've noticed ways to make it better.
Safe Zones Template Combo: TikTok, Instagram, Facebook, and YouTube Shorts
Originally, I created unique Safe Zones Templates for TikTok and Instagram. But over time, I've realized that not only are these templates similar for these and other platforms (including Facebook and YouTube Shorts), but it's beneficial to use a template that combines safe zones so that a video is viewable without obstructions everywhere.
The below template is the result of that realization. It should work on all platforms.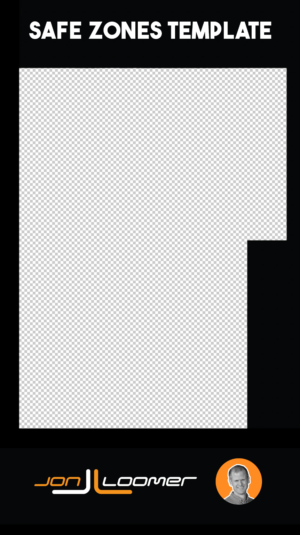 When you click the link above, you'll download the transparent version of this template. If it doesn't go straight to your downloads, right-click the image that does pop up to save it.
How to Use the Templates
This template is transparent in the safe portion of the image. So, add it as a layer to whatever editing software you use.
Here's an example in CapCut.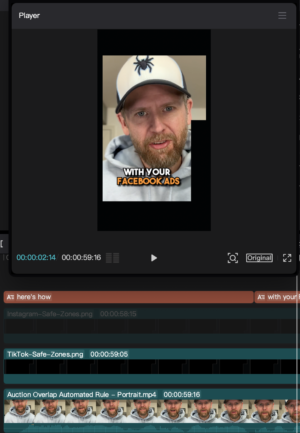 Add the template to your Media tab and then drag it down to a layer. You can then adjust your captions or other content to fit properly within the safe zone.
Of course, you'll want to hide that layer or remove it entirely before you export it.
Get a Video Tutorial
I've also put together a video tutorial of how to use these safe zone templates. Subscribe by completing the form below and I'll send it to you.
Enjoy!