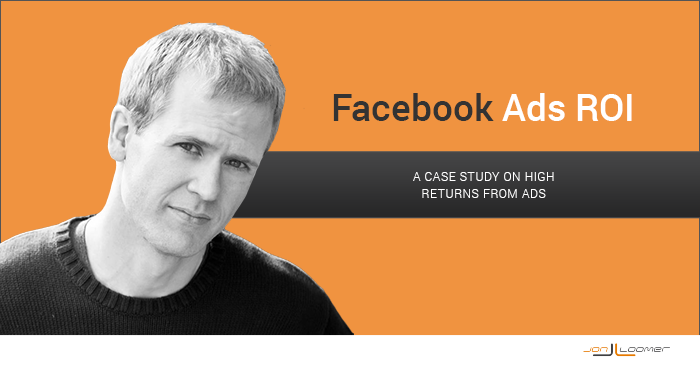 During the past 30 days, I spent $297.96 on Facebook ads that returned $10,510.50 in direct revenue. This post will explain how I pulled that off.
[Tweet "Here's how a Facebook ad campaign resulted in a 35X ROI…"]
Background
I'm a big believer in Facebook ads. They are a major part of the strategy I use for myself and for others.
But during the past 30 days, I did something I hadn't done before. I launched a product for my personal brand that I would support with heavy promotion.
I've done this for others. But it's the first time I did it for myself. So the types of results would be a major test of whether I truly practiced what I've been preaching — and saw the benefits.
On July 22, I announced my FB Marketing Advanced University: Power Editor training course. I opened it up for pre-pay, offering it for 50% off the eventual price when it was fully ready.
I started ads that day. The results I'm going to present will be for ads starting July 24 when I included Conversion Tracking and started using FBX for the purpose of driving purchases.
Note that I also spent money on ads to increase relevant Page Likes and drive webinar registrations, but the entire focus of this post will be on those ads created for the purpose of driving conversionsA conversion is counted whenever a website visitor performs an action that fires a standard event, custom event, or custom conversion. Examples of conversions include purchases, leads, content views, add to cart, and registrations. More for my training program.
The CampaignsThe campaign is the foundation of your Facebook ad. This is where you'll set an advertising objective, which defines what you want your ad to achieve. More I Ran
I ran 11 total campaigns:
6 were Promoted Posts or Dark Posts that targeted Fans only (videos, links and photos)
1 was a Dark Post that targeted a Lookalike Audience
1 was a Dark Post that targeted non-Fans from my Custom Audience
1 was a Dark Post that targeted various non-Fans based on interests and Partner Categories
1 was a Promoted Post that targeted non-Fans based only on similar interests
1 was a sidebar FBX ad that targeted users who visited any page of my website
The Results: Fans Only
When I targeted Fans only, I received amazing results.
I spent a total of $207 on those six campaigns. They returned 129 conversions, directly resulting in $9,481.50 in revenue (45.9X ROI).
The average Cost Per Conversion when targeting Fans only was $1.60. For a $73.50 product.
The Results: Non-Fans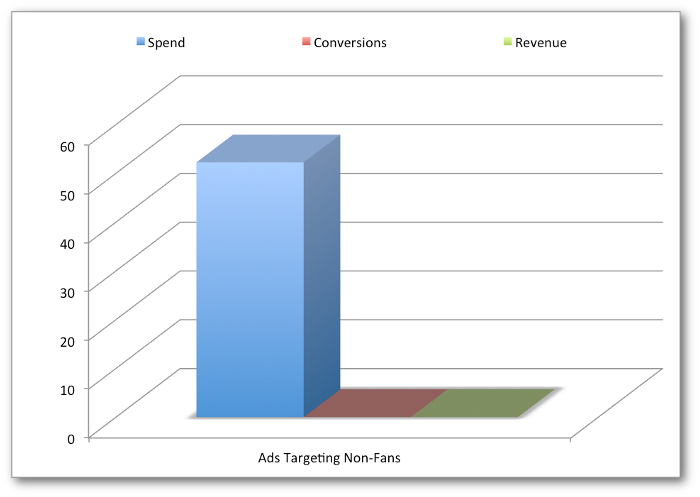 While the results were incredible when targeting Fans, I saw starkly different returns with non-Fans. In fact, I had no returns at all.
I spent $52.23 on non-Fans. I created 14 ad variations, trying to find the perfect combination.
Not a single conversion.
You shouldn't be surprised that I stopped these ads early when I wasn't seeing results. Now, $52.23 is a relatively small sample size. I could have very easily gotten a positive ROI with a single conversion.
But given the results I was seeing from Fans, I saw no reason to continue these ads.
The Results: FBX
Meanwhile, I was running FBX with PerfectAudience. I spent $39.19 on ads targeted at all Facebook users who visited my website.
This resulted in 14 conversions. That works out to $2.80 per conversion and a 26.3X ROI.
Not too shabby for sidebar only ads.
This is one I will invest in more heavily going forward. I have stopped my Fans-only promotion, but I'll continue targeting anyone who visited my website.
The main reason for this is because the pool of people who can be targeted is much, much larger. Therefore, I'm far from exhausting that target group.
What I Learned
My results validated so many things.
Build a relevant audienceThis is the group of people who can potentially see your ads. You help influence this by adjusting age, gender, location, detailed targeting (interests and behaviors), custom audiences, and more. More. Focus on building a community and that community will pay off.
Don't waste money trying to get non-Fans to make a high dollar purchase.
Focus most of your ad dollars on building a relevant Fan base. It's your Facebook sales funnel.
You may ask why I didn't spend more on targeting my Fans. The reason is simple: Volume and frequencyCalculated as (Impressions/Reach), Frequency is a Facebook ads metric that measures the average number of times users have seen your ad. More.
I have approximately 15,000 Fans. I was reaching them as many as 20 times with some of these campaigns. That's approaching the point of overdoing it (possibly beyond that point).
I'm sensitive to that.
Sure, I could have undoubtedly squeezed a few more sales and a few more dollars out of my Fan base. But at the expense of alienating many of them.
And as it is, I'm sure some didn't appreciate the constant barrage of ads. While I only received one public complaint, I accept the likelihood that some damage was done there.
But it's a balance.
Find Your Own Amazing Results
Are you seeing similar results? If not, make sure to sign up for my Power Editor training course!
Most of the strategies I used during the past 30 days (Conversion Tracking, Conversion Specs, Custom Audiences, Lookalike Audiences, Ad Reports, Split TestingSplit testing (or A/B testing) allows you to test changes in Facebook variables like ad creative, audience, or placement to determine which approach performs best. More) are covered in the course.