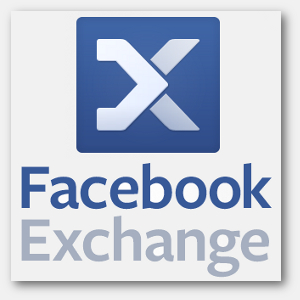 [This is the first of a series that will cover FBX, Facebook's ad retargeting product. Also read about how you can get started with a free trial to AdRoll.]
What comes to mind when someone mentions the phrase "Facebook Ads"? If you only think of increasing Likes, running Sponsored Stories or wasting money on the sidebar, you are way, way behind.
You should know about Custom Audiences, Lookalike Audiences, Partner Categories, Domain Sponsored Stories and Conversion Tracking by now. And you should be using Power Editor to get it all done.
But you're probably not using the most powerful tool of them all: FBX, Facebook's ad retargeting product.
What is FBX?
FBX is Facebook's version of ad retargeting. You may have already noticed more relevant ads as you surf the Internet. Ad retargeting isn't new. But Facebook ad retargeting is becoming increasingly common.
The process of retargeting can be summed up like this:
You visit a website or specific page of that website;
That brand can then serve ads to you related to that visit when you are elsewhere.
In the case of Facebook, this means that Facebook can serve you ads relevant to your web surfing behavior.
Here's an example…
You visit the landing page for my One-on-One services;
That page has a cookie on it, alerting Facebook that you were there;
I can then have Facebook serve you an ad reminding you of that service when you visit Facebook.
How is FBX Accessed?
Unlike the tools mentioned at the top of this post, you can't access FBX through the self-serve ad tool or even Power Editor. You must use a third party tool approved by Facebook.
There aren't many of them. And the vast majority are enterprise solutions that require a significant monthly budgetA budget is an amount you're willing to spend on your Facebook campaigns or ad sets on a daily or lifetime basis. More.
But there actually are solutions out there for small and medium-sized businesses as well. I am going to cover a couple and my experiences with them in the coming days (here's how you can get started with a free trial for AdRoll). I am currently experimenting with PerfectAudience, and they offer a $60 free trial (which covers the service and cost of ads) to get started.
Getting Started with PerfectAudience
First, go here to get started with PerfectAudience.
1. Install the PerfectAudience tag.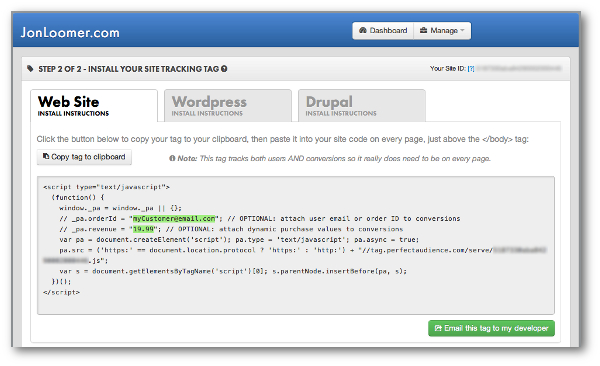 This is the cookie that you place between the HEAD tags of your website. You can do this manually or with a WordPress or Joomla plugin.
2. Create a retargeting list.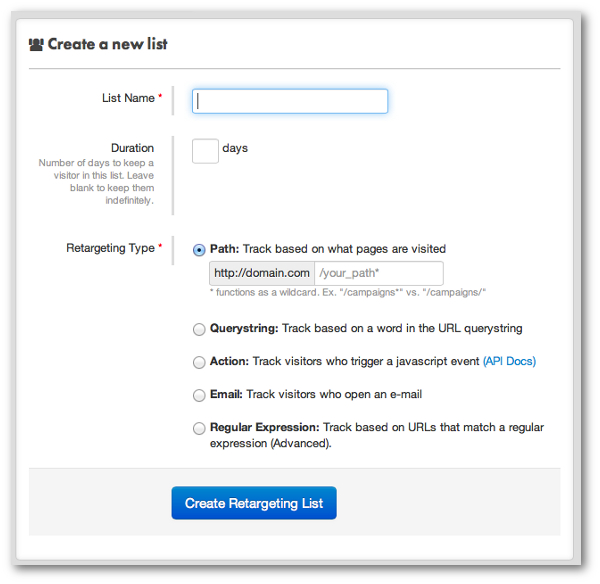 This is how you segment who sees your ad on Facebook. You could target all visitors to your website. Or you could target users who visited specific pages of your website for a more relevant ad experience.
3. Build campaignsThe campaign is the foundation of your Facebook ad. This is where you'll set an advertising objective, which defines what you want your ad to achieve. More.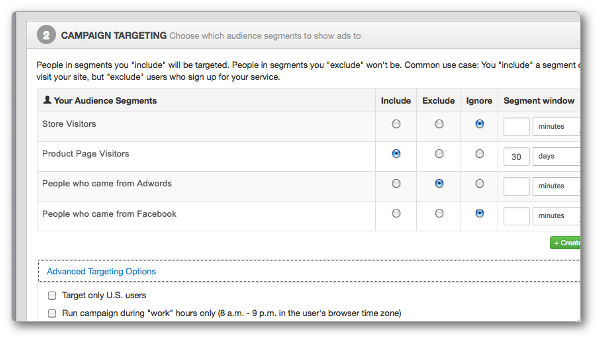 Select your ads, your segmented audienceThis is the group of people who can potentially see your ads. You help influence this by adjusting age, gender, location, detailed targeting (interests and behaviors), custom audiences, and more. More, budget and CPMCPM measures the cost per 1,000 impressions. It's a good metric to evaluate competition level and costs to reach your audience. More bid.
4. Monitor results.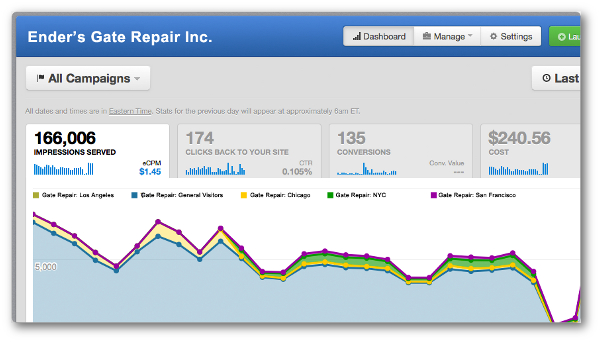 I've just gotten started with my campaign, but above is an example of what the dashboard looks like to help monitor your results.
FBX: More to Come
As I mentioned above, I've started testing out FBX. In the coming days I'll be providing more details on yet another service (AdRoll) I am trying. Soon after, I'll begin sharing my results.
Stay tuned!