A little under a month ago, I wrote a tutorial that explains how you can drive traffic to your website with Facebook's Domain Sponsored Stories. Today I'm going to tell you about my early results so that you can learn from them and optimize your own ads.
Refresher: What Are Domain Sponsored Stories?

Very few publishers are using Domain Sponsored Stories. They need to be.

A Domain Sponsored Story is different from a typical Facebook Sponsored Story because it is not connected to your Facebook Page. Whereas the Sponsored Stories you're accustomed to seeing will promote a friend's interaction with a Facebook page, Domain Sponsored Stories promote a friend's interaction with a domain (website).

As a result, the ad generated is entirely focused on the friend's activity. Here's an example: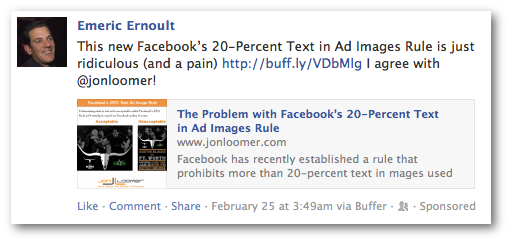 Since this content is entirely generated by a friend, they tend to be more trust-worthy to users and more likely to generate clicks. Note that the advertiser cannot choose which posts are promoted — or even promote shares of specific articles — so you are somewhat at the mercy of users.
The thing about these ads is that it's not always clear who created them. While it's likely this comes from my campaignThe campaign is the foundation of your Facebook ad. This is where you'll set an advertising objective, which defines what you want your ad to achieve. More, it's always possible that Emeric promoted his own post.
You should consider using Domain Sponsored Stories if you are a publisher and rely on website traffic to drive your business. It's a staple of my strategy since I constantly have one going along with a Page Like Sponsored Story at low levels to continuously drive growth and activity.
The Test

I've run five variations of a Domain Sponsored Story since February 4. The goal was to find the most efficient way to drive traffic to my website. In other words, I was looking for the lowest cost per action (in this case, that action is a link click).

The only differences between the five variations I created were the placements and bid type. Four of the ads were Optimized CPMCPM measures the cost per 1,000 impressions. It's a good metric to evaluate competition level and costs to reach your audience. More:
Optimized CPM – All Placements
Optimized CPM – Desktop Only
Optimized CPM – Desktop News Feed Only
Optimized CPM – Mobile and Desktop News Feed Only
Optimized CPM is supposed to target people most likely to perform your desired action. As a result, the CTR is usually higher, but the CPM typically is as well.
I almost always will run a regular CPM ad as well because I've found that in some cases I am actually able to spend less per action this way due a lower CPM.
So in this case, I ran a variation of this ad that focused on News Feed only but utilized the CPM bid model. I generally kept my max bid between $3 and $5. You cannot set a bid for Optimized CPM.
I spent a total of $140.64 on this campaign. Not a lot, but enough to spot some trends. Note that I never did get enough impressions out of the Optimized ad for Desktop Only, so I'll essentially ignore that ad from here on out.
It's Not All About CTR

I first found out about Domain Sponsored Stories from an article by PageLever. They wrote about how they got a Click Through Rate of close to 10%.

However, I quickly realized that it's not all about the CTR. Since my CPM for the Optimized ads was so erratic (sometimes exceeding $10.00), I started focusing less and less on this metric.

For example, my most successful ad according to CTR was the Optimized unit targeted at the News Feed only. That ad generated an average of a 5.261% CTR. I spent a total of $51.34 on this variation, generating 220 actions.

If you do the math, you know that this comes out to $.23 per action. It was my second to least efficient ad variation.

Here is a chart that lays out the CTR and Actions Per Impression for each ad type. Based on this alone, you'd expect that my Optimized ad focused on News Feed only was most effective.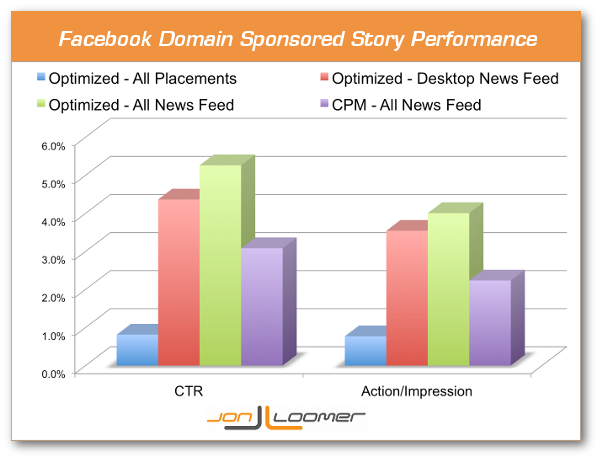 How I Got 13 Cents Per Click

My most efficient ad ended up being the CPM variation that targets all placements. It could have been easy to miss how effective this ad was based on peripheral numbers (that most marketers focus on too heavily).

This ad had a CTR of 3.083%, which was good but trailed two of the four Optimized CPM options (5.261% and 4.364%). This ad also received an action on 2.236% of all impressions, which was lower than those same two Optimized CPM ads (4.005% and 3.542%).

It ends up coming down to price. The more "effective" Optimized CPM units cost me close to $10 per 1,000 impressions ($9.35 for one, $8.80 for the other). The quieter CPM ad costs me $2.93 per 1,000 impressions (I now keep my max bid at $3.00).

The resultant Cost Per Action:
CPM (News Feed) – $.13
Optimized CPM (All Placements) – $.19
Optimized CPM (Mobile and Desktop News Feed) – $.23
Optimized CPM (Desktop News Feed) – $.25
Optimized CPM (Desktop Only) – No Clicks
The interesting thing here is that the two "most effective" ads according to CTR ended up being the least efficient. My CPM ad was clearly the winner here.
Here is a chart that compares CPM and Cost Per Action.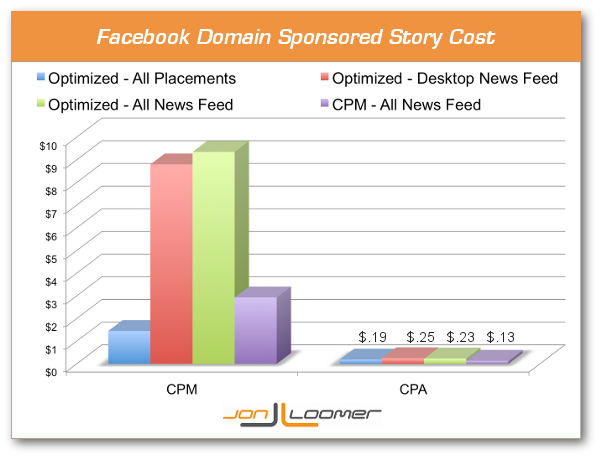 Still Tweaking

Now that I know my CPM ad is most efficient, I'm going to keep on tweaking it to see if I can continue to get the cost down. I'll do this by expanding the interests targeted and then creating variations based on placement. My hope is to get the cost below $.10 per action.
Is It Worth It?

I was able to get my cost per link clickFacebook reports on CPC (All) and CPC (Link Click). The first refers to all clicks and the second on all internal and outbound links. More down to $.13. I've determined that this is a price I'm willing to absorb because traffic and exposure are so important to my business.

I've been able to get a lower cost per click on Twitter ads, but I'm not able to separate "link clicks" from clicks on hashtags and my profile name. So it's not clear just how efficient those ads are.

Cost per click will tend to be much higher on Google (based on my limited experiments there), but of course those tend to be targeted clicks that could lead to business. The disadvantage of Domain Sponsored Stories is that you can't isolate the pages shared and people sharing for your promotion.

Are link clicksThe link click metric measures all clicks on links that drive users to properties on and off of Facebook. More worth $.13 for your business? That's something you'll need to figure out on your own. But I'd love to hear your thoughts below!