Advertising on Facebook and Instagram involves details which can seem complicated. To nurture skills, advertisers often look for simplified how-to instructions for topics, particularly to help them have conversations with people who are less involved with the details of Facebook advertising mechanics.
Facebook occasionally releases "one-sheeter" reference documents. Often times, these new or amended resources are not heavily promoted. Typically, these take the form of a Facebook quick reference guide focused on a specific topic.
These documents can be great references with clear, thoughtful design to communicate complex ideas in a succinct format.
This short article will help provide an easy resource to bring some of these Facebook one-sheeter resources together. Feel free to bookmark it! While this list is by no means exhaustive, it captures some of the main topics.
Video Requirements and Ad Specs
Video Requirements One-Sheeter: This resource has an easy-to-use chart layout showing the various design requirements and recommendations for different ad placements.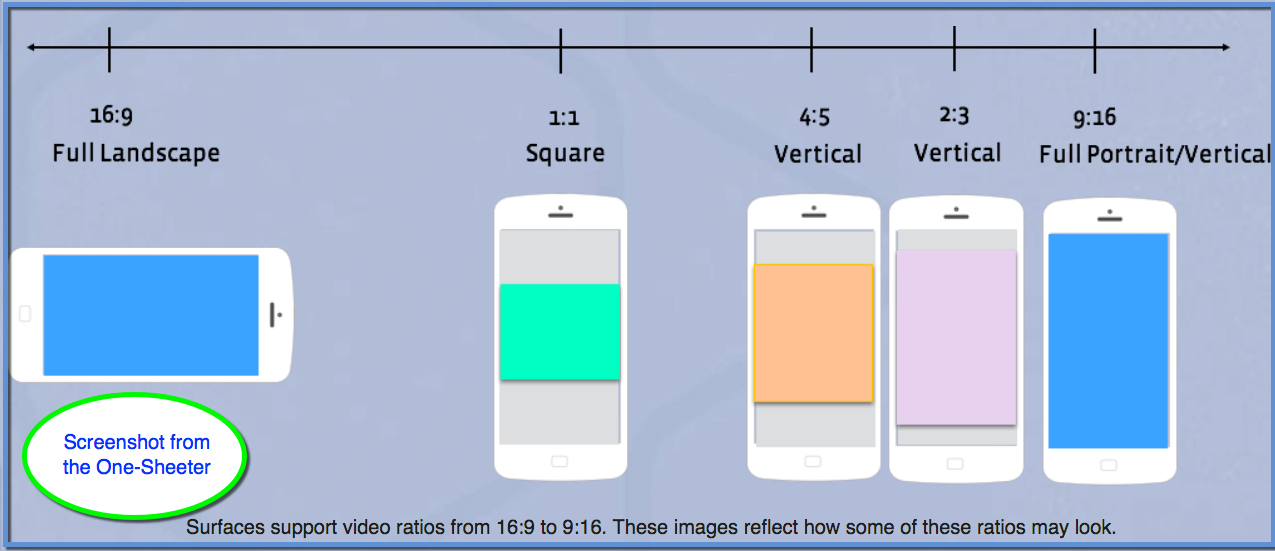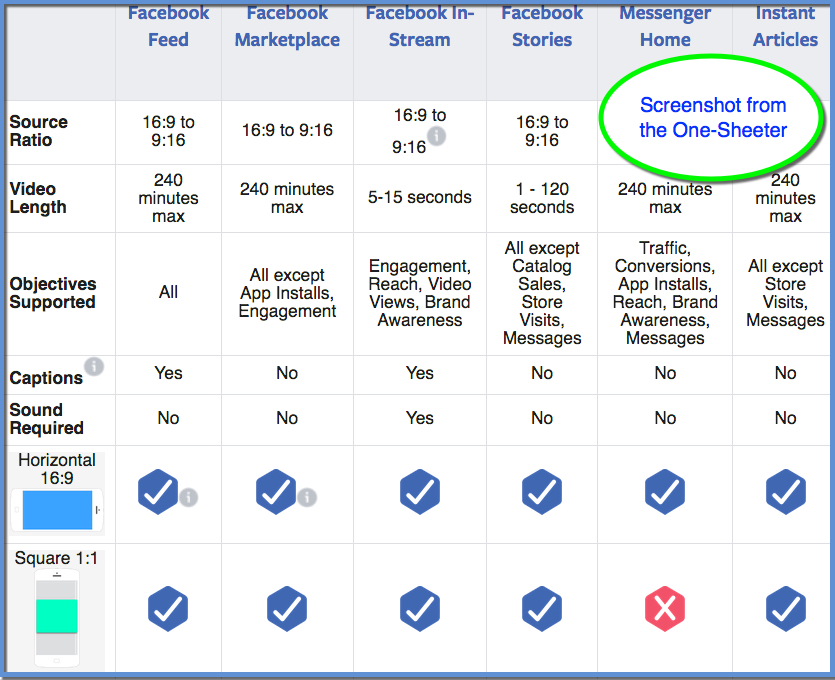 Conversion Lift and Media Campaign Testing
Conversion Lift One-Sheeter: This resource provides a quick guide on how a Conversion Lift test works on Facebook.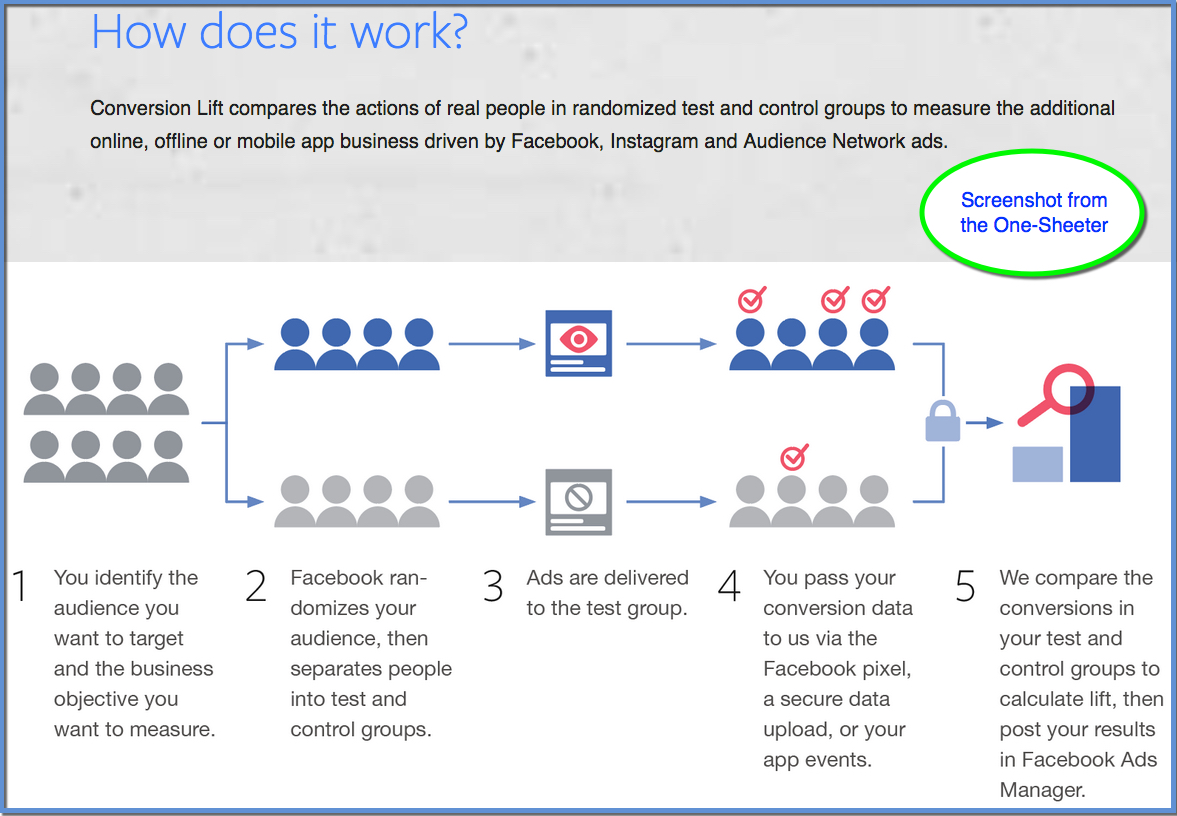 Facebook Test and Learn Tool: This is related to the Conversion Lift tool, but provides a reference for the various other options available through Facebook's Test and Learn products. This resource deserves a mention here, even if it is not in the same one-sheeter format.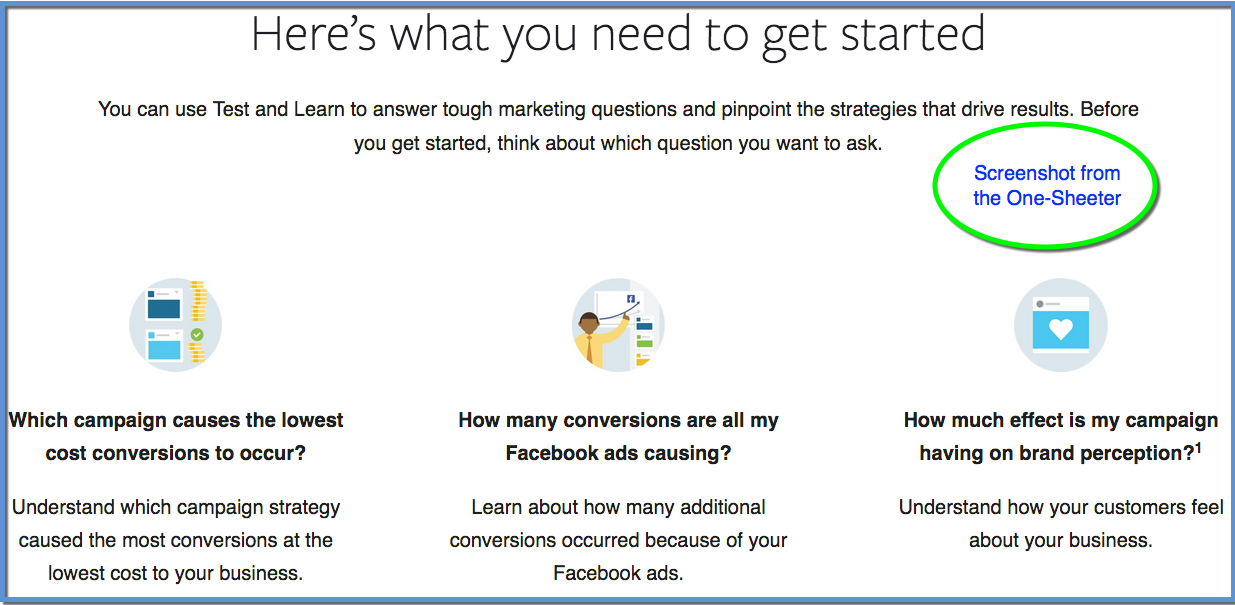 Bidding
Facebook Bid Strategy Guide: This guide includes graphical examples of the differences between three bidding strategies: Target Cost, Cost Cap, and Bid CapBid Cap is one of Facebook's bid strategy options, which guides Meta on how to bid in the ad auction. A Bid Cap sets a maximum bid across auctions, rather than allow them to bid dynamically. More.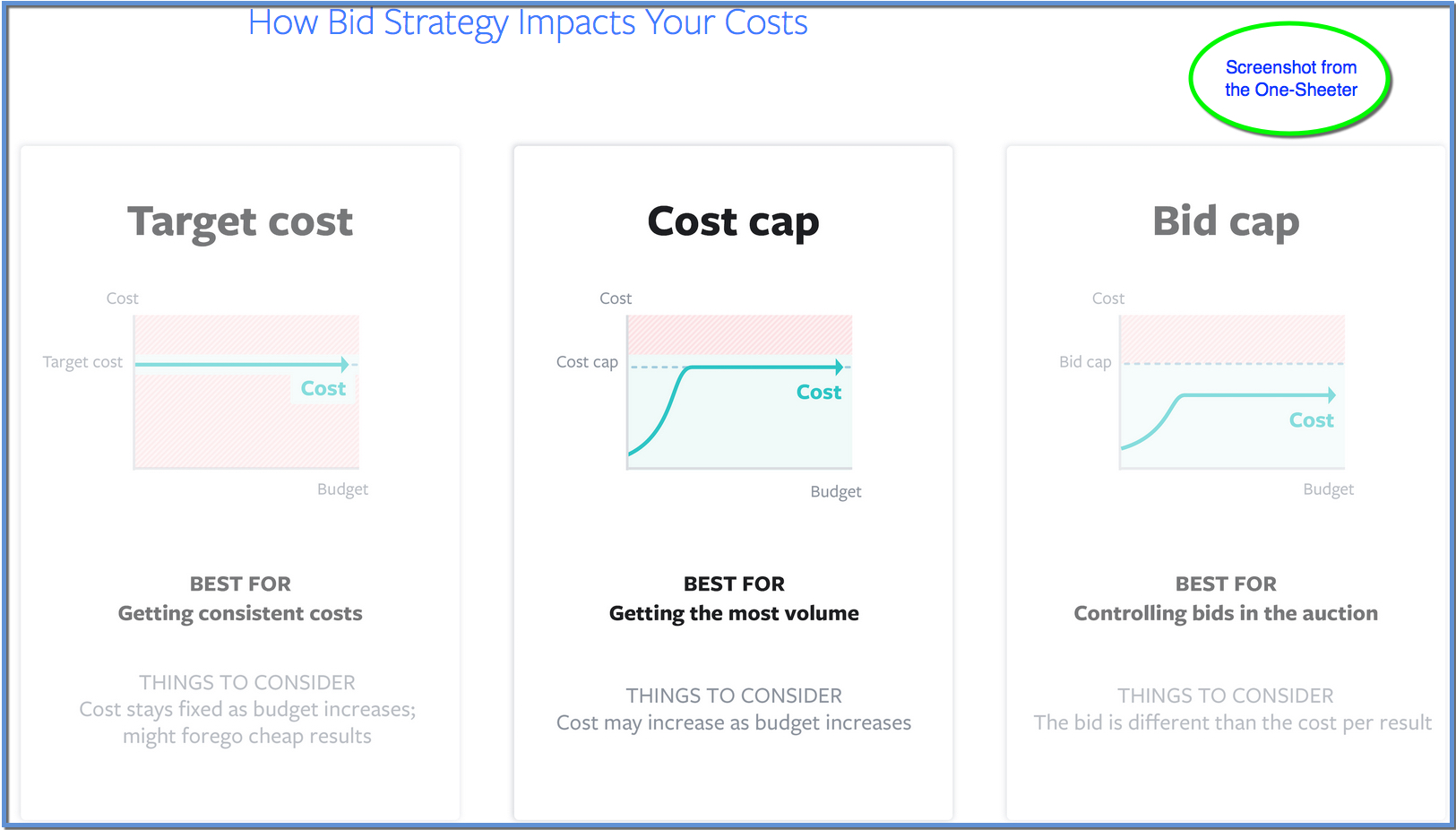 **This Bid Guide resource is what inspired the creation of this article!
Value Optimization with Minimum ROAS Bidding: A bit of a more specialized feature that allows you to work with Facebook's ad delivery optimizationThe Performance Goal is chosen within the ad set and determines optimization and delivery. How you optimize impacts who sees your ad. Meta will show your ad to people most likely to perform your desired action. More to achieve a minimum return on ad spend.
Facebook PixelThe Facebook pixel helps advertisers track events that occur on their website and reach people who performed those events with ads. More and App Events
Facebook Tracking Pixel: A single-page resource all about the tracking pixel, which is used by Facebook to measure (and optimize) activity on a website, and associate it with activity on Facebook's suite of properties.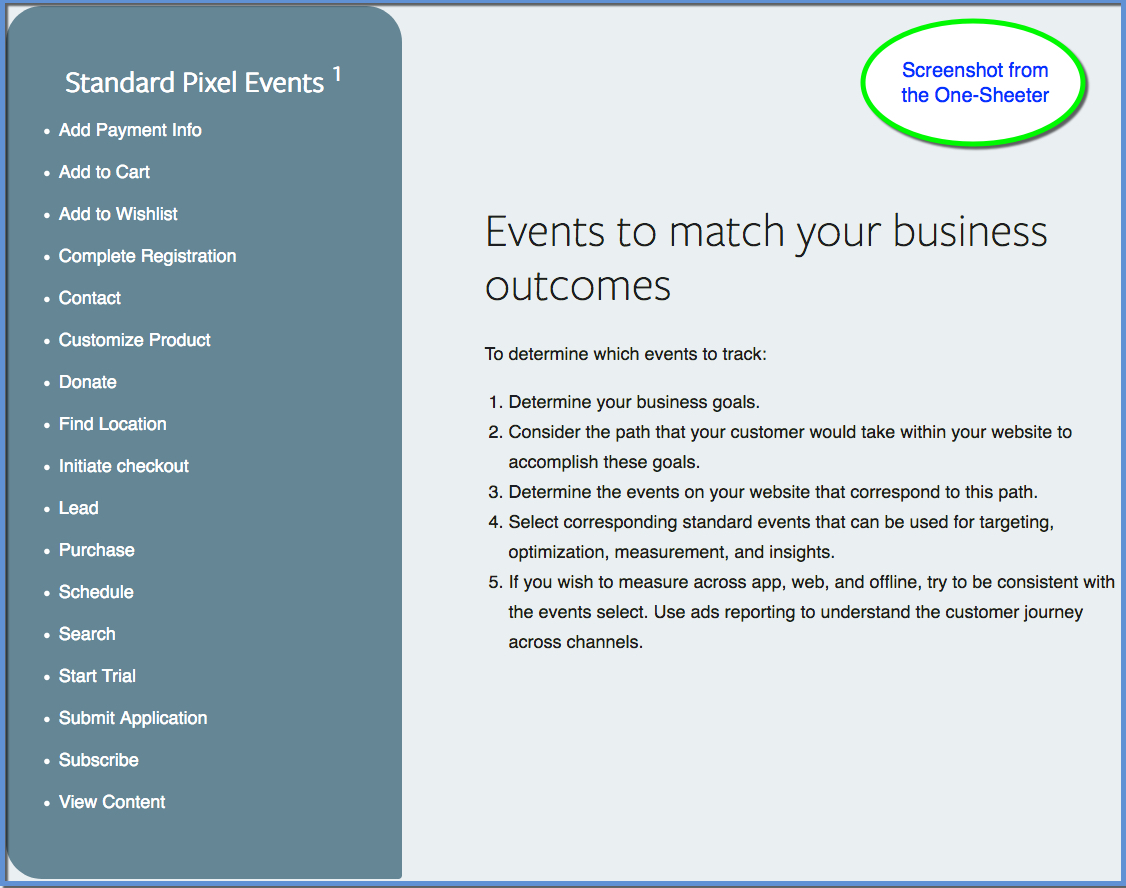 App Events: This is similar to the Tracking Pixel resource, but this tool is focused on events within an app that you own or manage.

Click-to-Messenger CampaignsThe campaign is the foundation of your Facebook ad. This is where you'll set an advertising objective, which defines what you want your ad to achieve. More
Click-to-Messenger Tips: A reference sheet for tactics that can improve Click-to-Messenger campaign performance.
The Power5
Power5 – Rewriting the Playbook for Marketing Excellence: Facebook has begun showcasing some best-practice principles for advertisers. In a single page called the Power5, this tool is meant to capture the various concepts in one place.
For more on the Power5, check out the Power5 Hub, complete with case studies and deeper details.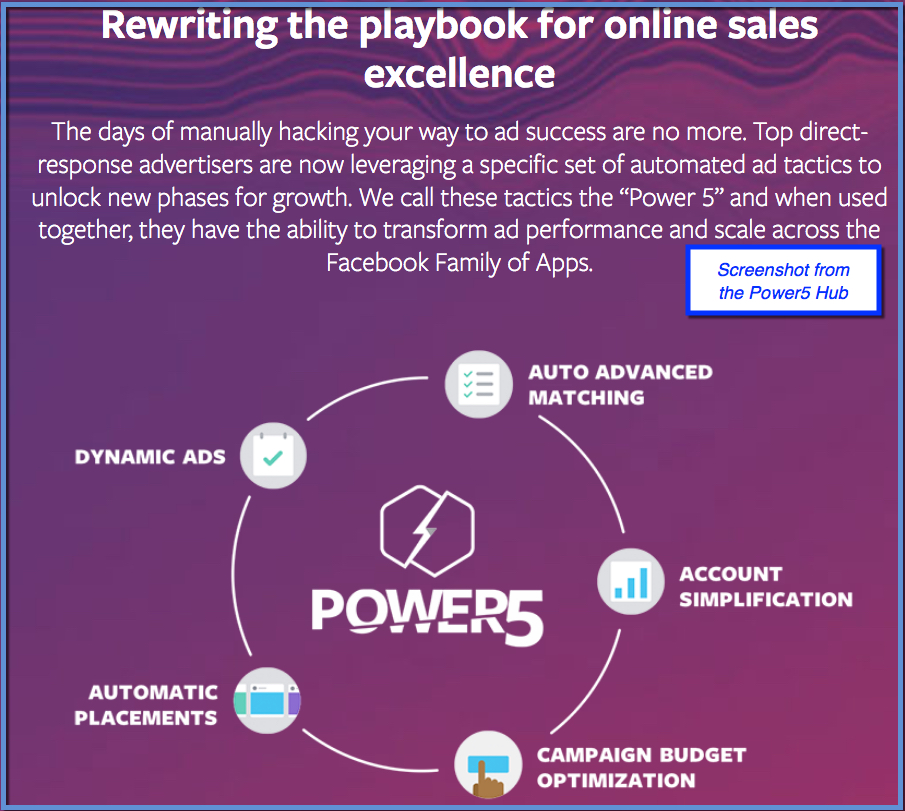 Advertising Transparency
Ads Related to Politics or Issues of National Importance: Facebook has increasingly made efforts to establish transparency in their ads and ad policies. This resource helps advertisers understand when and what actions they need to take when these topics apply to their content.
Facebook Ad FrequencyCalculated as (Impressions/Reach), Frequency is a Facebook ads metric that measures the average number of times users have seen your ad. More
Controlling Frequency: This resource provides an overview of Facebook's various options for controlling the frequency of advertising impressionsImpressions are the number of times your ads were displayed to your target audience. Impressions aren't counted if it is detected they came from bots. More.
*Bonus: Jon wrote an article all about managing Facebook ad frequency, and I wrote another about considering an ideal frequency, in case this topic is of specific interest to you.
Honorable Mentions
The following are great resources, but not technically in one-sheeter format…
1) Facebook Account Security
Facebook recently posted a blog entry on their Facebook Business News page, called: "Tips to Keep Your Facebook Account and Business Page Secure".
2) GDPR
What is the General Data Privacy Regulation (GDPR): Here is a page to initiate understanding of GDPR and how it matters for advertisers.
GDPR Developer FAQs: This is a basic overview with some common questions from developers related to GDPR.
That's it… for now!
All of the resources above have much greater detail and context than these simple Facebook one-sheeter pages can cover. Hopefully, this may provide a starting point on these topics. In most cases, there are links within each of these page for further detail.
Your Turn
Do you have any quick reference guides you like to use?
Let me know in the comments below!