Facebook offers an ads feature that can make it easier to reachReach measures the number of Accounts Center Accounts (formerly users) that saw your ads at least once. You can have one account reached with multiple impressions. More our intended audienceThis is the group of people who can potentially see your ads. You help influence this by adjusting age, gender, location, detailed targeting (interests and behaviors), custom audiences, and more. More with the best combination of primary text, title, and description using Multiple Text Options.
This text variation feature isn't a true A/B split test. It also isn't the same as Dynamic Creative, though it certainly feels like a simplified version of it.
Let's take a closer look at how to use this, how it differs from Dynamic Creative, and some benefits and downfalls to consider.
How Multiple Text Options Feature Works
When you set up an ad, you may now see the ability to add up to four more options for primary text, link text, and link description.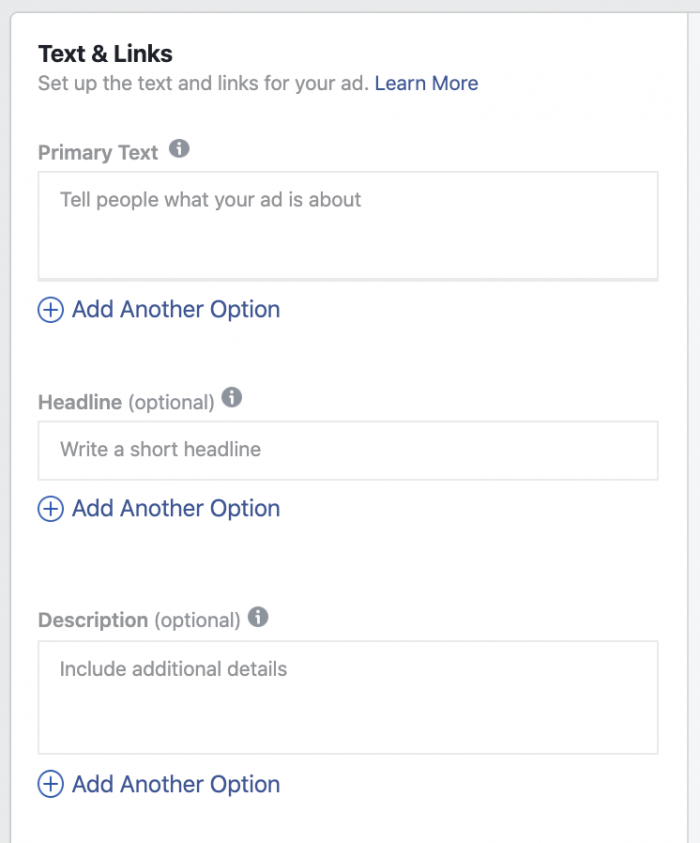 Multiple Text Options is available only for the Traffic, App Installs, and ConversionsA conversion is counted whenever a website visitor performs an action that fires a standard event, custom event, or custom conversion. Examples of conversions include purchases, leads, content views, add to cart, and registrations. More objectivesWhen you create a campaign, one of the first things you'll do is select an objective. The campaign objective is your ultimate goal. Your selection will impact options, including optimization and delivery. Options include Awareness, Traffic, Engagement, Leads, App Promotion, and Sales. More (at least at the time of this post). You can only use it for single image or single video posts.
If you create variations of primary text, headlines, and descriptions, you'll need to be sure that those assets work together regardless of the combination.
Facebook will then mix and match to show the best combination of text to people who are most likely to respond to it. How? You've got me. But that's how it is intended to work!
Why Use Multiple Text Options?
The creation of copy that works is a science. There isn't a template with guaranteed copy that will work every time. You need to think through each case about what is most likely to inspire the intended audience to take the action that you want them to take.
You could create multiple ads with different text. In that case, each ad will live individually. But Multiple Text Options will combine different primary text with different headlines and descriptions to, we hope, get you the best results.
It's easier than setting up multiple ads. You don't need to decide which headline and description should go with which primary text option. Facebook will figure that out for you.
If it works, this could be extremely helpful.
An Example
I decided to take Multiple Text Options for a spin. I used it to create primary text and headline variations for an ad promoting my blog post about the importance of traffic.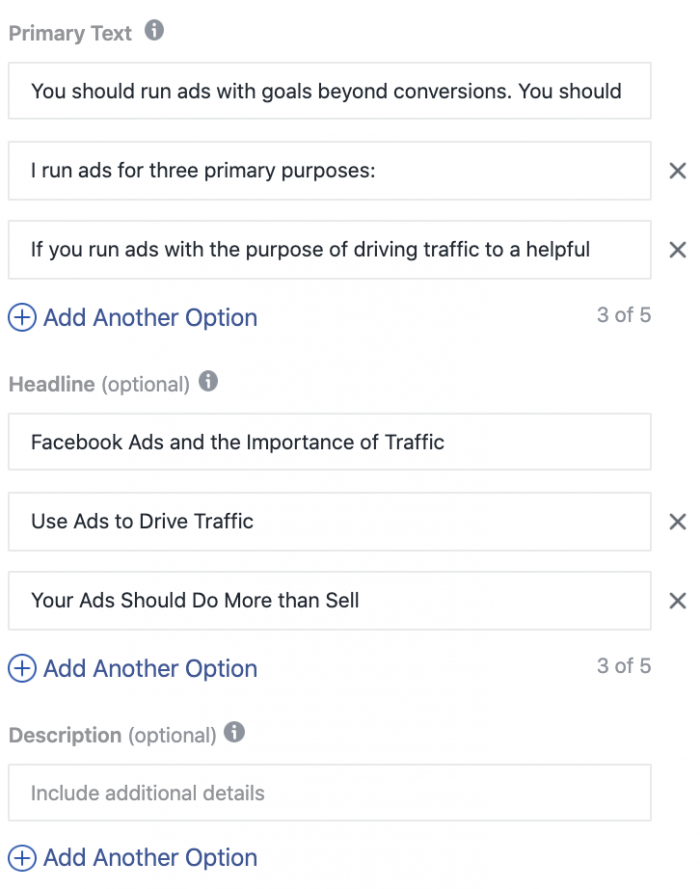 You'll notice that I didn't provide variations of the link description. In fact, I didn't even provide one. This was by design.
First, Facebook will pull the description from my website metadata. Second, Facebook isn't showing descriptions all that often these days anyway. Due to dynamic description appearance, your link description will only appear if Facebook believes it is likely to appeal to the person seeing it.
How do they know that? Well, it's Facebook voodoo magic, I guess.
A Single Ad
Understand that Facebook isn't creating multiple ads when you do this. Engagement won't be spread out among several variations. All of the likes, comments, and shares will exist as if it's a single ad.
On one hand, that's a good thing because you don't want that engagement watered down across multiple ad variations. This is good for social proof.
On the other hand, this can be problematic if you aren't careful. Imagine, for example, comments referencing something specific in your text that doesn't appear in every variation.
As a result, give that some thought when constructing your text options.
Isn't This Just Dynamic Creative?
I'm sure some of you have read this far and are all, "Hey, dumb guy! We've had this since 2017. It's called Dynamic Creative!" I get it. It sure feels like that. But it's not.
First, you turn Dynamic Creative on at the ad setAn ad set is a Facebook ads grouping where settings like targeting, scheduling, optimization, and placement are determined. More level.

Second, Dynamic Creative allows you to submit creative assets consisting of the following:
Up to 10 images or videos
Up to 5 primary text
Up to 5 link headlines
Up to 5 link descriptions
Up to 5 call-to-actionA call-to-action is a button or link on your ad that suggests the action you want your audience to take. Examples: "Learn More" or "Sign Up." More buttons
As far as I can tell, the mechanics are mostly the same as when using Multiple Text Options. So, on the surface, MTO certainly feels like a simplified version that doesn't include images, videos, or CTA buttons.
There's also one relatively important difference, related to reporting…
Reporting
The nice thing about Dynamic Creative is that you can uncover which assets are performing best, even if Facebook never provides the best combination.
Within "BreakdownBreakdown is a way to get insights into your ad performance related to time, delivery, action, or dynamic creative element. More," you can have Facebook generate a separate row by creative asset.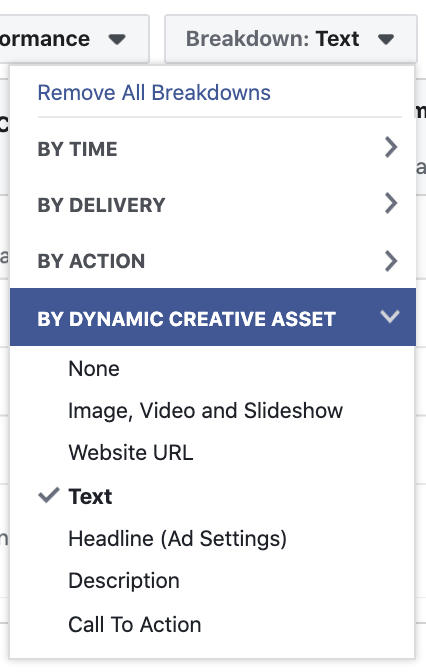 While we don't see which combinations performed best, we have to assume that Facebook will show the top performers most. And if not, we can always stop the ad, take our learnings and create a new one based on this information.
Unfortunately, this data isn't available for Multiple Text Options, at least at the moment.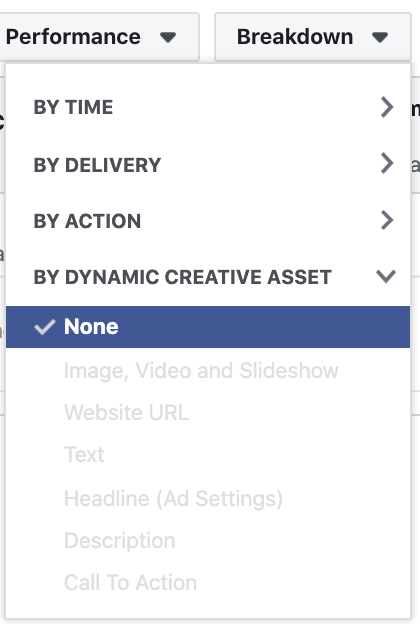 This is by design, not an oversight. But my guess is that this is just so that Facebook could get the feature out, and that some reporting will be available eventually.
The Verdict?
First, I really want this to work. I like the idea of Dynamic Creative, but I never use it. The extra step of turning it on at the ad set level doesn't help. Yes, that's lazy.
Facebook makes it really easy to set this up now. The ability to add more options is included within the normal flow of creating your ad. It's enticing.
I am testing this right now, and I'm comparing the results to Dynamic Creative. It's way too early to report on that. I encourage you to try it out, too.
I always get asked questions about features like this. "Should I use Multiple Text Options?" Sure, why not? Try it. Get it a whirl. Try it more than once. Then determine for yourself whether it works for you.
Your Turn
Have you begun to experiment with this feature yet? What are you seeing?
Let me know in the comments below!