Facebook (or Meta) recently announced that it is consolidating all of its automation products under the "Meta Advantage" suite.
So, what does this mean? Should you care?
Let's discuss…
The Meta Advantage Suite
The Meta Advantage suite is split into two different product lines: Advantage features and Advantage+ products.
Advantage features are currently focused around targeting automation. Advantage+ products prioritize automating the campaign creation process.
The benefits of Meta Advantage (according to Meta):
Optimization
Personalization
Efficiency
If you're scratching your head because this all sounds like the current advantages of Facebook or Meta ads, you're not alone. The truth is that not much is actually changing here — at least yet.
For now, this is mostly a rebranding effort. Features are being renamed. But we'll get to this in a minute.
Advantage Lookalikes
Formerly known as Lookalike Expansion, Advantage Lookalikes fall under the Meta Advantage features.
Advantage Lookalikes is automatically enabled for new, duplicated, or draft ad setsAn ad set is a Facebook ads grouping where settings like targeting, scheduling, optimization, and placement are determined. More using a lookalike audience when optimized for conversion, value, or app events. Here's how it works…
When you select a lookalike audience in these cases, you have the option of using between 1% and 10% of people most similar to those within the seed audience.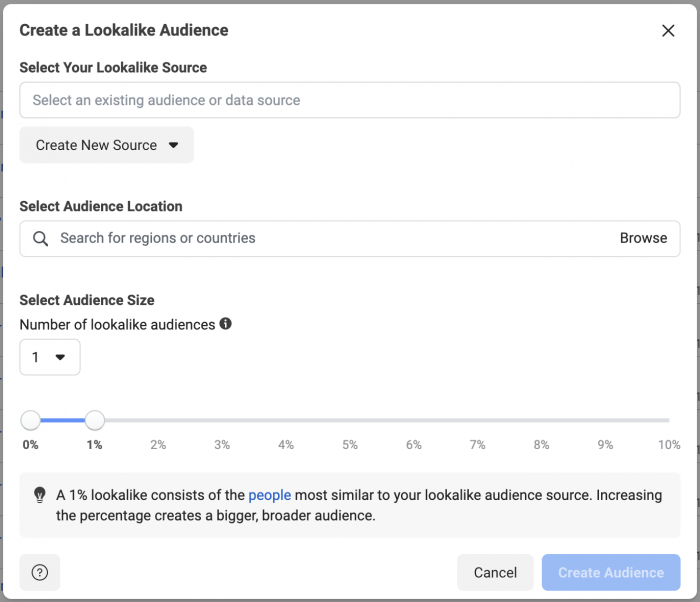 Let's say that you use 1%. That audience will then be expanded beyond 1%, but only if it's detected that more or cheaper results can be found by doing so.
One of my issues with the expansion products is that how it functions is mostly kept behind a curtain. You don't know when or how often your audience is expanded. You don't know how much you benefited from it.
But, if it works the way it should, the audience will only expand if it's a benefit.
Advantage Detailed Targeting
Formerly known as Detailed Targeting Expansion, Advantage Detailed Targeting works similarly to Advantage Lookalikes. Like Advantage Lookalikes, Advantage Detailed Targeting is automatically enabled for conversion, value, and app event optimization. One difference is that you can opt-in when using other optimization options.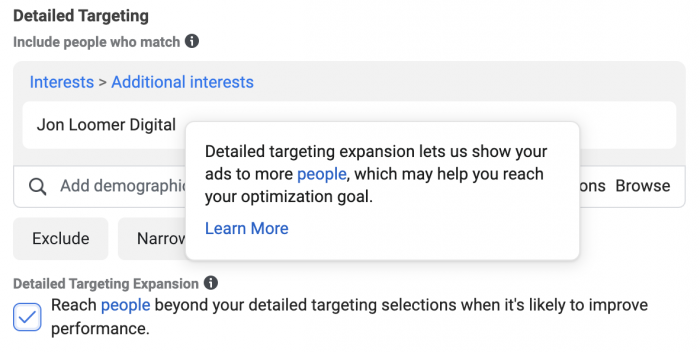 This, of course, only applies to when you are using detailed targeting. Unlike Advantage Lookalikes, Advantage Detailed Targeting will expand the detailed targeting that you provide.
Once again, Advantage Detailed Targeting should only work as a benefit. Your audience will only be expanded if more or cheaper results can be found by doing so.
But, just like with Advantage Lookalikes, there's no way to verify that this feature is working effectively for you.
Advantage+ Placements
Automatic Placements is renamed to Advantage+ Placements.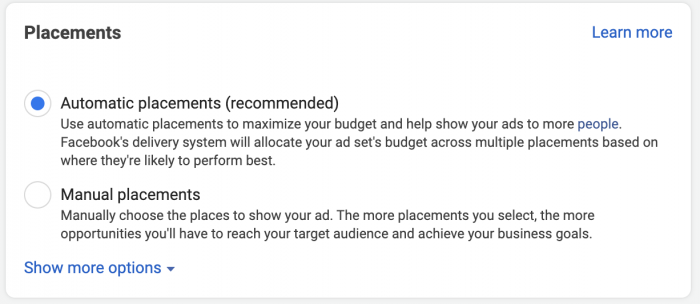 This feature has been around for a long, long time, and it's on by default anyway. When you utilize Advantage+ Placements, Meta will automatically optimize what placements are used and when to get you the most results for your budgetA budget is an amount you're willing to spend on your Facebook campaigns or ad sets on a daily or lifetime basis. More.
Advantage+ Creative
Dynamic Experiences changes to Advantage+ Creative. Not to be confused with Dynamic Creative (yes, it's confusing!), Advantage+ Creative (or Dynamic Experiences) is a relatively new feature.

When turned on, Advantage+ Creative will automatically create multiple variations of your ad, showing versions that people are most likely to respond to.
There are several possible enhancements that may be made, both to media and ad-level compositional changes.
Examples of possible media enhancements include:
Adjusting the image brightness or contrast
Applying artistic filters
Varying aspect ratio
Adding templates to a feed image
And examples of ad-level compositional changes include:
Adding labels from your Facebook page (likes or ratings)
Displaying relevant comments below your ad
Swapping text combinations
The swapping text combinations enhancement is Optimized Text Per Person, which allows Facebook to swap the text that you provide for Primary Text, Headline, and Description between the three locations. Once again, you could turn that feature on separately.
Advantage+ App CampaignsThe campaign is the foundation of your Facebook ad. This is where you'll set an advertising objective, which defines what you want your ad to achieve. More
Advantage+ App Campaigns (formerly Automated App Ads) allow you to streamline app install ads.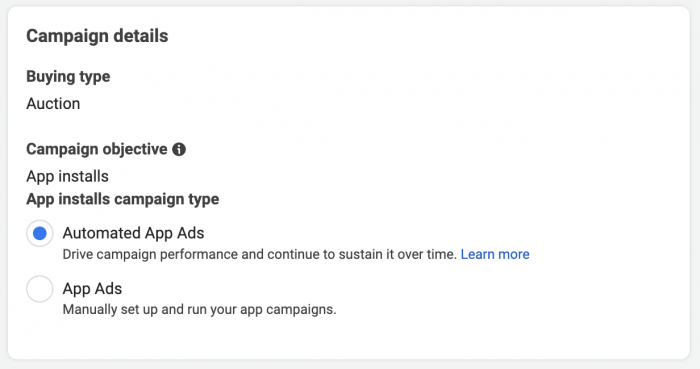 Advantage+ App Campaigns allow you to set up app install ads with fewer steps for the audience and ad creative setup process.
Advantage+ Shopping Campaigns
Currently known as Automated Shopping Ads, this one is actually new. There aren't a whole lot of details on it, but here's what we have from Meta:
…work to achieve the highest performance from your online sales campaigns with minimal effort or management by optimizing across multiple campaign levers—including creative, targeting, placements and budget—to find the best opportunities to drive conversions.
Expect this to be rolled out by the end of the year.
Advantage+ Campaign Creation?
Strangely missing from the announcement is Advantage+ Campaign Creation. It's new and some already have it. I covered it before, but it's actually not all that exciting.
Why? Well, Advantage+ Campaign Creation doesn't add any new benefit. All it does is prevent you from adjusting any of the main defaults when creating a Conversions or Sales campaign.
For example, the following can't be changed:
Campaign ObjectiveThe campaign objective is the ultimate goal for your Facebook ad. Your selection will impact options, including optimization and delivery. More: Sales
Bid Strategy: Lowest Cost
Dynamic Creative: On
Placements: Automatic
Optimization for Ad DeliveryHow you optimize impacts who sees your Facebook ad. Facebook will show your ad to people most likely to perform your desired action. More: Conversions
AttributionAn attribution window is the number of days between when a person viewed or clicked your Facebook ad and subsequently took an action. More Setting: 7 days after clicking or 1 day after viewing
No control. Exciting, right?
So, What Is This??
For the most part, there's nothing actually new here, at least for now. There's no new functionality or features. Nothing to get excited about. It's basically just rebranding and renaming currently existing functionality — some of which has been around for years.
I think this is mostly about what it means for the future of Meta advertising. More features and functionality are likely to come which will fall under this umbrella.
The consistent themes here are more automation and less control. Meta Advantage is about simplifying, streamlining, and automating whatever can be automated.
Is that good? Maybe for new advertisers. This feels like a Boost button for Ads Manager. It can simplify things for new advertisers who aren't sure what levers to pull and what to leave alone.
But, I worry about what this trend means for advanced advertisers who like to have more control over the campaign creation process for experimentation.
The problem is that automation and optimization aren't always good. I've talked about it before, but Facebook's automation and optimization are meant for ecomm. It's often misguided and ineffective for other industries and for objectives that don't involve a purchase.
There are huge holes in optimization for anything other than a conversion. It simply isn't meant for content creators.
Will Meta Advantage just create bigger issues for these advertisers?
Your Turn
What do you think about Meta Advantage? Is it a good thing?
Let me know in the comments below!