Now that we're in the world of iOS 14, Aggregated Event MeasurementAggregated Event Measurement is Meta's protocol for handling tracking opt-outs from iOS devices. AEM initially required advertisers to configure and rank eight events and verify their website, but those requirements were removed in 2023. Aggregated Event Measurement still exists, but Meta handles it on the back-end to comply with Apple requirements on privacy. More, and the 8-event limit, one of the biggest issues I've heard from consultants and agencies is an inability to access and optimize for a client's configured Facebook events.
It all comes down to access and how you are set up. Not every client-agency relationship is constructed the same way, but I want to cover a couple of the most common ways to make sure that you have access to events based on the following scenarios:
Agency is given access to a client's ad account and connected pixel
Agency uses their own ad account and gets access to the client pixel
Let's go…
Assumptions
Before we walk through these two scenarios, it's important to lay out a couple of assumptions based on best practices.
First, the client has their own Business ManagerEvery organization should have their own Business Manager to organize their assets (pages, ad accounts, pixels, and more), and then provide appropriate access to those assets to partners. More and Facebook pixelThe Facebook pixel helps advertisers track events that occur on their website and reach people who performed those events with ads. More. They may even have their own custom conversionsCustom conversions let you create rules for events or URLs so that you can better track and optimize for specific actions with Facebook ads. More. You should have your own Business Manager as well, but it's important that this starts with the client having their own.
Second, the client has verified their domains within their own Business Manager. You could assist them, but this process should be attached to their own Business Manager — not yours. You don't own the domain; they do.
If your client hasn't yet verified their domain, read this post for instructions.
Once that's taken care of, let's make sure you get access to those events…
Client Shares Ad Account with Agency
The first scenario assumes that ads are billed to the client directly through their ad account. If this is your setup, the client shares their ad account with you (the agency managing the client's ads). This assumes that the pixel on their website is also connected to that ad account.
If you aren't yet set up this way and want to be, let's go through how this is set up first.
This process can be initiated by either the client or the agency. Within Business Manager, go to "Ad Accounts" within the "Accounts" section.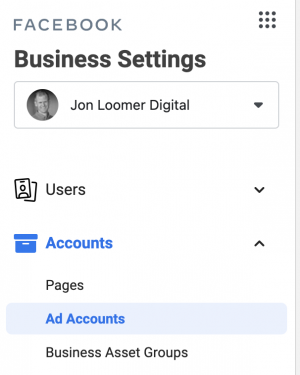 If you are an agency looking to get access to the client's ad account, click the "Add" drop-down. Then select "Request Access to an Ad Account."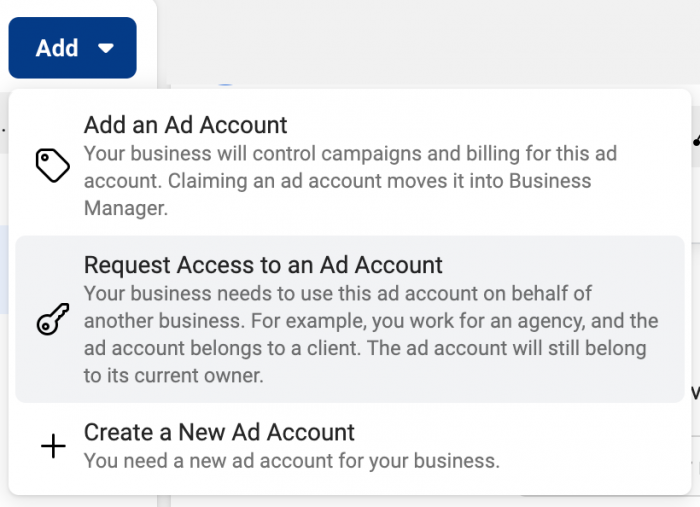 Enter the ad account ID you want to access and click "Confirm."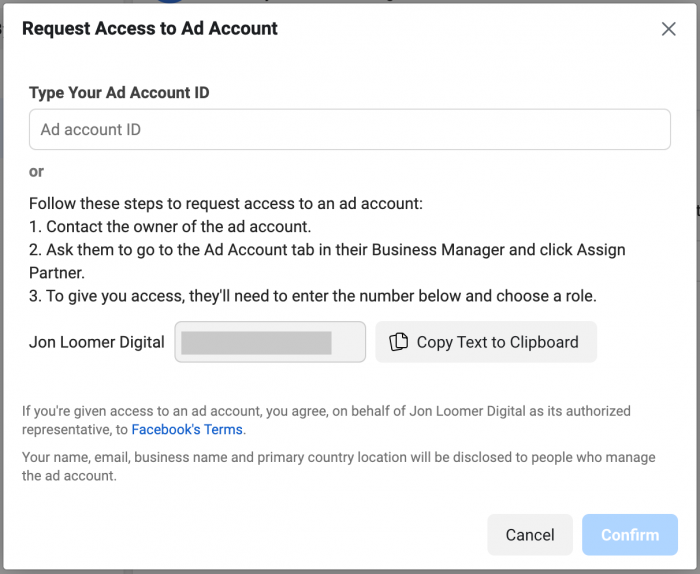 If you are the client and want to grant access to your ad account to an agency, first select your ad account within Business Manager. Then click to "Assign Partners." You will have the option of assigning by Business ID or getting a link to share.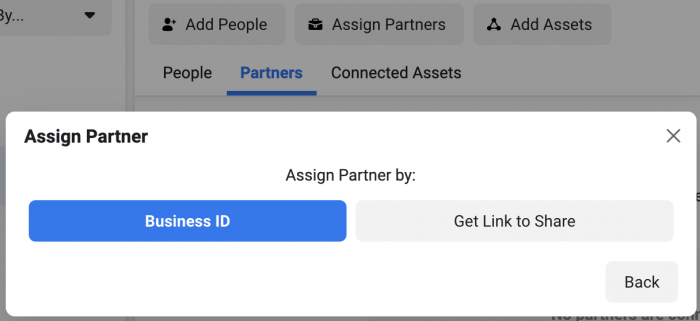 Your Business ID is found within the Business Info section at the bottom left of Business Manager.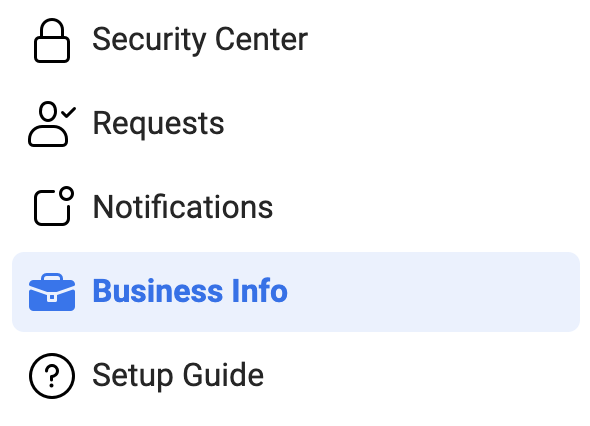 Once they enter your Business ID, they can select what level of access you can get to their ad account.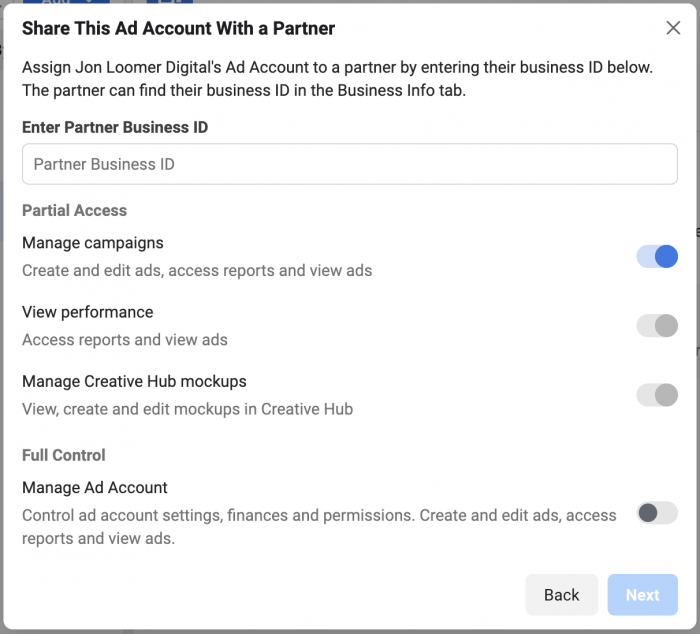 Once this is set up, you'll need to be sure you have access to the client's connected pixel as well. The client can check by going to the "Pixels" section under "Data Sources" and going to "Connected Assets" for the pixel in question.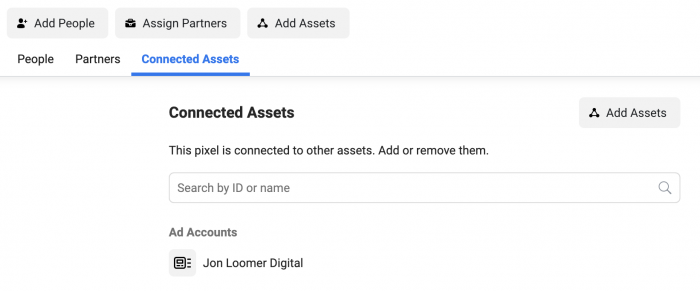 If their ad account isn't listed here, they'll need to first click "Add Assets" to connect it.
Once completed, you will be able to create ad setsAn ad set is a Facebook ads grouping where settings like targeting, scheduling, optimization, and placement are determined. More that optimize for the client's configured pixel eventsPixel events allow you to track specific actions on your website that can be used for reporting, targeting, and optimization. More.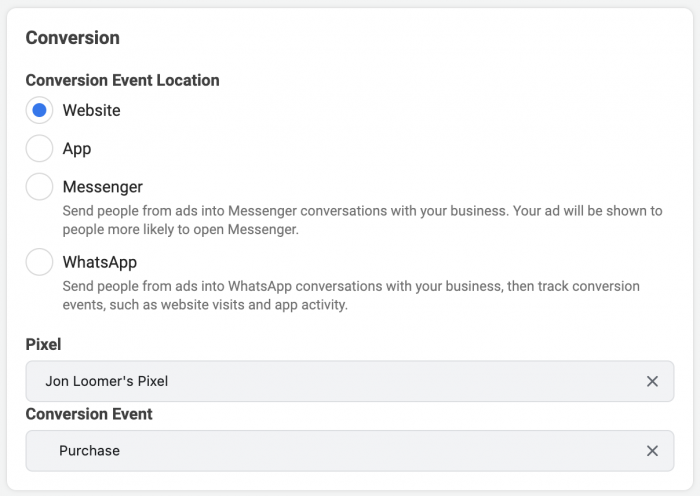 If the client has custom conversionsA conversion is counted whenever a website visitor performs an action that fires a standard event, custom event, or custom conversion. Examples of conversions include purchases, leads, content views, add to cart, and registrations. More as some of their configured events, see the portion at the bottom or read this post about sharing custom conversions.
Client Shares Pixel with Agency
Maybe the agency pays for the ads and gets reimbursed later. Even if this is the case, the client should have their own Business Manager and you should use their pixel. You can add your pixel as well, but your client will need their pixel on their website long-term for when you are no longer the agency.
The process to get access to the pixel isn't quite as straightforward as it should be. There are multiple steps.
The client should go to "Pixels" within the "Data Sources" section of Business Manager.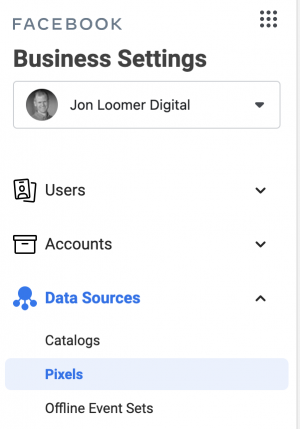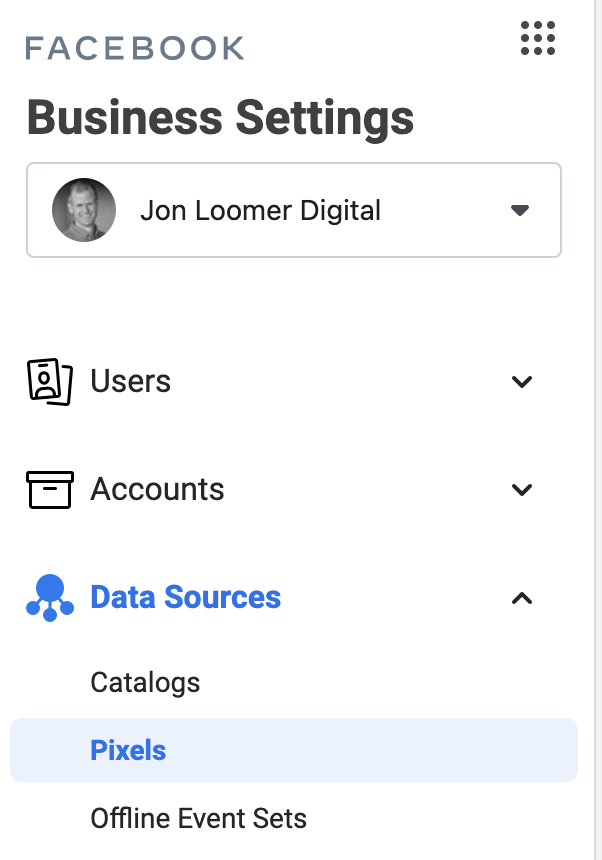 Select the pixel that you (or the client) want to share and click "Assign Partners."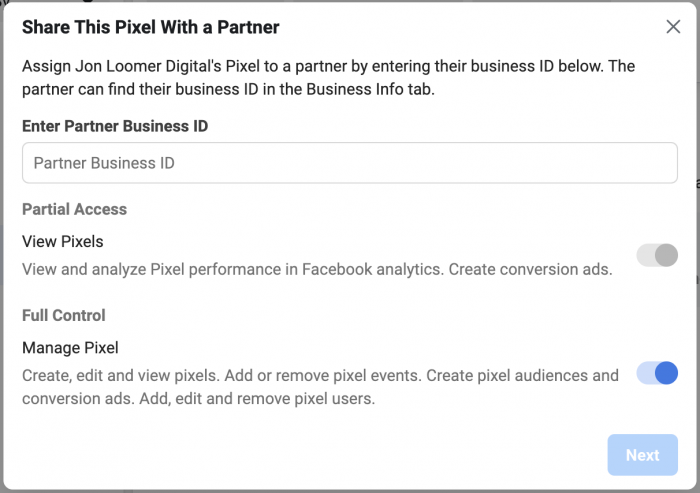 They should enter your Business ID (see instructions for finding that above) and determine your level of access to their pixel.
The pixel will then show up in your (the agency's) Business Manager under "Data Sources." However, you will not be able to optimize for any of that pixel's events yet since it isn't connected to an ad account. This is a step that can be easily missed, so don't forget it!
Click on "Add Assets" when viewing the client's pixel in Business Manager and select the ad account that you want to connect to the pixel. That ad account will then appear within the Connected Assets section for that pixel.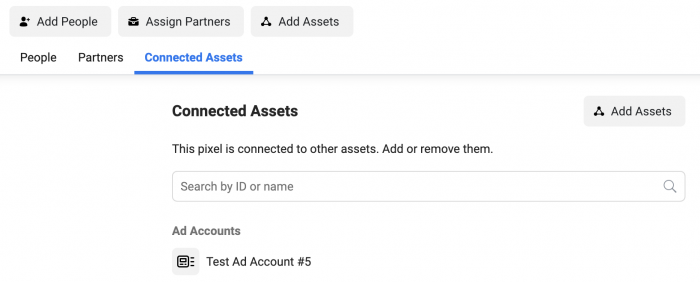 You will then be able to optimize for that pixel's configured events.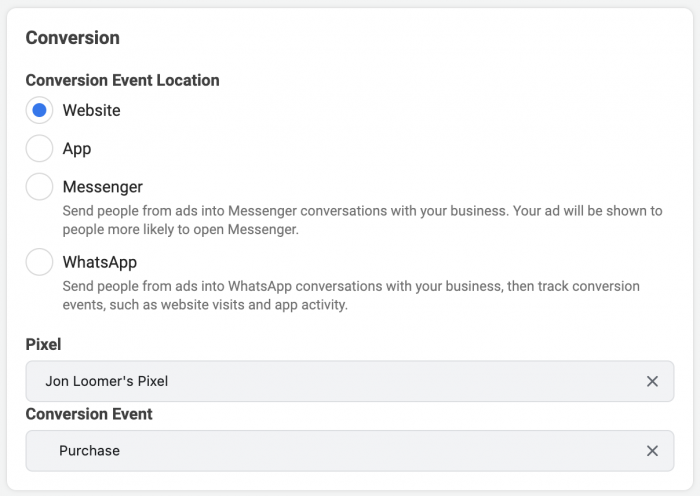 How to Share Custom Conversions
It's possible that the process highlighted above will give you access to all of the events you need. However, if your client's configured events include custom conversions, they'll need to share those, too.
For more on how to share custom conversions, read this post.
Hidden Events
After walking through these steps, you may notice that some events remain "Hidden" and can't be seen, configured, or optimized for. There is a primary reason why this is the case: The events represent pixels or custom conversions that weren't shared with you.
Read this post for more information.
Your Turn
If your client-agency is set up in these ways, you're set up for success. Still having problems?
Let me know in the comments below!