I started a podcast because I wanted to diversify the content that is offered on this website. While it requires some initial semi-heavy lifting, I can honestly say that starting a podcast isn't nearly as difficult as I expected it to be. Anyone can do it!
You can't even get started, however, without understanding some very basic things.
You'll need to create an audio file in MP3 format.
You'll need to create an XML file for publishing to distributors like iTunes.
You'll need a player that allows people to listen to individual episodes on your website
I'm sure that you could spend a chunk of change on software and a top-of-the-line microphone, but I've spent a grand total of $9 on my podcast. That was for the music clips, and even that isn't completely necessary.
For now, I record my podcast directly through the built-in microphone on my laptop. Sure, there may be a need to upgrade at some point, but I just want it to be clear that you don't need to spend an arm and a leg (or anything) to get started.
Here are the tools you'll need to start your podcast…
Audacity

The first thing you'll need to do is record your podcast in MP3 format. I do that with a free audio editor called Audacity, which is available for both Windows and Mac.

Features include:
Record Live Audio
Edit Ogg Vorbis, MP3, WAV or AIFF sound files
Cut, copy, splice or mix sounds together
Change the speed or pitch of a recording
I'm still figuring out all of the things that you can do with Audacity, but the truth is that the only functionality you really need is the ability to record and convert an audio file to MP3. I do very little editing, other than adding a music track to the beginning and end (which is done with the help of Audacity).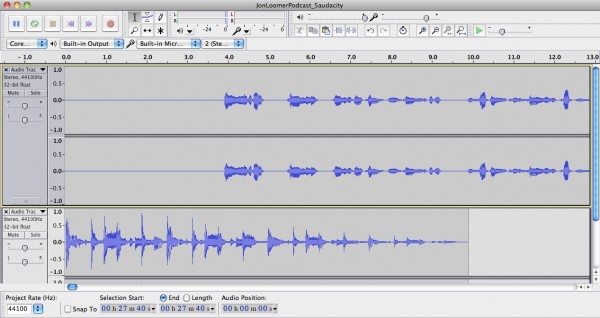 Add Music with SoundSnap

I wanted to include some music that introduces the podcast and also wraps it up. Of course, I didn't want any copyright issues, so I couldn't use just any music. That's where SoundSnap comes in.

SoundSnap allows you to choose from thousands of sound effects and loops. I found just the one I wanted and paid $9 for a package of five sounds.
Podcast Generator

You've created your podcast in the form of an MP3 file, but now you need to publish it to your website and also to an RSS feed so that it can be shared with subscribers. Podcast Generator is a great, free solution.

Podcast Generator is a web-based podcast publishing program that you install onto your website. Features include:
Very easy to install (Web Setup Wizard)
Free and open source
Supports ANY media filetype and allows to create mixed audio and video podcasts
The XML feed automatically generated is fully compatible with aggregators like iTunes
Organize your episodes by thematic categories
User friendly web administration interface: upload, edit, delete episodes and fully customize your podcast
Dynamically created "Recent podcasts" and "Podcast Archive" web pages
WordPress Audio Player Plugin

Great, everything's done but now you need to embed an audio player onto blog posts or pages so that people can listen to individual episodes. I use the WordPress Audio Player plugin.

Audio Player allows you to customize the player's color scheme to match your blog theme, have it automatically show track information from the encoded ID3 tags and more.

Here's an example of Audio Player in action…

[audio:https://www.jonloomer.com/podcast/podcastgen/media/2012-06-20_jonloomerpodcast_5.mp3|titles=JonLoomer.com Podcast – Episode #5]