A few days ago, I wrote about Facebook's new Event Setup Tool that simplifies adding pixel eventsPixel events allow you to track specific actions on your website that can be used for reporting, targeting, and optimization. More to your website. This is a huge development because Facebook pixelThe Facebook pixel helps advertisers track events that occur on their website and reach people who performed those events with ads. More events aren't fully utilized by marketers as they should be.
Why do you need to use pixel events? How can events benefit your marketing? Let's break down a few of the primary ways…
[Learn more about how to master the Facebook pixel for 2019 in my upcoming training. SIGN UP HERE.]
1. Advanced Website Custom AudiencesA website custom audience matches people who visit your website with people on Facebook. You can then create ads to show to that audience. More
If you have the base pixel installed on your website, you can create audiences like…
All website visitors
Visitors based on URL visited
Visitors based on time spent
All are great! But, if you add events to your pixel, you can also create Website Custom Audiences based on these actions.
You could, for example, create an audienceThis is the group of people who can potentially see your ads. You help influence this by adjusting age, gender, location, detailed targeting (interests and behaviors), custom audiences, and more. More of all people who have performed any purchase on your website during the past 30 days.

Of course, it could be a search, lead, registration, or any other event that happens on your site.
For extra credit, you can add event parameters, which provide more details to the transaction. For example, adding the "Purchase" event allows you to create an audience of those who performed any purchase. Add parameters, and you can create audiences of those who purchased a specific product or spent over a certain amount.
Here's an example of an audience that consists of people who performed purchases that, in aggregate, were equal to or greater than $100…
2. Conversion OptimizationThe Performance Goal is chosen within the ad set and determines optimization and delivery. How you optimize impacts who sees your ad. Meta will show your ad to people most likely to perform your desired action. More
One of the powers of Facebook ads is the ability of the algorithm to optimize to help you reachReach measures the number of Accounts Center Accounts (formerly users) that saw your ads at least once. You can have one account reached with multiple impressions. More your ideal audience. One way Facebook can do this for you is optimizing to show ads to people most likely to convert — or perform the specific conversion action you want.
If you want to use the ConversionsA conversion is counted whenever a website visitor performs an action that fires a standard event, custom event, or custom conversion. Examples of conversions include purchases, leads, content views, add to cart, and registrations. More objectiveWhen you create a campaign, one of the first things you'll do is select an objective. The campaign objective is your ultimate goal. Your selection will impact options, including optimization and delivery. Options include Awareness, Traffic, Engagement, Leads, App Promotion, and Sales. More, you'll need to select a pixel event to optimize for…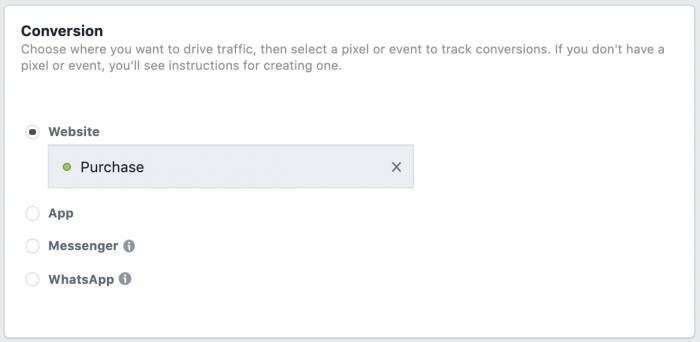 While you can optimize for a Custom Conversion (typically a specific product), optimizing for a broader event action (like "Purchase") gives Facebook more data to help you effectively optimize.
3. Conversion Tracking
How effective are the Facebook ad campaignsThe campaign is the foundation of your Facebook ad. This is where you'll set an advertising objective, which defines what you want your ad to achieve. More that you're running? Without the pixel and events, your focus is likely on a combination of Cost Per ClickFacebook reports on CPC (All) and CPC (Link Click). The first refers to all clicks and the second on all internal and outbound links. More, Click Through Rate, and Engagement Rate. But these may have little, if any, connection to whether conversions occurred.
If you use pixel events, you can add a column specifically for the total number, unique number, value, cost, and unique cost of any standard event.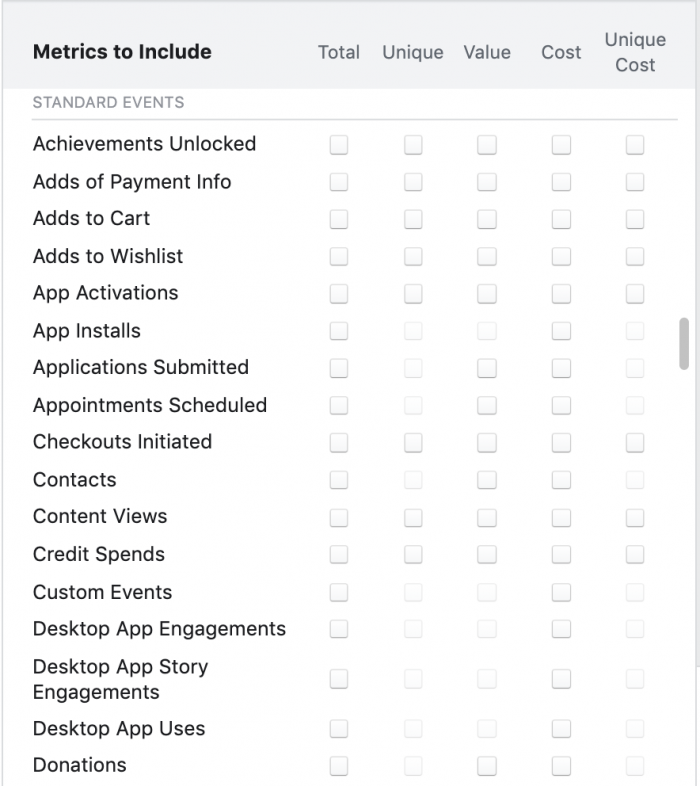 And if you use event parameters and utilize a product catalog, you can break reporting down by product ID.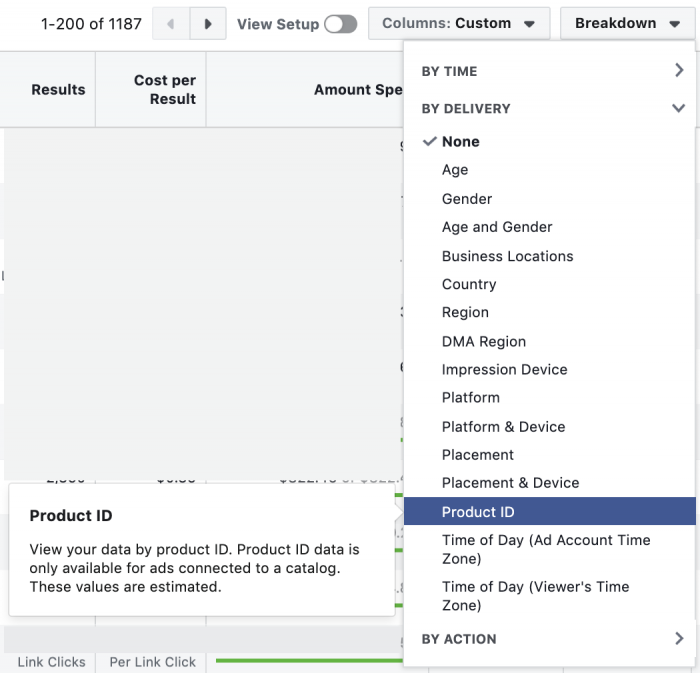 While you can (and should) track results by Custom ConversionCustom conversions let you create rules for events or URLs so that you can better track and optimize for specific actions with Facebook ads. More, you are limited to 100 of them per ad account. There are no such limitations to events.

4. Facebook Analytics
Facebook Analytics is a pretty awesome marketing tool. It's a free tool (described by my friend Andrew Foxwell), "designed to help you visualize your entire sales funnel, understand the lifetime value of users, and see how your organic and paid strategies intersect."
Facebook naturally has valuable data from interactions with your Facebook page and posts (organic and paid). But, how valuable are those interactions? Do these people buy from you? Are some reactions and interactions more valuable than others?
Well, you won't know the answers to these questions without the Facebook pixel and events.
The number of valuable reports that you can generate with Facebook Analytics is too many to cover in this blog post. But, you can create funnels to view the percentage of your top of the funnel that ultimately converts…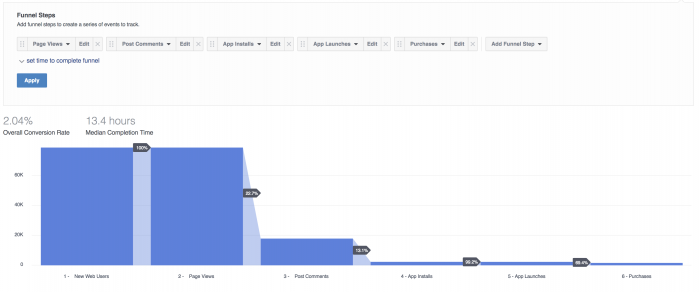 You can track customer lifetime value…

You could also look at a breakdownBreakdown is a way to get insights into your ad performance related to time, delivery, action, or dynamic creative element. More of age, gender, and country by purchase value…

You can create a cohort of those who registered and then eventually purchased a product…

You can run a breakdown of the demographics of those who make a purchase to view info based on age, gender, country, city, language, and more…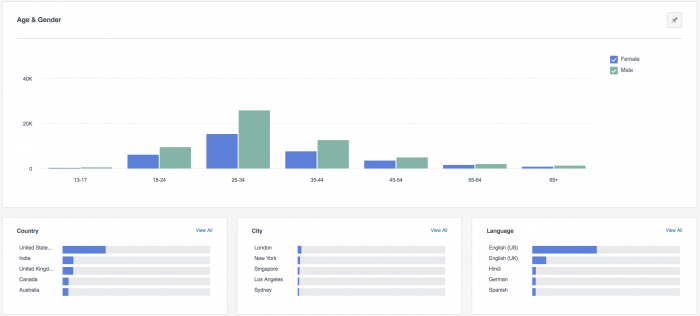 Compare the stickiness of someone who registered for something to those who made a purchase…

This is just scratching the surface regarding the reporting available to you with Facebook Analytics. But none of it is available without the use of pixel events.
5. Facebook AttributionAttribution is how Meta gives credit to an ad for a conversion. Your Attribution Setting determines how your ad will be delivered and the reporting attribution window. The default Attribution Setting is 7-day click and 1-day view, which means that anyone who converts within 7 days of clicking or 1 day of viewing your ad will be counted as a conversion. More
Facebook Attribution is yet another powerful tool that not enough marketers are using and benefiting from. As I described in my introduction to this tool, Facebook Attribution is designed to help you understand the impact of your content and ads across multiple publishers, channels, and devices. Note that this includes and goes beyond Facebook — not only the organic referrals from Google and others, but your non-Facebook advertising efforts.
There are limitless use cases of Facebook Attribution, but let's lay out a few.
View the top sources of website purchases by channel…

View the number of conversions that occurred on mobile after viewing your content from desktop…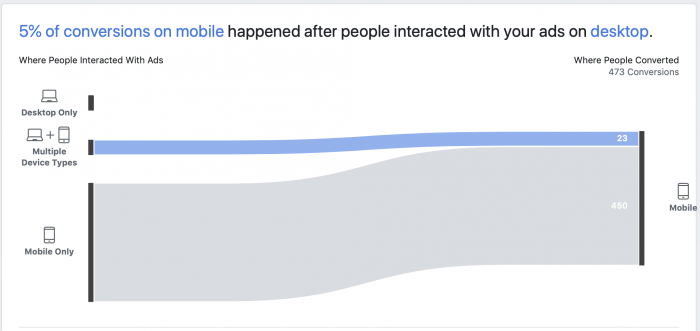 Or vice versa…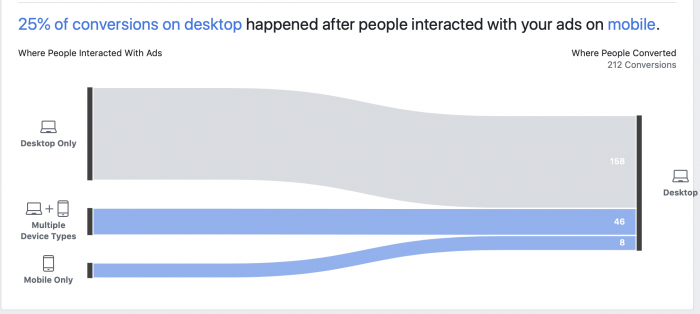 In order to get any of this information, you'll need to utilize Facebook pixel events.
6. Dynamic Ads
If you manage ads for an e-commerce brand, dynamic ads are invaluable. They allow you to dynamically show ads to people based on their interaction with that or other similar products in the past. This is done, in part, with ad templates and product catalogs that are provided to Facebook.
These are most useful for those with dozens, hundreds, or thousands of products, particularly those with high ad spend. You don't need to manually create ads for all of these products, or focus only on a select few. You can hyper-target those expressing interest with a highly relevant ad.
You shouldn't be surprised to learn this, but you need the Facebook pixel and events to utilize dynamic ads. This is how Facebook knows what stage of the funnel a visitor has reached (add to cart, add payment info, add to wishlist) and organize what products were viewed by product ID.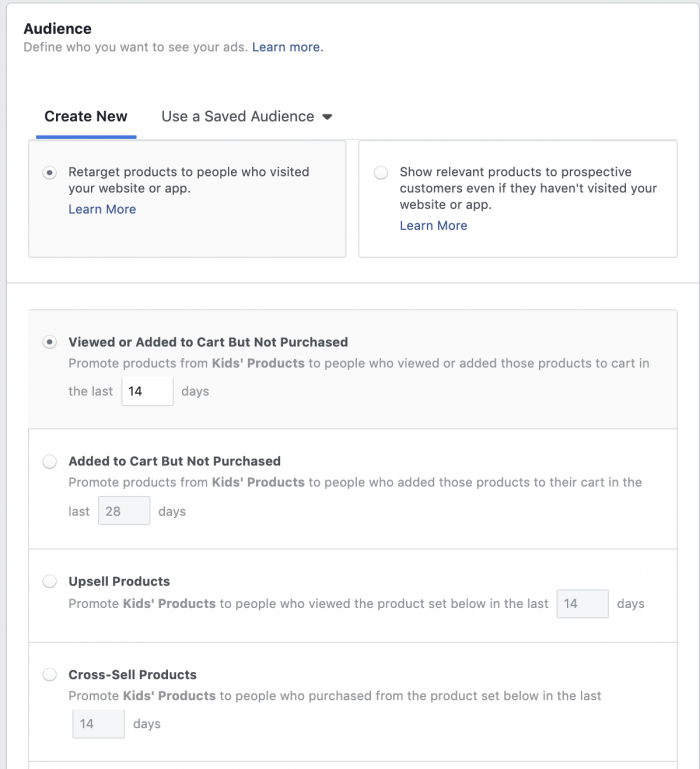 Your Turn
The reality is that Facebook pixel events aren't only beneficial, they are required for any serious Facebook advertiser. The benefits are simply too great, and I'm undoubtedly missing some here.
Are there any other benefits of Facebook pixel events that I'm missing here? Let me know in the comments below!