Late last year, I started hearing rumblings that Facebook was working on a series of free training resources for marketers. Since I run a website that once derived most of my revenue from training courses, this certainly got my attention.
While it may not have been the deciding factor for changing my business model, it was the first time I started thinking about whether producing training courses was optimal. There ultimately were many other factors that led to my decision (course shelf life, hours of work to create, revenue peaks and valleys), it put the wheels in motion.
Well, Facebook has now started rolling out these materials, and I can tell you that they vary in quality. Some of the materials, though, are actually quite good — especially considering the price (free).
That doesn't mean you don't need a site like mine and the products I provide (that's crazy talk). The training Facebook is rolling out remains slanted towards beginners. Honestly, I appreciate this since this is not my target audienceThis is the group of people who can potentially see your ads. You help influence this by adjusting age, gender, location, detailed targeting (interests and behaviors), custom audiences, and more. More, and quality beginner education has long been a need.
Here's an overview of much of what was recently rolled out, in order of usefulness.
[Tweet "Facebook has rolled out new training materials for marketers, and some are quite useful…"]
Blueprint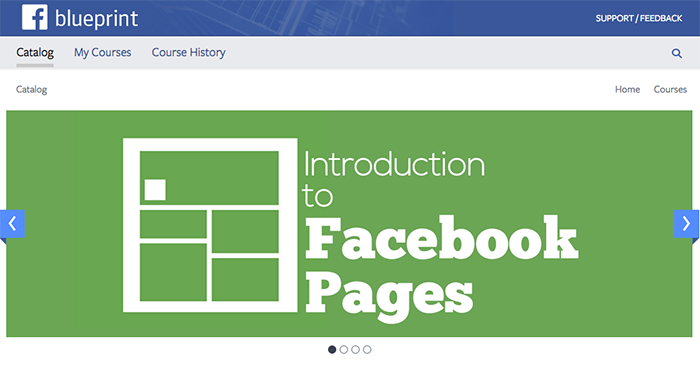 Blueprint is by far the most valuable part of these new training offerings. Facebook offers a series of 41 course lessons covering wide ranging marketing topics.
Courses are broken down into the following categories:
01. Introduction to Facebook
02. Best Practices
03. Facebook Pages
04. Purchasing Ads
05. Managing Your Ads
06. Advertising ObjectivesWhen you create a campaign, one of the first things you'll do is select an objective. The campaign objective is your ultimate goal. Your selection will impact options, including optimization and delivery. Options include Awareness, Traffic, Engagement, Leads, App Promotion, and Sales. More
07. Targeting
08. Campaign OptimizationThe Performance Goal is chosen within the ad set and determines optimization and delivery. How you optimize impacts who sees your ad. Meta will show your ad to people most likely to perform your desired action. More
09. Reporting and Measurement
10. Additional Insights
11. All Courses
And here's a list of all courses offered within Blueprint:
A/B TestingSplit testing (or A/B testing) allows you to test changes in Facebook variables like ad creative, audience, or placement to determine which approach performs best. More
Ad Policies
Ad Reporting
Ads Create Tool
Ads Manager
All Content [Curriculum]
App Engagement
App Installs
Boost Your Posts
Brand Best Practices
Brand [Curriculum]
Brand Measurement Solutions
Business ManagerEvery organization should have their own Business Manager to organize their assets (pages, ad accounts, pixels, and more), and then provide appropriate access to those assets to partners. More
Buying Channels
Campaign Structure
Clicks to Website
Creating a Facebook Page
Creative Best Practices
Data Driven Marketing [Curriculum]
Digital Buyer [Curriculum]
Digital Planner [Curriculum]
Direct Response Best Practices
Direct Response [Curriculum]
Direct Response Measurement Solutions
Event ResponsesThe number of people who responded 'Interested' or 'Going' to your Facebook event and credited to your ads. More
Facebook Exchange
Facebook Terminology
Introduction to Facebook Pages
Mobile SDK
Offer Claims
Page Likes
Power Editor (Advanced Advertisers)
Reporting & Analytics [Curriculum]
Sight, Sound and Motion
Successful CampaignsThe campaign is the foundation of your Facebook ad. This is where you'll set an advertising objective, which defines what you want your ad to achieve. More
Targeting – Core Audiences
Targeting – Custom Audiences
Targeting – Lookalike Audiences
Video Views
Website ConversionsA conversion is counted whenever a website visitor performs an action that fires a standard event, custom event, or custom conversion. Examples of conversions include purchases, leads, content views, add to cart, and registrations. More
Welcome to Marketing on Facebook
Here's the view of an individual lesson overview…
There is a brief lesson description and expectation for how long it will take to complete (most say 15 minutes). Click the "Enroll" button to enroll in the lesson and add it to your courses.
You'll then get a view that looks something like this…
This lets you know when you started the lesson and how close you are to completing it.
Click the "Launch" button and a new window will come up that guides you through the lesson. In the original view, you are presented with a group of modules for that lesson.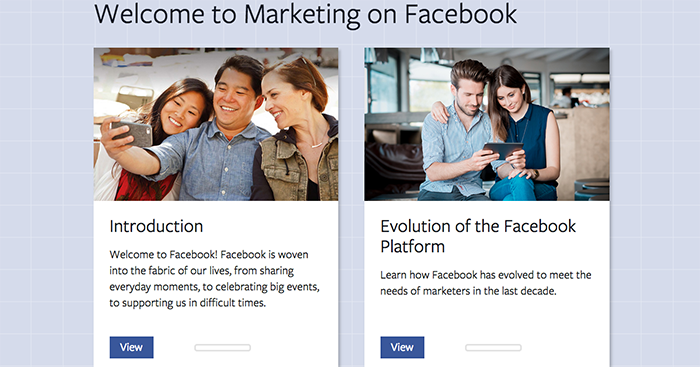 Click to view any of those portions of that lesson…
At any time, you can go back to view which courses you have completed and which are still in progress.
I've gotta admit that I'm impressed with these offerings. Facebook struggles to educate, but this is a really nice course format. If you're looking for a free resource for beginner Facebook marketing training, Blueprint is a great place to start.
Learn How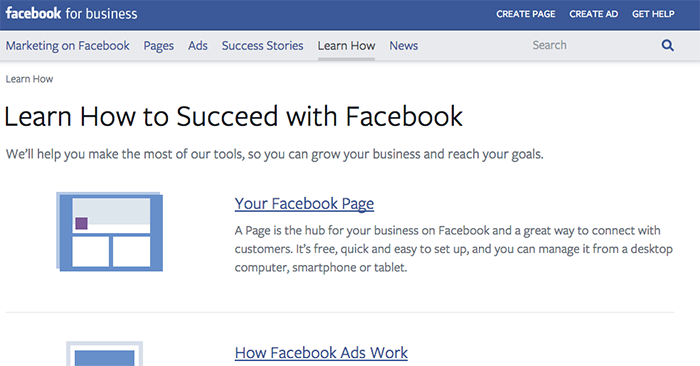 Within Facebook for Business is a Learn How to Succeed with Facebook section.
It's broken up into the following:
Your Facebook Page
How Facebook Ads Work
Measuring Results
Creating an Ad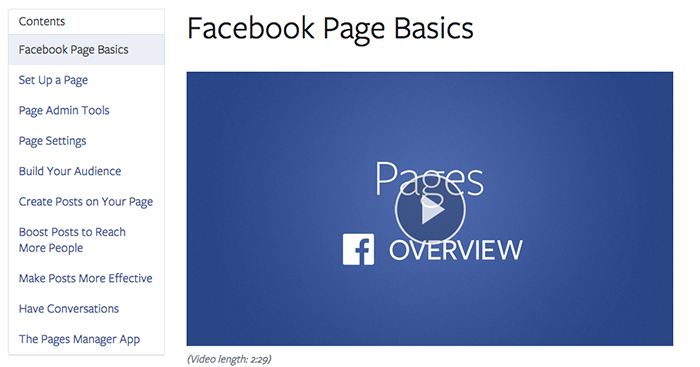 The "Your Facebook Page" link provides helpful lessons on the following topics:
Facebook Page Basics
Set Up a Page
Page Admin Tools
Page Settings
Build Your Audience
Create Posts on Your Page
Boost Posts to ReachReach measures the number of Accounts Center Accounts (formerly users) that saw your ads at least once. You can have one account reached with multiple impressions. More More People
Make Posts More Effective
Have Conversations
The Pages Manager App
The "How Facebook Ads Work" link provides these topics:
Facebook Ad Basics
How Much Do Facebook Ads Cost?
Your Facebook Ads Bill
Choose Your Ad Audience
Reach Customers You Know
Create a Custom Audience
Track Actions On Your Website
Remarket to Website Visitors
Find People Similar to Your Customers
Write Your Facebook Ad
Choose Photos for Your Ad
Click the "Measuring Results" link for these topics:
Facebook Measurement Basics
Page Insights Basics
Page Insights: Likes
Page Insights: Reach
Page Insights: Visits
Page Insights: Posts
Page Insights: People
Ads Reporting Basics
Ads Reporting: Ad Performance
Ads Reporting: Campaign Structure
And finally, here are the lessons covered within "Creating an Ad:"
Facebook Ad Creation Basics
Page Post EngagementPost engagements include all of the actions that people took on your Facebook ad post. Examples include:
• Post Shares
• Post Reactions
• Post Saves
• Post Comment
• Page Likes
• Post Interactions
• 3-Seconds Video Plays
• Photo Views
• Link Clicks
More Ads
Page Like Ads
Clicks to Website Ads
Website Conversions
App Install and Engagement Ads
Event Response Ads
Offer Claim Ads
Video Views
Local Awareness Ads
These tips aren't quite on the level of a structured course like Blueprint, but they are still plenty helpful.
Story Packs
Story Packs are Facebook advertising templates for three different industries:
Why spas? Yeah, I really don't know. But these are still pretty interesting.
For each industry, Facebook provides three ad examples for People, Place, Things and News. Here's an example for restaurants…
Facebook provides three examples for creating ads featuring people for restaurants. They give examples of highlighting a staff member, recognizing a regular customer and sharing a featured product.
Not really sure how the Pick of the Day is people-focused, but it's still a good suggestion!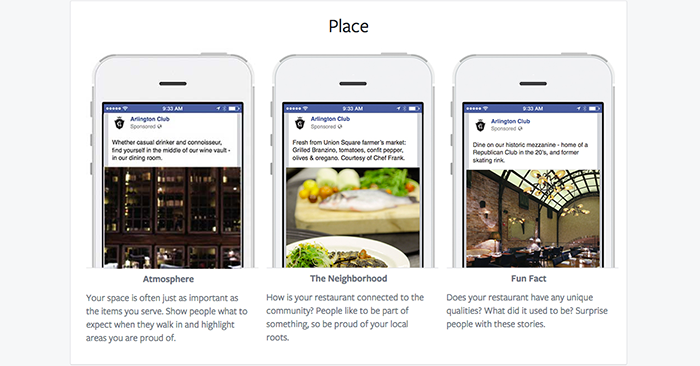 Facebook also recommends highlighting the atmosphere or neighborhood as reasons to stop by. Otherwise, share a fun fact that people may not know about the restaurant.
For Things, Facebook suggests focusing on unique facts related to the menu.
And finally, Facebook recommends using ads to share announcements, specials or events.
I'd consider these story packs to be more inspiration than templates. Facebook expects you'll replace the images and text with your own, but that's kind of silly since they're basically saying to replace the ad.
Great inspiration, though, and good reminders about ways we can get creative with our ads.
Creative Tips
Creative Tips is a section that allows Facebook to give you basic ideas associated with three different things:
Making Your Ad
Choosing Images
Writing Copy
Facebook then provides visual examples for each…
Making Your Ad
Know Your Business Goal
Know Your Audience
Pick a Topic
Choosing Images
Pick an Interesting Subject
Shoot for Quality
Some DIY Photography Tips
Writing Copy
Tone of Voice
Stick to What's Important
Write With the Customer in Mind
This is beginner-level stuff that is good as intro reading and reminders for what we should do, but it's not something you'll likely refer back to more than once.
Inspiration Gallery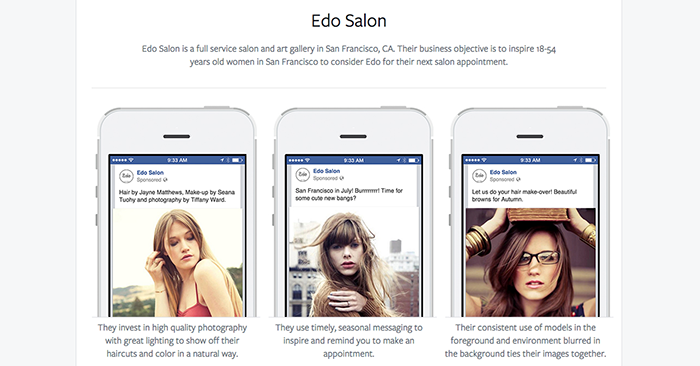 The Inspiration Gallery is exactly what you'd think it would be. Facebook handpicks several brands that they feel are doing a good job with Facebook ads and highlights their work.
Three ad examples each come from the following brands:
Edo Salon
Cowboy Up Men's Salon
The Bun Shop
Farmgirl Flowers
Arlington Club
Goldy + Mac
Buca di Beppo
Loopy Mango
It's interesting. It could be helpful if you're stuck and need some inspiration. But overall, not a reference you'll likely frequent.
Ad Images Cheat Sheet
When I first heard about Facebook's Ad Images Cheat Sheet, I was admittedly a tad nervous because the piece of content that has long been my biggest content driver is an image dimensions infographic. I worried that Facebook did the same — or even improved upon it.
Nope. Not even close.
Here it is, in all its glory…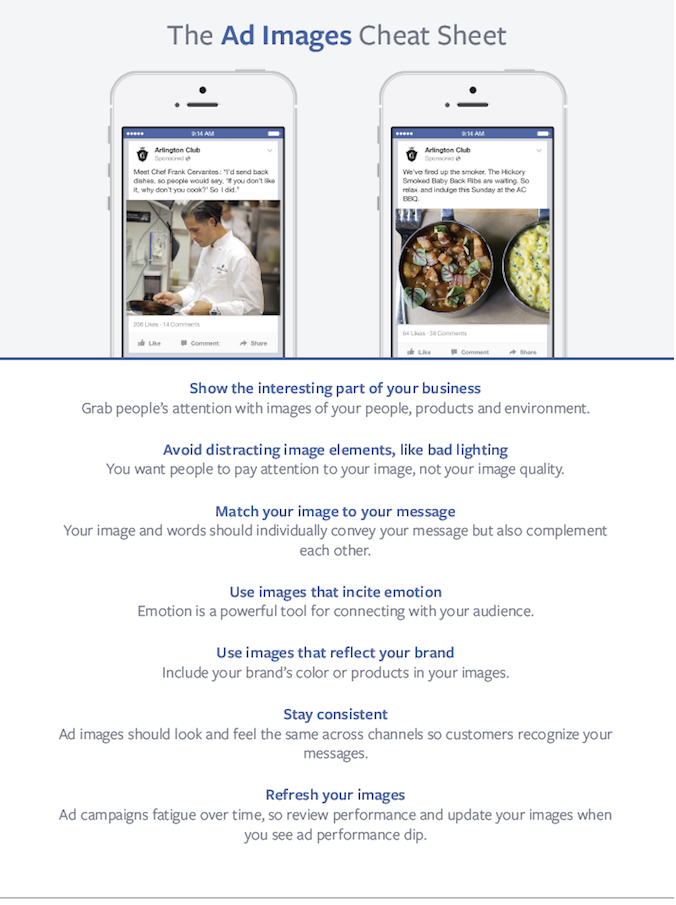 Really? That's all you've got, Facebook? This looks like a reference that was thrown together in 30 minutes.
Some nice suggestions, I guess. But hardly a "cheat sheet" of any sort.
Ad Copy Cheat Sheet
Created with the same style as the Ad Images Cheat Sheet, the Ad Copy Cheat Sheet offers about the same in value: Not much at all.
Here it is…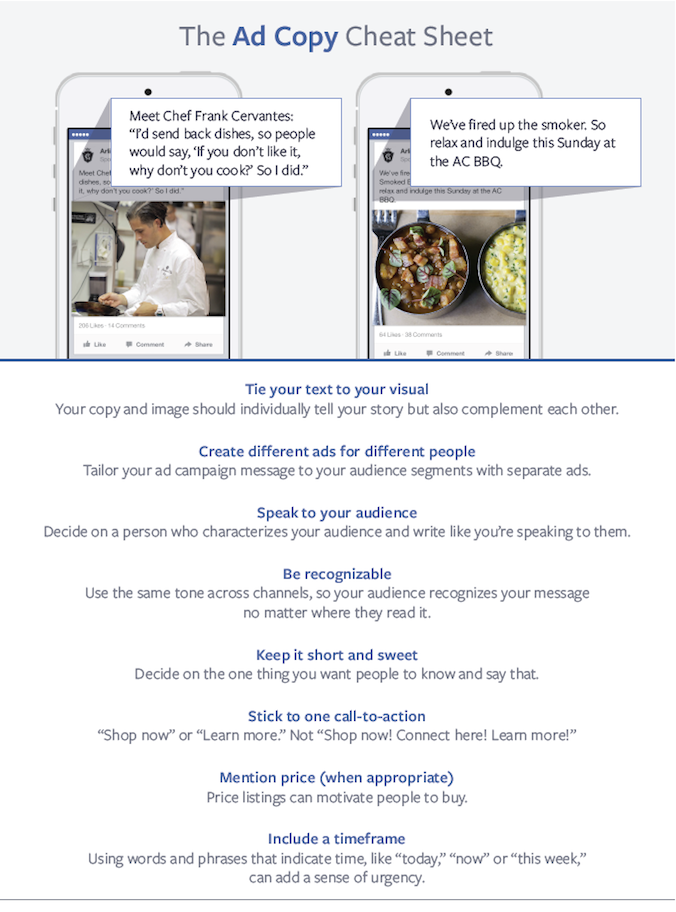 You can do better, Facebook. You really can.
Get More Advanced Training
As I said at the top, I'm glad that Facebook created these resources. Many of them are quite valuable and are great for new advertisers. It gives me a viable destination that I can send people to who are in need of that type of education.
Maybe you want more, though. Maybe you want a dynamic, real-time training. Maybe you want more than just guides, but a community of other advanced marketers. In that case, the Power Hitters Club is perfect for you.
The PHC isn't for everyone. But if you're advanced or committed to becoming advanced, it's something you need to consider.
Membership includes the following:
Weekly Exclusive Blog Posts
Weekly Members-Only Webinars
Private, Members-Only Facebook Group
PHC-Only Rewards Program
Workshops for Only $20 (Non-Members Pay $147)
An example of an exclusive blog post for PHC members only is one I wrote this week about the new Facebook Page Plugin. You may not have heard, but the Like Box is going away. This is no small deal as the Like Box on my site has led to 1,259 new fans in 2015 alone.
That Like Box is being replaced by the Page Plugin. So I created a tutorial to step you through how to install it on your site.
Your Turn
Have you tried out Facebook's new training resources? What do you think?
Let me know in the comments below!