Facebook appears to be on the verge of adding a new valuable targeting method for publishers: Target users who have shared articles from your website.
I say "appears to be" because I had it for a very short period of time today. I was so excited that I forgot to take more than a single screengrab. Then the feature was taken away from me.
But the feature's temporary existence in my life makes it a good bet that it will be available soon. It was likely released before it was fully ready (or before Facebook was fully ready to talk about it).
I had it long enough to create a couple of audiences. Those audiences continue to work, so I'm using them for targeting as well as using them as a source for Lookalike Audiences.
Let's take a closer look at what I saw and what I know…
Engagement on Facebook Custom Audiences
When I was first given a taste of Engagement on Facebook Custom Audiences in March, I could already envision the possibilities. Before today, advertisers could create the following Engagement on Facebook Custom Audiences:
All great additions. But when I opened Engagement on Facebook Custom Audiences earlier today, there was a fourth option…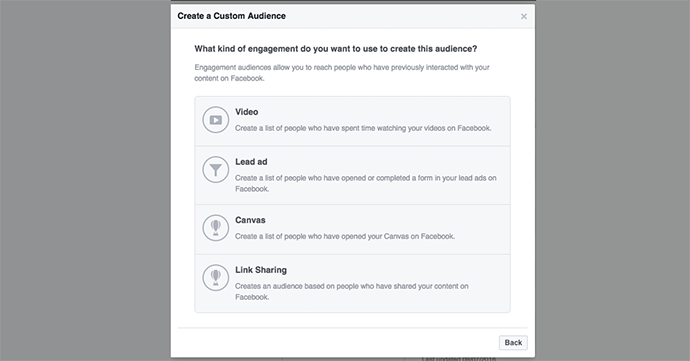 That's right, "Link Sharing." And as described:
Create an audienceThis is the group of people who can potentially see your ads. You help influence this by adjusting age, gender, location, detailed targeting (interests and behaviors), custom audiences, and more. More based on people who have shared your content on Facebook.
That's freaking awesome.
How it Works
Again, I only have the single screengrab right now (my bad), but here are the details…
1. Duration up to 30 days.
Jeez, Facebook. Why all the different durations? We get 180 for Website Custom AudiencesA website custom audience matches people who visit your website with people on Facebook. You can then create ads to show to that audience. More, 90 for Lead Ad Custom AudiencesLead form custom audiences allow you to create audiences of people who engaged with your Facebook lead ad forms to be used in ad targeting. More, 365 for Canvas and Video Custom Audiences and now 30 for Link Sharing Custom Audiences.
Well, I'm not going to complain (loudly). But this will limit volume since those who share links will be the most engaged visitors — a small percentage of all visitors.
2. Select an app.
This part is going to confuse a lot of advertisers. If you're using Facebook social plugins on your site, you need to be using the Facebook SDK for Javascript. And if you're using the Facebook SDK for Javascript, you need to create a Facebook app.
This isn't as difficult as it sounds. It's just a matter of connecting Facebook to your website or something (I really don't understand this side of it).
Basically, you'll probably want to select the app you are using for the SDK. That said, I'd guess there may be value to creating audiences from other apps you've created for other purposes (Instant Articles maybe?).
3. Base on any URL or specific URLs.
You can create an audience of people who shared any URLs from your site or you can enter one or multiple URLs as the source.
The vast majority of publishers should use all URLs. As noted earlier, we're going to be talking about very small audiences already for all but the most trafficked websites (partially due to the 30-day duration limit).
How I'm Using This
I've created a couple of these — one for 7 days and one for 30 days. But even the audience for 30 days is only 1,500 people. For comparison's sake, my WCA for all website visitors during the past 30 days is more than 150,000 people.
I didn't know what to do with it yet, but I decided to share my discovery with a select group. Why not share it with those who shared links from my website?
So, I created this ad…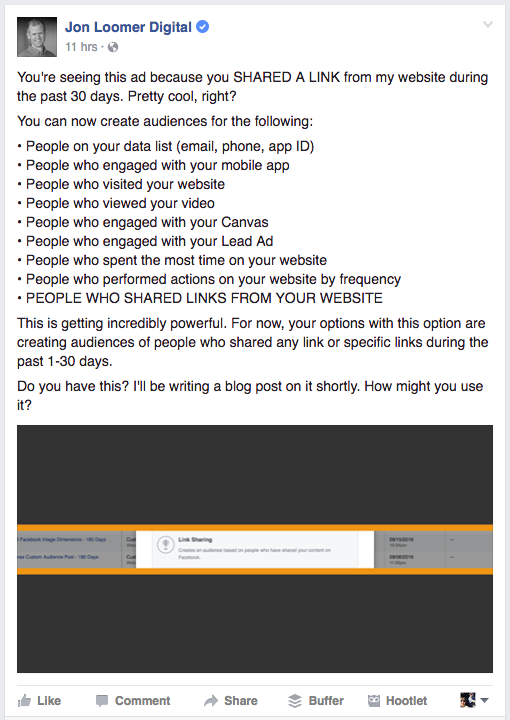 It's a Post EngagementPost engagements include all of the actions that people took on your Facebook ad post. Examples include:
• Post Shares
• Post Reactions
• Post Saves
• Post Comment
• Page Likes
• Post Interactions
• 3-Seconds Video Plays
• Photo Views
• Link Clicks
More objectiveThe objective reflects the goal you want to achieve with your advertising and is established at the campaign level. More promoting an image only (which I never do), but this was an experiment with minimal budgetA budget is an amount you're willing to spend on your Facebook campaigns or ad sets on a daily or lifetime basis. More to a small group. I used Daily Unique Reach bidding to reachReach measures the number of Accounts Center accounts (formerly users) that saw your ads at least once. You can have one account reached with multiple impressions. More as many of those 1,500 as possible.
I also plan to create an ad setAn ad set is a Facebook ads grouping where settings like targeting, scheduling, optimization, and placement are determined. More that promotes this very blog post to that same group of people. Again, minimal budget, but it will be interesting to see what costs are for link clicksThe link click metric measures all clicks on links that drive users to properties on and off of Facebook. More.
I also started creating Lookalike Audiences based on this group. I'm using those Lookalikes to promote my dimensions infographic. I didn't have much success promoting that post to other Lookalikes, so I was curious how well it would do.
[As I type this, that ad set has just barely started to deliver. Too early to tell.]
I Reached Out to Facebook
I did reach out to Facebook, and I've gotta be honest. I feel like that action may have screwed all of us ("That's live?! What? It's not supposed to be available yet!"). Or it could very well just be a coincidence.
I haven't received an official statement yet, but when I do, I'll share that here.
It's not uncommon for this kind of thing to happen. I spotted the Canvas Engagement Custom Audiences a few months before they were ready (they were definitely not ready at that point). After reaching out to Facebook, they disappeared (again, possibly a coincidence).
So Many Possibilities
Engagement on Facebook Custom Audiences have the potential to be amazing because we're just scratching the surface regarding the types of audiences that could be created. Facebook has so much engagement data that would allow us to create refined audiences that could lead to amazing, well-targeted ads and great results.
Some engagement audiences I hope are coming:
Instant Articles Engagement
Post Comments (or Facebook Comments)
Post Likes
Pages Likes During the Past X Days
Offer Claims
Event Engagement
More….?
Link Sharing Custom Audiences may not ultimately offer much more value than creating an audience of people who spent the most time on your website or who visited or performed other actions multiple times — or even more valuable than audiences for buying a product or registering for something.
But it's another option. And these people are some of your most valuable. And it's quite possible that sharing to them will increase your sharing at a greater rate — thereby leading to more virality.
Your Turn
Did you see this feature? Do you still have it? What do you think about it?
Let me know in the comments below!