When it comes to Facebook lead ads, their advantage is also a potential weakness. Since lead ad forms keep users on Facebook, you don't drive traffic to your website. And if you aren't driving traffic to your website, you're losing the ability to create audiences and remarket to these people. Right?
Well, not entirely. Lead Form Custom Audiences help fill in the gaps. Let's discuss…
[Tweet "You can now custom audiences to target those who opened or submitted a Facebook lead form. Here's how…"]
The No-Landing-Page Problem
One of the inherent problems with Lead Ads — for advertisers, not users — was that they kept users on Facebook. Without a landing page, form engagement wouldn't contribute to website traffic, which allows marketers to create Website Custom Audiences.
Why was this important? It's helpful to know whether a user clicked to open the form but didn't submit or clicked and submitted. These actions could help the advertiser show the user a more relevant ad.
For example, when a user clicks and submits to register, they should be excluded from seeing that ad again. Additionally, you may want to show a different ad to a user who clicked and didn't submit. Understanding that they got close to submitting, you could surface additional benefits or remind them that time is running out on signing up.
These are all things you can do with Website Custom AudiencesA website custom audience matches people who visit your website with people on Facebook. You can then create ads to show to that audience. More when driving users to a landing page. Without that landing page, though, advertisers would appear to be limited.
The Lead Ad Form Engagement Custom AudienceThis is the group of people who can potentially see your ads. You help influence this by adjusting age, gender, location, detailed targeting (interests and behaviors), custom audiences, and more. More
Enter lead ad form custom audiencesLead form custom audiences allow you to create audiences of people who engaged with your Facebook lead ad forms to be used in ad targeting. More. Go to Audiences within your Ads Manager and click to create a Custom Audience.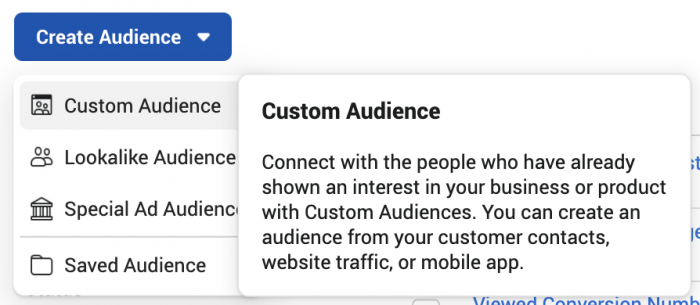 Select "Lead Form."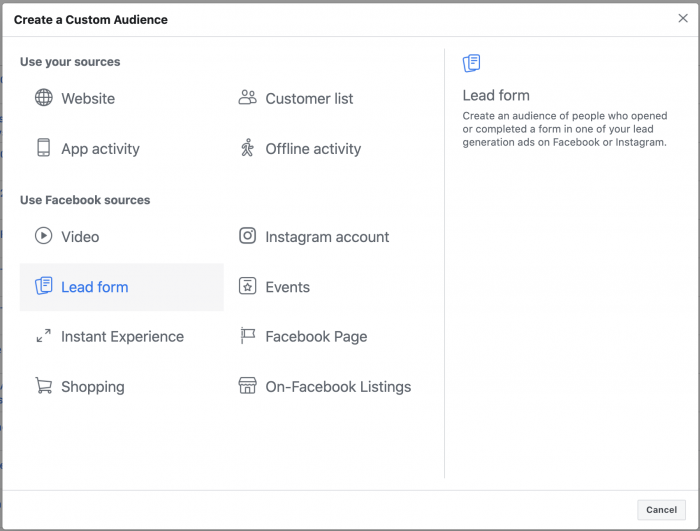 How to Create a Lead Ad Custom Audience
After going through the steps above, you are then given a dialog that looks like this…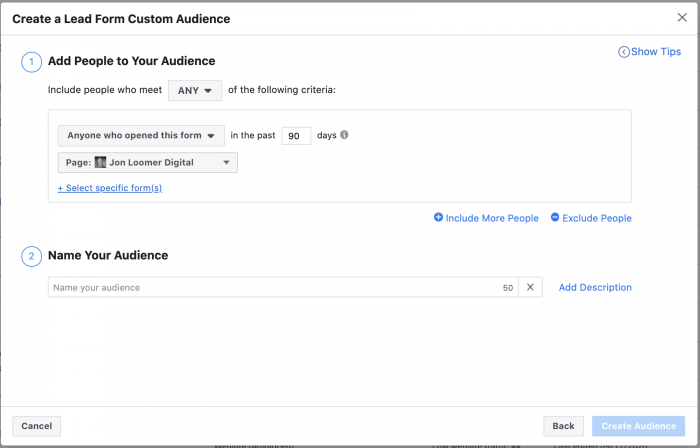 First, indicate the lead form action that you want to isolate.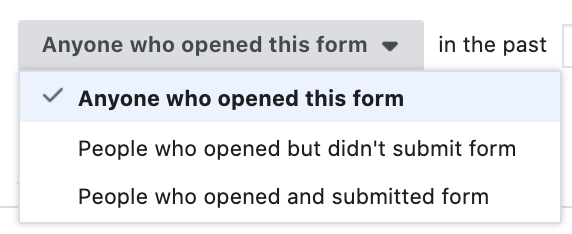 Following are your options:
Anyone who opened this form
People who opened but didn't submit form
People who opened and submitted form
The first ("anyone who opened this form") would be the largest audience, including both those who submitted and those who didn't. This is the default. The second only includes those who didn't submit and the third only includes those who did submit.
Select the number of days people will remain in your audience…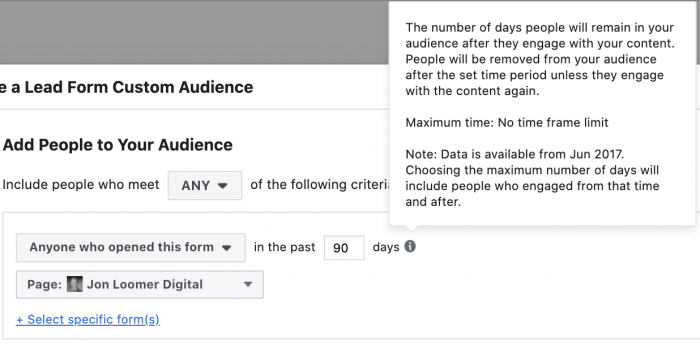 Note that the limit for this has always been 90 days. The tooltip contradicts this, indicating "No Time Frame Limit." But, when I tried 120 days, I get an error…

When I click away, it defaults back to 90. For now, I'll assume this is just a typo in documentation. But it could be a sign that this will be changing.
Let's explain what that number means. This audience will only include someone who has engaged with your form during the past 90 days. That's kind of annoying since Page Engagement Custom Audiences are 365 days and Website Custom Audiences use 180 days. The 90-day limit makes these audiences a bit less useful.
Once you've selected your page, indicate which form(s) you want this audience based on. You can select one or multiple.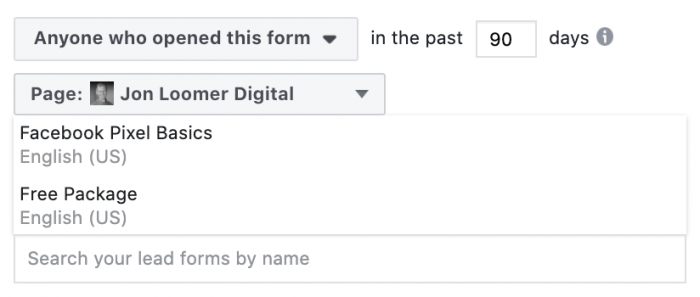 Name your audience and click "Create" and you're done! It may take several hours to build, but you should be able to start using it nearly immediately.
How to Use These Audiences
Go ahead and create each audience for each form you have. You can certainly experiment with various durations if you want (especially if you want to create an Evergreen Campaign), but otherwise stick with the 90-day maximum.
Here are examples of how you might use these…
Anyone who opened this form
Since this is a larger audience, it may be one you could use for basic remarketing. All of these people engaged with your ad, so you may want to show them content related to that registration — regardless of whether or not they opted in.
People who opened but didn't submit form
Consider this an "abandoned shopping cart" opportunity. Why didn't they submit? Did they simply forget? Do they need more benefits before they submit? Do they need a sense of urgency? Create an ad based on one of these profiles.
People who opened and submitted form
An obvious opportunity is for up-sell. If someone registers for my Facebook PixelThe Facebook pixel helps advertisers track events that occur on their website and reach people who performed those events with ads. More Basics free video series, I'll want to try to get them to sign up for the full Facebook Pixel Masterclass.
There's another way that I use it, though. I hate waste. So when I promote a product or opt-in, I want to be sure to exclude those who already purchased or registered.
You can exclude Custom Audiences in your targeting. Previously, I would exclude the Website Custom Audience for the thank you page and the Email Custom AudienceA customer list custom audience is created by uploading a customer list that Facebook matches with users so you can target them with ads. More for the email address registered. But both of these were imperfect when using Lead Ads. This should provide a close-to 100% match for minimal waste.
Your Turn
Do you use Facebook lead form custom audiences? How are you using them?
Let me know in the comments below!