Facebook quietly rolled out a big update for brands utilizing Canvas: The ability to create audiences of people who have engaged with that content.
Let's take a closer look at Facebook Canvas and the importance of Facebook Canvas Custom Audiences.
What is Facebook Canvas?
Earlier this year, Facebook unveiled Canvas, a way for brands to create an immersive experience for users without leaving Facebook.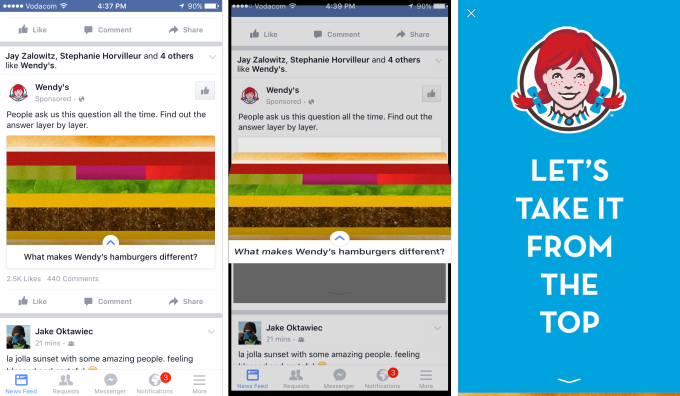 Marketers created a Canvas by compiling a story using a combination of components (text, links, carousels, videos, call-to-actionA call-to-action is a button or link on your ad that suggests the action you want your audience to take. Examples: "Learn More" or "Sign Up." More buttons and product feeds). Initially for mobile ads only, Canvas can now be created organically from the publisher.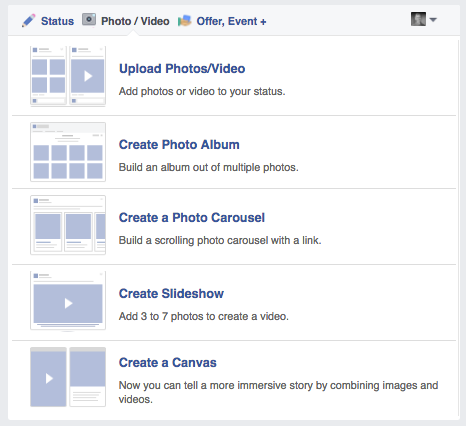 Here's a video I created in February that provided a tour of the Canvas ad creation process…
The Problem with Facebook Canvas
Possibly the biggest issue with Facebook Canvas for marketers was also one of its strengths for the user experience: Users never left Facebook.
By staying on Facebook, users are presented media instantaneously. No load time. No quick abandonment.
But by staying on Facebook, that initial click was not available for remarketing. Had it been a link to a website landing page, for example, that user could be added to a Website Custom Audience to see a later, relevant Facebook ad.
Granted, link clicksThe link click metric measures all clicks on links that drive users to properties on and off of Facebook. More within the Canvas that led out to a brand website could be captured. But the initial click fell into a remarketing black hole.
Facebook Canvas Custom Audiences
To fill this hole, Facebook has quietly begun to roll out Canvas Custom Audiences (it's not clear how many advertisers have access to this or when all will have it). It's one more addition to the Engagement on Facebook Custom Audience toolbox.
Within Audiences, click the drop-down to create a new Custom Audience…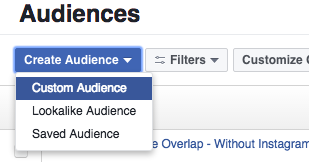 Click "Engagement on Facebook."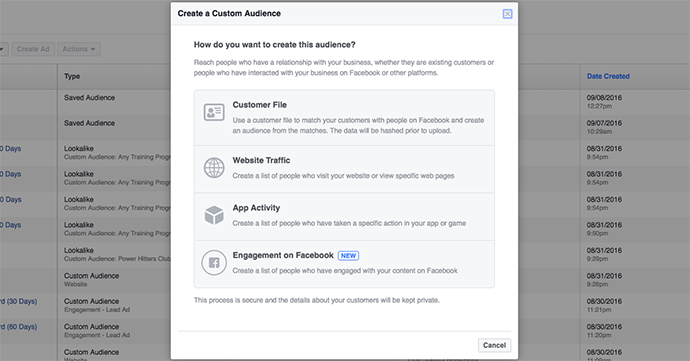 Now select the option for Canvas…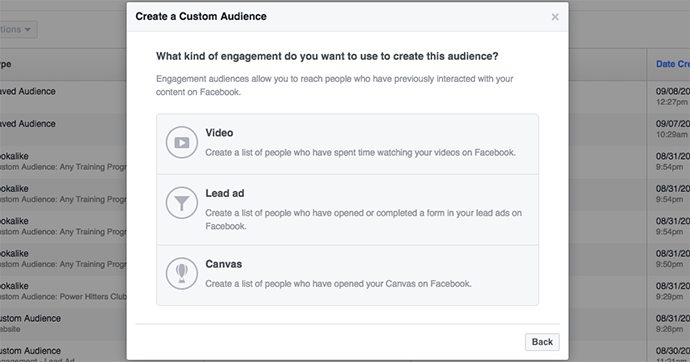 That will bring up a familiar process for creating a Custom Audience…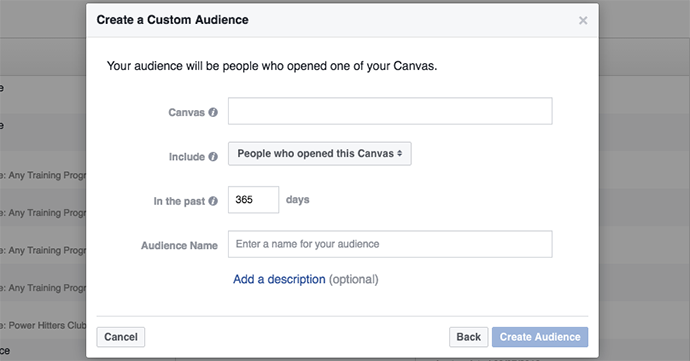 You'll need to do the following:
1) Select the Canvas a user will engage with to be added to the audienceThis is the group of people who can potentially see your ads. You help influence this by adjusting age, gender, location, detailed targeting (interests and behaviors), custom audiences, and more. More.
2) Determine the action that will add a user to the audience.
3) Select a duration (between 1 and 365 days).
4) Name the audience.
5) Add a description (optional).
When determining the action that will add a user to the audience, you will have two options…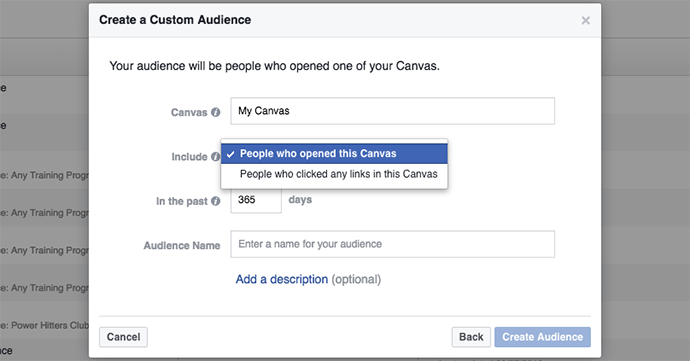 Basically, if you choose "People who opened this Canvas," it will be a larger audience. It will include people who opened and then did nothing and it will also include people who clicked within the Canvas. If you choose "people who clicked any links within the Canvas," it will be a smaller audience.
Ways to Use Facebook Canvas Custom Audiences
First, it's interesting how there are different durations for different Custom Audiences. A Website Custom Audience has a maximum duration of 180 days, Lead Ad Custom Audiences have maximum durations of 90 days, and both Video Custom Audiences and now Canvas Custom Audiences have maximum durations of 365 days.
What that means is that someone is included in that audience if they performed the desired action within that moving window. If you choose 365 days, they'll remain in that audience for up to a year.
The biggest development here is being able to create a Custom Audience of people who open your Canvas. Theoretically, you already could have created Website Custom AudiencesA website custom audience matches people who visit your website with people on Facebook. You can then create ads to show to that audience. More of people who clicked on links within your Canvas, assuming they went to your website.
As a result, you can use this to create a funnel. Create a Canvas (ad or organic post) to introduce a story, brand, problem, solution or product. Those who open the Canvas get added to a Custom Audience. Then create another ad targeting those who opened it to take them further down the funnel.
One of the biggest mistakes advertisers make is taking a shotgun approach. They shoot ads with a single objectiveWhen you create a campaign, one of the first things you'll do is select an objective. The campaign objective is your ultimate goal. Your selection will impact options, including optimization and delivery. Options include Awareness, Traffic, Engagement, Leads, App Promotion, and Sales. More out to an audience, pummeling them into submission. If they don't perform that one desired action, they are lost.
Here, it's about keeping users engaged who show initial interest, even if they don't immediately convert. They opened that Canvas for a reason. They didn't convert for a reason. Show them a different ad, taking a different angle.
Bottom line, Facebook Canvas Custom Audiences are a great new tool for advertisers. There isn't one primary use for them. Instead, it will provide yet another option for advertisers willing to get creative and adventurous and do things in new and different ways.
Your Turn
What are your thoughts on Facebook Canvas Custom Audiences? How will you use them?
Let me know in the comments below!