Several updates are rolling out that improve custom audienceThis is the group of people who can potentially see your ads. You help influence this by adjusting age, gender, location, detailed targeting (interests and behaviors), custom audiences, and more. More creation related to Facebook ad targeting. Most of these updates are related to Instagram. If you're a business on Instagram, you are bound to benefit!
Let's take a closer look…
Engagement Audience Updates
Engagement Audiences make up the newer family of custom audiences available for Facebook ad targeting. Up until recently, you could create audiences based on the following types of engagement with your brand:
If you're one of the lucky ones, if you start the creation process for an Engagement custom audience today, you will see the following…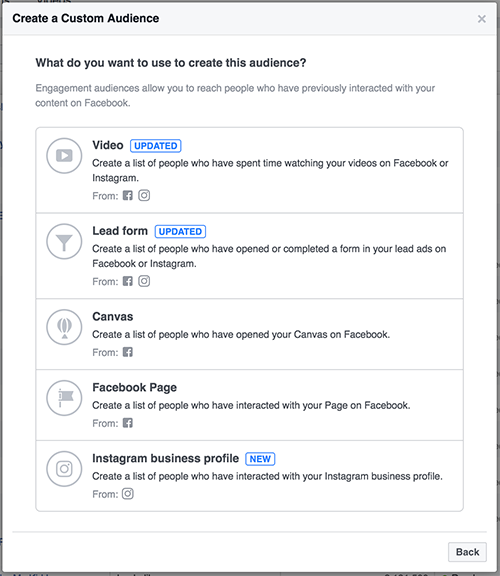 You'll notice "Updated" for Video and Lead Form. The primary update for both audiences is that they now include engagement with your videos and lead ad forms when shown on Instagram.
When creating a Facebook lead form custom audienceLead form custom audiences allow you to create audiences of people who engaged with your Facebook lead ad forms to be used in ad targeting. More, you'll notice a note about Instagram engagement…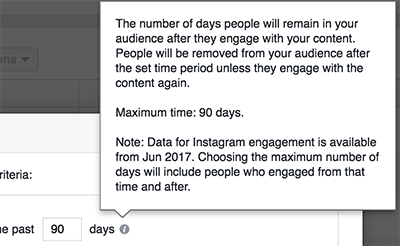 When creating these audiences, Instagram engagement is available beginning in June of 2017. It's not clear if this also applies to video, but I will assume it does.
There are a couple of other updates to lead form engagement custom audiences, but they aren't related to Instagram.
First, you can now select multiple forms when creating your audience…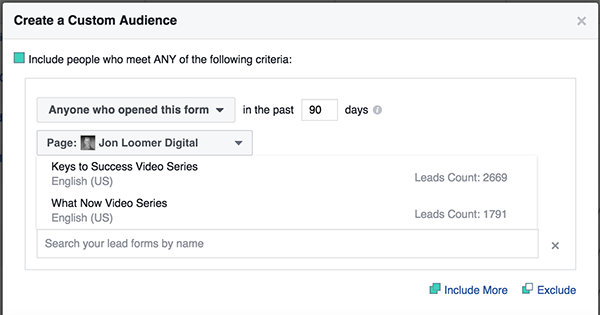 Previously, a single audience could only include engagement with one lead form. Now you can include multiple.
In fact, you can add in "include" and "exclude" logic to these audiences now…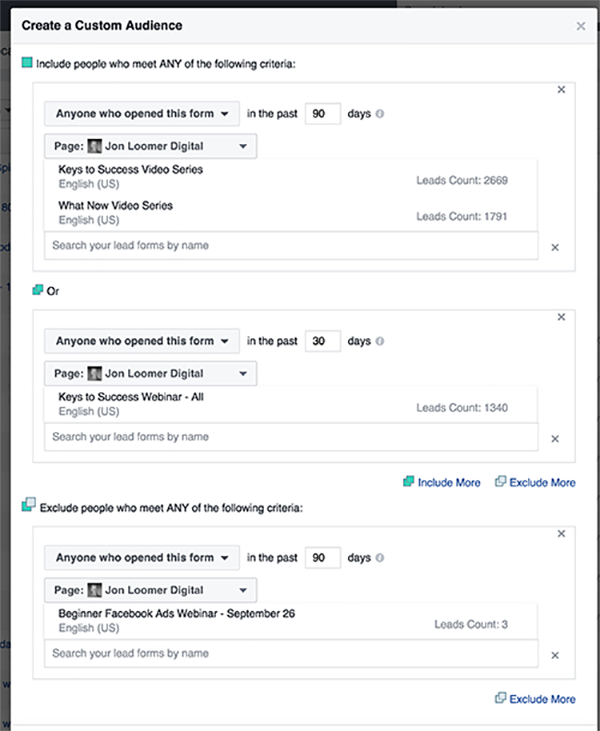 The audience can be as simple as engagement with a single or multiple forms. You can make it more complicated by adding "OR" logic to include a different type of engagement with another form. Or you could make sure to exclude engagement with yet another form.
These are all good updates. But the star of this update (and this blog post) is related to your Instagram business account…
Instagram Business Profile Custom Audience
If you go back to the first image at the top when creating an engagement custom audience, you'll notice the addition of Instagram Business Profile. That's potentially huge for brands who are heavily involved on Instagram.
When creating such an audience, simply select your business profile that is connected to a page you manage.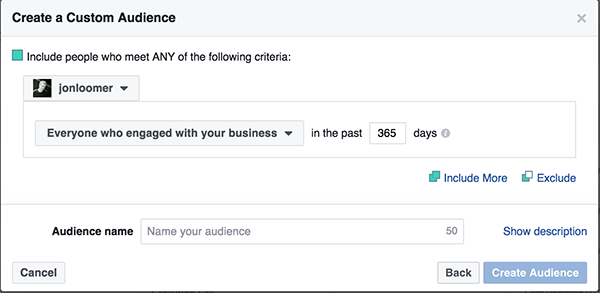 The types of audiences you can create are very similar to those created for Facebook Page engagementThe total number of actions users took on your Facebook Page and posts that were attributed to your ads. Page engagement can include liking your Page, reacting to a post, checking in to your location, clicking a link, and more. More custom audiences…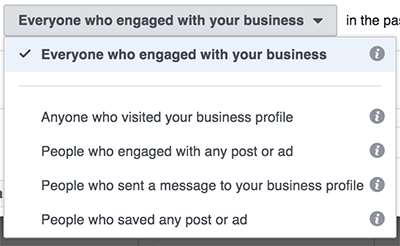 Create audiences based on the following types of engagement:
Everyone who engaged with your business (on Instagram)
Anyone who visited your business profile (on Instagram)
People who engaged with any post or ad (on Instagram)
People who sent a message to your business profile (on Instagram)
People who saved any post or ad (on Instagram)
Note that durations of 1 to 365 days can be used here. However, once again, the data only goes back to June of 2017.

As a result, this audience may be quite small unless you get significant activity on your business profile — at least for the time being.
Connecting a Business Profile
If you have problems with this, it's likely that your Instagram profile does not appear. If that's the case, it may be because your Instagram profile wasn't converted to a business profile.
That's the problem I had. While I have an Instagram profile and I run Facebook ads to Instagram as a placementA placement is a location where your ad is shown. Examples include Facebook's mobile Feed, Messenger, Instagram feed, Audience Network, right-hand column, and more. More, a profile didn't initially appear for me. That's because the Instagram account that I use wasn't technically a business profile.
When viewing your Instagram account, click on the gear icon. You should then see an option to convert to a business profile. You'll be instructed to log into Facebook and then select the Facebook page you'll want to connect to this account.
Ultimately, that's how an Instagram business profile appears when creating custom audiences.
Your Turn
While I do run ads to the Instagram placement, I'll admit that I've been slow to getting heavily involved with Instagram otherwise. That may be a mistake. And this addition may be the motivation I need to get into it more.
Do you have a business profile on Instagram? Have you started creating these audiences yet? I'd love to hear how you're using them!
Let me know in the comments below!