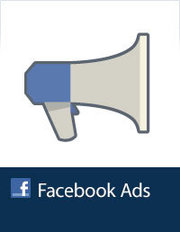 Central to any Facebook marketing strategy is Facebook advertising. If you know how to properly use Facebook ads, you can easily and inexpensively drive new likes, conversions, revenue and engagement to your page. It doesn't matter whether your page is for a large or small brand — anyone can succeed with Facebook ads.
I refer to the following links more often than any others when talking to people about Facebook marketing. So, to make things easier, I've put them all in one place.
Here it is: Everything you need to know about Facebook ads. Understand the value, the differences, how to create a Facebook ad, run a Facebook ad campaign, monitor your ads and measure success. And in the end, I'll tell you how to do all of this for free with some great promotions that come directly from Facebook.
Still need assistance? If you need any help with your Facebook advertising or Facebook marketing in general, I'm available for a free 30-minute consultation. Beyond that 30 minutes, I can help you set up a Facebook advertising strategy or even manage and monitor the ads for you.
About Facebook Ads
Before you create your first Facebook ad, it's important to first educate yourself on what they are, why they're valuable and how you can use the various ad types to your advantage.
Creating, Monitoring and Measuring Facebook Ad CampaignsThe campaign is the foundation of your Facebook ad. This is where you'll set an advertising objective, which defines what you want your ad to achieve. More

You're ready to create your first Facebook ad! Here's how to create an ad, how to be successful and how to monitor Facebook advertising for success.
How to Get Free Facebook Ads

Don't want to pay for Facebook ads? Me neither. Here are some ways to get a nice chunk of them for free!

It should also be noted that Facebook is rumored to be making some changes to Facebook advertising at the end of February. Included in those changes: cutting the limit in ad copy to 90 characters, getting rid of some ad units and adding a new unit that Facebook claims will drive much higher engagement and conversions.

Are there any other topics that pertain to Facebook advertising that you would like me to cover? Make sure to list them in the comments below!