Facebook gives you four different ways to advertise to their users: Page Like Stories, Post Like Stories, Page Post Ads and Facebook Ads for Pages. The first two are variations of Sponsored Stories. The third and fourth fall under the standard "Facebook Ad" designation.
We've already covered standard Facebook ads and how to be successful running a standard Facebook ad campaign. The other three are regularly confused. This tutorial will focus on defining the differences between Sponsored Stories and Page Post Ads.
Standard Ads
More often than not, when someone speaks of using Facebook ads, they are using the standard version. An example of an ad that encourages users to like the Halls Facebook page is to the right.

Of course, these ads aren't always driving new Facebook fans. Sometimes, they send people to an app or an event. Other times, they send people to another website. It's flexible, but the ad creator has full control over the copy and imagery associated with the ad.

You also have full control over the audienceThis is the group of people who can potentially see your ads. You help influence this by adjusting age, gender, location, detailed targeting (interests and behaviors), custom audiences, and more. More. You can send it to current fans, non-fans, friends of fans, everyone, and target by interests and other demographics.

But you knew that. The real confusion arrises when sorting out the difference between Page Post Ads and the two types of Sponsored Stories.
Page Post Ads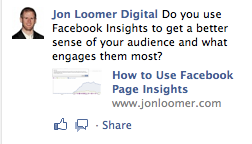 Page Post Ads fall under the "Standard" category. The difference, however, is that the ad creator has little control over the content of the ad. The title is the name of the page, the content is the item you shared on your wall, and the images are your page's profile photo and the thumbnail of the shared item, if applicable.
What's nice about this option is that you can leverage the popularity of a post you made to your page and make it into an ad. As with the other standard ad, you can target it to anyone, whether a fan or a non-fan.
An example of what a page post ad for my page would look like is above and to the right. I can select any recent post to promote as an ad. I can even select "Most Recent Eligible Post" so that whatever I've posted most recently is used as an ad unit.
Sponsored Stories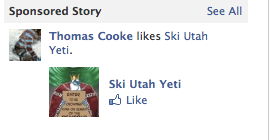 There are two types of Sponsored Stories: Page Like Stories and Page Post Like Stories. They are quite similar and work identically.

Page Like Stories are ads that tell friends when someone has liked a page. This is the same content that appears in the Ticker, but is reserved in a fixed location to get more looks. An example is to the right.

As you've probably guessed, a Page Post Like Sponsored Story is simply an ad that promotes when your friend likes something posted by a page. In either case, this information already appears in the Tickers of fans' friends for free. But that information gets buried in a hurry.
The Differences

Okay, so let's recap the main differences between these ads:
[custom_list style="list-11″]
Page Post Ads allow you to choose any page post you've created and make it into an ad
Sponsored Stories only allow you to choose whether you are promoting Page Likes or Page Post Likes
Page Post Ads can be promoted to anyone
Sponsored Stories only appear for friends of fans
[/custom_list]
The Advantages

So… what is better? There is no "better." It depends on what you're looking to do.

Sponsored Stories can be incredibly effective because they only appear for friends of fans. There is an added level of relevance. If my close friend likes a page or a post, I'm much more likely to pay attention to the ad.

But… the problem with that approach is the potentially limited audience. If you are just starting your page, very few people will see such an ad. If the average person has 120 friends, that means that a maximum of 12,000 people would see a Page Like Story for a page with 100 fans. The number is even smaller for Page Post Like Stories since a small percentage of fans typically engage with page posts.

If you're looking to reachReach measures the number of Accounts Center accounts (formerly users) that saw your ads at least once. You can have one account reached with multiple impressions. More a larger audience, use the Page Post Ad. But use good judgment. Select a post that has already received significant activity. Even if I don't know the people who liked or commented on a Page Post Ad, one that has activity on it is much more impressive. I'm more likely to give it my own attention.

Overall, there are four very good ad unit options on Facebook. Depending on your needs and the current state of your page, any one could be an effective way to drive new customers on a limited budgetA budget is an amount you're willing to spend on your Facebook campaigns or ad sets on a daily or lifetime basis. More.