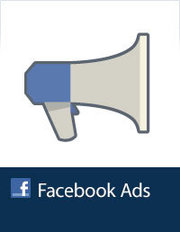 I'm a big believer in Facebook ads and have had great success using their standard advertising approach. But last week, I was given a $100 coupon code, so I decided to go experimental and try the other ad types. And while I had some success, there is a problem with Facebook page post ads.
What Is It?
First, a definition is in order. A standard Facebook ad — the type with which most of us are familiar — allows us to create the copy and creative of an ad unit. But the page post ad is simply promoting a post your page has already made on your wall. It could be a status update, sharing a link, sharing a photo, sharing a video, asking a Question, whatever.
Essentially, it allows you to do one of two things: 1) leverage a popular wall post to get non-fans involved, or 2) surface important wall posts that current fans may not have otherwise seen.
Read More: The Differences Between Sponsored Stories and Page Post Ads
What I Did
I love to experiment with my ads. And during the first day of my campaignsThe campaign is the foundation of your Facebook ad. This is where you'll set an advertising objective, which defines what you want your ad to achieve. More, I'll try several different approaches to see what works. One of those approaches was spending $13 between two different page post ads.
One of the ads was a poll ("Have you switched to Facebook Timeline yet?") that allowed users to pick from a list of standard answers I provided or create an answer of their own. The other ad was for a popular link (Hover Over My Name: New Hoax Spin Added to Viral Facebook Status). Those two ad units are below.
In each case, I targeted a broad audience of non-fans who had a long list of interests in technology and social media.
The Results
The poll was incredibly popular. It attracted 92 clicks from an audience of 22,168 for an off-the-charts click through rate of .205%. I spent $7.99 for a dirt cheap $.18 CPMCPM measures the cost per 1,000 impressions. It's a good metric to evaluate competition level and costs to reach your audience. More.
That all sounds really good, right? It is. The problem is, it didn't satisfy my goals.
You see, I was trying to drive more people to my page. I wanted more people to like it. Getting those 92 clicks was awesome. But only three (that Facebook reported) resulted in new fans. That's a poor $2.66 per fan.
The link didn't perform any better. I spent $5.00 and got 20 clicks for a .081% click through and $.20 CPM. Not one directly resulted in a new fan.
The Verdict

So were those two campaigns failures? Not really. They just didn't directly satisfy my goals.

This is the thing… I was running multiple campaigns. While those individual ads may not have led to new fans, they may have helped awareness of my brand so that people were more likely to like my other ads. And they certainly were effective at getting people involved. Those ads just didn't close the deal.
What I Learned

If I had it to do all over again, I probably wouldn't run those page post ads for this campaign. That said, I think I have a much better grasp for their value.

When people see that poll, they don't look to see who it's from. They just participate. Because of that, there is little value in those 92 clicks I received. On the other hand, there is value in the 20 people who clicked on my link page post ad since it drove them to my site.

But I see how and why someone might use these ads. In most cases, it would be to target current fans. An example could be promoting my new eBook. I have posted a couple of status updates about it, but chances are that many of my fans still do not know about it. Creating a page post ad will make it more likely that they'll see it.

I also see the value in brand awareness when promoting page post ads to non-fans. But another reason to target them to non-fans would be if you are promoting an event. This doesn't apply to me, but if your store is planning a big launch or sale of some sort, creating an event and promoting it as an ad unit could be very valuable. Even if it doesn't result in new fans, it leads you to an intended goal.
Your Thoughts?

How have you used page post ads? What have been the results? What success stories and tips do you have to share?

[message type="custom" width="100%" start_color="#FFFCB5″ end_color="#F4CBCB" border="#BBBBBB" color="#333333″]Need help with your Facebook marketing? Let's talk![/message]