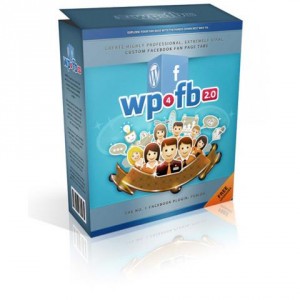 Update: I've edited some portions of this review to voice my concern over a potential violation of the Facebook TOS regarding the "Gate" features. I still think the product has value, but I would approach those specific features with caution.
There are a number of terrific tools available to build custom Facebook apps for your brand's Facebook Page. One of my favorites is ShortStack (read my review of ShortStack here). But WP4FB 2.0 is completely different from this group.
Unlike ShortStack and similar tools, WP4FB 2.0 is a WordPress plugin. You create and manage your own Facebook apps from your WordPress website's admin.
It's an incredibly unique and innovative idea. While I'm aware of one other WordPress plugin that allows you to create Facebook apps, this is the first I've seen that provides ways to create Sweepstakes.
Is WP4FB 2.0 for you? I've had a chance to poke around with it, and following are both the benefits and limitations of a full-featured WordPress plugin that allows you to create apps for your Facebook Page…
Also Read: Interview with WP4FB 2.0 Founder Wilco de Kreij
Benefits
1. Price: The typical third party tool for creating and managing apps for your Facebook Page will have a recurring monthly fee, starting at about $15 per month and going up from there. With WP4FB 2.0, you pay a one-time licensing fee ($67 for one Facebook Page, $97 for unlimited personal license and $197 for an unlimited agency license).
2. Sweepstakes: Yep. You can create and manage sweepstakes with this plugin. There is MailChimp and AWeber integration so that entries feed into your current email list, and the admin tool will track and help you select the sweepstakes winner.
3. FanGate: Easily create a FanGate, giving non-Fans one view and Fans another.
4. InviteGate, ShareGate and FriendGate: Gotta be honest with you. I've never seen any of these three options from a Facebook app tool before. There actually may be a reason for it. It's possible these are in violation of Facebook TOS. I am investigating, but this is something to keep in mind. The rest of the app should be fine to use, but I'd approach these features with caution.
5. Shortcodes and Themes: I'm not going to say that the app is loaded with slick design features, but there is some help with shortcodes. This includes:
Buttons
Columns
Image Slider
Facebook Send, Like, Share, Invite and Comments
Stylized Bullets
YouTube Video
More
Now, the layouts are pretty basic. With ShortStack, there are specific themes or templates based on the type of app you're creating. For example, there are themes for each type of contest that you could run and there are themes based on industry.
With WP4FB 2.0, there are 13 different layouts to choose from based on color and design.
So, you're not completely on your own, which is nice if you aren't a stellar designer, but you'll be doing some of your own design work if you want to make it look great.
6. Tutorials: Wilco does a great job creating screen share tutorials to step you through the process. The initial setup is also a bit complicated, but he created a terrific six-step Quick Start Guide to step you through the basics and get you going.
7. Hosting Yourself: If you want control, WP4FB 2.0 is great for you. Not only are you in complete control of the design, but you own and host the pages. This means that your website gets credit for any traffic to these tabs, and you can embed Google Analytics code just as you would on any page of your WordPress site.
Limitations

Now, there are some limitations…

1. Limited Templates and Design Help: Sure, there are shortcodes and some layouts. But you are largely on your own here. If you struggle creating pages for a WordPress site, you'll struggle with this.

2. HTTPS/SSL Certificate Necessary: Earlier, I mentioned that hosting the pages is a benefit. Well, it can also be a limitation. Facebook requires that apps be secure with a HTTPS/SSL Certificate. Your site may already have that. If not, it's going to take additional work and possibly money to get one.

3. A Bit Complicated: I don't want to overstate how difficult this is because I figured it out pretty quickly. But the setup is more complicated than something like ShortStack, and you are much more responsible for the design from start to finish with WP4FB 2.0. Once again, you may prefer control and you may already be good with WordPress. If this is the case, you'll have no issue with this plugin.

4. Contest Rules: Third party tools like ShortStack also help you out with some basic legal language that releases Facebook of any liability for contests. You're on your own when it comes to contest rules. This isn't difficult — it's incredibly easy to find some language to use here — but it's one more thing that you need to worry about.

5. Benefits Could be a Violation: Some of the benefits of this tool could also cause potential problems. The way I read it, the LikeGate, FriendGate or InviteGate features could or should be in violation of Facebook TOS. If they are, the value of this tool goes down.
In Conclusion

WP4FB 2.0 is an interesting tool. If you have a limited budgetA budget is an amount you're willing to spend on your Facebook campaigns or ad sets on a daily or lifetime basis. More and enough design skills to manage your own WordPress site, this would be an option for you.

WP4FB 2.0 is the leader in its space when it comes to WordPress plugins, and will only get better. Looking for a tool to help you create Facebook apps for your Page? It's a product that deserves your attention.