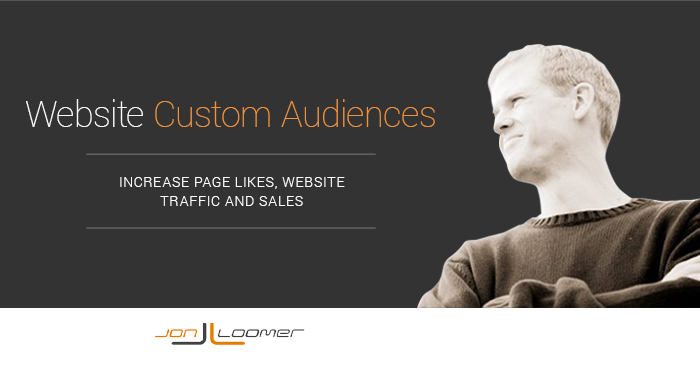 Now that Facebook has started their roll-out of Website Custom Audiences to target your website visitors with ads when they return to Facebook (see my tutorial here), it's time to start thinking about ways that you can take advantage of a potentially powerful advertising tool.
There are three main reasons you should experiment with Website Custom AudiencesA website custom audience matches people who visit your website with people on Facebook. You can then create ads to show to that audience. More:
Get Relevant Fans
Drive Website Traffic
Increase Sales
With this post I will explore specific strategies for achieving each goal.
[Tweet "Here are ways you can use WCAs to increase relevant Facebook fans, website traffic and sales…"]
Get Relevant Fans
The number of Facebook fans you have, in and of itself, means very little. But make no mistake: The number of relevant Facebook fans who care about your brand means everything.
Building that number of quality fans, of course, is a challenge. You may target your offline customers who aren't currently fans through the use of Custom Audiences. And you undoubtedly target users by related interests to attract the right crowd.
But with Website Custom Audiences, you can now reachReach measures the number of Accounts Center accounts (formerly users) that saw your ads at least once. You can have one account reached with multiple impressions. More a neglected group: Users who visit your website but who are neither Facebook fans or on your email list.
I've already begun targeting this very valuable group with my own Page Like ads. What's beautiful about this is that you no longer need to guess: These people know who you are.
Following are a couple of ads that I have been running to all of my website visitors who live in my four core countries (United States, United Kingdom, Australia and Canada)…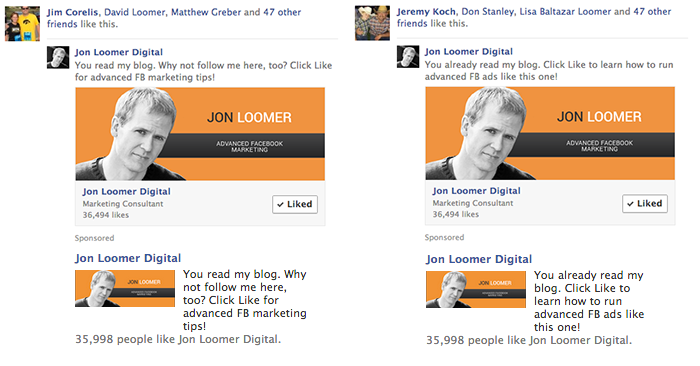 As you can see, these ads play off of the fact that anyone who sees the ad has been to my website — and that I know they have. Since I know my audienceThis is the group of people who can potentially see your ads. You help influence this by adjusting age, gender, location, detailed targeting (interests and behaviors), custom audiences, and more. More (people who are looking to succeed with Facebook ads), this is a risk that I expect to pay off.
So far, that has been the case. I am seeing costs per page like at levels that are nearly half of what I was seeing before.
I am also running a simple Page Like Sponsored Story (of course, this will no longer be possible soon), and finding good success there as well. However, the custom copy has certainly been more effective.
I see this as a potential game changer when it comes to quickly and affordably building a highly relevant audience. If I can continue to maintain low costs, I'll ultimately be able to build that audience more efficiently.
Drive Website Traffic
If I am going to promote a post that drives traffic to my website, what type of user would be most likely to click the link? Someone who has been there before, of course!
I currently have a very simple strategy when it comes to promoting posts. When I create an organic Facebook post that drives traffic to a new blog entry, I'll promote that post to reach the most fans. And if that post is more popular than most, I'll also promote it to a specific non-fan audience based on interests and Lookalike Audiences.
Website Custom Audiences changes everything. Now I can make sure to also target users who have generally visited my website during the past 30 days (or up to 180 days, if I choose).
Here's an example of a post I promoted that does just that…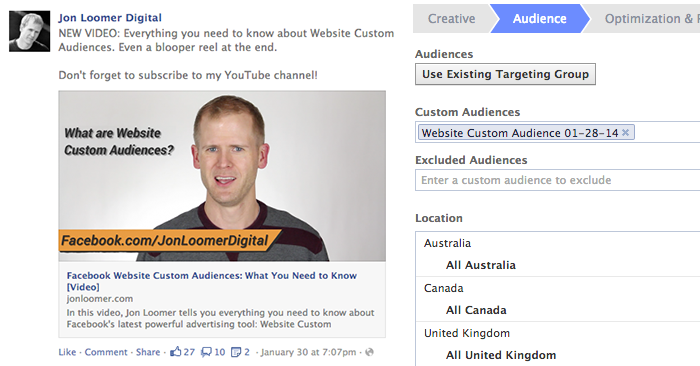 But here's where it really gets interesting…
I can promote my post to those who have visited my website, but exclude those who already read that post.
This is huge. Why promote a post to someone who already read it? That's a waste of money. I want those who are not only most likely to want to read the post, but those who have yet to see it.
Website Custom Audiences are dynamic (your list is constantly building as visitors come to your site), so Facebook knows just who visited your site and when. And since you can use AND/OR logic, you can have Facebook exclude those who visited a particular page of your site.
Not only could you exclude those who already read that post when promoting to website visitors, you could do this when promoting any post to any audience.
This is huge!
Increase Sales
The bottom line may just be where Website Custom Audiences make the greatest difference for Facebook advertisers.
Sure, you could very generally target any visitor to your website with a Facebook ad that promotes a product. I fully expect this approach will be more effective than your current targeting method for converting sales.
But let's bump this up a notch…
Let's also create an ad that only targets those website users who already visited the landing page for your product or service but didn't complete the purchase!
You undoubtedly see dozens of similar ads like this every day. You've visited Amazon or some other online retail site and looked at a product. You come to Facebook, and there it is again.
You can do this with Website Custom Audiences!
The first key is that you target those who visited that landing page. So if I were to create an ad that targets people who visited the landing page for my Power Editor training course, I would create a Website Custom Audience for that URL.
The second key is that I'd create a second Website Custom Audience for the success page that a user sees when making a purchase. This way, I can exclude anyone who completed the purchase.
This is how to make the targeting dynamic. But I'd also make sure to upload my old email list of customers who purchased the course to exclude anyone who falls outside of the 30-day window (or before the day I created the audience).
This way, I can reach warm leads that — for whatever reason — decided not to buy. Maybe they were distracted by something else. Maybe they needed a little more convincing.
Use this ad to seal the deal.
Here's another thought: Since you know the people you target in these ads visited your landing page but didn't purchase, use that to your advantage. Instead of simply driving them back to your landing page, ask them if they have any questions you can answer about the product. Send them to an FAQ or contact form to get the conversation going!
Your Turn
My mind is spinning with ideas of ways that I could use Website Custom Audiences. What I've described here is just the tip of the iceberg.
What other ideas do you have? Let me know in the comments below!