If you've added Spotify or one of the 60 and growing Facebook Timeline apps, you're likely well aware of the potential embarrassment they can cause. Spotify, for example, publishes every song you listen to onto your Timeline and into the Tickers of your friends (or the group of people you choose).
The problem is that you can use this app and be completely ignorant to what you are sharing since it doesn't go to your own Ticker. It probably isn't until you snicker at the song that someone else is listening to that you stop and think… "Wait. What am I sharing?"
Adjusting Privacy When Adding the App

The thing is, you have a choice. You don't have to share with all of your friends. Some people even share publicly. If you want, you can keep your listening activity on Spotify (or activity on any of these apps) completely private.

If all you want is to listen to music and you aren't interested in sharing everything with all of your friends, you can adjust this. When adding the app, you'll get the standard Facebook dialog that tells you what you'll be sharing with Spotify and with whom you'll be sharing your activities.

People too often miss this. If you want to keep it private, simply set it to "Only Me."
Set Default Privacy

If you aren't careful and haven't set a default privacy setting, you'll share these apps publicly if you don't adjust this setting. So if you haven't yet, go to your Privacy page and adjust your default privacy to whatever it is that makes you feel comfortable.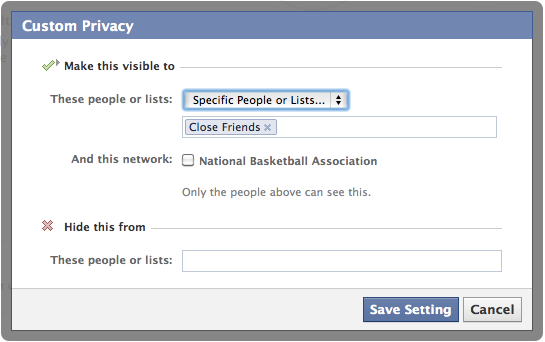 Adjust Current Spotify Privacy Settings

If you already added Spotify or any other Facebook Timeline application, you can still adjust your privacy. Click on Privacy Settings, then click Edit Settings for Apps and Websites. Across from Apps You Use, click on Edit Settings. This is the list of all of your apps.

Now find Spotify (or whatever app you're worried about), and click the corresponding Edit link. Once again, you'll be able to select who sees your app activity. If you want it to remain private, simply set it to Only Me.
In Conclusion

Spotify and other Timeline apps aren't "all or nothing." While they are different than the typical Facebook app due to frictionless sharing, you can choose to keep your activities completely private. And if all you want is to listen to some music or read some articles or cook some recipes without your friends constantly being reminded about it, you can control that.

Did you know that you could keep these apps private? What is your preference for how you share your activities?