Most beginner to intermediate advertisers don't use Power Editor. The typical advertiser has never even heard of it.
Instead, they use the self-serve ad tool. This is their entire exposure to what Facebook advertising is all about and what it's capable of doing.
The problem, however, is that such advertisers are missing out. There are several reasons why you should ditch the self-serve ad tool entirely for Power Editor (a free browser plugin).
Make sure that you also see my post about Bidding. Today I want to focus on Placement.
This post will highlight the ability (or inability) of an advertiser to control the placement of ads both with the self-serve ad tool and Power Editor.
Ad Example
For the purpose of this comparison, I want to create an ad that promotes a page post. This should be a regular need of advertisers, particularly to reach Fans in the News Feed.
A use case here is recreating a Promoted Post, but having more control over things like targeting and bidding.
Placement with Self-Serve Ad Tool
Within the self-serve ad tool, you first need to select that you would like to promote your Page as the destination.

Then you can select either "Promote Page Posts" or "See Advanced Options."

To target Fans only, we would make sure to select "Only people connected to [PAGE NAME]" under "ConnectionsWithin your ad set, you can further narrow targeting by adding a connection to a page, app, or event that you control. More."

To promote a specific post, you would then select that post under "Your Ad" where it asks to "Choose an existing Page post."

And now we run into an obstacle. How do you make sure that post only goes into the News Feed? Or sidebar? Or mobile devices?
Facebook provides a preview of the ads created.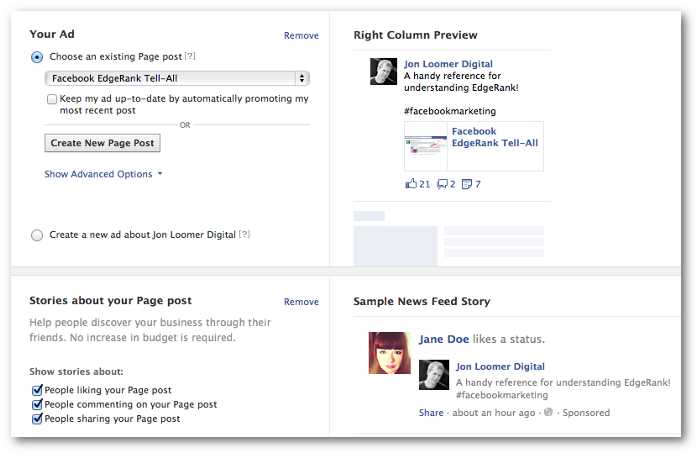 As you can see in the previews above, Facebook generates an ad for the right column. Sponsored Stories for liking, commenting and sharing are also generated for the News Feed.
If you go into the Ad Manager, Facebook will tell you if an individual ad is going to be placed only in a particular location. Let's look at these two ads to see if that happened…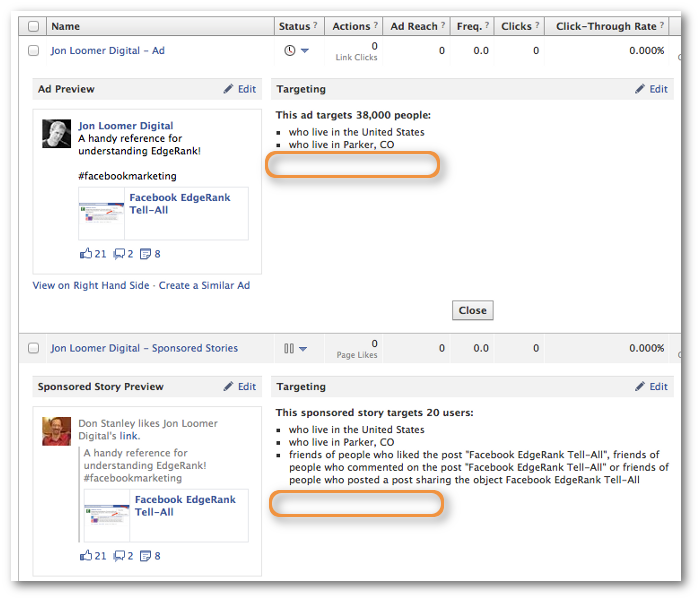 Nope. No mention of placement for either ad. In other words, Facebook will place these ads anywhere they can.
VERDICT: The self-serve ad tool does not allow you to control placement in anyway. You are at Facebook's mercy.
Placement with Power Editor
Now let's create an identical ad within Power Editor.
Select your current campaignThe campaign is the foundation of your Facebook ad. This is where you'll set an advertising objective, which defines what you want your ad to achieve. More, click on "Ads" and then click the "Create Ad" button at the top.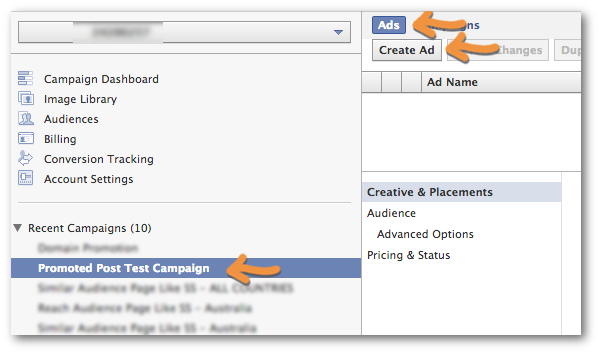 By default, the Type will be "Ad." Leave it there and select "For a Facebook Page using a Page post."

Next you'll select your Facebook Page (the Destination) and the post you want to promote.

And now the fun part. Immediately below is a section for "Placement."

As you can see, you are able to focus your ad in any of the following locations:
All Facebook (Includes News Feed)
Desktop (Right-Hand Column and News Feed on Desktop Only)
News Feed (Desktop and Mobile)
News Feed (Desktop Only)
News Feed (Mobile Only)
How awesome is that? The only placement you can't select is Sidebar Only. That would be nice, but it's not an option.
Believe it or not, it gets better. If you select Mobile Only or any of the options that include Mobile, you'll get the following options…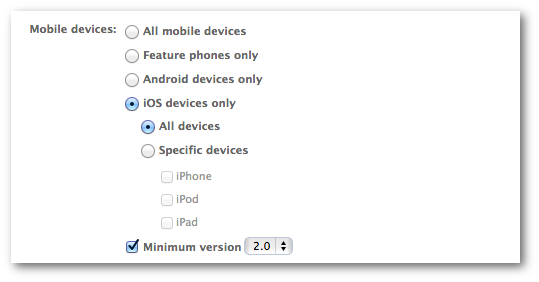 By default, your ad will show on all mobile devices. But you can choose to show it only on Apple or Android devices. In fact, you can also choose the specific device (iPad, iPod, iPhone, for example) and set a minimum version.
That's crazy! That makes for incredible control over placement.
VERDICT: You have nearly full control over where your ad is shown when created in Power Editor.
In Conclusion: IT'S EASY
This is a night and day comparison. But it's one that needed to be made to help you make the switch completely away from the self-serve ad tool.
You have no control over where your ad goes when using the self-serve ad tool. The result is that you are throwing money away on inefficient placements.
Is the self-serve ad tool easier to use than Power Editor? Sure, it probably is, particularly on a single ad basis.
But how much money is that worth?
It's time that you master Power Editor! Sign up for my Power Editor training course and stop throwing money away on ads that don't work. Pre-pay before the program officially launches this week and get half off!