[The following is a guest post from social media consultant Blake Jamieson. ]
When I hand people my business card, they notice the same thing every time – my face. But not a glamor shot from 10 years ago like the cliche real estate agent. The
image is a cartoon sketch that I had done on Fiverr.com.
"Oh cool! That's you, isn't it?"
"Yes indeed. And if you add me on any social network (listed on back of card), I will be easy to find because the picture is the same."
The reason I suggest a cartoon avatar or something similar – not just for personal profiles, but for businesses as well – is simple. They scale really really well.
Your profile picture will display at 160×160 pixels* on a desktop browser. However, the smaller thumbnail that displays next to posts and comments is only 32×32.
*Minimum upload size for a profile image is 180×180. I prefer to upload an image that is 500×500 – so if someone clicks the image, they can see a larger version in my photo album.
I recently joined forces with an amazing PR company. The founder and head publicist is pushing me to change my avatar to a real photograph. I am torn on the issue, because the cartoon character has been a part of my brand since I began doing freelance work on Facebook. Even If I decide to change my personal image, I still firmly believe that for business – you should always use an avatar that scales really well.
Time and time again, I run across businesses that use pictures of their products as their profile images. Sometimes this might be a food item (if the business is a restaurant), a house (for an architect or contractor), or a picture of a retail storefront. For the purpose of a bad example, I created a fake Facebook page that uses an un-branded avatar image.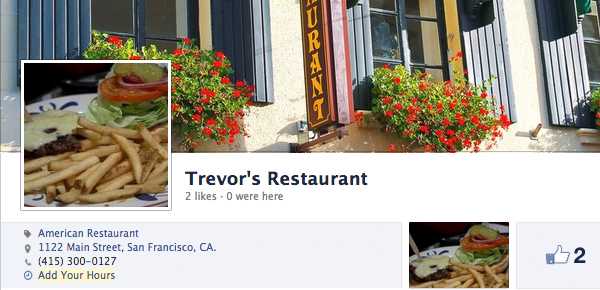 The Facebook cover image is a great place to showcase your work, your customers, or your storefront. Your profile image should be branded with your logo.
I also see brands try to fit their entire name in their profile photo. Another bad idea in my opinion. In the context of Facebook, your avatar will always show up with your page name next to it. There is no need to put text in your profile photo – it does not scale well. However, you can get away with a little bit of text if your business used an acronym, like HBO (Home Box Office), or JCP (JC Penny).
Let's take a look at how some iconic brands apply this to their profile images.
Your first response might be, "But my business is not Nike. And my logo is not a famous swoosh symbol." Fair point, but these same principles can (and should) be applied to businesses and brands of all sizes.
Here are some of my clients who use these same principles.
Now let's compare these examples to the sample profile I created. For this sample business (Trevor's Restaurant), the avatar was created using a picture of a hamburger.
Although the profile image looks okay in the context of a timeline viewed on a desktop browser, the image loses any recognition when scaled down to 32×32 for posts and comments.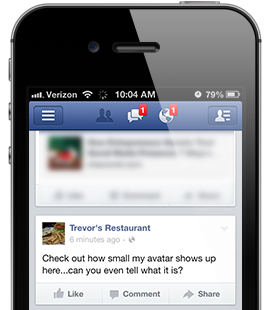 Also, when viewed on mobile, the image is hardly recognizable. In this case, Trevor's Restaurant is missing a huge opportunity to brand themselves. Use the avatar space for a clean logo, and save your product photos for your cover image, milestones, and page posts!
Is your business using a logo that scales well?
Do you think I should keep my cartoon avatar, or swap it out for a real headshot?
Follow Blake Here…
Blake on Facebook
Blake on Twitter
Blake on Pinterest
Blake on YouTube