When running Facebook ads, advertisers have multiple steps of the funnel to attack. One key step of that funnel is the existing customer base. There are multiple ways to reachReach measures the number of Accounts Center Accounts (formerly users) that saw your ads at least once. You can have one account reached with multiple impressions. More these people, but one way is by creating a custom audienceThis is the group of people who can potentially see your ads. You help influence this by adjusting age, gender, location, detailed targeting (interests and behaviors), custom audiences, and more. More based on your customer list.
This is one of the oldest methods of remarketing to a brand's existing audience, but that doesn't mean that you should neglect it. Facebook custom audiences based on a customer list remain a staple for successful advertising strategies.
Let's walk through the following:
What these audiences are
How to prepare your list for a custom audience
How to create your custom audience
Targeting and excluding
Custom Audience Terms
How to update custom audiences
What I do
Facebook Ads and Your Customer List
You have been building an email list away from Facebook. While Facebook advertising is a key part of my marketing, email marketing may be the most effective revenue driver. You should build this list, market to it, and leverage it with ads.
You can export your customer list and send it to Facebook. This data is hashed and then matched up with people on Facebook based on names, email addresses, physical addresses, and more found in profiles. You can then target or exclude these people within your advertising.
Generally, you can expect anywhere from 30-70% of the people on your list to match up with users on Facebook for targeting. In other words, an email list of 10,000 people doesn't mean you can reach those 10,000 people with ads; you can expect somewhere closer to 3,000 – 7,000. It depends on the quality, accuracy, recency, and thoroughness of your list.
Prepare Your Customer List
Go to facebook.com/ads/manager/audiences or select Audiences within your Business ManagerEvery organization should have their own Business Manager to organize their assets (pages, ad accounts, pixels, and more), and then provide appropriate access to those assets to partners. More.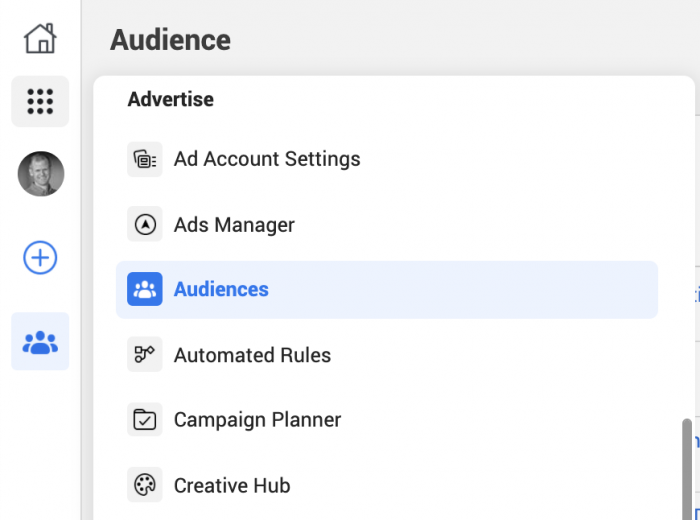 Click "Create Audience" and select "Custom Audience."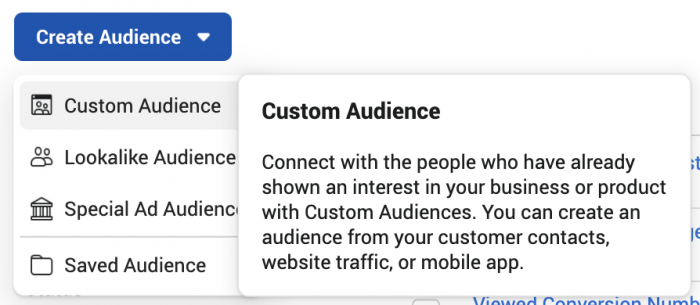 Select "Customer List."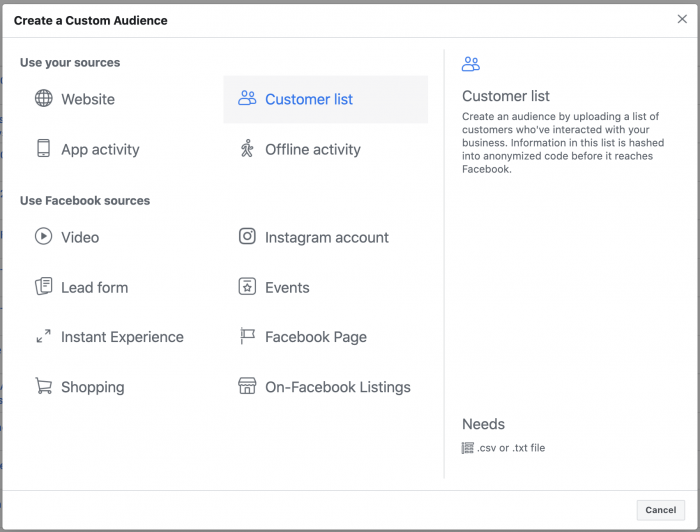 You'll get a screen that looks like this…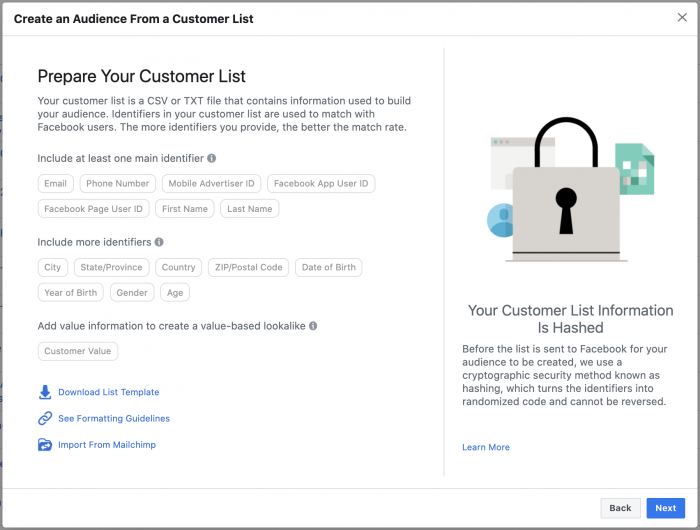 The file should be a CSV or TXT format and include at least one identifier.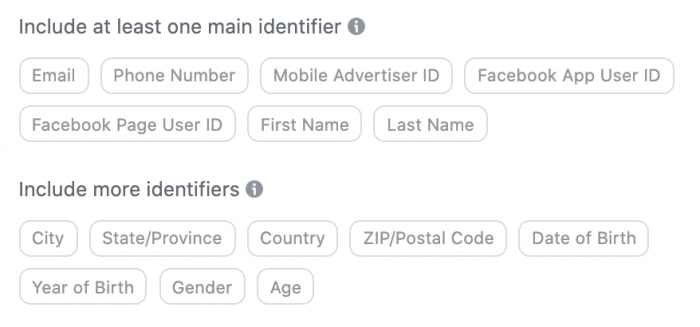 This means that each column of your file represents a different customer identifier. This includes email address, phone number, first name, last name, and others. The more identifiers (columns of data) you include, the more likely Facebook can match a customer with a Facebook user. For example, your customer's email address may not match up with a Facebook user, but the combination of their first name, last name, and phone number might.
If you hover over an identifier, Facebook will give you an example of the format that this data needs to be in.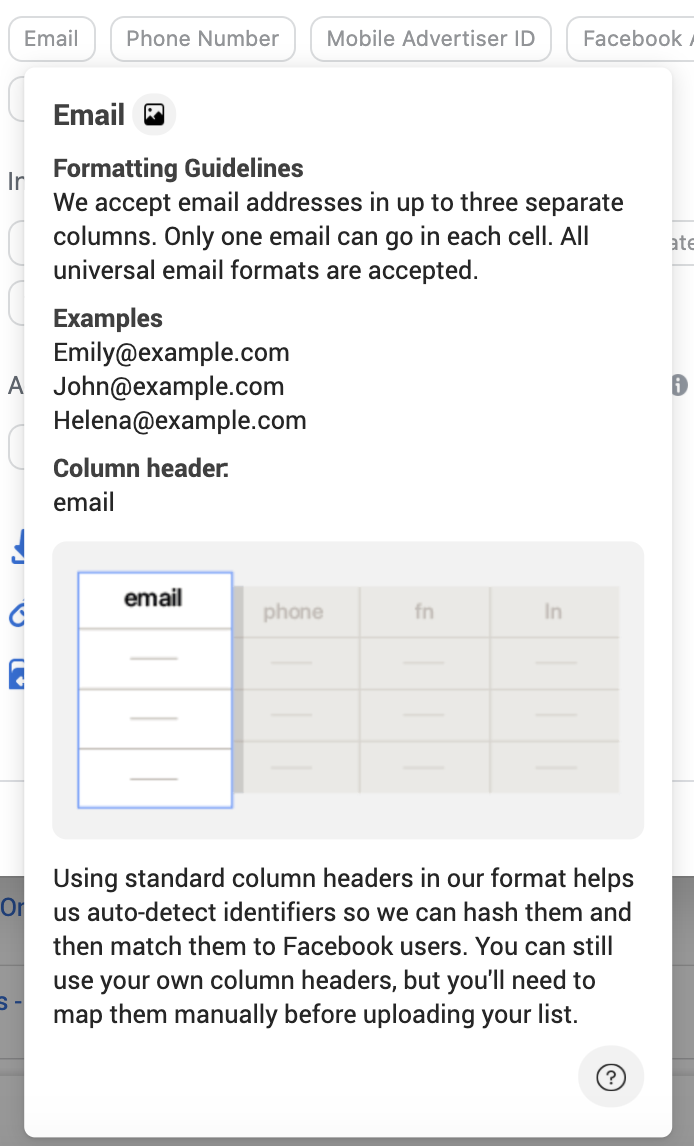 See this resource for formatting guidelines. Facebook also provides a list template to help you understand what your file should look like.
You can also include a column for Customer Value so that you can later create value-based lookalike audiences. We won't cover that here, but feel free to read more about them.
How to Create a Custom Audience Based on Customer List
First, indicate whether your file includes a column for customer value. Again, you only need this if you later expect to create a value-based lookalike audience.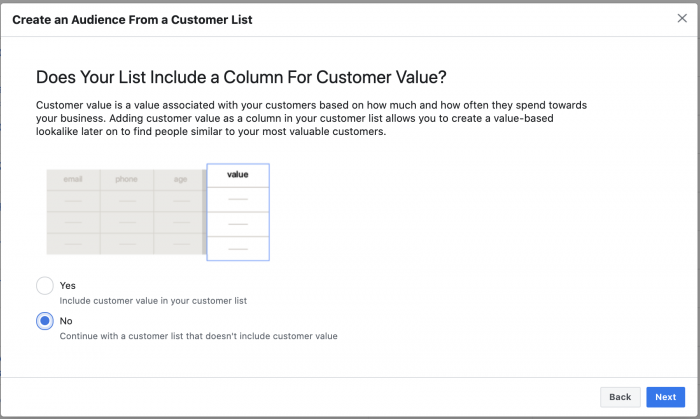 You can either upload a CSV or TXT file or do a simple copy and paste. Assuming your list is more than a few dozen and includes multiple columns, I'd go with a CSV file.

Name your audience and click "Next."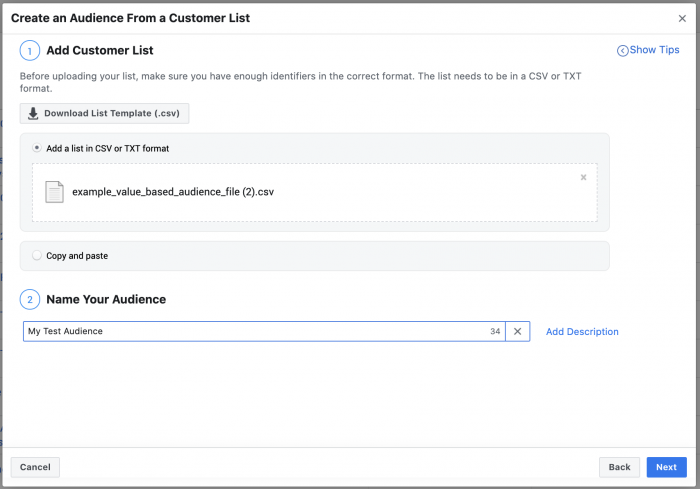 Assuming the names of your columns are different than what Facebook expects, you'll need to map each column to its related identifier.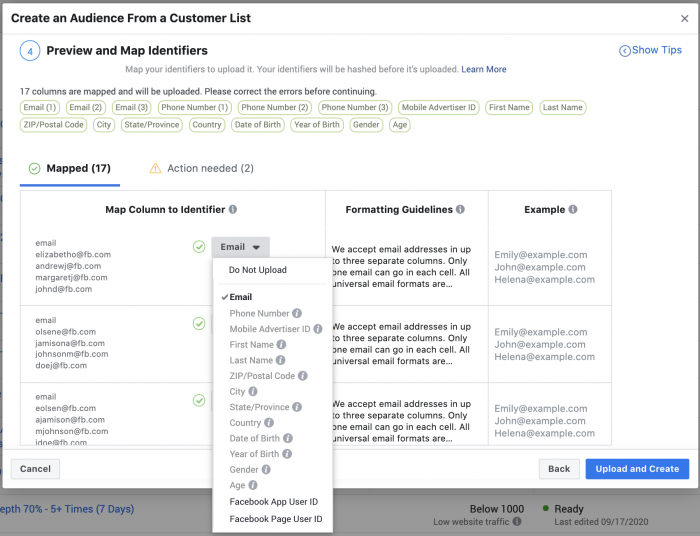 There may be columns that don't match up to an identifier. In that case, just select "Do Not Upload" for that item.
When you're done, click "Upload and Create" and you're done!
MailChimp Integration
If you use MailChimp, Facebook makes the creation of these custom audiences easy. There's a link at the bottom of the initial screen for creating your custom audience to "Import From MailChimp." Click that.
First, log in to MailChimp.

Then select one or multiple lists to convert to a custom audience.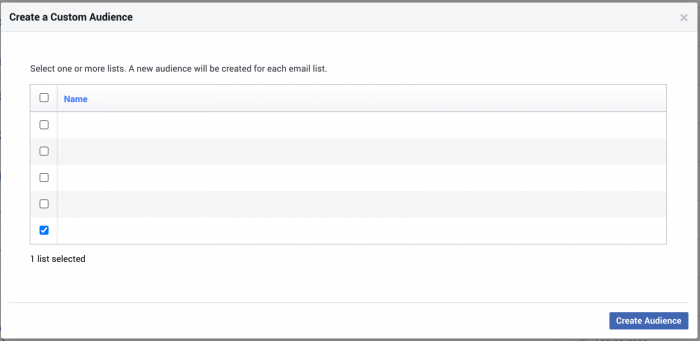 We'll talk more about list syncing later, but know that this integration does not mean that your custom audience will be regularly updated based on changes to your customer list. It only allows you to easily create that custom audience for the first time. If you want to keep it updated, you'll need to consider a third-party tool.
Targeting and Excluding
Once created, you can target or exclude this audience. Go to your ad setAn ad set is a Facebook ads grouping where settings like targeting, scheduling, optimization, and placement are determined. More and select the audience that you want to target or exclude.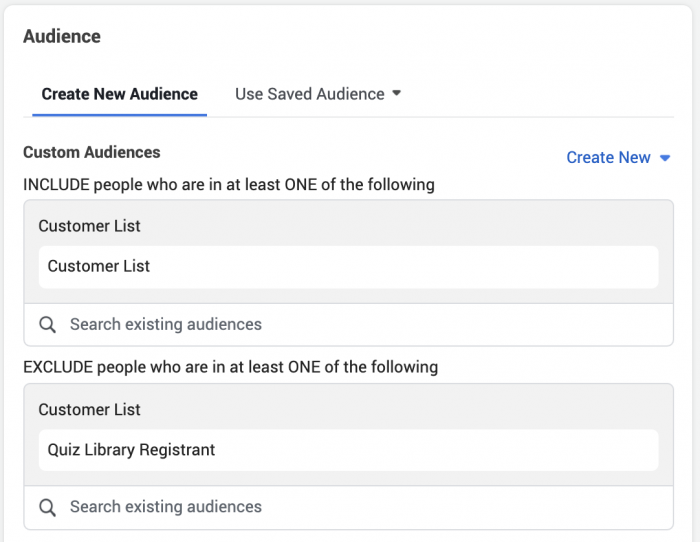 In the example above, I am targeting my customer list while excluding a list of people who registered for my Quiz Library. Both are data file custom audiences, but they don't need to be. You can combine multiple custom audience types (website custom audiences, Facebook page engagement custom audiences, lead form custom audiences, etc.) within the same targeting.
Custom Audience Terms
There are some important rules that you need to understand when it comes to usage of data for Facebook custom audiences. While I won't go through the entire Custom Audience Terms, here are a few highlights:
1. You must have rights to the data.
These are your customers, or they are the customers of your client whom you are advertising for. You're not scraping data or compiling a list of people who have no connection to your business.
2. You can only use a customer's data for a custom audience until they opt-out.
These are people who have opted into receiving messages from you. Once they opt out, they need to be removed from your targeting.
3. You won't grant access to these audiences to parties who have no rights to them.
If you have multiple clients in the same industry, you can't share or use this data across accounts unless you have the rights to this data for that particular business (see #1 and #2).
Granted, this document is in legal language. It's not always clear how to interpret these rules. But this is how I interpret them.
Updating Custom Audiences
The thing about Facebook custom audiences based on a customer file is that it's static. You upload a file, and that's it. If you never touch it again, it won't change.
This, of course, is a problem related to #2 in the Custom Audience Terms above. But, you should also want to keep it updated as much as possible so that your targeting is relevant.
There are two ways to keep your custom audience updated…
1. Update Manually.
To update manually, select it from your Audiences list and click the "Edit" button.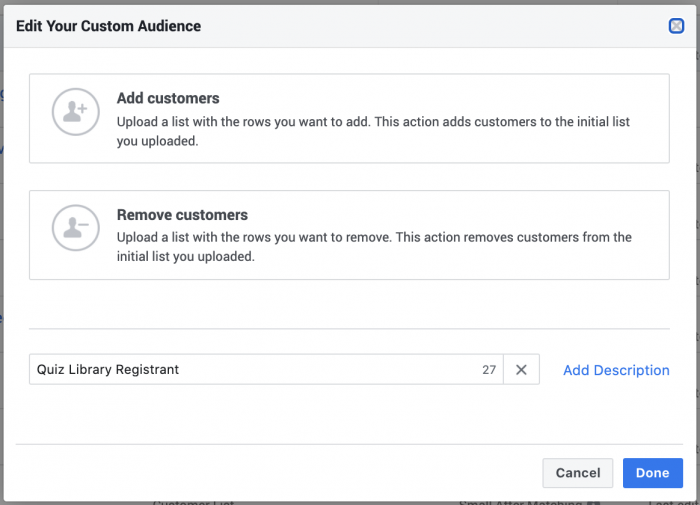 From there, you'll need to upload a file of people you either want to add or remove from your audience. Unfortunately, you can't simply upload a fresh list.
2. Use a Third-Party Tool.
This is the easiest, though it means an investment. You'll typically need to pay a monthly fee to maintain regular updating of your audience. Cost is usually a sliding scale depending on the number of records that need to be updated.
There are many tools available that can do this. I already use Zapier for many types of automation like this. I've also used DriftRock. LeadsBridge has a good reputation, though I've never used it.
None of those are affiliate links. If you're in need of a solution, hopefully this gets you started!
What I Do
While my customer list custom audiencesA customer list custom audience is created by uploading a customer list that Facebook matches with users so you can target them with ads. More aren't a top priority in my targeting, they are certainly in the mix. Some examples…
1. Exclusions
Whenever I promote a product or opt-in, a high priority is excluding those who already signed up. As a result, I exclude every possible audience I can that represents those current customers.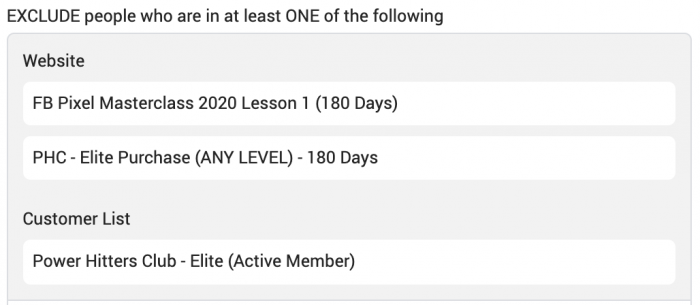 Lead form custom audiences only last up to 90 days. Website custom audiences last 180 days. Even if both covered everyone within those time periods (they won't), they create holes after that window expires.
While a custom audience based on your customer list may not have a 100% match rate, the nice thing is that there is no expiration date on the audience. Someone who signed up two years ago could still be on the list.
2. Up-Sell
Similar to #1, but for the purpose of targeting. Maybe I want to target everyone who signed up for Facebook PixelThe Facebook pixel helps advertisers track events that occur on their website and reach people who performed those events with ads. More Basics to promote the Facebook Pixel Masterclass. I could do this by targeting the website custom audience and customer file custom audience of those who signed up for the free series.
Of course, I'd also exclude those who signed up for the paid training (like I did in #1).
3. Full List
Sometimes, I'll promote blog posts or free opt-ins to those who have engaged with me in some way. I won't focus on the most engaged so as to have some volume.
Here's an example…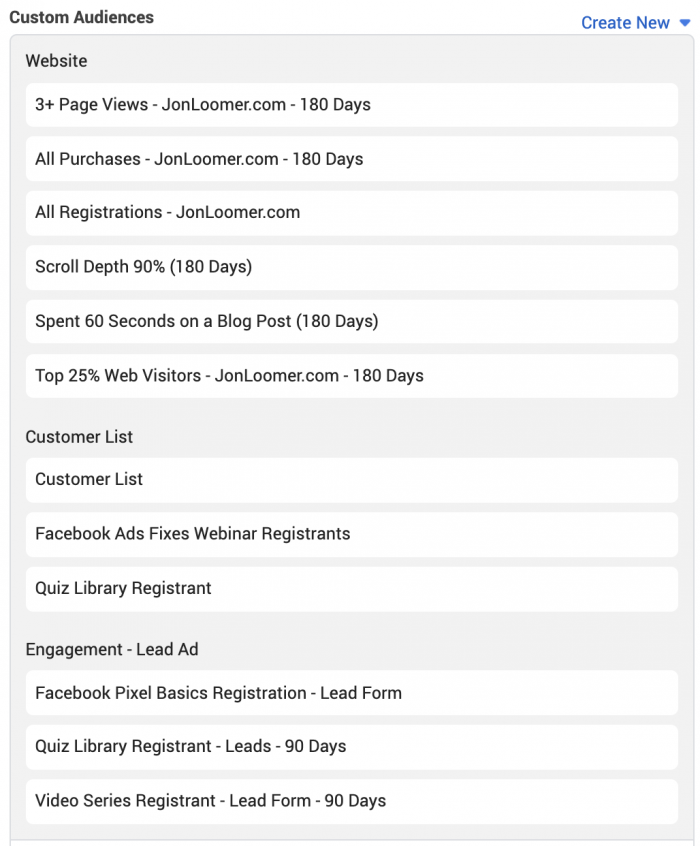 I'm targeting people in a LOT of ways here in an effort to reach all of my most engaged readers. I included website custom audiencesA website custom audience matches people who visit your website with people on Facebook. You can then create ads to show to that audience. More, lead form custom audiencesLead form custom audiences allow you to create audiences of people who engaged with your Facebook lead ad forms to be used in ad targeting. More, and customer file custom audiences in an attempt to generate the most volume of potential quality visitors.
Your Turn
How are you using Facebook custom audiences based on your customer list?
Let me know in the comments below!