The foundation of a Facebook Business ManagerEvery organization should have their own Business Manager to organize their assets (pages, ad accounts, pixels, and more), and then provide appropriate access to those assets to partners. More account is access to ad accounts. The entire purpose of Business Manager is to organize your people, partners, and assets for the purpose of advertising.
In previous posts, we've discussed the following:
Today, let's take a closer look at organizing your ad accounts — both those you own and those you have access to — within Business Manager.
Ad Accounts in Business Manager
First, go to your Business Manager and open Accounts at the top left.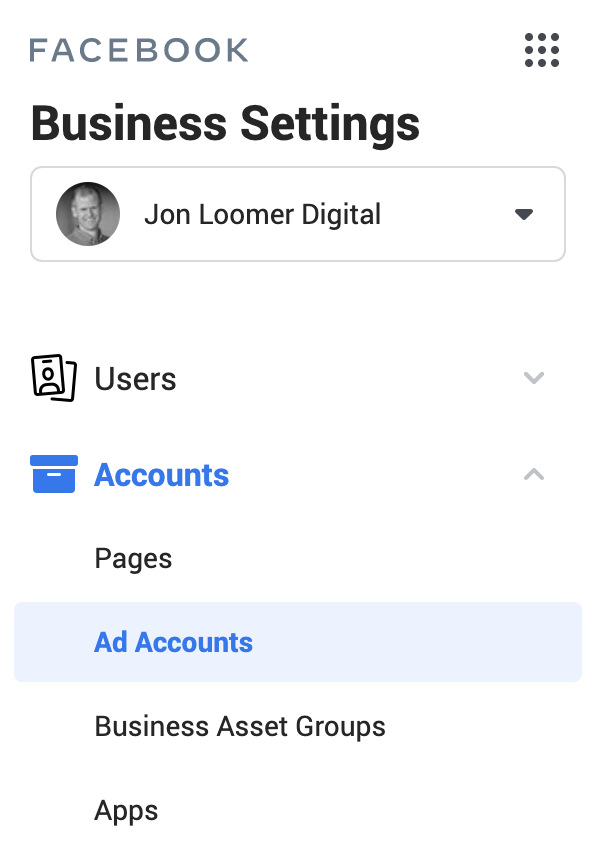 Once you're in "Ad Accounts," click to add an account.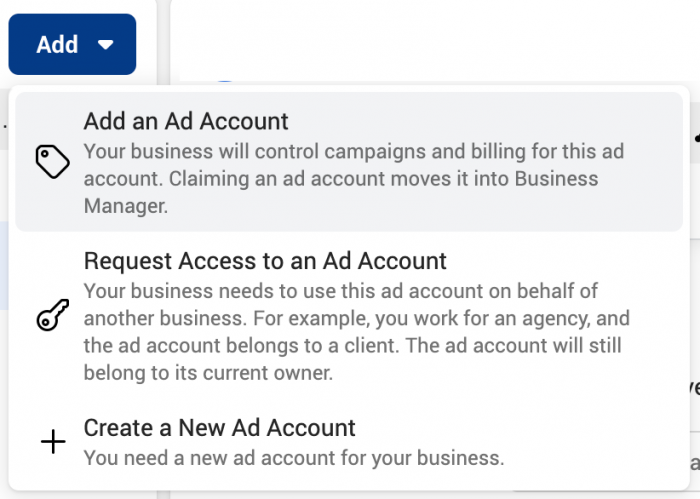 The options:
Add an Ad Account: If you own the ad account and want to share it with someone
Request Access to an Ad Account: If you don't own the ad account
Create a New Ad Account: We'll get to this!
Add an Ad Account You Already Own
To add an ad account that you already own to Business Manager, enter the ad account ID.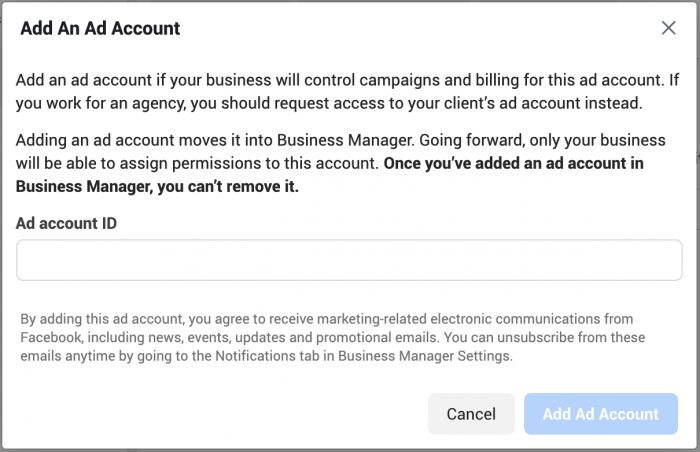 Whenever you use an ad account in Ads Manager, Facebook will display the ad account ID with the name of that ad account.

If the ad account is already part of a Business Manager, it can't be moved.
Request Access to an Ad Account
You may want to get access to an ad account that you don't own. An example would be if you manage ads for others and instead of getting reimbursed for your ad spend, you directly manage your client's or employer's ad account.
To request access to an ad account, you have two options. First, you can enter the ad account ID that you want access to.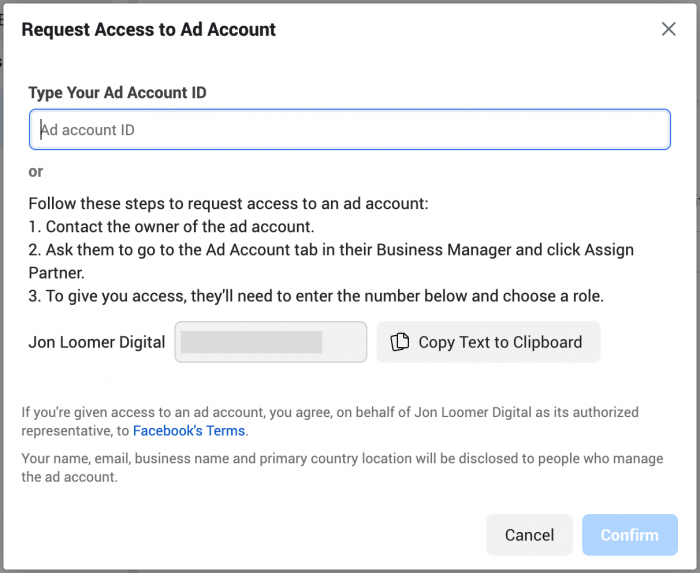 Or, as the graphic above says, you could contact the person who owns the ad account and ask them to add you as a person or partner. From the ad account in their business manager, they'll click to add either a person or partner.

(You may need to read this post on the difference between people and partners and how to add them to your Business Manager.)
If they grant you access to their ad account as a partner, they can do so either by business ID or a link.

They can then determine your specific access to that ad account.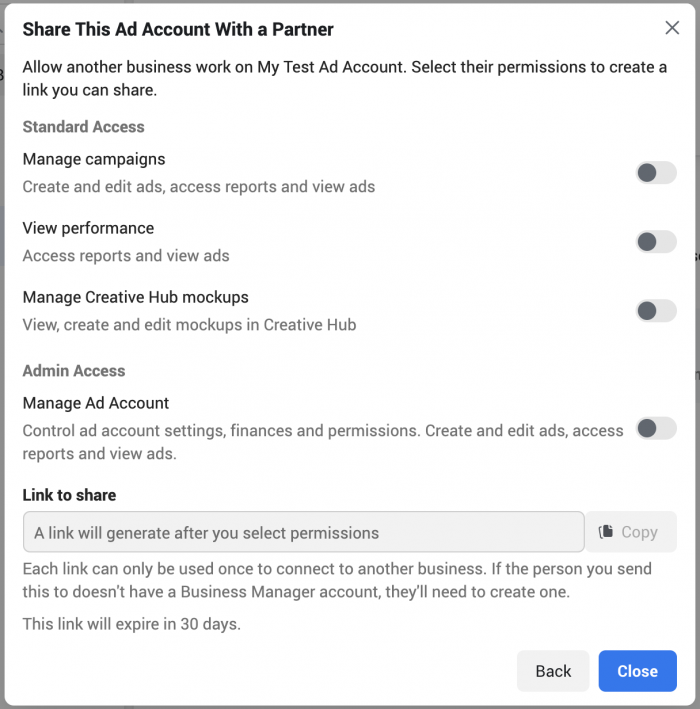 If you're using a link to grant access, that link will expire in 30 days.
Create a New Ad Account
Okay, now the one everyone asks about: Create a new ad account.
Everyone starts with one ad account. Once you've made a confirmed payment, that limit can go up. Facebook will adjust your ad account creation limit based on historical spending and whether your accounts are in good standing.
To check what your ad account creation limitEvery Business Manager has an Ad Account Creation Limit. It typically starts at 1 and builds with history of running ads and paying your bills to Meta. Your limit can be found on the Business Info page of your Business Manager. To increase your limit more rapidly, contact a Meta account rep. More is, go to Business Info at the bottom left of Business Manager.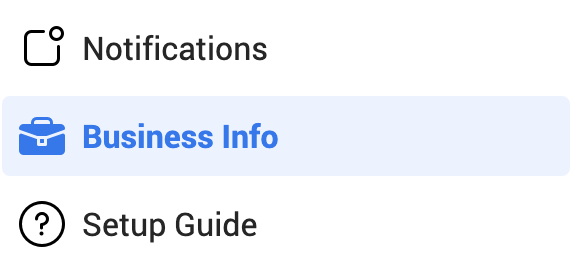 I have an ad account creation limit of 2,500. I'm not going to use anywhere close to that.
So, if you want to create a new ad account, the menu above is one way to do it. Click it. If you get an error, it's probably because you have a new account or have accounts that have been banned. If you have a strong advertising history, you may want to reachReach measures the number of Accounts Center Accounts (formerly users) that saw your ads at least once. You can have one account reached with multiple impressions. More out to Facebook to see if you can get your ad account creation limit increased.
Your Turn
Have you had issues adding ad accounts to Business Manager?
Let me know in the comments below!