If you run Facebook ads, you need to understand Business ManagerEvery organization should have their own Business Manager to organize their assets (pages, ad accounts, pixels, and more), and then provide appropriate access to those assets to partners. More. And if you manage ads for others, it's additionally important that you understand how to use Business Manager to manage roles and access to assets. In this post, we're going to discuss the differences between the three types of users (People, Partners, and System Users) and how to add them.
You can access these roles within the "Users" portion in the Business Manager menu.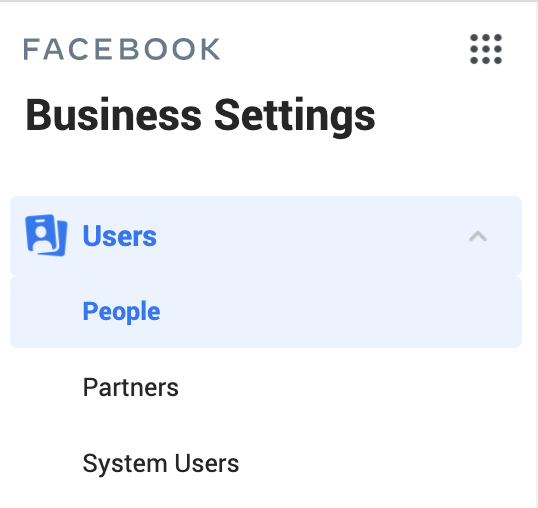 Let's walk through this…
People
If you are an admin, you can grant access to your Business Manager and specific assets to individual people. Typically, you would add employees as "People."
Within "People," click to add a new user.

It will look like this…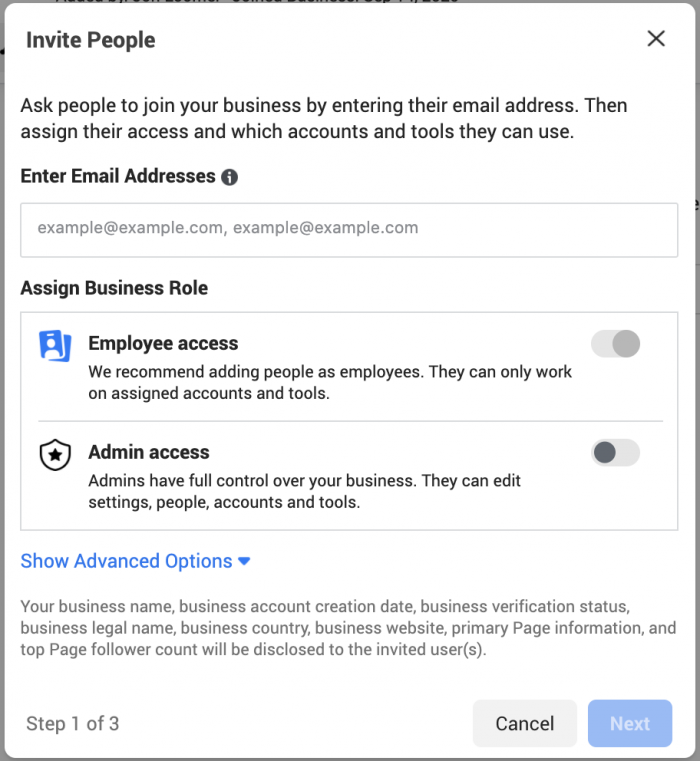 Enter the email address(es) of the person or people you want to add.

You will typically want to grant Employee access. Later, you'll be able to assign specific assets. Know that if you grant admin access, they will have full control of the Business Manager account.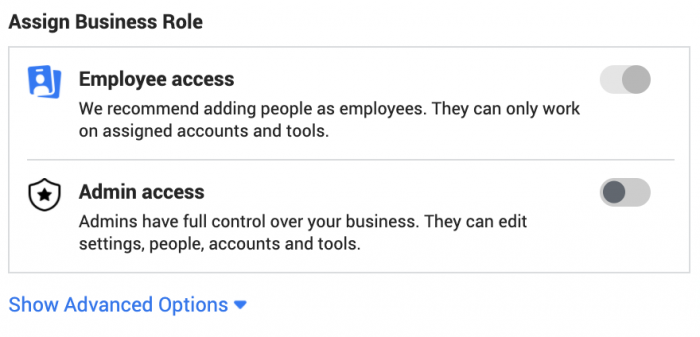 Show advanced options to assign Finance Analyst or Finance Editor roles.

A finance analyst would get access to invoices, account spend, and payment methods. A finance editor would be able to edit payment information and settings.
You'll be able to assign pages, ad accounts, catalogs, and apps.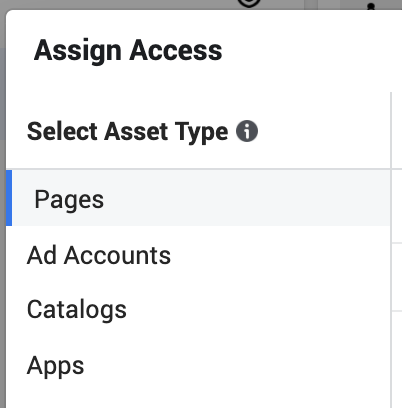 Select a page and you'll be able to assign specific roles.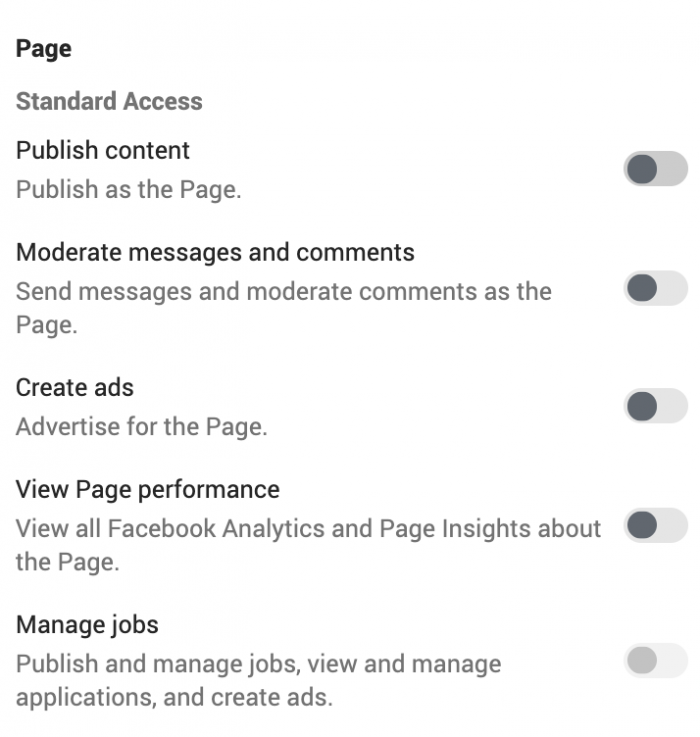 Page roles include:
Publish content as the page
Moderate messages and comments
Create ads
View page performance
Manage jobs
View earnings insights
Manage page (admin access)
By default, these roles are off for employees, but you can toggle any of them on.
You can also assign ad account roles.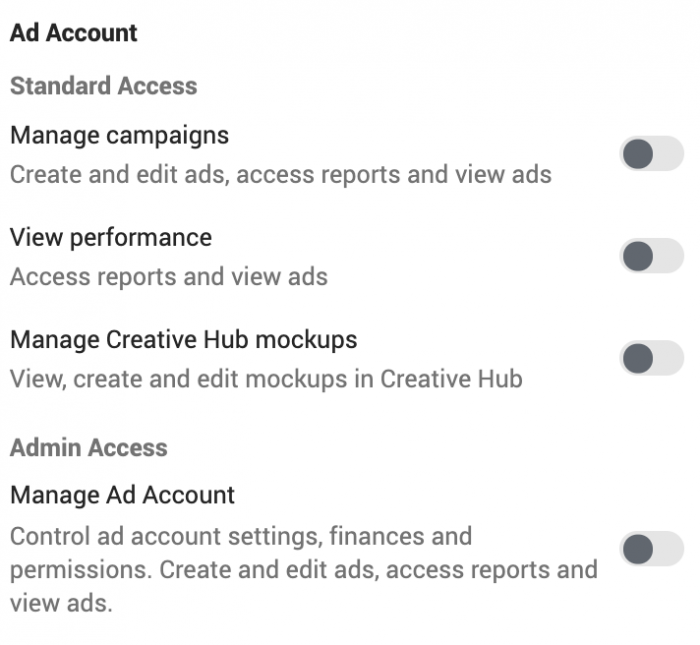 Business Manager roles include:
Manage campaignsThe campaign is the foundation of your Facebook ad. This is where you'll set an advertising objective, which defines what you want your ad to achieve. More
View performance
Manage Creative HubCreative Hub allows advertisers to craft drafts of ads that they can share with clients prior to going live. Once approved, drafts can be imported into ads in Ads Manager. More mockups
Manage ad account (admin access)
You can assign any catalog and provide access to creating ads or managing your catalogs (admin access).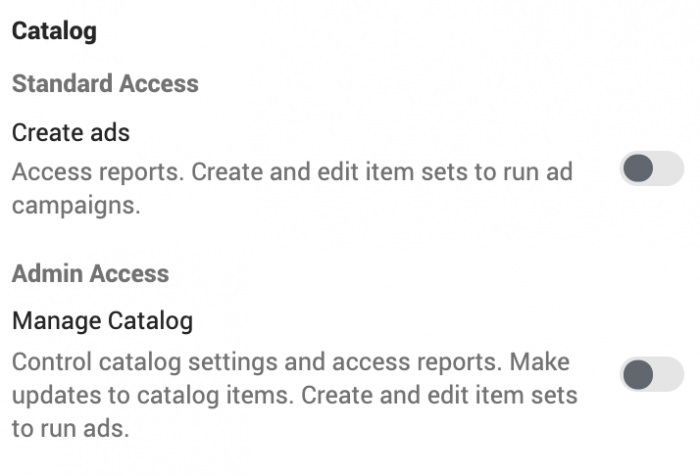 Finally, you can assign roles for any app.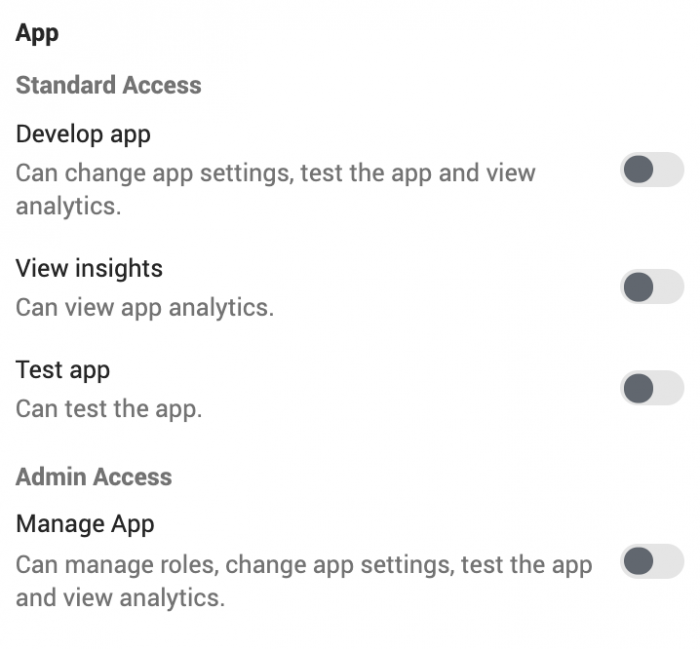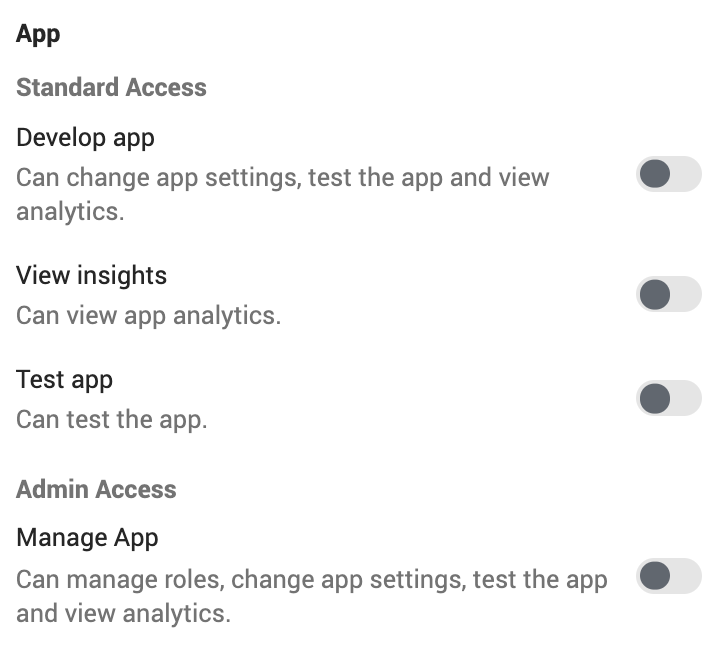 App roles include:
Develop app
View insights
Test app
Manage app (admin accesss)
Note that if any of the pages, ad accounts, or apps you want to assign don't appear, you first need to add them to your Business Manager under Accounts.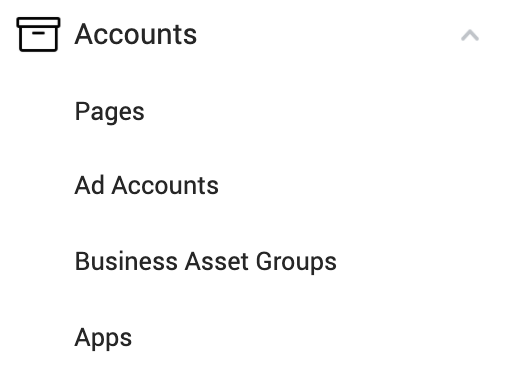 Catalogs can be found under Data Sources.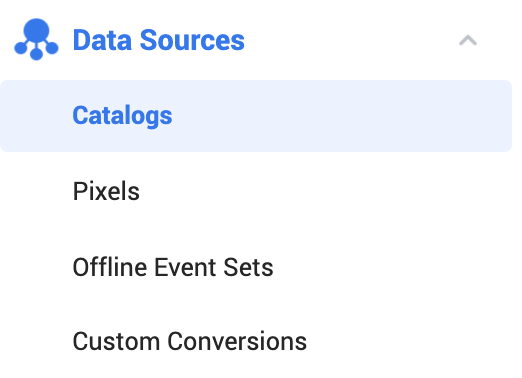 Partners
You can add businesses you work with, typically agencies or clients, as partners in your Business Manager. Of course, how this is handled all depends on whether you are the agency or the client.
Click to add a partner.

If you are the brand and looking to add a partner agency who will manage your ads, you would select the first option.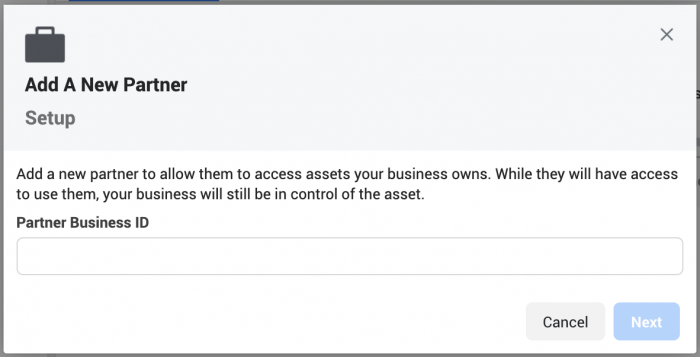 Business ID can be found by going to Business Info at the bottom of your Business Manager menu on the left.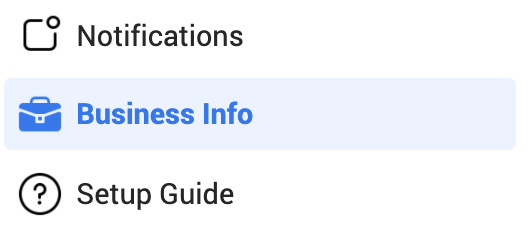 Like with People, you can choose which assets you want to share with a partner.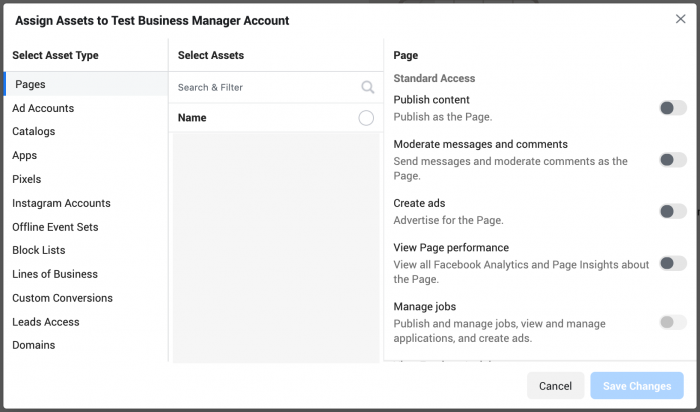 In addition to pages, ad accounts, catalogs, and apps, you can share several other assets. First, you can grant access to pixels…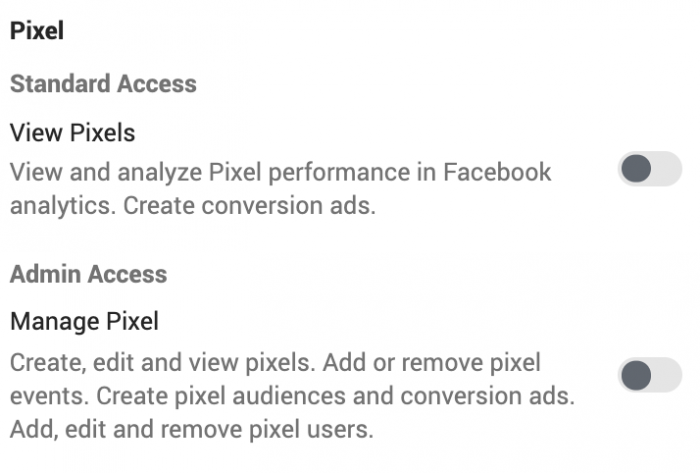 A partner can view or edit your pixels (admin access).
There aren't any special settings for Instagram accounts. By granting a partner access, they can use it for advertising.
You can assign roles related to offline event sets.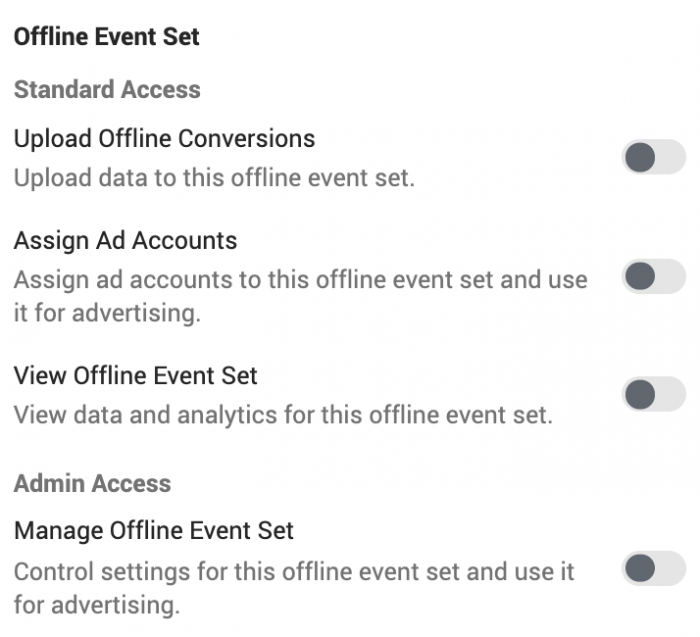 Offline event set roles include:
Upload offline conversionsA conversion is counted whenever a website visitor performs an action that fires a standard event, custom event, or custom conversion. Examples of conversions include purchases, leads, content views, add to cart, and registrations. More
Assign ad accounts
View offline event set
Manage offline event set (admin access)
You can choose whether a partner can view aggregated insights for a line of business.

Assign roles related to custom conversionsCustom conversions let you create rules for events or URLs so that you can better track and optimize for specific actions with Facebook ads. More so that a partner can use them in ads (optimizationThe Performance Goal is chosen within the ad set and determines optimization and delivery. How you optimize impacts who sees your ad. Meta will show your ad to people most likely to perform your desired action. More and tracking) or view measurement info (admin access).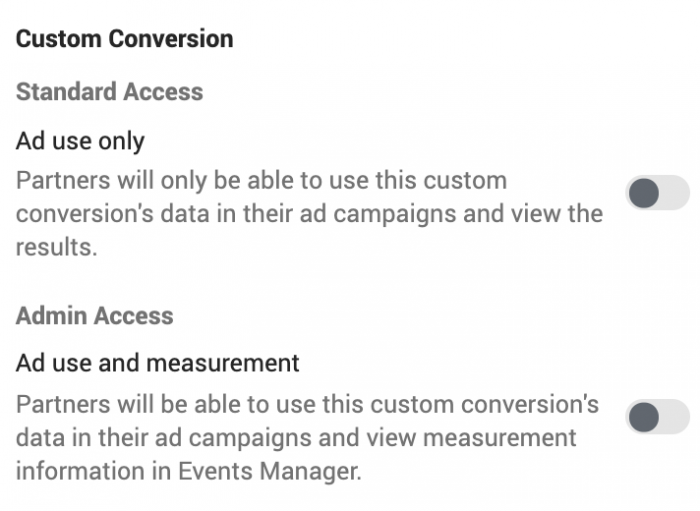 If you are an agency or consultant looking to manage ads for a client (and get access to their assets), you could instead choose the option to add a partner to request access to their assets.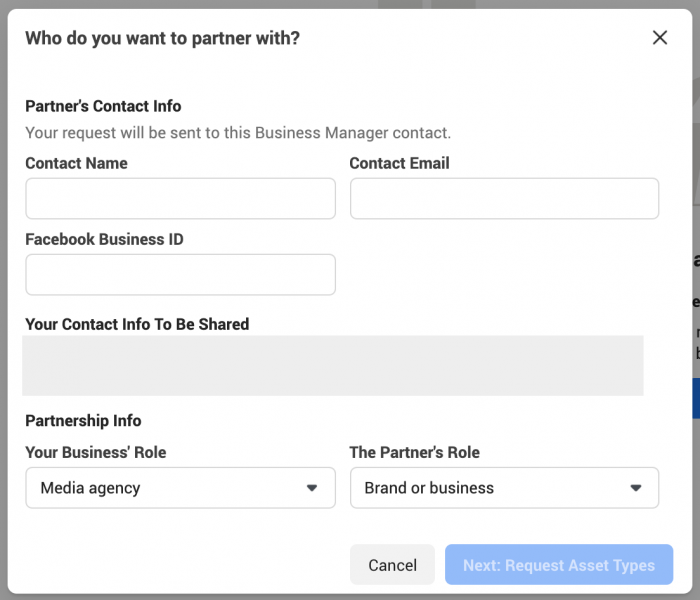 You will need to enter their Business ID (explained earlier). At that point, you can request access to specific types of assets (rather than the exact assets).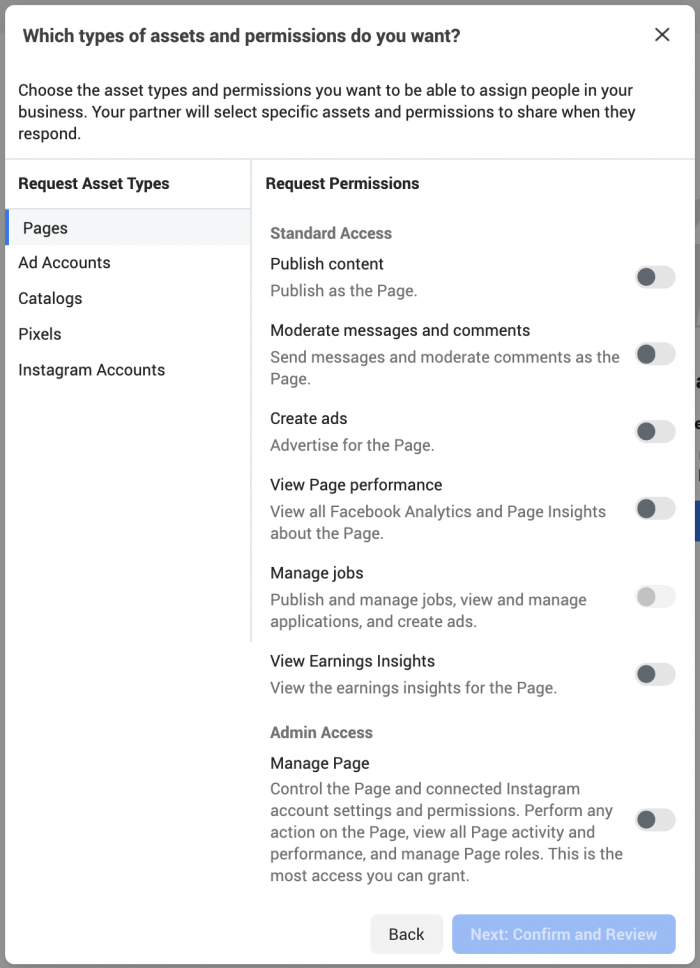 Your partner will be able to share specific assets when they respond (they can deny access as well).
System User
In most cases, you'll be adding people or partners. System users, on the other hand, represent servers or software that make API calls to assets in your Business Manager. You need to have a Facebook app that's associated with your Business Manager to add system users.
Click to add a system user.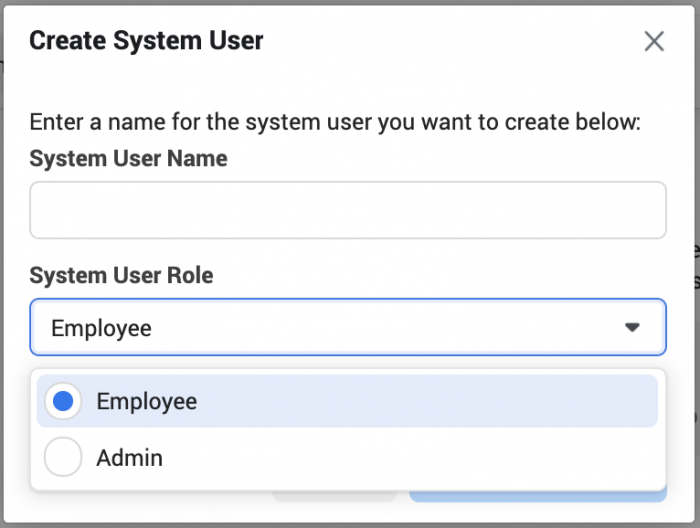 You'll have two options:
Regular (employee) System User: Can only access the assets they have permission for
Admin System User: Can create system users, add accounts, assign permissions and more
Once added, you can generate a new token, revoke a token, or add assets.

We're entering an area that is above my pay grade. Here's some additional documentation on system users, if you need it:
Your Turn
Business Manager is a bit of a beast, but part of the battle is simply managing your people and partners. Have you had issues with this?
Let me know in the comments below!