You may have heard about it. Advantage+ (or Advantage Plus?) conversion campaign creation has been rolled out to some advertisers during the past several months, but not everyone has it.
What is it? Is it a big deal?
Let's discuss…
What is Advantage Plus?
If you have Advantage Plus, you'll know it when you create a Purchases campaign in ODAX or a conversionsA conversion is counted whenever a website visitor performs an action that fires a standard event, custom event, or custom conversion. Examples of conversions include purchases, leads, content views, add to cart, and registrations. More campaign during the old objective selection method. You'll immediately see a prompt for the "Creation Method."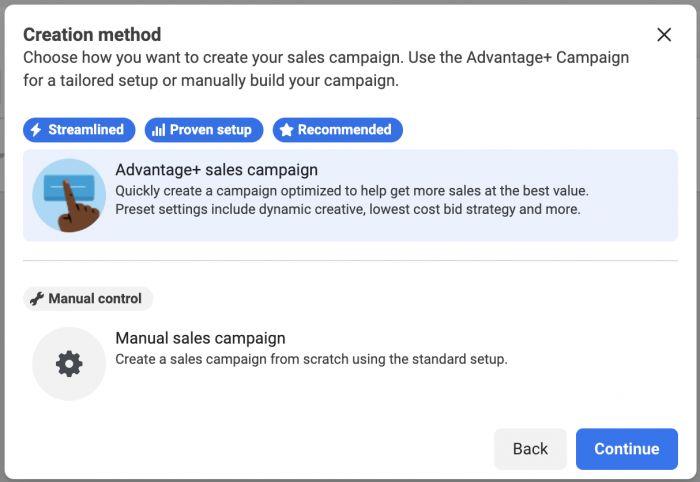 You'll have the option of using the Advantage Plus campaign creation method for a "tailored setup" or the usual manual sales campaign.
What makes Advantage Plus special? Well, let's use Facebook's own words. First, it's "streamlined," offering a simplified setup.

Second, it's a "proven setup" utilizing settings that lead to results.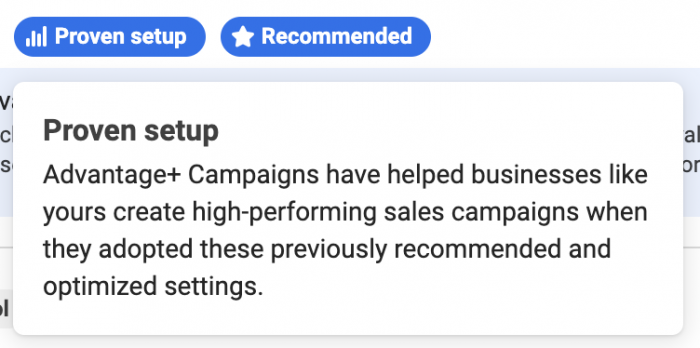 And finally, it's "recommended," which basically repeats the stuff we've already said and benefits in threes are better than benefits in twos.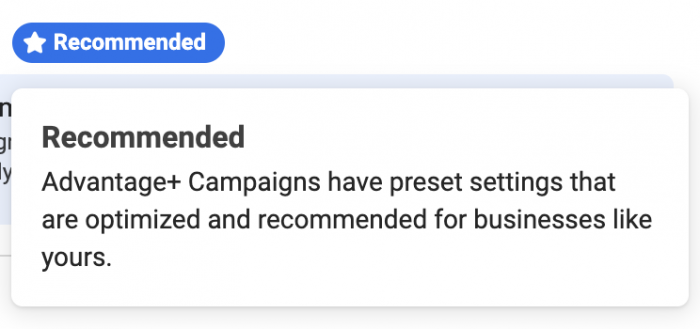 How it Works
The biggest difference you'll notice is that the ad setAn ad set is a Facebook ads grouping where settings like targeting, scheduling, optimization, and placement are determined. More and ad creation processes are now on a single screen.
At the very top, you'll see "Preset Settings."

Those preset settings are:
Campaign ObjectiveWhen you create a campaign, one of the first things you'll do is select an objective. The campaign objective is your ultimate goal. Your selection will impact options, including optimization and delivery. Options include Awareness, Traffic, Engagement, Leads, App Promotion, and Sales. More: Sales
Bid StrategyWhen you enter an ad into the auction, Meta will bid for you. But in some cases, it may benefit you to adjust the bidding strategy to get better results. Options include Highest Volume, Cost Per Result Goal, Highest Value, ROAS Goal, and Bid Cap. More: Lowest Cost
Dynamic Creative: On
Placements: Automatic
OptimizationThe Performance Goal is chosen within the ad set and determines optimization and delivery. How you optimize impacts who sees your ad. Meta will show your ad to people most likely to perform your desired action. More for Ad Delivery: Conversions
Attribution SettingAttribution is how Meta gives credit to an ad for a conversion. Your Attribution Setting determines how your ad will be delivered and the reporting attribution window. The default Attribution Setting is 7-day click and 1-day view, which means that anyone who converts within 7 days of clicking or 1 day of viewing your ad will be counted as a conversion. More: 7 days after clicking or 1 day after viewing
You'll still be able to customize the following in the ad set:
Conversion location
BudgetA budget is an amount you're willing to spend on your Facebook campaigns or ad sets on a daily or lifetime basis. More and schedule
Advantage Plus attempts to simplify audience targeting as well. It looks a bit more streamlined, though it's essentially the same process as before.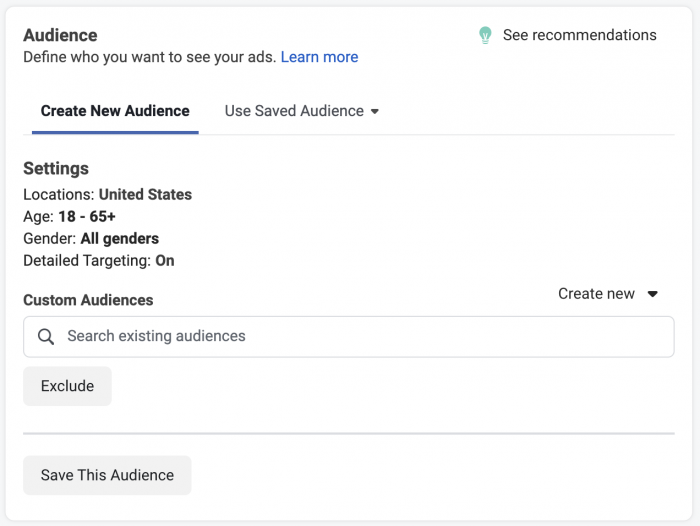 You can select a custom audience or lookalike. You can edit the locations, age, gender, and detailed targeting if you want. You can use Saved Audiences. It's just not as inviting to do those things.
The ad setup is mostly the same as before. Again, keep in mind that Dynamic Creative is automatically on.
So… What is This??
I'd love to say that this is some super powerful way to create campaignsThe campaign is the foundation of your Facebook ad. This is where you'll set an advertising objective, which defines what you want your ad to achieve. More. Unfortunately, I see nothing magical about it.
This is Facebook's (Meta's) attempt to simplify campaign creation in Ads Manager for less advanced advertisers. There aren't any new features here. No new functionality. It's the opposite, actually.
Advantage Plus is essentially rolling with the defaults (other than Dynamic Creative). It's Facebook preventing you from editing these things because they believe you'll get better results by leaving those defaults alone.
This is quite similar to the Boost button. The Boost is Facebook's attempt to make the creation of a single campaign, ad set, and ad as simple as possible. You could do the exact same thing within Ads Manager. But the Boost has fewer ways to customize.
Advantage Plus is very similar. Ads Manager can be overwhelming. To make the campaign creation process more inviting to a less experienced advertiser, Facebook simply hides the defaults so that you can't change them.
That's it. There's really nothing else to it.
To be clear, I don't have this yet, so I can't say definitively whether this is a big deal or not. But, there is no evidence that Advantage Plus is anything more than preventing advertisers from changing defaults.
Advantage Plus is Facebook trying to protect newbie advertisers from themselves. I'd love to be proven wrong, but this just feels like another boost button with no true "advantage" for experienced advertisers.
Your Turn
Have you experimented with Advantage Plus yet? What do you think?
Let me know in the comments below!