Facebook is redesigning the objective-selection process in Ads Manager. They're calling it ODAX: Outcome-Driven Ad Experiences.
This update is, as always, a slow roll-out. As of the date of writing this, I don't have it. That limits the amount of information I can provide.
But, there is some info available. I wanted to at least provide an overview of what I know so far, an interesting mystery, and some overall thoughts.
ODAX: Outcome-Driven Ad Experiences
Facebook is constantly adding, removing, and changing functionality. Flows are changed. The overall design doesn't. As a result, the process of creating a campaign has become increasingly complex and confusing, particularly for newer advertisers.
Facebook is moving towards Outcome-Driven Ad Experiences (ODAX). After selecting your desired outcome (the objective), the advertiser will be guided to the most optimal set-up.
Granted, that sounds exactly like how the current/prior process (depending on what you have now) is meant to work. Now, it just has a fancy name. But, that process has gotten messier over the years, and ODAX is evidence of prioritizing a cleaner and less confusing organization.
The easiest way to explain this update is that the objectives will be simplified.
The New Objectives
The biggest change for advertisers will be moving from 11 campaign objectivesWhen you create a campaign, one of the first things you'll do is select an objective. The campaign objective is your ultimate goal. Your selection will impact options, including optimization and delivery. Options include Awareness, Traffic, Engagement, Leads, App Promotion, and Sales. More to six (image from Facebook):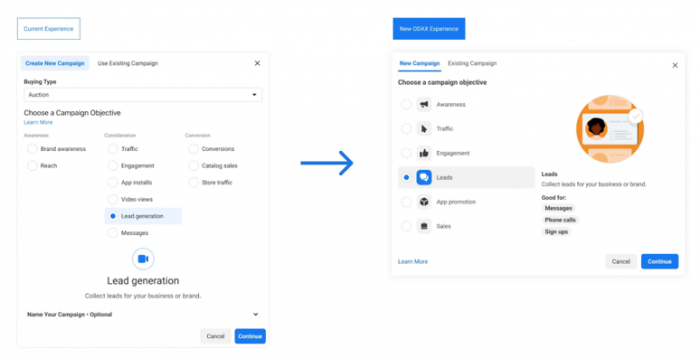 The new objectives, using ODAX, will be:
Awareness
Traffic
Engagement
App Promotion
Leads
Sales
That doesn't mean that five objectives are necessarily going away and that you'll lose options related to those objectives. It simply means that some are redundant and are being combined (again, from Facebook).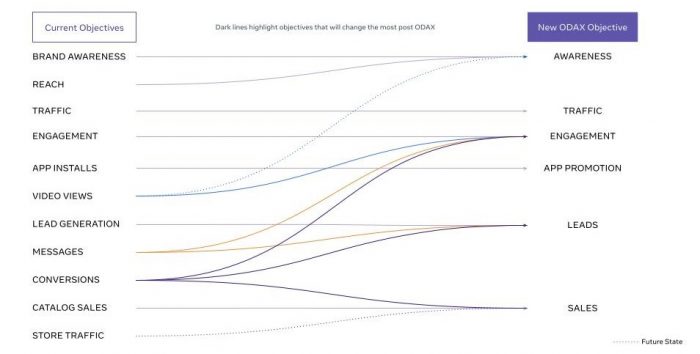 As you can see in the image above (this may be clearer), the new objectives will include prior objectives as follows:
Awareness: Brand Awareness, ReachReach measures the number of Accounts Center Accounts (formerly users) that saw your ads at least once. You can have one account reached with multiple impressions. More, Video Views
Traffic: Traffic (unchanged)
Engagement: Engagement, Video Views, Messages, ConversionsA conversion is counted whenever a website visitor performs an action that fires a standard event, custom event, or custom conversion. Examples of conversions include purchases, leads, content views, add to cart, and registrations. More
App Promotion: App Installs
Leads: Lead Generation, Messages, Conversions
Sales: Conversions, Catalog Sales, Store Traffic
Note that Store Traffic won't be included in the original roll-out.
Does Functionality Change?
Facebook has said that nothing will actually change. In other words, you won't lose functionality that you previously had, and it doesn't appear that any new functionality emerges. This is all a matter of simplifying and making the flow more logical and less confusing (or at least that's the goal).
I don't have this change, however, so I can't go through the process to verify whether anything else has changed. Most importantly, I'm curious what the optimizationThe Performance Goal is chosen within the ad set and determines optimization and delivery. How you optimize impacts who sees your ad. Meta will show your ad to people most likely to perform your desired action. More options will be at the ad setAn ad set is a Facebook ads grouping where settings like targeting, scheduling, optimization, and placement are determined. More level for each objective.
One of the changes that jumps out at me is moving to Leads and Sales. The prior "Conversions" was used for any type of conversion on your website, whether a lead or a purchase. It appears that Facebook wants to separate value-based conversions under the "Sales" objective. My assumption is that all lead types (Facebook lead ads and website leads) are combined under Leads.
Again, though, it at least appears that nothing is truly changing — just the flow for how you get to your eventual goal.
Come Again?
There's one passage within Facebook's announcement that got my attention. Facebook lists three reasons for wanting to simplify the objectives. Check the second one:
2. Enable cross-channel campaignsThe campaign is the foundation of your Facebook ad. This is where you'll set an advertising objective, which defines what you want your ad to achieve. More: Once Cross-Channel Conversion Optimizations are available (e.g. website + app, website + shop), communicate the value of, and default advertisers into, these solutions make it easy for advertisers to adopt.
This wording ("ONCE Cross-Channel Conversion Optimizations are available…") certainly makes it sound like new stuff is coming. A new cross-channel attributionAttribution is how Meta gives credit to an ad for a conversion. Your Attribution Setting determines how your ad will be delivered and the reporting attribution window. The default Attribution Setting is 7-day click and 1-day view, which means that anyone who converts within 7 days of clicking or 1 day of viewing your ad will be counted as a conversion. More tool? New optimization options? Not all that clear.
But, it could be a big deal! Or maybe I'm reading too much into it.
Your Turn
I will write another post once I have some hands-on experience. But, this is a start.
Do you have this update yet? Is there any information that you can add or clarify?
Let me know in the comments below!