Facebook first started rolling out the ability to customize ad creative by placement more than two years ago. Since this has evolved so much since then, I decided a new post was required to walk through how it works.
The biggest update is the ability to customize creative for an existing Facebook post. We're going to get to that. But, let's start from the beginning…
Why Customize Creative by PlacementA placement is a location where your ad is shown. Examples include Facebook's mobile Feed, Messenger, Instagram feed, Audience Network, right-hand column, and more. More?
The impulse is to create your ad for the news feed. You know that other placements exist. But, you just assume it will look fine in those cases, too. This is a mistake. The specs are different from placement to placement.
Facebook recommends square link thumbnail images for all of the feeds:
Mobile News Feed
Desktop News Feed
Mobile Marketplace Feed
Marketpplace Category Feed and Details Page
Desktop Marketplace Feed
Desktop Marketpplace Details Page
Instagram Feed
Instagram Explore Feed
Instagram Explore Video
Messenger Inbox
Meanwhile, Facebook uses the 9:16 aspect ratio for Stories and Audience NetworkAudience Network is a network of mobile apps that have been approved to monetize their apps with ads. This is how you can show your Meta ads to people while they are away from the Meta family of apps. Audience Network and associated groups are among your placement selection options in the ad set. More formats:
Facebook Stories
Instagram Stories
AudienceThis is the group of people who can potentially see your ads. You help influence this by adjusting age, gender, location, detailed targeting (interests and behaviors), custom audiences, and more. More Network Interstitial, Medium Rectangle, Native, and Banner
Messenger Stories
And finally, the "old school" 1.91:1 aspect ratio for the following:
Instant Articles
Desktop Right Column
Search Results (Marketplace and General)
This is just scratching the surface regarding the differences in the way ads are displayed by placement. The headlines, link descriptions, and amount of text allowed can all vary based on placement.
If you aren't careful, an ad can look awful or omit important information, depending on the placement. Without the ability to customize ad creative by placement, you basically have three options:
Cross your fingers and hope it looks okay
Create a different ad based on the placement (which has its limitations)
Limit the placements so that you don't have to deal with it
How to Customize Creative by Placement
After you upload an image while creating an ad, you'll see a drop-down that allows you to customize creative by placement.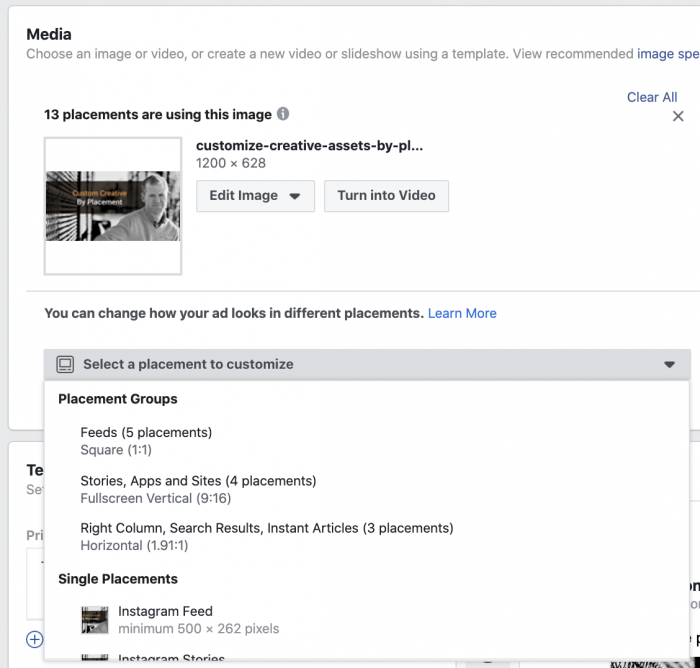 You can either customize creative in bulk by group or select individual placements. I prefer to select the group of Feeds, for example.
You'll be able to upload a new image or crop an existing one.
If you crop, you'll be able to crop the image you're currently using, but only available aspect ratios for that placement will be allowed.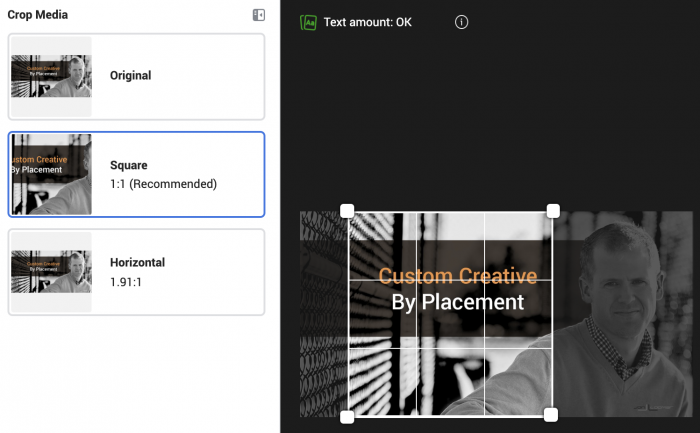 What's great is that you can also customize the primary text and link headline. You can even customize the URL by placement.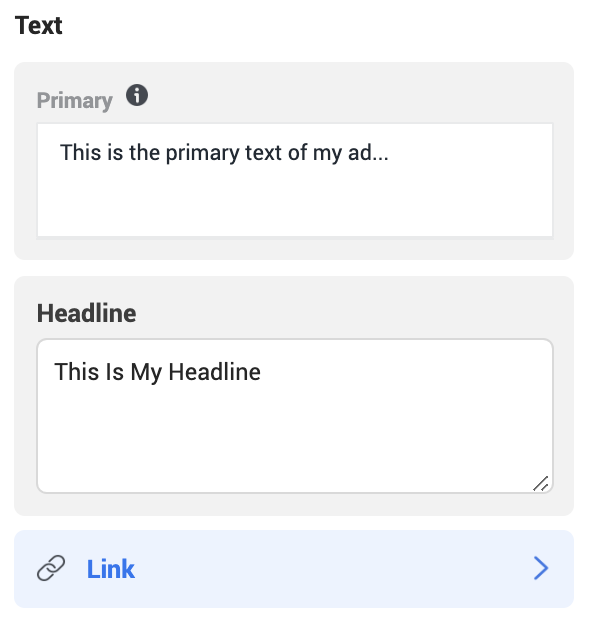 Customize Creative by Placement for Existing Post
A great addition is the ability to customize creative by placement for an existing post. This would be most commonly used for when you promote a post that you shared to your Facebook page.
This is a big development for me because promoting existing posts is a big part of my routine. I'll write a new blog post, share it to my Facebook page, and then promote that existing post via an ad. But, until recently, I was unable to customize the creative for that existing post.
Facebook started rolling out the ability to customize ad creative by placement for existing posts a few months ago. I've used it for my last couple of posts…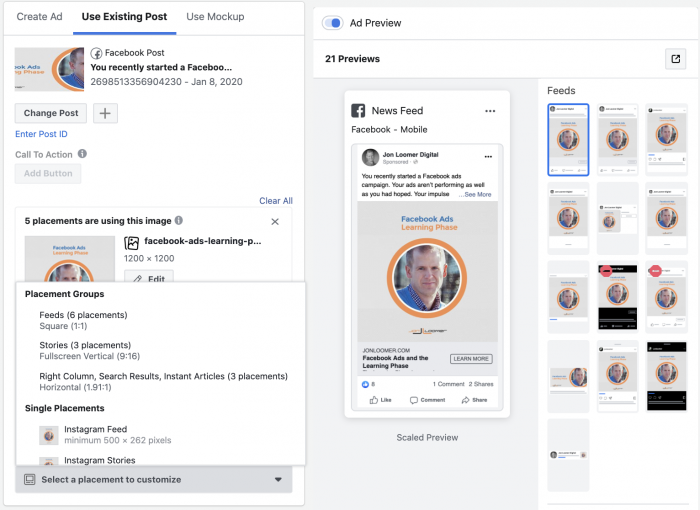 Unfortunately, this feature comes and goes for me. But, it's really useful when it's available!
The Bad News
You'd assume that one of the benefits of customizing creative by placement — particularly for an existing post — would be to leverage existing engagement. Well, let's test that theory.
Here's a post I recently shared to my page, complete with the associated engagement…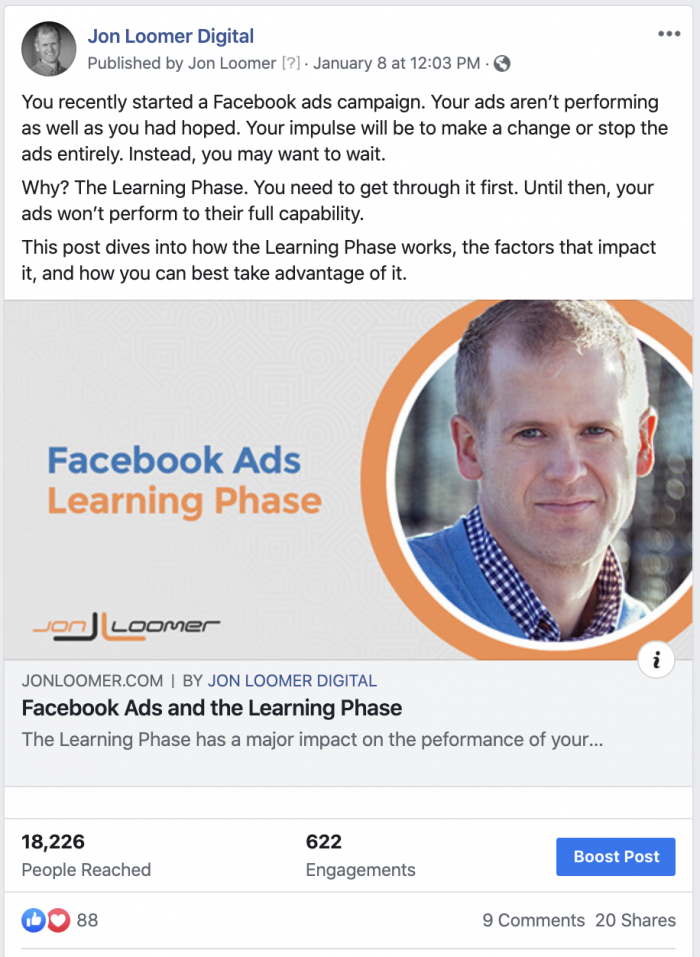 And here's the news feed version of the ad itself, that was customized to have a square image (it is otherwise the "existing" post)…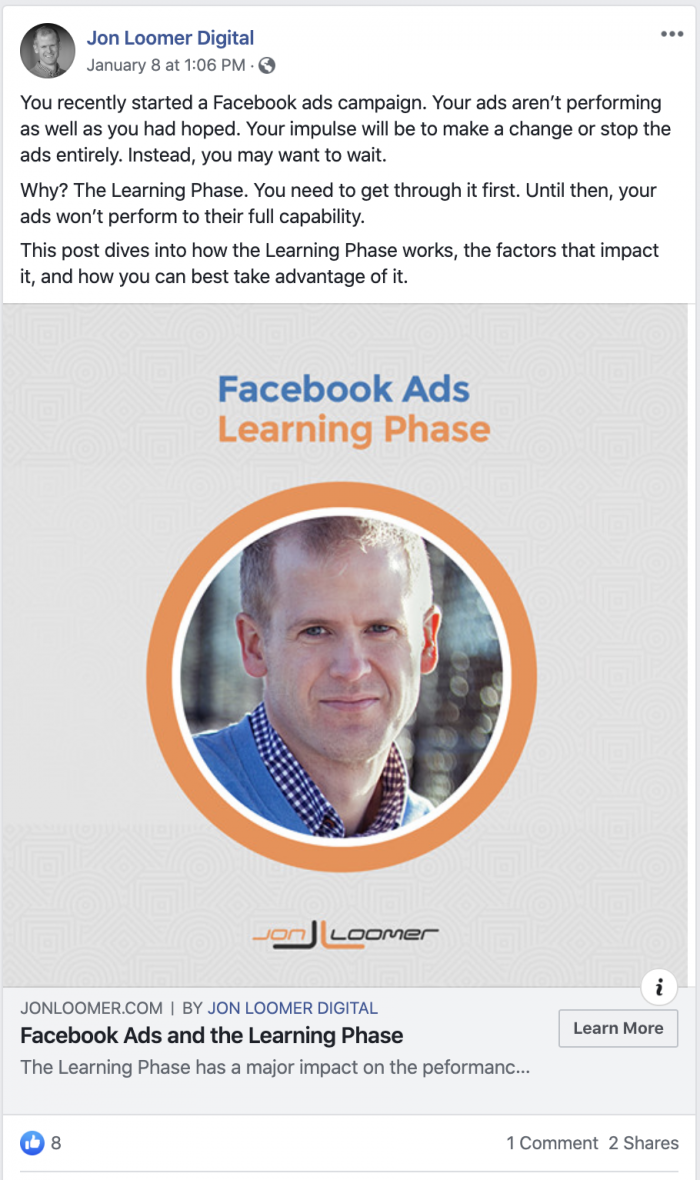 The ad version does not display the aggregated engagement. It does appear, though, that the original version posted to my page (the "existing" post) includes aggregated metrics consisting of both paid and organic.
When you take a close look at the URL of the post for the ad, you'll see it includes the same post ID as the organic post, except that it also has an addition…

That addition is "DCO" code. In other words, Facebook treats this as Dynamic Creative Optimization.
If we're going to be honest with ourselves, it does make sense that Facebook wouldn't allow us to display the aggregated engagement for each ad variation. You can customize the image, headline, primary text, and even URL. You can essentially change the entire meaning of the post.
As you can imagine, advertisers could abuse that. They could create a highly viral meme. They'd then customize everything in the ad version to completely change the post's meaning, hoping to leverage the engagement the meme received. That, of course, would not be a good thing for Facebook.
Is It Worth It?
While it may not change our lives, this is a nice feature. It's a lot more work to create new ads by placement. And you can't create an individual ad for some placements that also require a Facebook feed. For those who promote existing posts, it makes life a lot easier.
Are you using this feature? Do you have the ability to customize placement for an existing post? What do you think?
Let me know in the comments below!