Advantage+ Shopping Campaigns have given e-commerce businesses a big boost. They combine machine learning and automation to get your ads in front of the audienceThis is the group of people who can potentially see your ads. You help influence this by adjusting age, gender, location, detailed targeting (interests and behaviors), custom audiences, and more. More most likely to buy. And now there's a scheduling enhancement.
Let's talk more about what this update is and why it matters.
Schedule Ads
The typical schedule is set at the ad set level. This is where you determine the days and times that all of the ads within it will deliver.
Advantage+ Shopping CampaignsThe campaign is the foundation of your Facebook ad. This is where you'll set an advertising objective, which defines what you want your ad to achieve. More have the primary scheduling in the ad set, too. Although, you could argue it's technically in the campaign since the campaign and ad set creation is done in one step.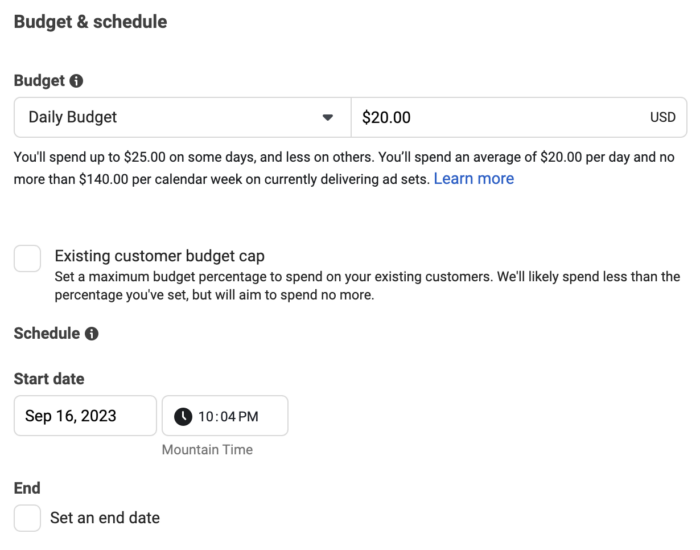 But, there's also a scheduling option when creating your ad. Under the ad format section, you'll notice an optional schedule to run your ad during a specified time period.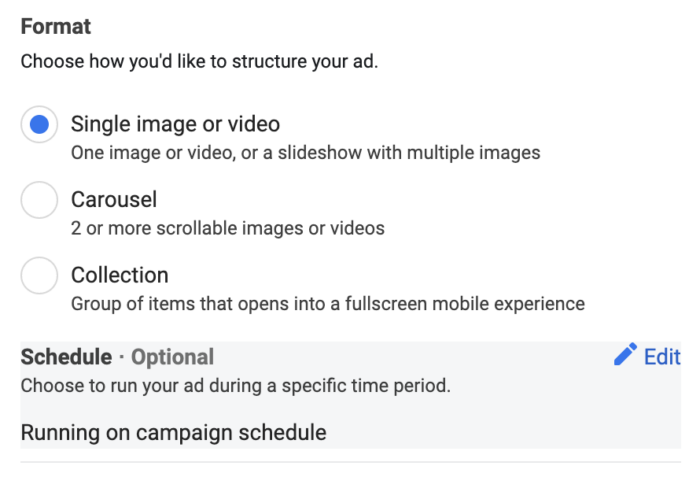 If you don't edit this, your ads will run on the schedule that you set in the campaign. Otherwise, you can manually adjust the schedule of individual ads.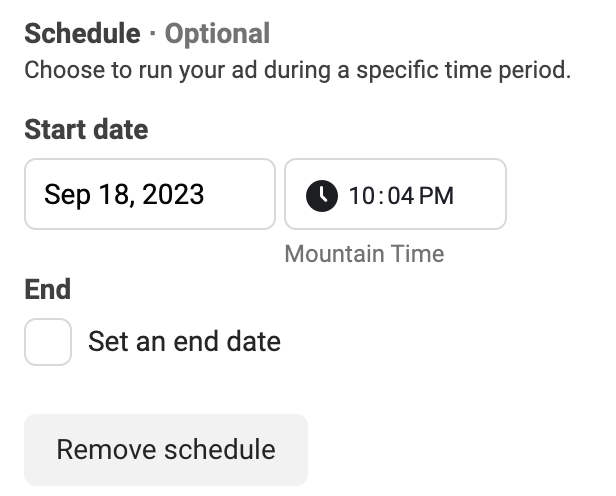 While you'd only have one ad set within an Advantage+ Shopping CampaignAdvantage+ Shopping Campaigns offer a streamlined way of creating a Sales campaign that leverages machine learning to get the best results. Presets are locked in and can't be changed. The advertiser provides custom audiences at the account level that define current customers and can then determine a budget cap for how much of the budget is spent on current customers. More, you could have multiple ads that run at different times.
Ad Schedule Column
To view the schedule you've set for each ad in Ads Manager, you'll need to add a column by using the Customize Columns feature. Search for "Ad Schedule" and then click the checkbox to add the column to your Ads Manager.

You could also include the Starts and Ends columns (for the campaign or ad set schedule) and the final product would look something like this…

Ad Schedule is specific to Advantage+ Shopping Campaigns, so you won't see data in this column for any other ad.
How Would That Work?
While messing around with this, I wanted to see if you could establish an ad start date that begins before the campaign/ad set start date. Well, you can (at least in draft)…

It doesn't make much sense that an ad would start before the delivery of the ad set, but that's technically possible here. My guess is that this is an oversight that needs to be corrected, and your ads won't run until the main scheduled start date.
When Would You Use This?
First, it's important to reiterate that this is only necessary because you can't create multiple ad setsAn ad set is a Facebook ads grouping where settings like targeting, scheduling, optimization, and placement are determined. More within a single Advantage+ Shopping Campaign. In a typical campaign, you might create separate ad sets with different schedules for the ads within them.
Second, this might be used if you want to stagger promotions. You could have dozens of ads within the same Advantage+ Shopping Campaign, but they'll all compete with one another for attention. You might have three different products that you want to promote, so you can then stagger when each product is promoted to prevent overlap.
Another example would be if you have sales that occur on specific days, so your wording will change during those periods. It may not even have anything to do with your products, but instead the messaging in your ads.
Would This Come to Other Campaign Types?
When I first saw this announced, I thought it was for typical campaigns, not Advantage+ Shopping. At the time, I thought it would be interesting to see it for standard ad scheduling. I've since seen a lot of advertisers suggest the same.
The more I think about it, I just don't know that it's all that necessary. Again, remember that Meta's primary motivation for this is likely that you have only one ad set in an Advantage+ Shopping Campaign. Ad scheduling was needed because you couldn't create multiple schedules without creating multiple campaigns.
For a standard campaign, you'd just create multiple ad sets. But, you could make the argument that an optional ad schedule would simplify things. No need to duplicate an ad set that would keep everything the same, other than the schedule. Just adjust the ad schedule.
I can see the argument for it. I just wouldn't be surprised if it never happens.
Watch Video
I recorded a video about this, too…
Your Turn
Have you experimented with ad scheduling? What do you think?
Let me know in the comments below!