In June, I started a free webinar series for beginner, intermediate and advanced advertisers. The goal was to segment these groups so that I could offer each registrant a more relevant product (either my Power Hitters Club for advanced marketers or one of my 4-week training programs for beginners or intermediates).
This has been a fun experiment for me, and it's fallen mostly on the down-low for the first few months. For now, I still don't even have a public facing landing page for my training programs. Until the kinks are worked out of my process, I've focused only on remarketing to the groups who sign up for these webinars.
This has become a a nifty little funnel for me. As it currently stands, I conduct all three free webinars (always live, but the content changes very little) on the final Monday of each month. I then have a week to promote the relevant training program before the four weeks of training begins the following Tuesday.
Until August 5, I relied entirely on organic methods to promote this series (as I type, ads don't yet exist for the 4-week training programs). But after a modest start, I now commit a few hundred dollars per day to webinar promotion.
In order to do this, I need to expand my targeted audienceThis is the group of people who can potentially see your ads. You help influence this by adjusting age, gender, location, detailed targeting (interests and behaviors), custom audiences, and more. More beyond my website visitors. Those who know me realize this is uncomfortable territory. I don't enjoy targeting people who aren't connected to me. But I saw this as a challenge and an experiment to multiply my spend.
Early results tell me that a registration is worth $6. That's a very conservative value given that this was prior to major promotion began and prior to the existence of landing pages for my training program products (only checkout pages).
But equipped with the framework of a $6 registration value, I knew that I could move beyond targeting only my website visitors (who routinely register for $.50 to $1.00) and venture into the uncomfortable waters of Lookalike Audiences (who will undoubtedly cost more).
I don't have lots of faith in Lookalike Audiences, but I prefer targeting people similar to some key audiences rather than picking and choosing interests. And given the large sizes of these audiences, I also know that there is built in potential to scale, and it's less likely to over-market even if I spend upwards of $500 per day.
I thought you may want to get a look behind the curtain at how I'm promoting my webinar series. I'm constantly tweaking and experimenting, so it's by no means a finished process. While I'll continue to find ways to optimize, it may provide some inspiration for your own promotions.
Let's take a closer look…
CarouselA carousel allows you to display two or more scrollable images or videos in the same ad, with the ability to link each to a different URL. More Ads Promoting Recent Content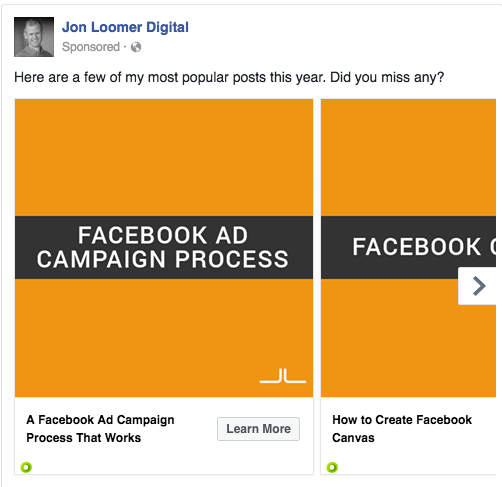 Facebook carousel ads can now include up to 10 images or videos. I'm able to take advantage of that for the purpose of promoting recent blog posts.
The Goal:
I know that few advertisers promote content for the purpose of driving website traffic only. I find that to be foolish and short-sighted.
I have two primary goals with this. The first is to build my most active Website Custom AudiencesA website custom audience matches people who visit your website with people on Facebook. You can then create ads to show to that audience. More because I'll be targeting them later in this process.
The second goal is to leverage Instant Article traffic driven on mobile devices. I've placed my own ads on my Instant Articles, which are all focused on promoting my webinars.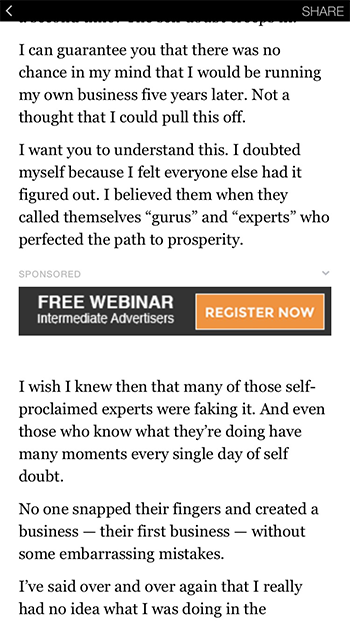 I may need to write an entire tutorial on customizing ads for your Instant Articles (not to mention a tutorial for setting up Instant Articles). In the meantime, read this.
Targeting:
I'm experimenting with four different audiences, three of which are my most active website visitors.
Visited JonLoomer.com 2-5 times during the past 180 days
Visited JonLoomer.com 6-19 times during the past 180 days
Visited JonLoomer.com 20+ times during the past 180 days
Collection of Lookalike Audiences
As you might imagine, the first three are very effective, but the volume I can get is limited given they include my most active visitors only. So I also wanted to expand these audiences.
The fourth ad setAn ad set is a Facebook ads grouping where settings like targeting, scheduling, optimization, and placement are determined. More includes Lookalike Audiences of the following:
JonLoomer.com Visitors – 180 Days (10+ FrequencyCalculated as (Impressions/Reach), Frequency is a Facebook ads metric that measures the average number of times users have seen your ad. More)
Registered to Any Facebook Advertiser Webinar – 180 Days
Time on Site (25%) – 180 Days
Time on Site (5%) – 180 Days
If you haven't already, make sure you start creating Website Custom Audiences based on frequency and time on your website. They are awesome!
Promotion of Most Recent Blog Post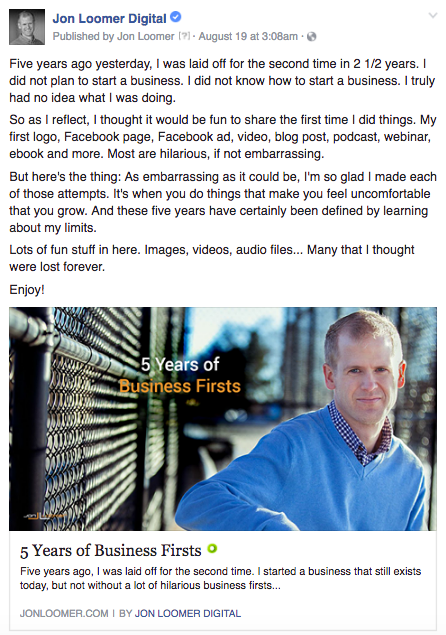 Goals:
The goals here are nearly identical to the ads above. In this case, though, promoting my latest blog post also happens to be part of my normal routine. I'm trying to drive traffic to build my engaged WCA traffic as well as Instant Article traffic from mobile.
Targeting:
Unlike the ads above, I focus only on my engaged audience here. With a carousel ad, I can target a broader audience, hoping that at least one post will appeal to someone who doesn't know me.
But while promoting my latest post, I prefer to focus on warm audiences. I chose a happy medium between anyone who visited my website and those who are most active on my website here in an effort to boost the potential audience size while cutting out one-time visitors.
Here, I'm targeting anyone who visited at least twice during the past 180 days. This gives me a potential reachReach measures the number of Accounts Center Accounts (formerly users) that saw your ads at least once. You can have one account reached with multiple impressions. More of 140,000 people.
Ads Promoting Facebook Ads Quiz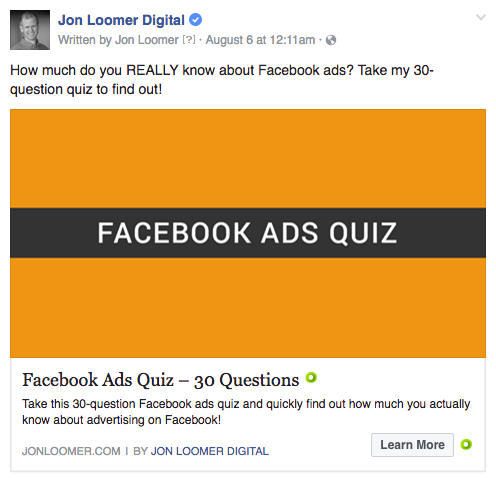 If you haven't taken my 30-question Facebook ads quiz, make sure you do so. You'll quickly see just how much you know!
The Goal:
The primary goal here is to get people to take the quiz. Immediately after taking the quiz, the user will get a recommendation for one of my three webinars based on their results. Taking the quiz will lead to more people signing up for an appropriate level webinar.
Even if they don't immediately sign up for the webinar, these people again fall into remarketing.
Targeting:
Based on testing, I've decided to focus only on my most active website visitors. Lookalikes simply weren't worthwhile.
It makes sense, really. I'm not getting an email address, but I'm asking the user to do something that takes lots of effort. It needs to be a highly engaged user who knows me.
I've been testing three different audiences:
Time on Site 5% AND Frequency 3+ (10 Days)
Time on Site 10% AND Frequency 2 (10 Days)
Time on Site 25% AND Frequency 1 (10 Days)
In each case, I'm combining two different Website Custom Audiences, one based on frequency and one based on time spent. You may be surprised to know that currently the most efficient audience is the 25% + 1 frequency audience.
I use a 10-day window in an effort to avoid overmarketing the audience. My assumption is that the people who are most active on my website during the past 10 days aren't all that likely to consistently be the most active people. I have no proof of that, but I'm hoping there isn't a ton of overlap.
By limiting the window to 10 days, I can hope to keep this ad relatively evergreen and limit ad impression frequency. Combined with using Daily Unique ReachDaily Unique Reach Facebook ads optimization allows you to limit the number of times you reach your audience to no more than once per day. More bidding, I've done reasonably well at that. Even though these are small audiences, frequency over 14 days is no more than 4.
I'm also excluding the following groups:
Already took the quiz (Website Custom Audience)
Registered for beginner, intermediate or advanced webinar
Purchased beginner or intermediate 4-week program
Member of the Power Hitters Club
I this case, I only want to pay to show the quiz to people who are new to the funnel. The exclusions I use to assure this are a bit ridiculous — and probably overkill. I exclude every possible Website Custom Audience, Email Custom AudienceA customer list custom audience is created by uploading a customer list that Facebook matches with users so you can target them with ads. More and Lead Ad Custom AudienceLead form custom audiences allow you to create audiences of people who engaged with your Facebook lead ad forms to be used in ad targeting. More associated with those groups to make sure they are cut out — a total of 54 excluded audiences.
Website Conversion Ads for the Webinars

The first set of ads created for the purpose of driving signups for my webinars are remarketing plays.
The Goal:
Not surprisingly, my goal here is to get more webinar registrations. But I also want it to be rather evergreen. You'll notice that I don't mention dates. That will be updated on the landing page. I do this with the second set of ads as well.
Targeting:
I took a few different approaches here.
First, I did an abandoned page, targeting those who previously visited the landing page for that webinar.
Second, I targeted anyone who registered for the beginner webinar during the past 30-60 days to promote the intermediate webinar. I also did the same thing for those who registered for the intermediate webinar for promoting the advanced one.
Here, I exclude anyone who registered for the webinar I'm promoting as well as the 4-week program for the same level. I also exclude anyone who participated in anything that is a higher level. For example, if promoting the intermediate webinar to those who attended the beginner webinar, I'll also exclude those who attended the advanced webinar.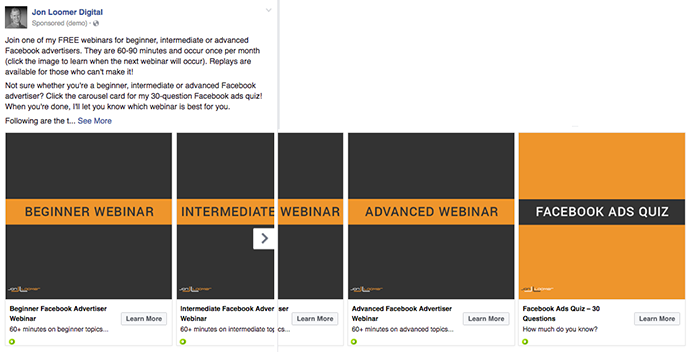 I could also use a carousel to promote my webinars.
The Goal:
The goal is to get webinar registrations, but this time it's to get volume. While the approach above will lead to inexpensive registrations, potential for volume is very limited.
Targeting:
Since I need a larger group to spend more, I focus on Lookalike Audiences here:
JonLoomer.com Visitors – 180 Days (10+ Frequency)
Registered to Any Facebook Advertiser Webinar – 180 Days
Time on Site (25%) – 180 Days
Time on Site (10%) – 180 Days
Time on Site (5%) – 180 Days
For the 10% audience, I'm also experimenting with dayparting. I researched my ad reports to find the most efficient hours of the day to get a conversion during 2016.
I'm also experimenting with an audience that knows me very well, but creating variations of the targeting. I combined those who visited 3+ times or were in the top 5% of my most active visitors during the past 10 days. In one case, I let Facebook optimize. In the other, I expand the net a bit by using Daily Unique Reach.
Lead Generation Ads for the Webinars

On the surface, this is a lot like what we did above with individual webinar ads. However, in this case, I am mentioning the date. That's because each lead ad form is date specific, so I create special ads for them.
The Goal:
Get registrations. You know that! But I like to split testSplit testing (or A/B testing) allows you to test changes in Facebook variables like ad creative, audience, or placement to determine which approach performs best. More vs. sending to a landing page to make sure I'm doing it most efficiently.
Targeting:
To avoid overmarketing, I'm not doing the exact same targeting as above. The audiences and targeting are very modest for this campaign.
I'm promoting the beginner webinar to two groups while promoting the other two webinars to one each:
Beginner Webinar: Group of Lookalikes
Beginner Webinar: Abandoned landing page or form
Intermediate Webinar: Registered for Beginner webinar 30-60 days ago
Advanced Webinar: Registered for Intermediate webinar 30-60 days ago
In the first ad set, I combined the various Lookalikes instead of splitting them out this time. I also used Lookalikes only for beginners since I find that webinar to be valuable due to the potential to send them through multiple products.
As mentioned, these ads are date specific. So I've actually created forms and ads in preparations for future runs as well.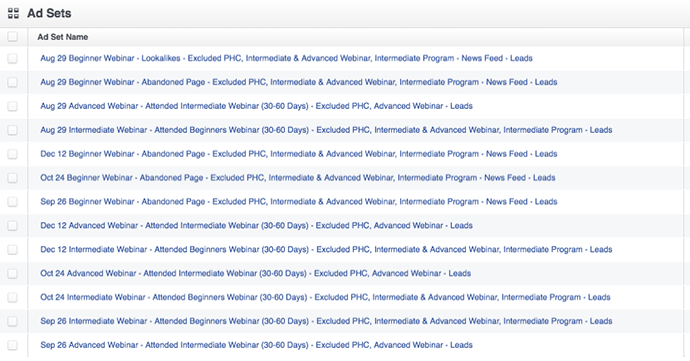 It's possible I may be a bit obsessed!
Next Steps
Once the landing pages are ready for my 4-week training programs, there is a logical next step. I will then run Facebook ads promoting each program based on the webinar someone attended. These ads will make my email campaignsThe campaign is the foundation of your Facebook ad. This is where you'll set an advertising objective, which defines what you want your ad to achieve. More more effective and vice versa.
Your Turn
Keep in mind that I'm leaving a lot of details out here, but this is a good start. I should have close to 10,000 total registrations for the next webinars on Monday, and a big reason for that is these campaigns. Hopefully my process will provide some inspiration for your own campaigns.
Any other approaches you'd take? Let me know in the comments below!