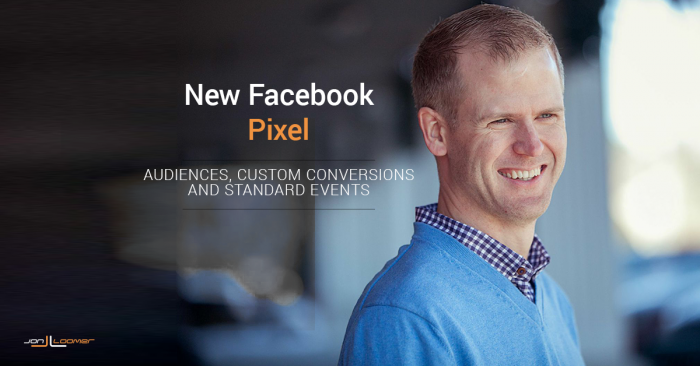 The ability to fully understand, appreciate and utilize the new Facebook pixelThe Facebook pixel helps advertisers track events that occur on their website and reach people who performed those events with ads. More is what separates the effective marketers from the struggling ones. Most are overwhelmed by the concept and run for the hills. Those who dig in are rewarded…
Look, I don't blame those who are overwhelmed. The new pixel is confusing, and I'm speaking for the advanced marketers who have figured it out. My goal is to help cut through the confusion to lead you to the reward.
A few posts have been published on this site about the Facebook pixel recently:
Needless to say, even if you read all three of these posts, we're only scratching the surface.
The pixel is more than just remarketing and website custom audiencesA website custom audience matches people who visit your website with people on Facebook. You can then create ads to show to that audience. More. It's optimizationThe Performance Goal is chosen within the ad set and determines optimization and delivery. How you optimize impacts who sees your ad. Meta will show your ad to people most likely to perform your desired action. More. It's tracking. And it's a whole lot more, combining what was once multiple pixels into one.
On Wednesday, December 16, I'll be hosting a live two-hour workshop on the new Facebook in hopes of exhausting this topic. This workshop is for Power Hitters Club members (my private membership) only. If you aren't yet a member, there's still time (as I write this, at least).
If you read this after December 16, know that annual PHC members have access to all past replays. If you want to watch that replay, join us!
Understand that even this post in addition to the other three mentioned above won't detail everything. But the main thing I've yet to do is provide an adequate description explaining the differences between the old pixel and the new one as well as the various ways the pixel is now being used.
So let's do it…
[Tweet "The Facebook pixel has changed, and marketers are confused. Here's a breakdownBreakdown is a way to get insights into your ad performance related to time, delivery, action, or dynamic creative element. More of what you need to know…"]
The Old Pixel(s)
Note the "(s)." In the past, Facebook marketers had multiple pixels:
Website Custom AudienceThis is the group of people who can potentially see your ads. You help influence this by adjusting age, gender, location, detailed targeting (interests and behaviors), custom audiences, and more. More Pixel: A single pixel used across a website or owned properties
Conversion Pixels: Individual pixels used on the success page for each product and opt-in
The old conversion pixel is/was used for tracking and optimizing for conversionsA conversion is counted whenever a website visitor performs an action that fires a standard event, custom event, or custom conversion. Examples of conversions include purchases, leads, content views, add to cart, and registrations. More. It was required when running campaignsThe campaign is the foundation of your Facebook ad. This is where you'll set an advertising objective, which defines what you want your ad to achieve. More with the Website Conversions objectiveWhen you create a campaign, one of the first things you'll do is select an objective. The campaign objective is your ultimate goal. Your selection will impact options, including optimization and delivery. Options include Awareness, Traffic, Engagement, Leads, App Promotion, and Sales. More. In this case, the advertiser would place a conversion-unique pixel on the success page for a single product, allowing Facebook to report and optimize for that conversion.
Know that the conversion pixel will disappear in the second half of 2016. We don't know when at this point. You don't necessarily need to do anything right now. But it's smart to do something sooner than later.
If you have placed Facebook code on a success page that is different from the code on other pages of your site, it is very likely the old Facebook conversion pixel.
Here's an example: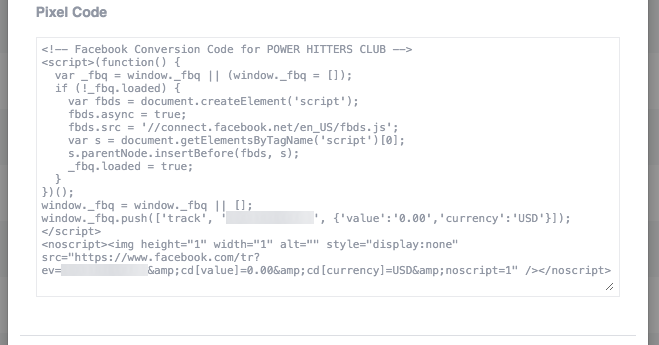 There is even commented out code at the front indicating that it is "Facebook conversion code."
To reiterate, you can continue to use this pixel for now. It can exist on your site, even if you start using the new pixel. But you need to know that it won't work much longer.
The New Pixel: Basics
When Facebook first launched Website Custom Audiences, there were rumblings that the plan was to eventually combine the conversion pixel with the Website Custom Audience pixel. And that just makes sense.
When someone visits a website page where the Facebook pixel exists, the page loads and the pixel fires behind the scenes — alerting Facebook that this particular user visited this particular page.
Here's an example of the new pixel…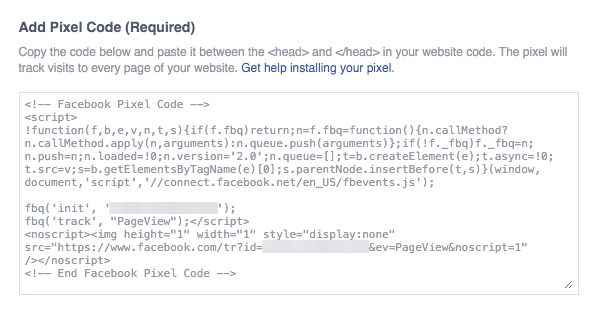 This same code is placed on every page of your website. This is typically done by placing it between the HEAD tags of the template of your site.
This is different, of course, from the old Website Custom Audience pixel because it can be altered based on the action occurring on the page. We'll get to that later in this post when talking about Standard Events.
Website Custom Audiences
The Facebook pixel is on every page of your site. Now you want to create audiences of people — Website Custom Audiences — based on the specific pages they visited and when.
Remember, you aren't adding new code now. That pixel is already on your site. Now it's time to create some rules to isolate people based on their activity on your website.
Within "Audiences" of the "Tools" drop-down in Business ManagerEvery organization should have their own Business Manager to organize their assets (pages, ad accounts, pixels, and more), and then provide appropriate access to those assets to partners. More, click to create a Custom Audience…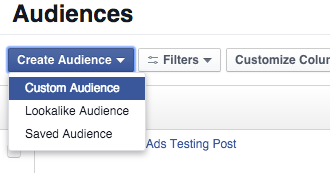 You'll be creating a Custom Audience for website traffic…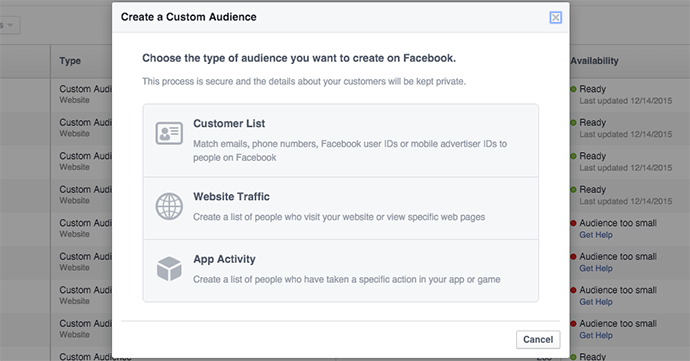 You can choose to create an audience of all of your website visitors during the past 1 to 180 days. Here's an example of creating an audience for all of my website visitors during the past 30 days…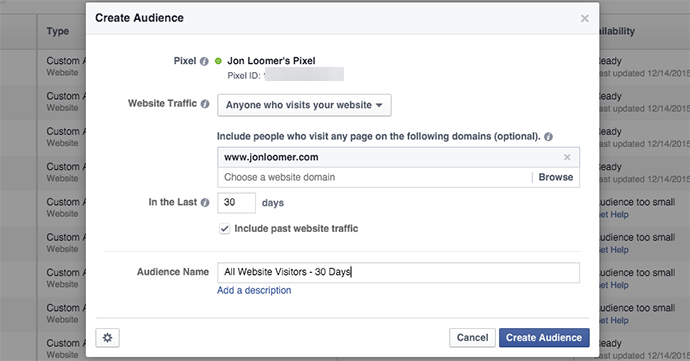 You can also create audiences of people based on the specific pages they've visited during the past 1 to 180 days. This is done by having Facebook isolate pages visited with specific words in the URL.
Here's an example of a Website Custom Audience of those who visited any page with "facebook-pixel" in the URL during the past 30 days…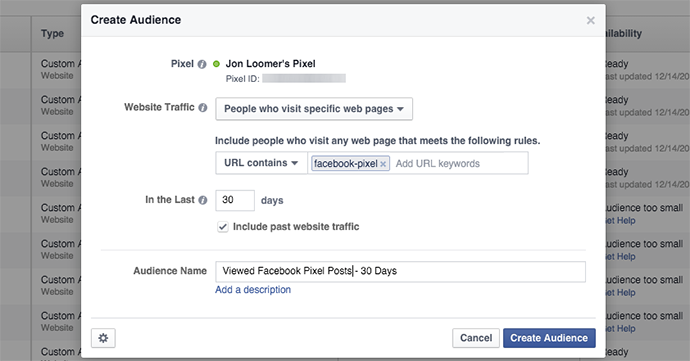 That's just the start, of course. You can do a few other fun things with Website Custom Audiences:
Target people who visited some pages, but not others
Target people who haven't visited in a certain amount of time
Target people based on other "custom combinations"
That's all great, but these are other complexities that aren't all that important to understand right now. Just know that Website Custom Audiences allow you to target people who have visited your website.
Here's an example of using this audience for targeting in my ad set…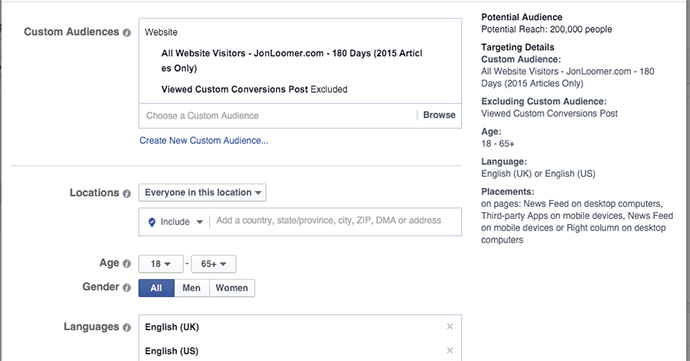 In this case, I'm promoting my post about Custom ConversionsCustom conversions let you create rules for events or URLs so that you can better track and optimize for specific actions with Facebook ads. More, showing it to people who have read posts published in 2015 on my website during the past 180 days. I am also excluding those who have already read the post.
This is done with Website Custom Audiences.
Custom Conversions
The process of creating Custom Conversions is a whole lot like Website Custom Audiences. This is mostly meant to replace your old conversion pixels, but without requiring you to add a new pixel.
Remember: With the old conversion pixels, you needed to add a unique pixel for each product or opt-in to their associated success pages. But with the new Facebook pixel, that pixel only needs to be added to your website once — to every page of your site.
Since the code is already there (right?), this process is extremely easy.
From your Business Manager, click the Tools drop-down and select "Pixels."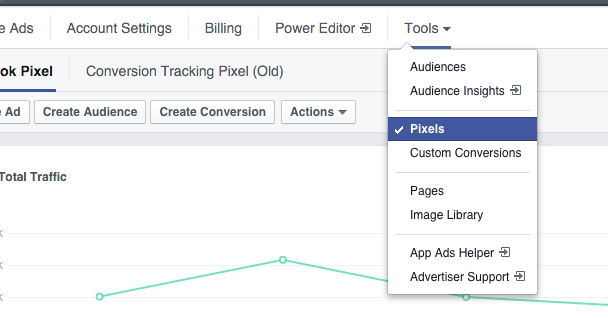 Click "Track Custom Conversions."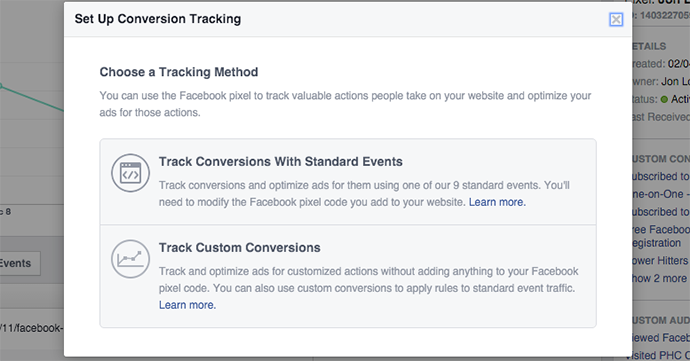 This process is a lot like creating a Website Custom Audience. You'll want to create an audience of people who visited a specific page that would indicate a conversion is complete. So you'll want to enter the URL or portion of a URL that would suggest a completed conversion.
So let's use a theoretical thank-you page for the PHC as an example…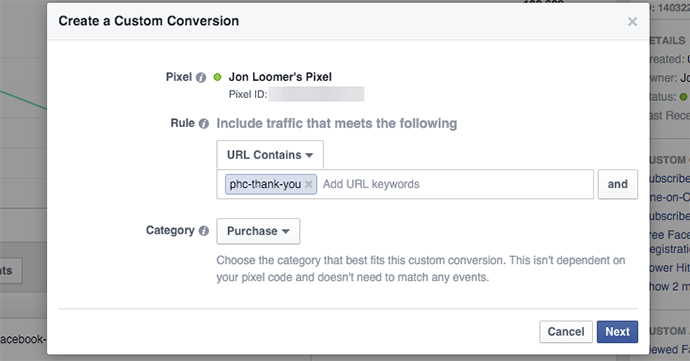 I selected the "Purchase" category, but it could have been one of several others…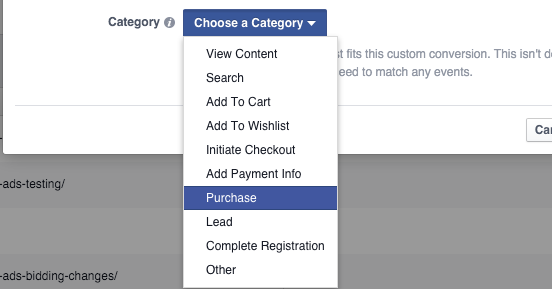 Name the Custom Conversion, and you can also assign a conversion value…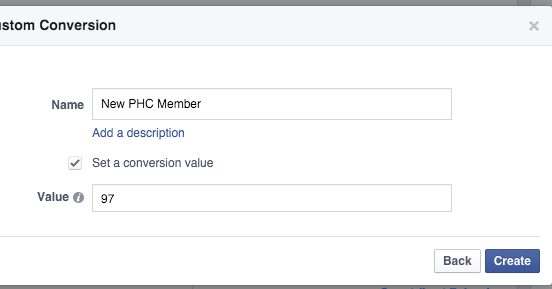 One of the differences between Website Custom Audiences and Custom Conversions is that you can optimize for a Custom Conversion when running a campaign with a Website Conversions objective…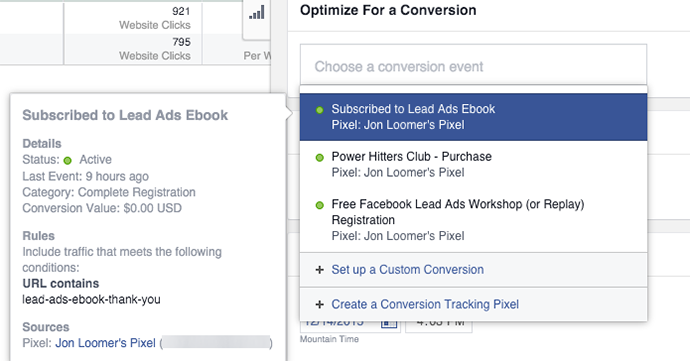 There is plenty more you should know about Custom Conversions, including their limitations. You can read the full post on Custom Conversions for more.
Standard Events
This is where it gets confusing for many marketers.
There is yet another way to utilize the Facebook pixel and mark certain pages for conversions — or "events." It's a matter of altering the Facebook pixel code that we are placing across the site, depending on the page.
Let's look at an example…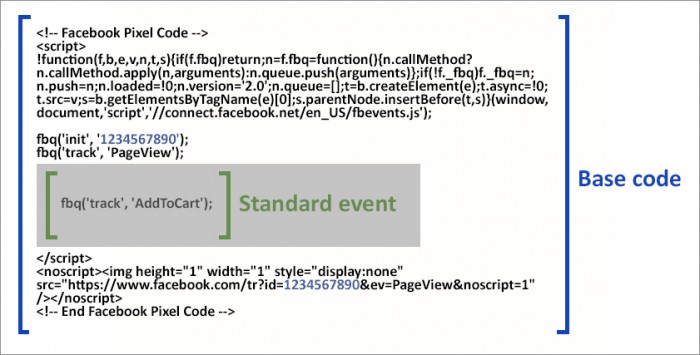 As you can see here, we are still using the base Facebook pixel code. However, prior to the closing script, we add a single snippet that indicates this is a specific type of event that we want to track. In the example above, that event is an "Add to Cart."
There are nine different events that you can track or optimize for. Here they are: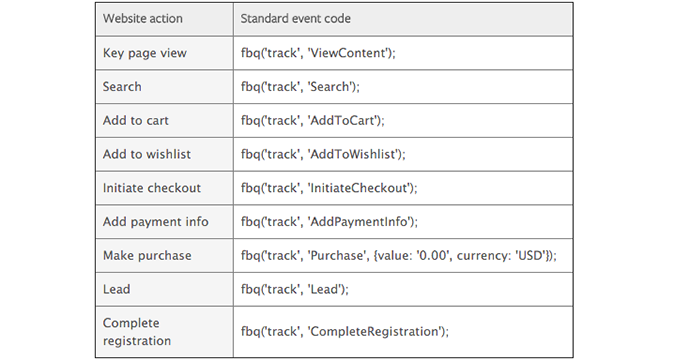 One of the primary problems marketers have is understanding how to alter that code if it's already on every page of their site. There are a couple of plugins you may want to try to help with this:
You could also use Google Tag Manager.
Plenty More
Unfortunately, there are plenty of details that aren't covered here that you may be needing, but one blog post can't cover them all.
Some other topics include:
Dynamic conversion values
Troubleshooting errors
Using the Pixel Helper
Tracking results
While these topics may not have been covered here, hopefully this gives you a good head start and clears up some of the confusion that I know many marketers have regarding the differences between the new pixel and the old pixel, Website Custom Audiences, Custom Conversions and Standard Events.
Your Turn
Are you using the new Facebook pixel yet? What questions do you have?
Let me know in the comments below!