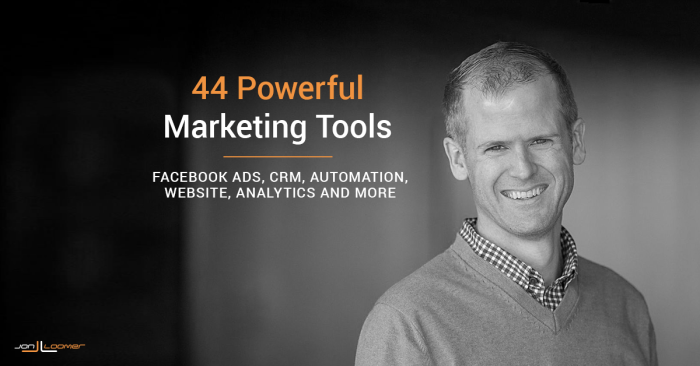 One of the most common questions I get is concerning the tools I use. Whether it be for managing Facebook ads, CRM, podcasting, webinars or my website, people are curious about the software behind this business.
I've written on this topic before, but it's been two years since the last time I've discussed the tools I use. I still use some of those tools, but some I don't and I'm using several more now.
I've adjusted a lot over the years. In the first year of my "business," I bragged about spending less than $3,000 annually to support it. I've learned, I've failed, I've tried and experimented with new things.
The truth is that I spend way more on these systems now than I did then. And when you invest that money wisely, you do need to spend money to make money.
While I typically focus on the subject of Facebook ads, today I'm going to branch out a bit more broadly. I use a lot of tools. Some aren't listed below. But I want to focus primarily on those I use most.
So here is an overview of the 44 tools that make this business go…
[Tweet "Here are 44 marketing tools covering Facebook, website, CRM and more that make one business go…"]
Facebook Ads
Power Editor: You'd think I'd use a bunch of different tools to manage Facebook ads. I don't. While there are certainly some good third party tools out there, I still stick with Power Editor to create my ads.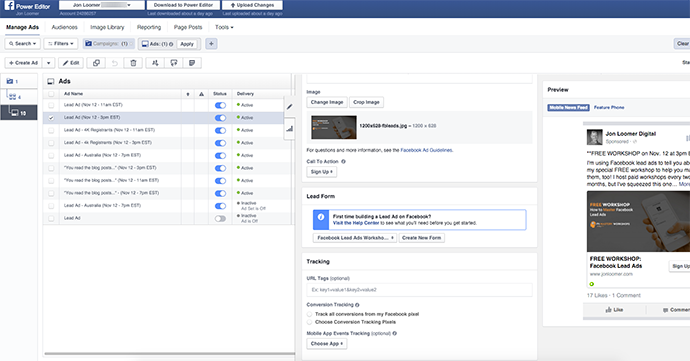 I know that the Ads Manager is better than it used to be. But it's still not Power Editor. Not only is Power Editor better for bulk editing and ad creation, but there continue to be some features that are only available in Power Editor, and not Ads Manager.
An example? I've had a lot of fun recently creating Lead Ads. For now, they are only available in Power Editor.
DriftRock Flow: There are a couple of third party tools that I use for Facebook ads, but not to help me with ad creation. DriftRock is my tool of choice for management of Custom Audiences.
Email Custom AudiencesA customer list custom audience is created by uploading a customer list that Facebook matches with users so you can target them with ads. More allow advertisers to target people on their email list. But the problem with email Custom Audiences is that they are static. Your targeting and exclusions are based on the accuracy and recency of that list the last time you uploaded it to Facebook.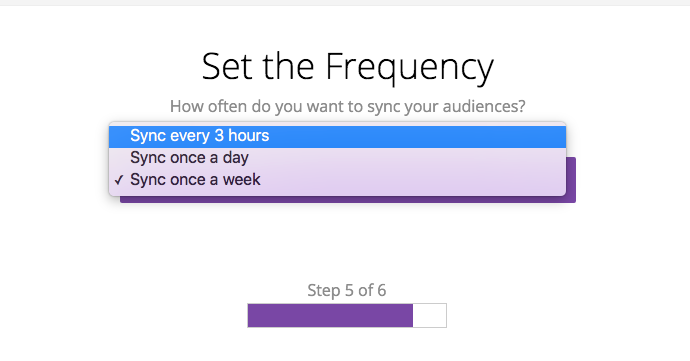 But DriftRock Flow solves this problem. Flow syncs with (as of writing this post) 21 different CRM options, including Infusionsoft, Constant Contact, Aweber, MailChimp and SalesForce.
DriftRock Lead Response: Lead ads are awesome. However, they come with a very major flaw: Facebook doesn't provide a native solution to automatically sync with your CRM tool. As a result, you're required to periodically export your leads and import into your CRM.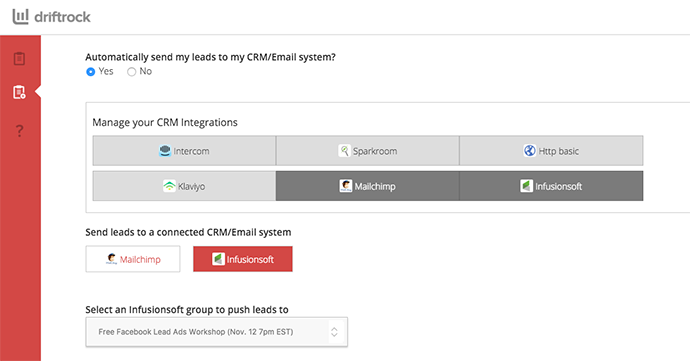 That makes for a potentially terrible user experience. People expect to get an immediate response in most cases. So in the end, lead ads without some sort of integration and automation are more hassle than they're worth.
DriftRock Lead Response solves that problem. It currently integrates with Infusionsoft, Mailchimp and others. But even if it doesn't integrate with your CRM, you can have Lead Response send an auto-responder from your email address upon opting in.
It's a great tool that makes Lead Ads powerful. But it's also not for everyone as it's a bit on the pricey side. Since there is a need, other developers are quickly developing tools.
Website and Plugins
Genesis Framework: When I first launched this website more than four years ago (it's been THAT LONG??), I started with a free theme. Then I purchased a premium theme, but it was a poor choice. For the past three and a half years, I've been using Genesis Framework.
Lots of big names either use or endorse Genesis Framework, including Darren Rowse, Chris Brogan and Jay Baer. You can add my name to that list.
I've rolled with three different child themes under Genesis, and I can't imagine using anything else.
AppointmentCore: I started booking one-on-one calls about three years ago. I've used Appointy and vCita, and both were fine. But I couldn't be happier with AppointmentCore.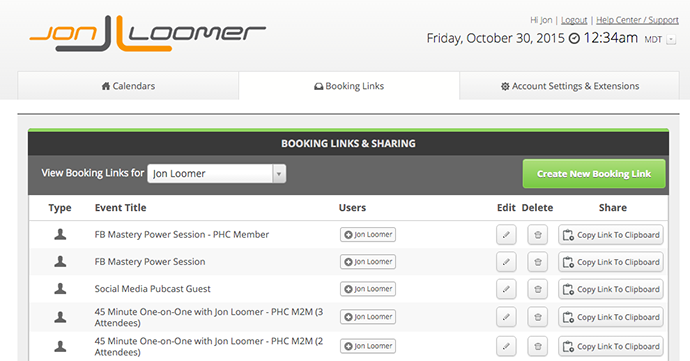 AppointmentCore integrates with Stripe and Infusionsoft, but it also gives me more control. It works nicely with GoToMeeting, so when someone books a session a unique GTM is automatically set up (as opposed to messing with Skype handles, as I did previously). The host is also able to control whether customers are able to reschedule or cancel — which I definitely don't want to allow (and I couldn't control previously).
GoToMeeting: I use both GoToWebinar (which I'll get to later) and GoToMeeting as part of the same package. I find that GoToMeeting is very stable, and I seriously have no issues with it at all. And the integration with Appointmentcore makes it ideal for me.
I also use GoToMeeting for team meetings. We'll do face-to-face weekly calls, and GTM never fails us.
ShortStack: You'd expect this to fall under the Facebook category, but ShortStack has evolved over the years. I've been using ShortStack for nearly all of my four years, but previously it was to manage and host my Facebook tabs. That, however, is not why I love the tool these days.
While I still have the tabs, they aren't a priority. In fact, don't even look at them (I'm sure you won't) as they are likely outdated. And really, the fact that no one looks at them is undoubtedly why ShortStack got out of that business.
Now this tool focuses on creating a "campaign" that can be embedded anywhere, whether it be on Facebook or your website. I use ShortStack to create my landing pages.
Before you go looking for the templates I use for my landing pages, also understand I have a really great designer who just happens to be ShortStack's designer. Not only do I love the landing pages, but since they are done with this easy-to-use tool, I have no problems going in and making changes as I need them. That's often not the case otherwise.
All of my landing pages are created with Shortstack.
Website Plugins…
Make no mistake, I use a ton of plugins. In fact, I'll freely admit that I use too many and need to scale back. I will scale back as I know it hurts the performance of my site.
But there are a few plugins that I can't do without. Here they are…
AdRotate Professional: I use AdRotate to manage the ad units on my site. Granted, I don't sell ad units, but I still use it for promoting my own products.

Lots of flexibility with this tool. You can have it rotate several ads through the same spot, even favoring one ad more than the other. You get short codes, widgets and metrics.
Auto Terms of Service and Privacy Policy: Every site needs a Terms of Service and Privacy Policy. I haven't always had one, mainly because I'm ignorant about what needs to go into it. Also, it's required to run Lead Ads and do remarketing. In other words, you need to get on this.
It's really simple. Answer a few questions, and the plugin spits out the page for you.
Click To Tweet: I use it on every blog post. I tend to put it near the top with a quote you can click to tweet to your audienceThis is the group of people who can potentially see your ads. You help influence this by adjusting age, gender, location, detailed targeting (interests and behaviors), custom audiences, and more. More.
Custom Audiences Enhancer: Let me be clear that I'm still experimenting with this one. It's not currently on my site. But it has a ton of promise and could be very important to my business.
But it is brand new, and I was the guinea pig when I tried it out initially. Unfortunately, it was still buggy and caused some issues with my site (my mistake, I should have started with a test site).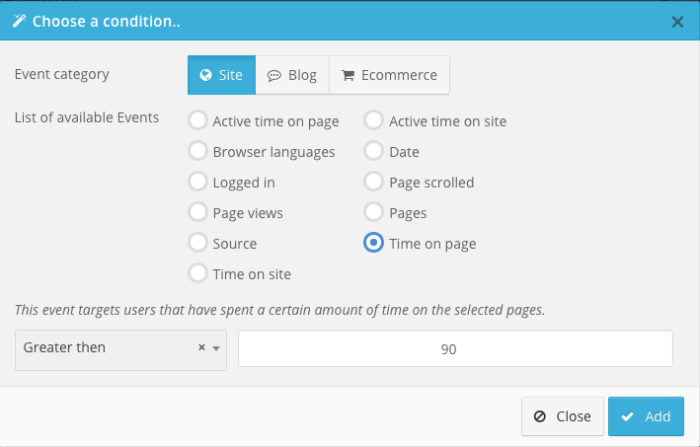 I was excited to use this plugin for a reason. It can do many of the things I was trying to do with this post. You can create Website Custom AudiencesA website custom audience matches people who visit your website with people on Facebook. You can then create ads to show to that audience. More based on frequencyCalculated as (Impressions/Reach), Frequency is a Facebook ads metric that measures the average number of times users have seen your ad. More of visits to your site, time on site, scrolling and more. The possibilities are freaking amazing.
Try it at your own risk right now. But this plugin is made by the same guys who made Tracking Code Manager, so they do know what they're doing.
Disqus Comment System: I've used Disqus pretty much from the jump. People often ask me why I don't use Facebook comments since I'm a Facebook guy. Or I'll get someone screaming about how great some other comment system is.
I'm perfectly happy with Disqus. It's easy to use, and it's popular, so commenters are used to it. Great tool.
Mashshare Share Buttons: I've used several social sharing plugins over the years, but Mashshare is the first I've paid for. And it's freaking worth it.
Mashshare either is or mimics what you see on a lot of big tech sites these days, like Mashable. That floating bar at the bottom of my site is Mashshare. I could put that at the top if I want. Lots of flexibility, and it works brilliantly.
OptinMonster: I resisted pop-ups for the longest time. They can be intrusive and annoying. But holy crap, they are freaking effective for list building.
OptinMonster makes it easy. Lots of different templates and control over when, where and how the pop-up appears. Also integration with your CRM tool of choice, which is critical.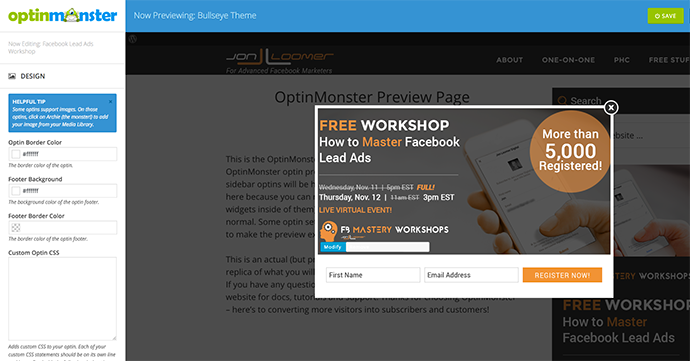 Pinterest Pin It Button For Images: See an image that you want to share to Pinterest? Just hover over it and an option will come up. Easy!
Pretty Link Lite: Every blog post has a long URL that includes the year, month and key words. If I want to tell someone to go read a post (like on a podcast or webinar), that's close to impossible. Sometimes it's also nice to have a short (and readable) URL to share in an email.
I'm not talking about bit.ly. Those aren't trustworthy — or don't always appear so. You have no idea where they're going. I'm talking about a shorter version of the URL to a post on my domain.
When I publish this blog post, I will generate a Pretty Link for https://www.jonloomer.com/tools. Nice and easy — and pretty!
Smart Podcast Player: Whenever I record an audio version of a blog post, I'll embed it at the top using Smart Podcast Player. It was developed by the amazing Pat Flynn, so you know it has to be great!
I love that I can customize the color, look and feel to fit my brand. You can also see a fuller version of it on my podcast page.
Tracking Code Manager: If you're going to run Facebook ads, you sure better be installing pixels on your website. This is required for conversion optimizationThe Performance Goal is chosen within the ad set and determines optimization and delivery. How you optimize impacts who sees your ad. Meta will show your ad to people most likely to perform your desired action. More as well as creating Website Custom Audiences. The Tracking Code Manager makes this process easy!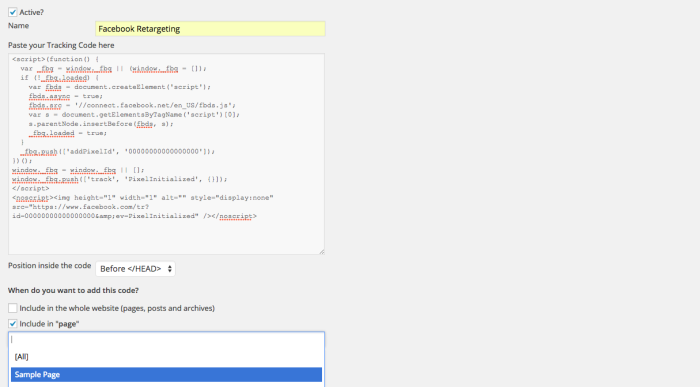 E-Commerce and Analytics
Paid Memberships Pro: One mistake I made in the past was having my membership site on of a domain I didn't own and control. I have since moved it to https://members.jonloomer.com utilizing the Paid Memberships Pro plugin.
PMP allows me to create various membership levels for annual and month-to-month members and control what people can and can't see depending on their membership. I love it because I'm able to manage the membership site just as I do this one — so the look and feel remains the same, and it's easy for me to use.
PMP integrates with Stripe for payments and offers analytics as well as discount coupons (and a whole lot of other features, most of which I don't currently use).
Stripe: I love Stripe for collecting payments. I really, really do.
When I first started out with Infusionsoft, all payments ran through PowerPay and Authorize.NET. I hate PowerPay and Authorize.NET. I really, really do.
Stripe is easy to use. Easy to set up. Easy to manage. Great website and reporting. Stripe streamlines and simplifies e-commerce for any online business, big or small.
ChartMogul: This is a new addition, but I can tell I'm going to love it. As my business has grown, I've quickly realized that I have a shrinking grasp of how things are going. There is simply too much happening at once.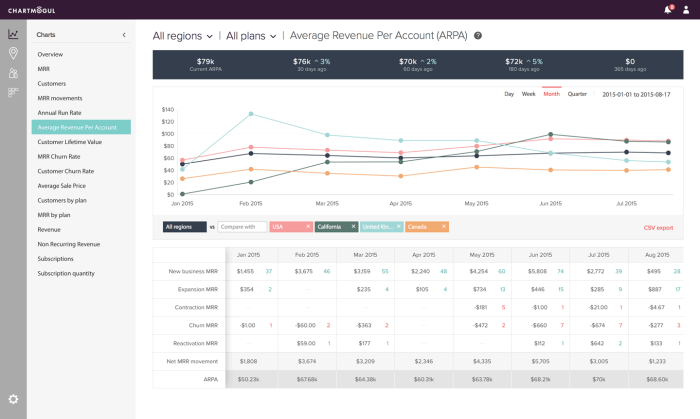 ChartMogul integrates with Stripe and provides endless charts and reports to help me understand the state of my business, where it's trending and if there's anything I need to be concerned about.
Google Analytics: Of course I use Google Analytics. Every serious online business person does. I use it for the surface stuff (number of visitors, page views, where they came from, time on site), but also for the deeper campaign information using UTM tags. One of my favorite features is the realtime stats to watch what people are doing on the site at this very moment.
CRM and Automation
Infusionsoft: I freely admit that I have long held an intense love and hate relationship with Infusionsoft. It's so important and powerful, yet it can also be so confusing (hence the nickname "Confusionsoft") and the source of problems.
While during the past year I've been slowly pulling away from Infusionsoft, I also know that the biggest problem was that I simply wasn't smart enough to use it properly. I have some new help that I hope will help me realize the potential of this powerful tool.
I currently use Infusionsoft for email campaignsThe campaign is the foundation of your Facebook ad. This is where you'll set an advertising objective, which defines what you want your ad to achieve. More, tagging and deep reporting.
MailChimp: I've gotta tell you that there are so many things about Infusionsoft that I wish were more like Mailchimp. While I use Infusionsoft for this business, I use MailChimp for one of my pet projects. And it's so easy to use.
Of course, it's not the tool that Infusionsoft is, either. But if you don't need something complicated, Mailchimp is a great starter option.
Zapier: I often promote workshops and webinars with an opt-in. So how, you wonder, do I simultaneously add people to my email list in Infusionsoft, tag them and register them in GoToWebinar? I use Zapier!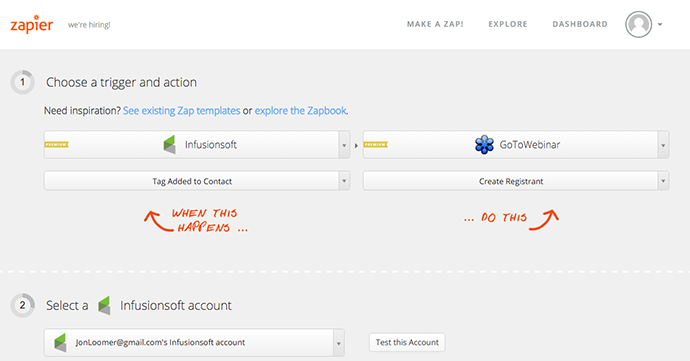 The funny thing is that I'm just scratching the surface with this tool. There are dozens (hundreds? Thousands?) of use cases for automation using Zapier that can make your life easier. And really, I'm sure there are many ways I should be using it but am not.
Photo and Video Editing, Podcasting and Webinars
Photoshop: For the longest time, I used a free image editing tool. And I guess those tools are mostly fine. But eventually, I was tired of using workarounds trying to do things that I could otherwise do easily with Photoshop.
For the most part, though, I use this tool for editing and creating all of the images and screen grabs on my site.
ScreenFlow: I initially purchased this software close to four years ago to do screenshare videos. But you can use it for much more, and I've become very comfortable with it.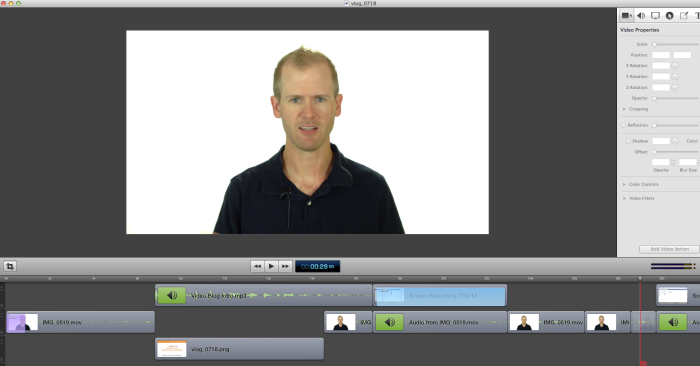 Whenever I record a webinar, I record it with Screenflow for a couple of reasons. First, I can select my Blue Yeti microphone for the audio. Second, it's good to have backup video in case I forget to hit record in GoToWebinar or their recording fails.
But I also use Screenflow for recording my Pubcasts. I'm sure that's not why it was created and I need to convert the video files to audio, but I find it's easy to use this tool for all audio and video recording and editing.
Total Video Converter Lite: So when I record those podcasts, I need to convert the video file to an audio file. That's what TVC Lite does quickly and easily. I can even have it automatically save to a DropBox folder so that my podcast editor has access to the files.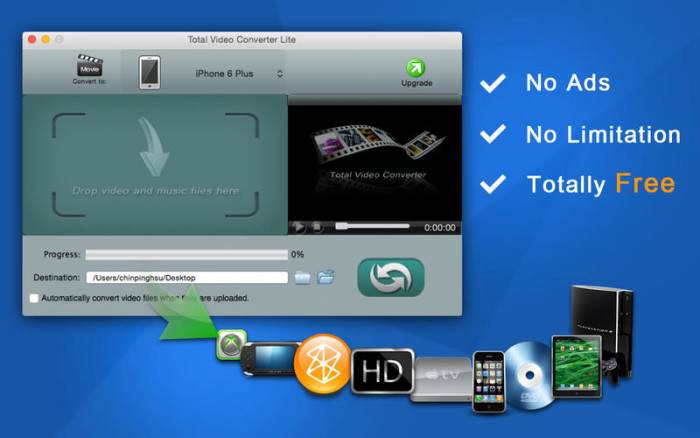 Libsyn: I use Libsyn to host and distribute my podcast to iTunes and Stitcher. It really isn't particularly fancy, but it does precisely what I need it to do.
Blue Yeti Microphone: I've had this microphone from the beginning of my podcast. Love it!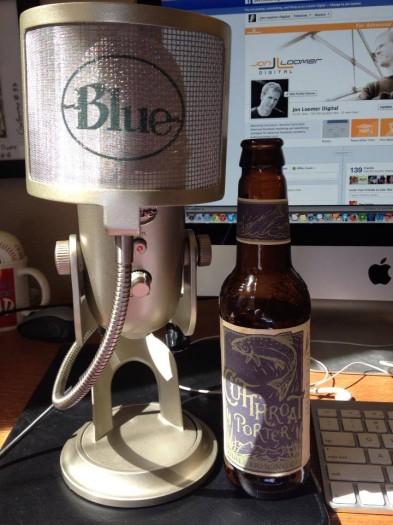 Vimeo: Sure, I could use YouTube. But my use of video these days is largely for my private community, so I want more control of branding and private embedding. Vimeo is awesome for that purpose.
GoToWebinar: I know there are plenty of cheaper options for hosting webinars, but there are several reasons why I stick with GoToWebinar. It includes GoToMeeting, which I also use. It's very stable, and I have no technical issues with it. It integrates with Zapier. And it's popular, so attendees know how to use it.
Community Management, Customer Service and Internal Communication
AgoraPulse: I have a long, friendly relationship with Agorapulse and Emeric Ernoult, the founder. There was a time when I primarily used it for Facebook analytics and even contests, but these days I find it's irreplaceable for community management.
This tool has a long list of capabilities that I'm not even yet taking advantage of, but I use it for a pretty simple purpose. Facebook page management gets out of control once your audience gets to a certain size. Agorapulse solves that.
My team and I all use it, so comments, private messages and posts to my wall all go to Agorapulse, and they can be distributed to different team members. Most importantly, I can isolate specific types of content — in my case, the comments. Private and wall messages go to ZenDesk as customer service requests, so we can use Agorapulse to focus on the comments.
I know it would seem reasonable to simply use Facebook's admin panel. It just doesn't work. It's too noisy, and Agorapulse gives me a nice dashboard to work through what needs to be done (and it disappears when I'm finished!).
But the biggest advantage of this tool is that my package includes unpublished post management. Yes, this is probably the biggest need for Facebook advertisers. Managing comments on ads is so difficult that they often go unanswered. But that's no longer an issue for me, thanks to this tool.
TweetDeck: You may not know this about me, but I'm on Twitter a lot. I use the web version of TweetDeck to manage my various streams and stay on top of what is happening in the world.
ZenDesk: There comes a time in every online business when you can no longer wing your customer service. I hit that time this year (and probably a year too late).
With ZenDesk, I have private messages and wall posts from Facebook come in here to be managed as they are typically some level of customer service issue. I also have all questions sent via contact forms on my site or in response to my email campaigns come to this central location. Finally, notifications like new members, cancelled members or payment failures all go to ZenDesk.
This creates a trail by generating a ticket, and we can then assign to team members based on the issue. It's made management of customer service far easier. More important, however, is that we no longer have to dig through email to find what was previously said to a customer. The history is there.
Trello: I don't use Trello a lot, but I do use it to manage the design projects. It's visual and easy to use by generating "cards" based on the project, allowing me to easily communicate what I want done by my designer.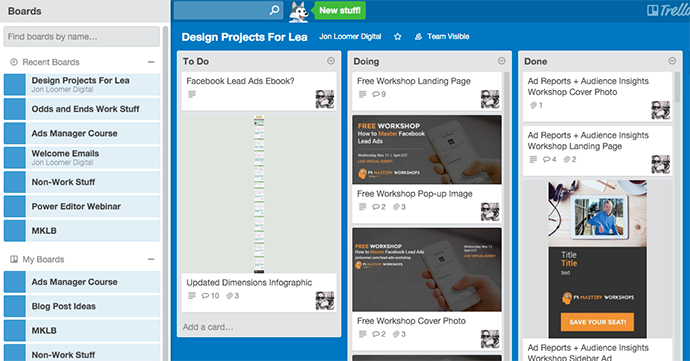 Slack: I'm going to play ignorant on this one because we just started using Slack. My team members love it. It's the rage right now. It's for internal communications, but supposedly easier to use than Basecamp.
Basecamp: Up until now, we've been using Basecamp as a central place to communicate, store documents and share plans.
Content Consumption, Sharing and Storage
DropBox: Audio and video files can be freaking huge. Emailing such files can be impossible. I have someone who edits my podcast, and DropBox is an easy way for me to get him the raw files he needs to do his work.
Evernote: I try to be organized, and Evernote is the best way for me to keep notes and write down plans. What's nice is that it syncs between my desktop, iPad and iPhone, so I have access to the same notes in all three locations.
Feedly: I use Feedly to stay on top of what is happening in the world. It's old school, but I'm subscribed to about 50 RSS feeds, and this is how I keep up with what's happening in Facebook marketing.
Hootsuite Hootlet: Every time I read a new article that I like and want to share with my audience, I click the Hootsuite Hootlet to automatically schedule it for me.
Buffer: I also use Buffer, though not as often as I once did. I use both the Hootlet and Buffer because I'll use each one for different types of content, allowing them to be distributed together (instead of one after the other is done).
What Tools Do You Use?
So this is a simplified list of the 44 tools (I know, SIMPLIFIED) that help me run my business. Any other tools you can't live without?
Let me know in the comments below!