Facebook Saved Audiences are a built-in feature allowing advertisers to pre-build an audienceThis is the group of people who can potentially see your ads. You help influence this by adjusting age, gender, location, detailed targeting (interests and behaviors), custom audiences, and more. More for repeated use in targeting. By using the Saved Audience tool, you can save time and ensure consistency in your advertising. You can also gain insight into the make-up of a particular target group.
Are Instagram users also included in these pre-configured audience groups? In this article, we'll review what Saved AudiencesA saved audience allows a Facebook advertiser to save often-used targeting settings to easily use later. More tell us, and use available data to answer this question.
How to use Facebook Saved Audiences
To create a Saved Audience, navigate to the Audiences feature from within the Assets section of Business ManagerEvery organization should have their own Business Manager to organize their assets (pages, ad accounts, pixels, and more), and then provide appropriate access to those assets to partners. More (or Ads Manager if you do not have Business Manager set up).

From within Audiences, click the Create Audience button, and then click Saved Audience.
From here, create a name for your audience by typing it into the name field at the top. You can then select your targeting factors.
For this example below, I've given the audience a sample name, with some basic targeting information to include people in California between the ages of 25 and 45.
A quick tip: Be sure to use a consistent naming convention that includes important tags for different audience groups. This allows you to easily sort and find audiences later.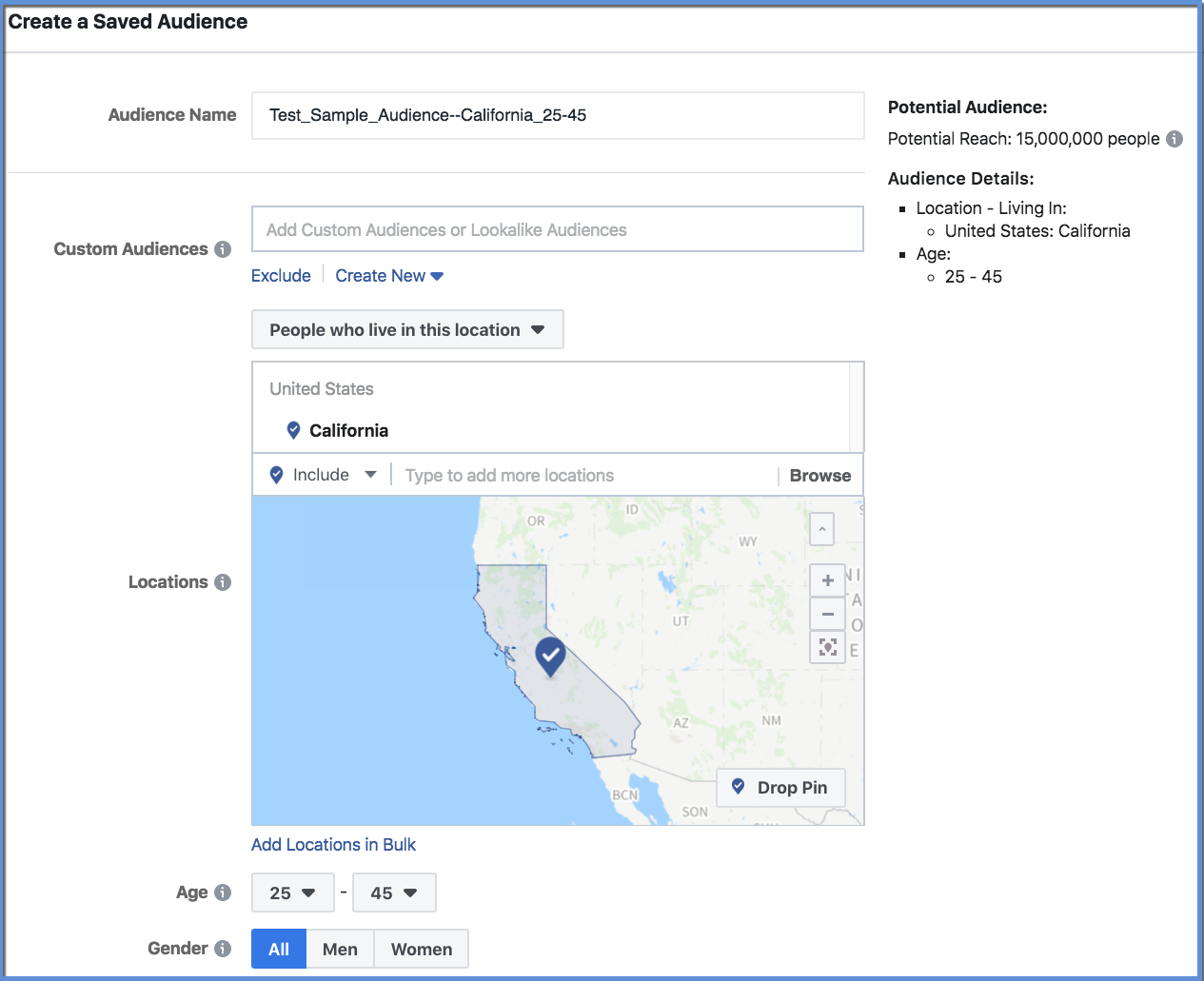 Once you have your targeting details set, save the audience you've created by clicking the Create Audience button on the bottom right.
You will now see the Saved Audience listed in your main audience screen.

What does the Audience Size include?
At first glance, we might assume that our audience size comprises all Facebook users who meet the parameters of the Saved Audience.
However, this is not the whole story. We can dive further into some other data to confirm this.
If we check the box to select this audience, we can then choose the option Create Ad to open Ads Manager with the Saved Audience automatically included.

Once Ads Manager opens, you will have the option to access the CampaignThe campaign is the foundation of your Facebook ad. This is where you'll set an advertising objective, which defines what you want your ad to achieve. More, Ad SetAn ad set is a Facebook ads grouping where settings like targeting, scheduling, optimization, and placement are determined. More, or Ad details. For this exercise, we'll access the Ad Set setup screen.
From the Ad Set screen, we can see that the Potential Audience size is 15,000,000 – which matches what we would expect from our Saved Audience.

However, it's important to note that this currently includes ALL placements (including Instagram). If we choose to Edit Placements, we can identify differences between placementA placement is a location where your ad is shown. Examples include Facebook's mobile Feed, Messenger, Instagram feed, Audience Network, right-hand column, and more. More options.
Here's an example with only Facebook placements selected:
We can see in this example that selecting the placement of only Facebook dropped our audience size to 12,000,000. If only Facebook users were included in the Saved Audience size, our Saved Audience would also have said the size was 12,000,000 (instead of the 15,000,000 indicated).
What does this mean?
Many advertisers may have been operating under the false assumption that a Saved Audience is made up only of Facebook users.
But, we now have confirmed evidence that Facebook Saved Audiences DO INCLUDE Instagram users (and Audience NetworkAudience Network is a network of mobile apps that have been approved to monetize their apps with ads. This is how you can show your Meta ads to people while they are away from the Meta family of apps. Audience Network and associated groups are among your placement selection options in the ad set. More/Messenger) in the audience size.
If you regularly use this audience size for planning or some other data generation, this is an important insight.
If you're interested in diving into further detail about segmenting audiences and comparing overlap between platforms, check out this article.
Your Turn
Had you assumed that Facebook Saved Audiences only included Facebook users?
Let me know in the comments below!