Facebook advertisers often struggle with performance due to auction overlapAuction Overlap can happen when you have two ad sets running at the same time, targeting similar audiences. When their ads are about to enter the auction, Meta first chooses the ad with the highest total value. That ad will be the one that enters into the auction. The other won't be considered. Meta does this to prevent you from bidding against yourself. When there's too much Auction Overlap, it can result in higher costs or under delivery. More. In most cases, advertisers combat overlap by diagnosing the problem and then making adjustments manually. There is now an automated approach to addressing auctionFacebook uses an ad auction to determine the best ad to show to a person at a given point in time. The winner of the auction is the ad with the highest total value, based on bid, estimated action rates, and ad quality. More overlap using Automated Rules.
In this post, we'll talk more about what auction overlap is and how to prevent it with a rule template.
What is Auction Overlap?
Auction Overlap can occur if you create multiple ad setsAn ad set is a Facebook ads grouping where settings like targeting, scheduling, optimization, and placement are determined. More that consist of overlapping audiences. Since you have multiple ads that may reachReach measures the number of Accounts Center Accounts (formerly users) that saw your ads at least once. You can have one account reached with multiple impressions. More the same people, those ads may enter the same auction and compete against one another.
Of course, Facebook has controls in place to prevent this competition. When two or more ads from the same page compete within the same auction, Facebook will choose the ad with the highest total value. As a result, one ad may struggle to get distribution, leading to a high cost per action and making it more difficult to exit the learning phase.
Some auction overlap is natural and not a bad thing. But, if your ad performance is dropping, it may be due to an increase in auction overlap.
Diagnose with the Inspect Tool
You can diagnose auction overlap and address it manually using the Inspect Tool. Select a qualifying ad set in Ads Manager and click the magnifying glass icon on the right…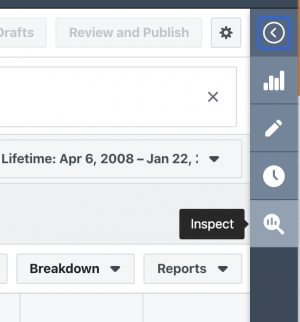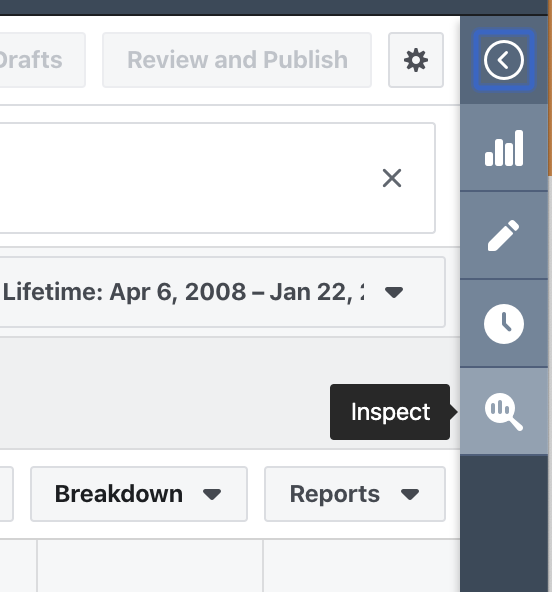 Here, you will see several detailed reports on the performance of your ad set related to Auction Competition, AudienceThis is the group of people who can potentially see your ads. You help influence this by adjusting age, gender, location, detailed targeting (interests and behaviors), custom audiences, and more. More Saturation, Auction Overlap, and more.
If Auction Overlap is increasing while performance is dropping, it may be a sign that this is creating problems and you may need to turn off one of the ad sets.

Read this tutorial for detailed instruction on how to use the Inspect Tool.
Using Automated RulesAutomated Rules allow advertisers to set automated processes (pausing, adjusting budget, or adjusting bid) based on performance. More
The Inspect Tool is helpful, but it isn't available in all situations (only certain objectivesWhen you create a campaign, one of the first things you'll do is select an objective. The campaign objective is your ultimate goal. Your selection will impact options, including optimization and delivery. Options include Awareness, Traffic, Engagement, Leads, App Promotion, and Sales. More, and it's not available for dynamic ads, dynamic creative, value optimization, or A/B tests). It's also something that can be managed for you automatically with an Automated Rule.
Select an ad set and choose to create a new rule from the "Rules" drop-down.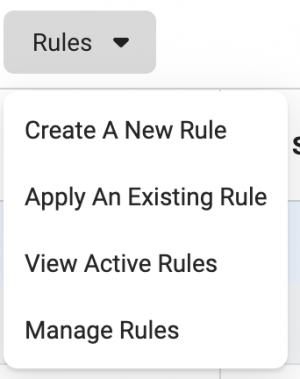 You should then see the option to create a rule to reduce auction overlap.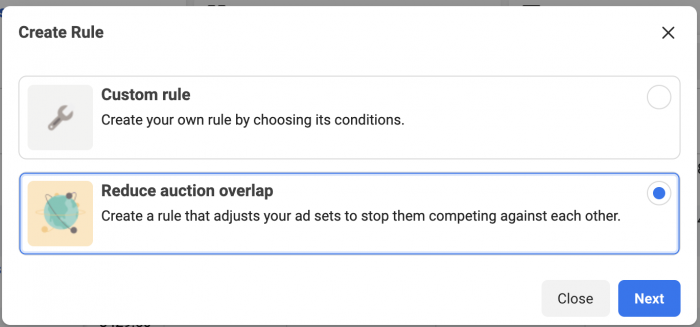 After naming the rule, you can select one of three actions…

Turn off overlapping ad sets: When ad sets overlap, automatically turn off the ad set that isn't performing as well. This could result in turning off multiple ad sets if more than two are competing.
Send notification only: Notify you via Facebook or email if auction overlap is detected.
Turn off overlapping ad sets and increase budgetA budget is an amount you're willing to spend on your Facebook campaigns or ad sets on a daily or lifetime basis. More of remaining ad sets: If a poorly performing ad set is turned off as a result of auction overlap, the budget used from that ad set will be spread among the ad sets that remain.
Feel free to experiment with each approach to figure out what works best for you.
Video
Your Turn
Have you had bad experiences with Auction Overlap? Have you used this approach to address it? What results are you seeing?
Let me know in the comments below!