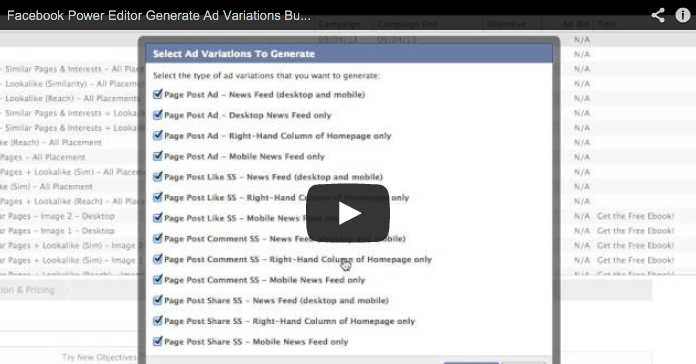 First of all, a big, fat hat-tip to Jeremy Leon for catching this first and giving me the heads up. Check out his blog post — he deserves credit for spotting this.
Second, if you needed another reason to use Power Editor instead of Facebook's self-serve ad tool, you're about to see it. Facebook is apparently (hopefully) working behind the scenes on a new feature that will make Power Editor even more awesome.
Watch the video at the top to see what Jeremy and I saw. But here's a brief run-down…
[Tweet "Facebook inadvertently let us see a potentially awesome Power Editor feature before it was ready."]
When you open up Power Editor, make sure that you have Ads selected at the top and then refresh the page. As data begins to populate, you'll notice a new button called "Generate Variations."

If you wait too long, that button will disappear. But if you have cat-like reflexes (as Jeremy and I do), you'll be able to quickly click that button.
When clicked, you'll see something like this…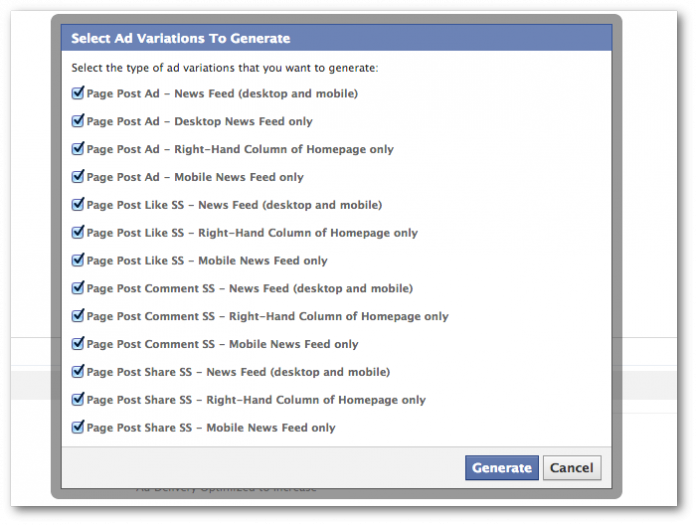 Upon clicking "Generate," nothing happens. So even if you can click the button, it's not yet functional.
But based on these options, we can decipher that Facebook may soon provide the ability to automatically generate ad variations based on the following:
Ad Types:
Page Post Ad
Page Post Like Sponsored Story
Page Post Comment Sponsored Story
Page Post Share Sponsored Story
PlacementA placement is a location where your ad is shown. Examples include Facebook's mobile Feed, Messenger, Instagram feed, Audience Network, right-hand column, and more. More:
News Feed (Desktop and Mobile)
Desktop News Feed Only
Right-Hand Column of Homepage Only
Mobile News Feed only
And Facebook then mixes and matches to create as many variations as possible based on the ad types and placements you want.
If Facebook is going through with this, it's a great step. They also need to make it easy to create variations based on targeting (Saved Target Groups) and possibly even copy/imagery you've submitted.
But I don't want to get ahead of myself here. I'll take the Generate Variations button with ad and placement variations for now. It would make split testingSplit testing (or A/B testing) allows you to test changes in Facebook variables like ad creative, audience, or placement to determine which approach performs best. More a whole lot easier!
Are you seeing this? Is it functional? Let me know in the comments below!