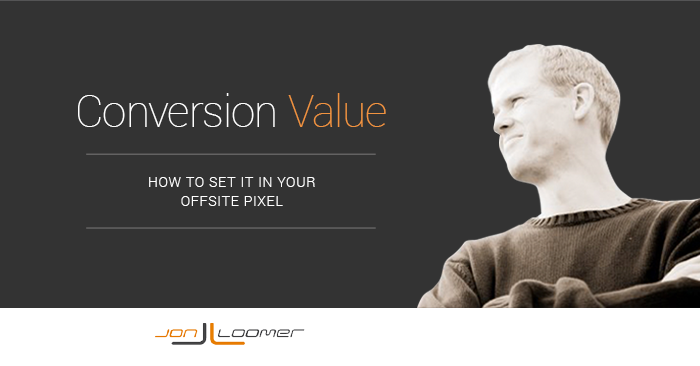 One of my favorite Facebook ads features is Conversion Tracking (it's actually one of the features I'm highlighting in this week's FREE webinar). It's an awesome way to both optimize for and track offsite conversionsA conversion is counted whenever a website visitor performs an action that fires a standard event, custom event, or custom conversion. Examples of conversions include purchases, leads, content views, add to cart, and registrations. More that come from your ad.
For a few months now, Facebook has offered a "Conversion Value" metric within Ads Manager that was supposed to help you see how much revenue has come in as a result of those conversions. But if you're like me, it's looked like this…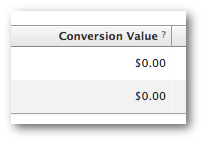 That's not helpful, Facebook!
The problem, of course, is that Facebook makes it very difficult to set a Conversion Value. Nowhere do they make this clear.
If you hover over the Conversion Value tooltip, you get this: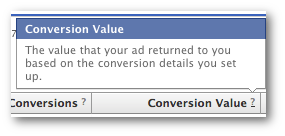 Based on the "conversion details" I set up, huh, Facebook? How about you just tell me where I can do that?
Nothing shows up when you're creating the pixel. Nothing when you're selecting the pixel.
[Tweet "Did you know you can set the value of a Facebook conversion? Here's how…"]
How to Do It
It turns out the only way to set this value is within the pixel itself.
[If you need any help with this, make sure to read my Conversion Tracking tutorial. Or you could sign up for my Power Editor training course!]
This is definitely a case of Facebook burying helpful functionality and making things way more difficult than they need to be. It would make a lot of sense to include a text field where we can enter the conversion value and then Facebook automatically includes that in the pixel. Of course, that would be too easy.
But this is how you do it. And it's really not difficult once you figure it out.
Conversion Value = ROI
Now when you get conversions, the Facebook Ads Manager will actually display values to go along with those conversions to help you measure ROI.

Want to know what's working? What to show the value of your advertising? This is it!