One of a Facebook advertiser's primary goals is to generate quality leads. Sometimes, that's done using lead forms and landing pages. Today, I'm going to walk through how to use Facebook Messenger ads to generate leads.
This strategy isn't for everyone. But it's a very good option for advertisers who struggle collecting leads the conventional ways.
Create a Messenger Ad to Generate Leads
At the campaignThe campaign is the foundation of your Facebook ad. This is where you'll set an advertising objective, which defines what you want your ad to achieve. More level, select the Messages objectiveWhen you create a campaign, one of the first things you'll do is select an objective. The campaign objective is your ultimate goal. Your selection will impact options, including optimization and delivery. Options include Awareness, Traffic, Engagement, Leads, App Promotion, and Sales. More.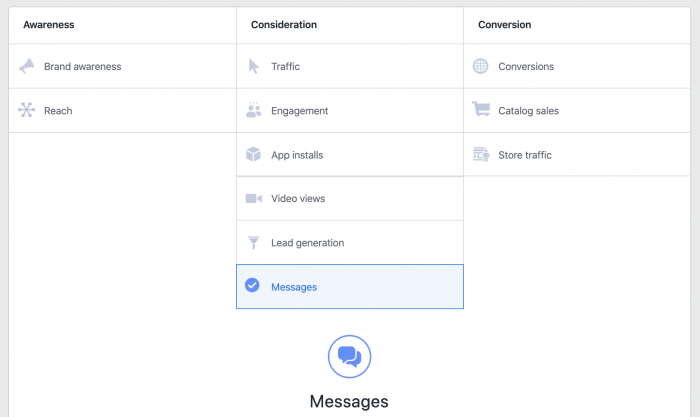 Set up targeting and placements as you normally would.
Under OptimizationThe Performance Goal is chosen within the ad set and determines optimization and delivery. How you optimize impacts who sees your ad. Meta will show your ad to people most likely to perform your desired action. More, select Leads. Facebook will then show your ads to people most likely to generate leads.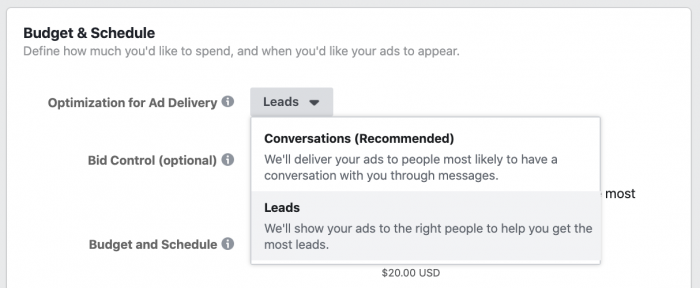 Between ad setup and tracking, you'll see a section for Messenger Setup. Make sure that the Generate Leads template is selected.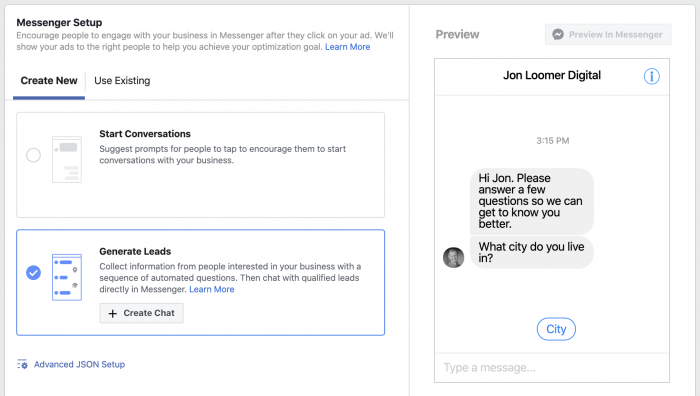 Create Your Questions
Let's create our questions that will help qualify leads. Click the "Create Chat" button.

First, create an intro. This will be the first message that a visitor sees who opens your chat. You can personalize the message by including first name, last name, or full name.

Now, let's create our first question. We can ask short answer and multiple-choice questions, or you can ask questions that will provide prefilled answers pulled from the user's profile (that they can edit).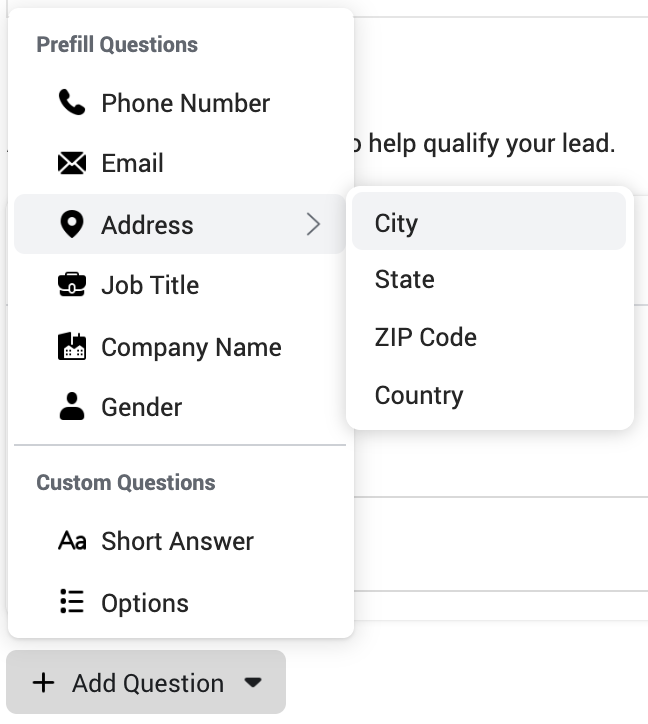 Let's start by asking for the name of our prospect's company. If available, an answer will prefill from the user's Facebook profile.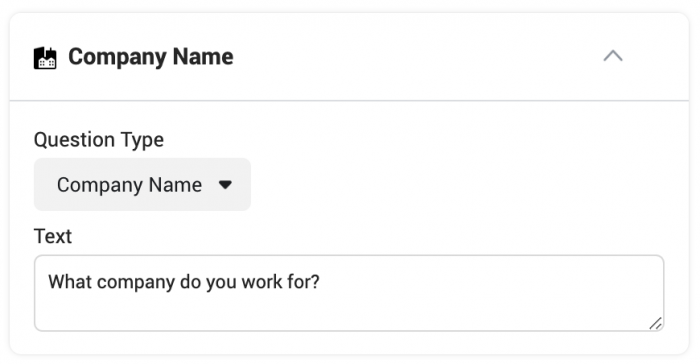 We can ask a multiple-choice question using Options. Let's find out this person's monthly Facebook ads budgetA budget is an amount you're willing to spend on your Facebook campaigns or ad sets on a daily or lifetime basis. More.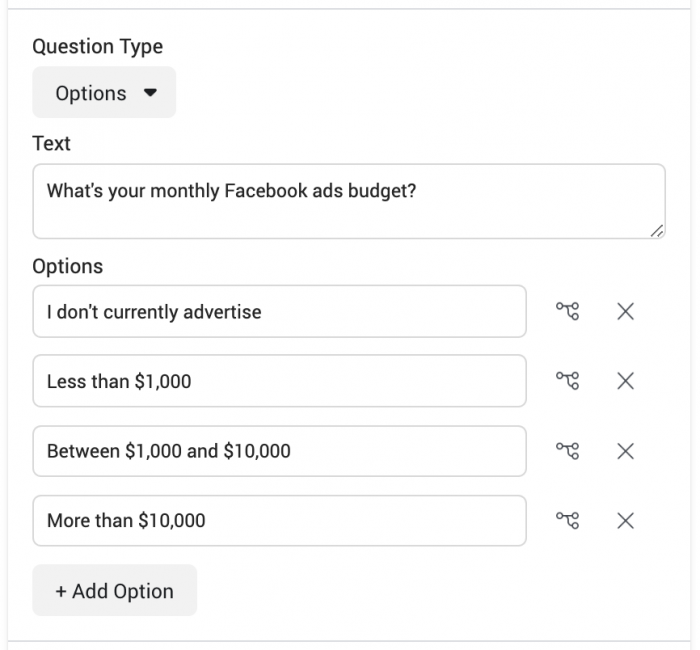 If you click the icon to the right of one of the options, we can make that answer a disqualifier.

Note that you could also choose to have an answer trigger sending someone straight to the Completion message (which we'll get to in a minute).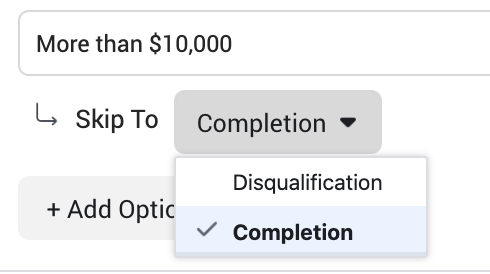 If we want a rep to contact those who qualify, we'll want to collect a phone number.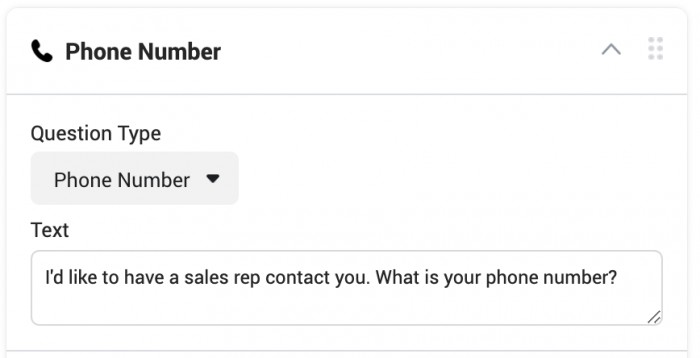 And for fun, let's also ask for an email address.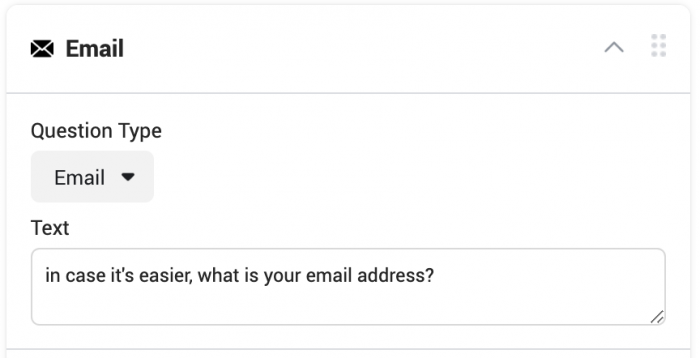 Possible answers to both of these questions will be pulled from the user's Facebook profile.
Reminders and Completion Messages
Under your final question, you can create a reminder message. This is sent to those who abandon your chat before completion. You can customize this and add personalization, as I did.
Now, provide a completion message. This is the message that someone sees after completing your chat — either by answering your final question or if a qualifying answer re-routes them to completion. Here, you should let them know what to expect next.

Next, we can create a Disqualification Message. This is the message a user sees if they provide an answer that disqualifies them. In our example, I want to disqualify anyone who indicates they aren't currently running Facebook ads.

Finally, we want to provide a link to our privacy policy.
Advanced Settings
At the top of the form, you can click over to the advanced settings.

If this is a format you may use again in the future, you can save it as a template.

A user can choose to pause the questions at any time. Here, you can edit the message they see if they do so.
Finally, you can edit the field IDs to more seamlessly connect with your CRM. If the auto-generated IDs for email or phone, for example, are different than what your CRM uses, you can change them here.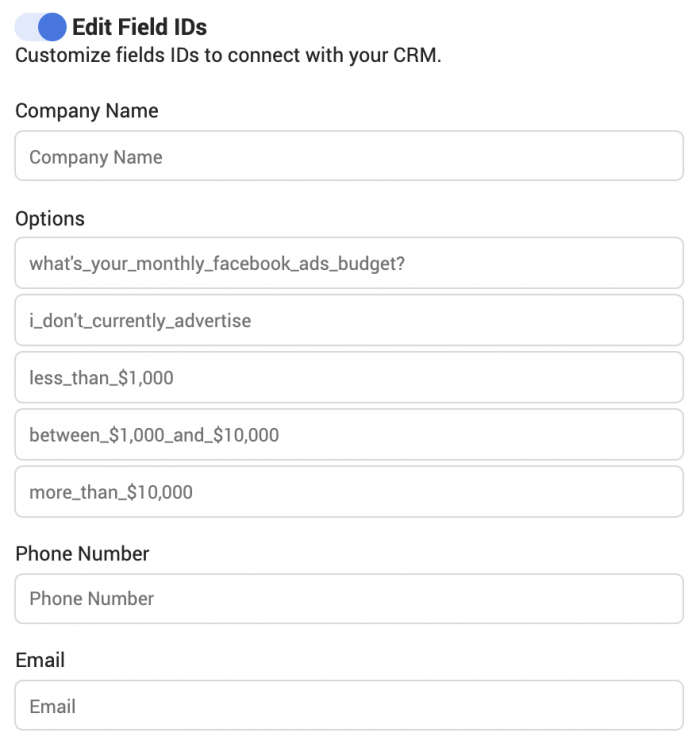 When you're done, you can preview the flow in Messenger to see what a prospect will see.

Collecting Leads
Leads are collected from Messenger ads in the same way they are collected with Facebook Lead Ads.
From the ad-level reporting, click the icon to download your leads under the Results column.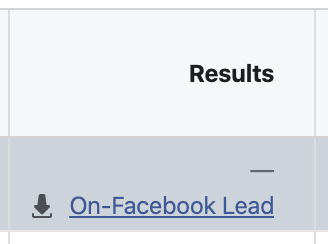 Click the button to download those leads.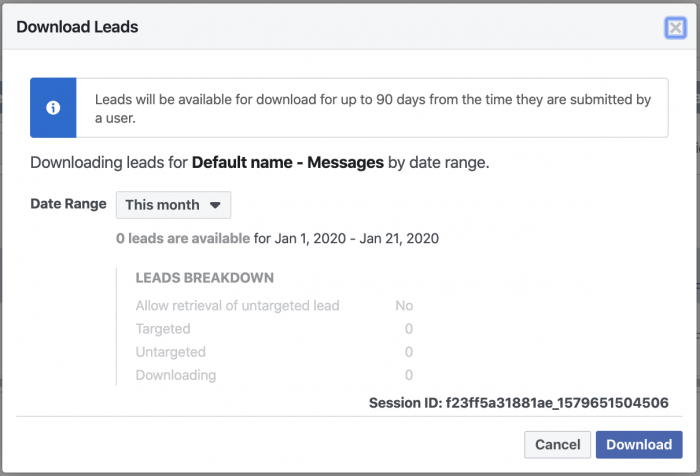 This same data is also available within your page settings. Within your Publishing Tools, go to your Forms Library.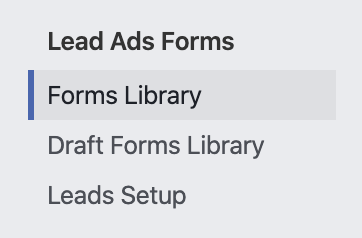 Of course, you can also automate the process of adding these leads to your CRM. If you click on Leads Setup, Facebook will step you through some ways to do that.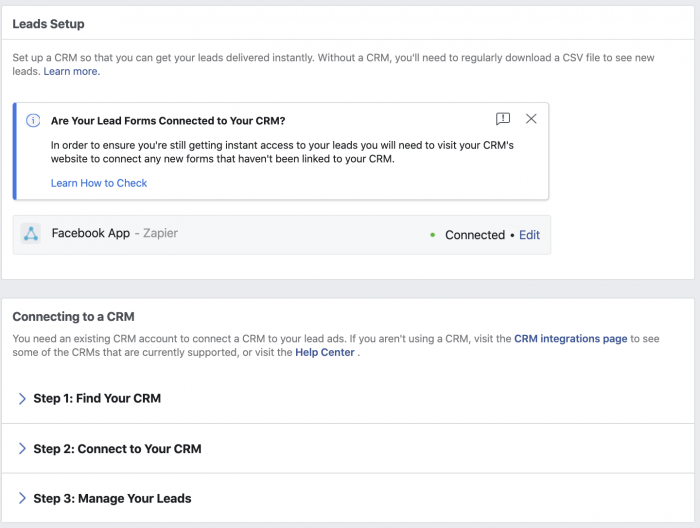 I use Zapier.
Who Is This For?
When I first stumbled on this feature, I made some basic assumptions. Automated questions within Messenger would be ideal to qualify leads for high-priced, high-commitment products. Great for real estate, automobile sales, enterprise software, and similar products. You want to make sure that if you have a sales rep talk to these people that you aren't wasting your time.
While I still believe that Messenger ads to generate leads are ideal for that scenario, this isn't limited to that purpose. Since you can have it ask the same questions you'd ask in a lead ad form, and the answers can be sent to your CRM, there's nothing preventing you from using this for simple registrations for things like webinars, newsletters, ebooks, and more.
My approach has always been to not be too concerned with the intended purpose of a tool or feature. If you think it may help you achieve your desired goal, try it!
My Experiment
I'm actually giving this a whirl right now. Since I don't have webinar registration open at the moment, I'm using it to simply learn more about my audienceThis is the group of people who can potentially see your ads. You help influence this by adjusting age, gender, location, detailed targeting (interests and behaviors), custom audiences, and more. More.
Here's my experimental ad, which is targeted at those who spend the most time and view the most pages on my website…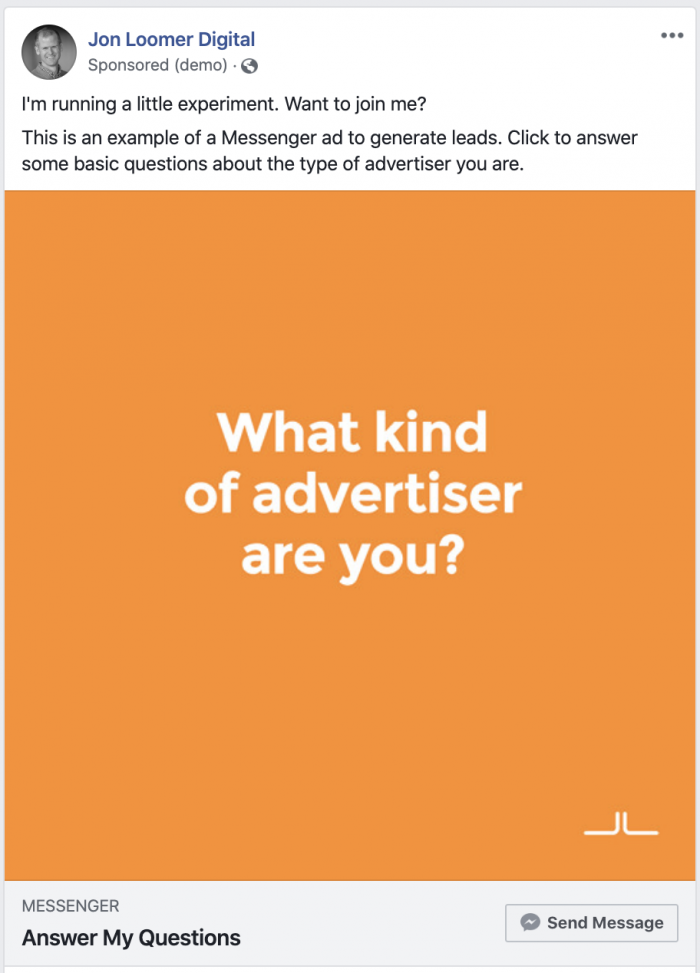 I ask the following questions:
How advanced do you consider yourself as an advertiser?
What's your monthly Facebook ads budget?
What is your role as an advertiser?
What is your email address?
I make it clear that providing an email address will add them to my email list.
The first three questions use the "Options" format while the final prefills from the user's profile.
Maybe you'll be targeted, too!
Your Turn
Have you experimented with Facebook Messenger ads to generate leads? What do you think?
Let me know in the comments below!