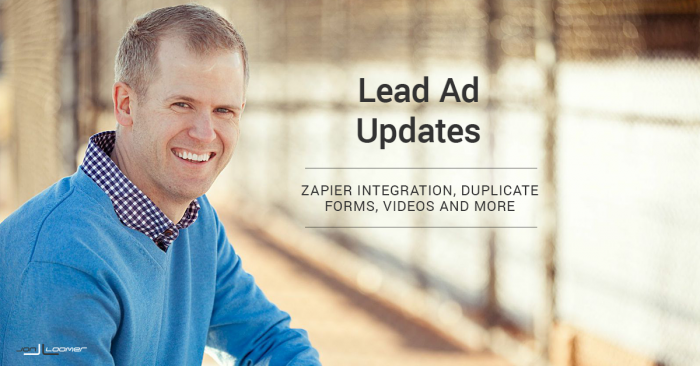 [NOTE: Another recent update not mentioned below is that lead ads can now be shown on desktops. When they were first released, they were only available on mobile. I did not include this update because it was not among the most recent updates Facebook announced. But it's a big one!]
Launched in June of 2015, Facebook lead ads make the process of collecting an email address significantly easier. Using a Facebook form, advertisers can build an email list without needing to send users to their website.
In fact, much of the information requested is pre-filled from the user's profile. It's easy. Crazy easy. Within a matter of a couple of clicks (and no typing), someone can subscribe to your email list.
While a great tool with significant benefits, lead ads have had their weaknesses. Here are a few advertiser complaints:
No native CRM integration
Forms can't be edited
No video
Concerns regarding quality of leads
Facebook addressed these concerns and others with some recent updates you may have missed. Let's take a look…
[Tweet "Facebook updated lead ads to make them more powerful. Here are 6 new features you may have missed…"]
1. Zapier Integration
This is one that was buried within Facebook's recent announcement. If you weren't paying attention, you very likely missed it.
One of the primary complaints about lead ads is that there isn't native CRM integration. In other words, when users subscribe, they are added to a spreadsheet that you then export — and presumably import into your CRM — manually.
This makes for a potentially terrible user experience. Typically when someone subscribes to something, they expect to get an email immediately — not a day or week later.
While several third party products have been created to solve this problem (I've been using DriftRock Lead Response), advertisers have complained about the cost associated with many of them.
Facebook then announced Zapier integration. Zapier is an automation tool that connects your apps, tasks and data. For example, I use Zapier to connect Infusionsoft tagging with GotoWebinar registration. If someone signs up for my Power Hitters Club membership, they are automatically registered for the PHC weekly webinar through Zapier.
Zapier is an incredibly powerful tool, and the truth is that I'm only scratching the surface. I'm not necessarily trying to sell you on Zapier here. You may already be using it. And if you are, you may not need to pay another dime to sync your leads from lead ads to your CRM.
To use this feature, you'll need to use one of Zapier's premium services…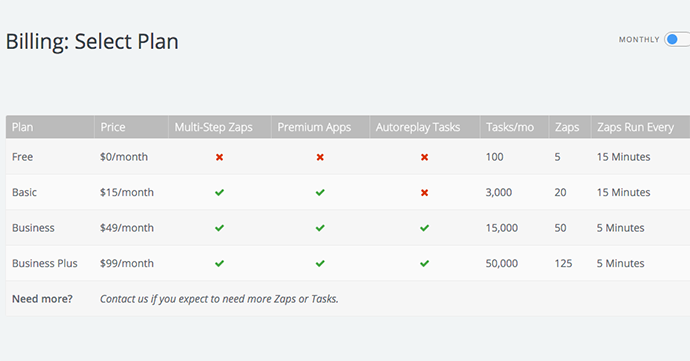 Depending on your needs, you'll need to spend between $15 and $99 per month for the service. But once again, you may already be doing that if you use Zapier for other tasks (it's worth it!).
Let's step through precisely how this is set up…
Create a new Zap. Select Facebook Lead Ads as your trigger.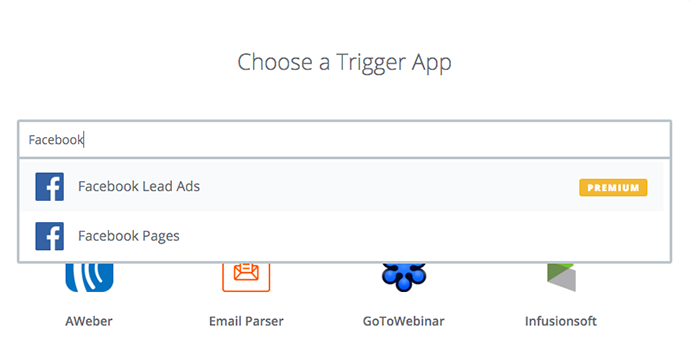 This Zap will then trigger when a new lead is created. Click "Save + Continue."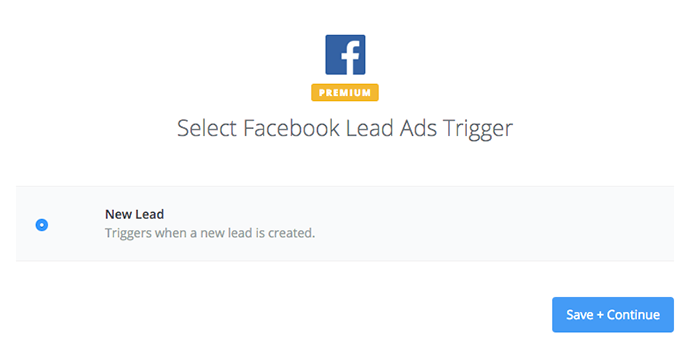 If this is the first time you've created a lead ads Zap, you'll need to connect your Facebook account. Click "Connect a New Account."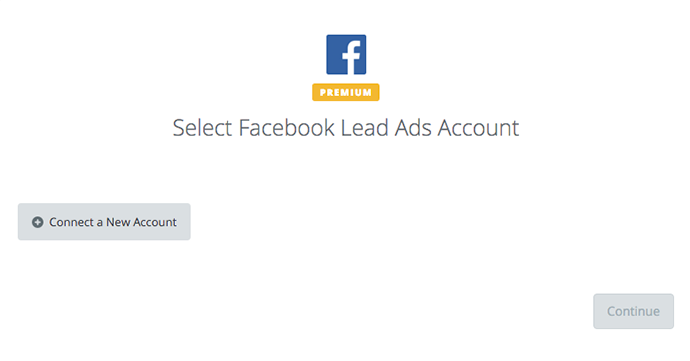 Click "okay"…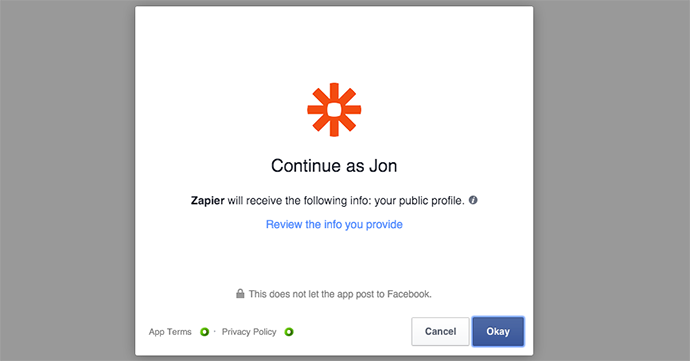 And "okay" again…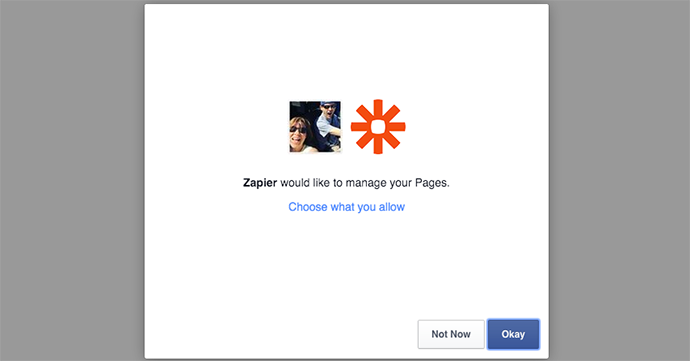 Now that your lead ads account is connected, click "Save + Continue."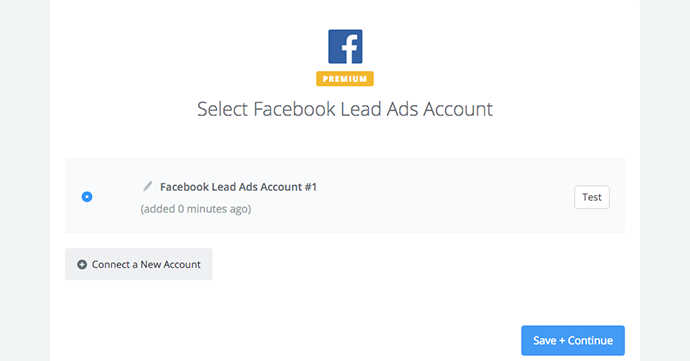 Select your page, which is required. You can choose to select a specific lead form, but you can also leave that blank. The only reason you'd leave it blank is if you'd send all leads from all forms to the same place (I don't).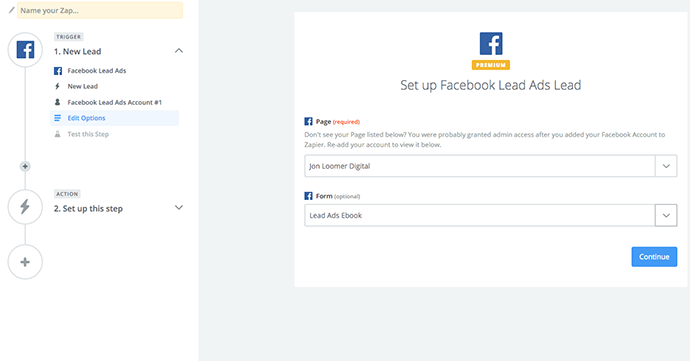 Next you'll want to test that it's connected properly. Click "Connect & Continue."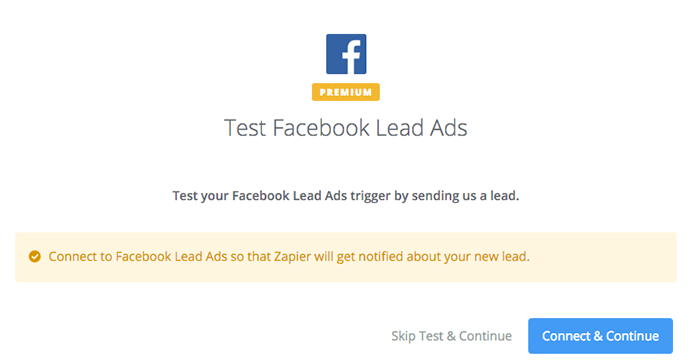 If it is connected properly, you'll get a confirmation message that the test was successful (if it didn't work, fix the problem and re-test it). Then click "Continue."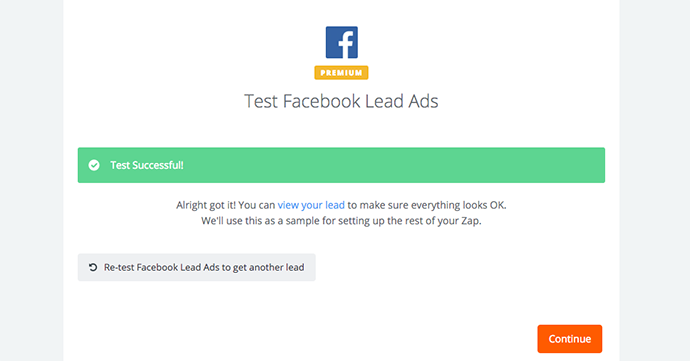 Now we're going to tell Zapier where to send those new leads. I use Infusionsoft, but you can select from other CRM tools as well (like MailChimp). If you haven't connected your CRM to Zapier before, you'll likely have an extra step here.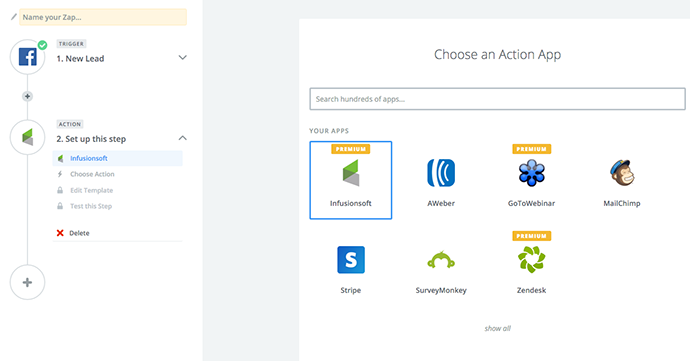 You'll need to tell Zapier what to do with that new contact. These contacts won't all be new to my list (they may have subscribed to something else as well), so I select the option to create or update a contact.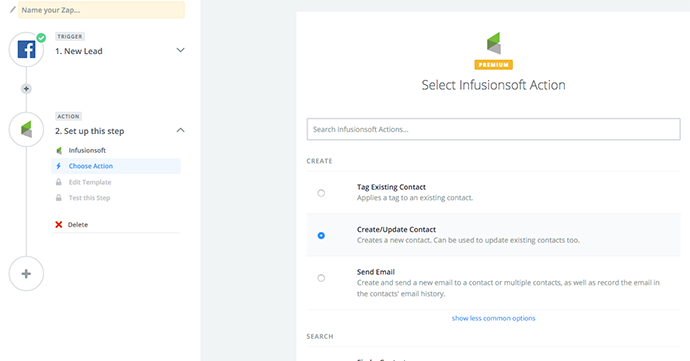 Click "Save + Continue."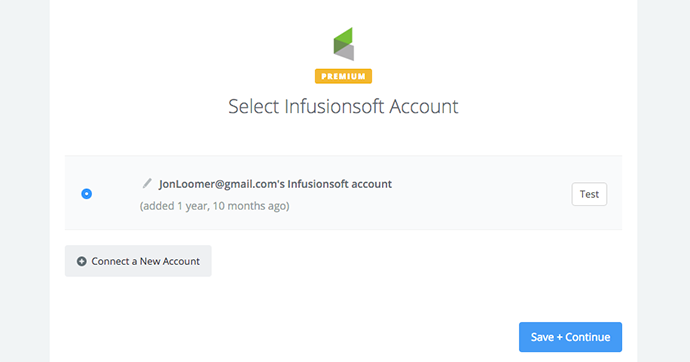 The first step is the only one required: Select the field that will match up with your lead from the lead ads form (in this case, an email address). When you click in the text field, it should appear.
Optionally, you can also select an Action Set/Sequence. This is something you would have previously created within your CRM.
You can also have Zapier check for duplicates before adding the contact. I choose to search by email address. Note that if a match is found, that contact is merely updated, not skipped.
If leads are opting in to receive email from you, indicate that in the next field.
Finally, select all other fields that are completed from the lead form that will be imported into your CRM. In my case, I was only using email address and first name.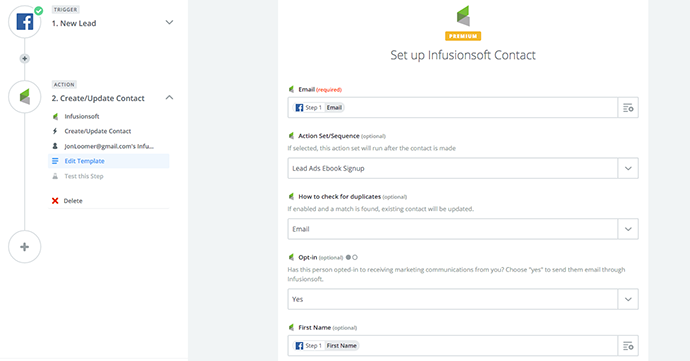 Now you'll want to test that this connection is working. Click "Create & Continue."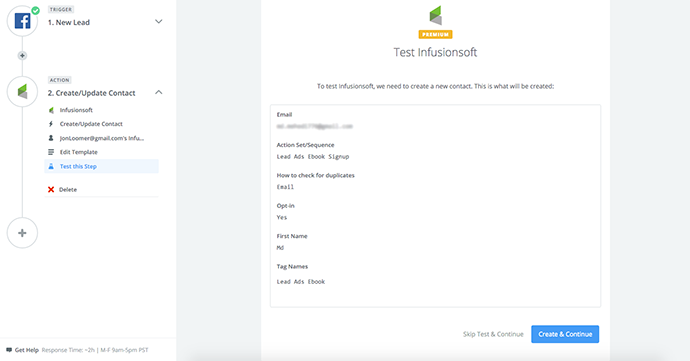 Your test is successful! Go ahead and click "Finish."
Now, simply name your Zap and turn it on, and your leads from Facebook lead ads will begin syncing with your CRM!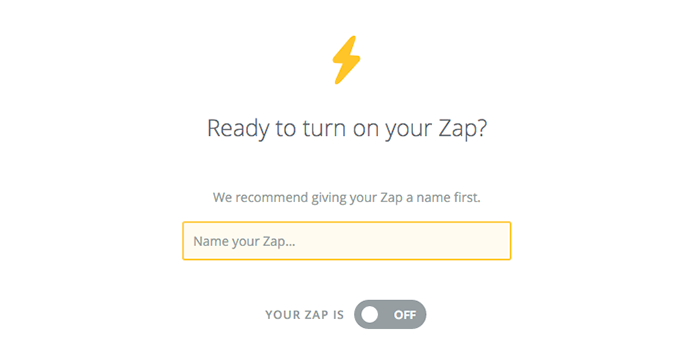 If you've used Zapier before, this process is very straight forward.
Need more info? Here are some embeds directly from Zapier…
Email Marketing Software
CRMs
Notifications
2. Duplicate Forms
Another complaint that advertisers have had about lead ads is that you can't edit forms. If you make a mistake with a form or simply want to make an addition or change, you can't do it. You need to create a new form from scratch.
While Facebook hasn't made forms editable, they did give us the next best thing: The ability to duplicate a form…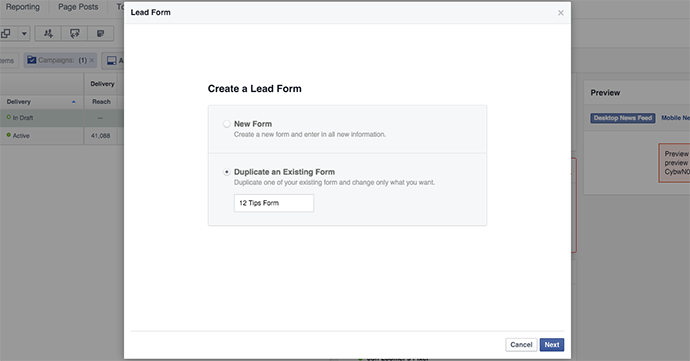 This way, you won't need to manually recreate a form from scratch. You simply duplicate it and update what needs to change.
3. Video or Slide Show Lead Ads
Back in October, Facebook announced that advertisers would soon be able to add lead forms to video. That day is finally here!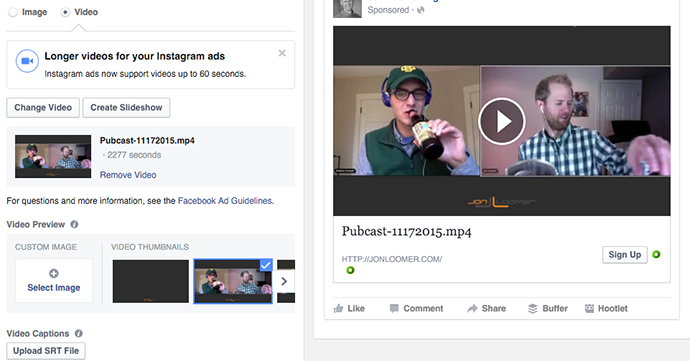 Now you can create an informative video or slide show that asks the user to perform an action. In the past, that would mean clicking a link that took them to your website. Now you can have them quickly complete a Facebook lead form!
4. Context Cards
It's strange, but it's possible that the process of subscribing via lead ads may be too easy for users. Subscribing requires almost no effort at all. You have to assume that it's even possible some people may opt-in without realizing it.
Something we know as content marketers, of course, is that the easier you make the data collection process, the more leads you will receive. However, as you add steps and required information, you may increase quality while decreasing volume.
One way to make sure people are getting what they want is by adding a context card. When creating your lead form, click the "Show Advanced Options" link on the first step and click the "Add a Context Card" box…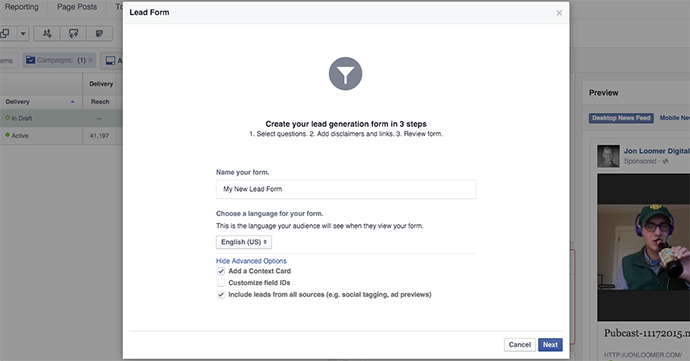 Now you can create an info card that will be shown immediately after a user clicks your ad — prior to submitting their contact info.
Below, you'll see that you can edit this card with a headline, benefit text (using a paragraph or up to five bullets) and a customizable button.
Here, then, you can provide more details about what they'll be getting as a result of providing their contact info.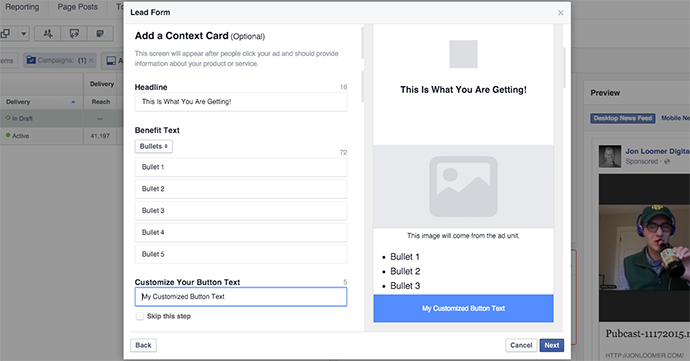 When you click the customized button, it will take the user to the confirmation screen with their pre-filled contact info.
5. Edit Field IDs
Maybe you don't want to use Zapier or any other third party tools to sync your leads. Maybe you want to continue to do it manually. But you want to make that process a bit easier.
The biggest chore with exporting the file from Facebook and then importing the data into your CRM is that the field IDs are not consistent. Facebook has a field ID for an email address ("email") that may not be what your CRM uses. So you need to edit those before importing.
But now, you can tell Facebook to edit those field IDs for you so that you can eliminate a step. When creating a form, click "Show Advanced Options" and check the "Customizable field IDs" box.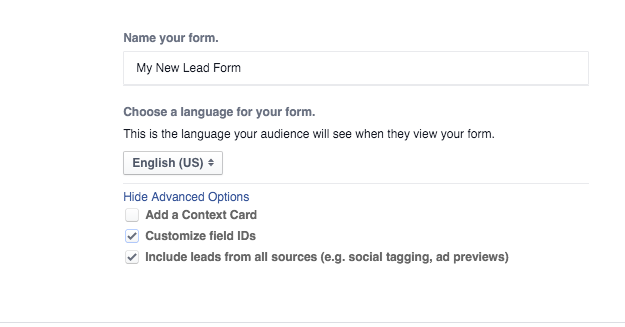 At the end of the process, you can then edit the IDs of the fields you selected for your form.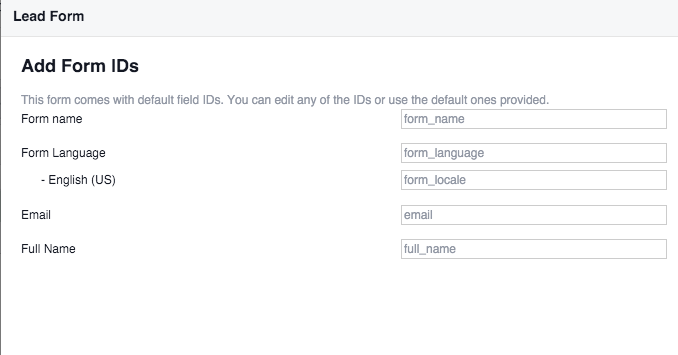 Of course, you'll need to check with your CRM to find out what IDs they require.
6. Available in Ad Create Tool
Finally, Facebook is making lead ads accessible to all advertisers. I'm a big fan of Power Editor, and I firmly believe that if you're serious about Facebook advertising, you should be using it.
But if you're not there yet, Facebook is now making lead ads available within the main ad create tool. When creating an ad there, you will now see the "Collect leads for your business" campaign objectiveWhen you create a campaign, one of the first things you'll do is select an objective. The campaign objective is your ultimate goal. Your selection will impact options, including optimization and delivery. Options include Awareness, Traffic, Engagement, Leads, App Promotion, and Sales. More.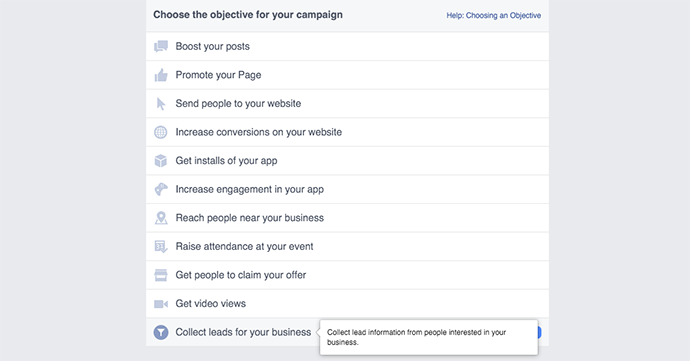 Your Turn
What do you think about these updates? Do they make lead ads more powerful?
Let me know in the comments below!