By now, you likely know that you can target your email list with Facebook ads through the use of Custom Audiences. You may even use FBX, Facebook website retargeting which allows you to target people who have visited your website when they return to Facebook.
But did you know that you can target key email recipients with FBX?
This is actually quite a bit different than Custom Audiences. And it may actually be more powerful.
The purpose of this post is to help you understand the difference between the two and how you can start targeting key email recipients via FBX today.
First, About FBX
As mentioned at the top, FBX (also known as Facebook Exchange) is a powerful way to target your website visitors when they return to Facebook.
Why is this so powerful? You can target people who abandoned a shopping cart. Target people who visited a specific section of your website that is relevant to your new product. Avoid waste by excluding those who previously converted.
Another reason this is powerful is that it provides one more way to target Facebook users who have expressed interest in you or your product. When using Facebook ads, you can target Fans or you can target your subscribed customers through the use of Custom Audiences. But FBX allows you to target those who are neither but visited your website.
Unlike typical Facebook advertising, FBX can only be accessed through Facebook's PMD vendors. In most cases, this means you need to be a big brand with a big budgetA budget is an amount you're willing to spend on your Facebook campaigns or ad sets on a daily or lifetime basis. More. Except, of course, if you use Perfect Audience or AdRoll (both affiliate links). Use either of those links to get $70 (for PerfectAudience) or $60 (for AdRoll) of free FBX to get started.
About Custom Audiences
Custom Audiences are one of my favorite tools. Upload your email list into Power Editor or the self-serve ad tool, and Facebook will match up these customers to Facebook users.
This allows you to target people who have purchased a product or subscribed to your content. It also allows you to create Lookalike Audiences. Facebook generates a list of users who are similar to those on your email list so that you can target relevant people who may not yet be exposed to your brand.
This is all awesome. And I'm using Custom Audiences and Lookalike Audiences constantly to increase Page Likes, webinar registrations and sales.
However, there are some weaknesses. The main is that this list isn't dynamic. You need to constantly update your list in order to keep it current.
FBX email recipient targeting, however? Dynamic and awesome.
An Explanation of FBX Email Recipient Targeting
First, this is a feature available via Perfect Audience, but not AdRoll. The remainder of this blog post will be focused on using PerfectAudience to target key email recipients.
Now, with Custom Audiences, you can target anyone who is on a specific email list. And if you are really sharp, you use a tool like Infusionsoft so that actions within emails or on your website will create tags to help segment that list.
But most brands don't have the budget for a powerful tool like Infusionsoft. And even if you do, there is still the issue of having to constantly update that list in Power Editor.
With FBX, you place a pixel within an email (or multiple emails). Whenever a recipient opens your email, a cookie will be set that will allow them to be targeted on Facebook with the ad of your choice.
So, let's say that you send an email that is about your new training course. And you don't use any tricks in your subject — it's explicitly about this training course. As a result, you can expect that the majority of people who open this email have some interest in that course, even if they didn't purchase.
As a result, you can focus the targeting of your FBX ad specifically on the people who opened the email about your product but never purchased. Talk about juiced up targeting!
Of course, this is just one example how you might use it. But thanks to this option, you are no longer limited to Fans, email subscribers or recent visitors to your website.
This is the silent group of interested, potential customers!
How to Target Key Email Recipients
Okay, so now let's talk about how you'll do this. First, make sure you're using Perfect Audience. If you need more information on getting started with Perfect Audience, go ahead and read this tutorial.
In order to target this group of email recipients, you'll need to create a retargeting list. Hover over "Manage" on your dashboard and clicking "Retargeting Lists."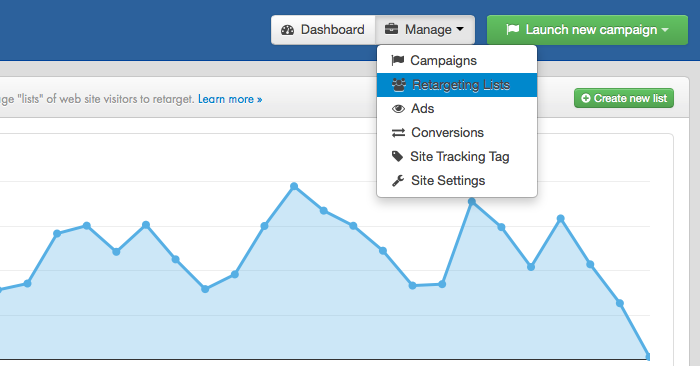 From there, click the "Create New List" button. Here is what you will see…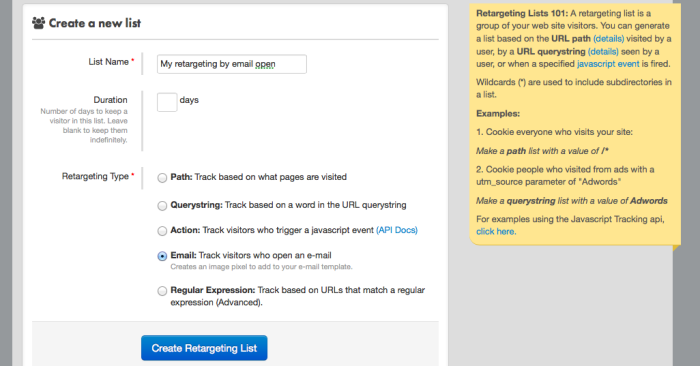 Name your retargeting list so that it's something that adequately describes the people you will be targeting. You can set a number of days to keep users in your list, or leave it empty to keep them indefinitely (have time sensitivity and relevance in mind here). Then click the "Email" radio button for retargeting type.
After clicking "Create Retargeting List," you'll be taken back to your list of retargeting lists. In the far right column of your new email retargeting list, there will be an envelope icon.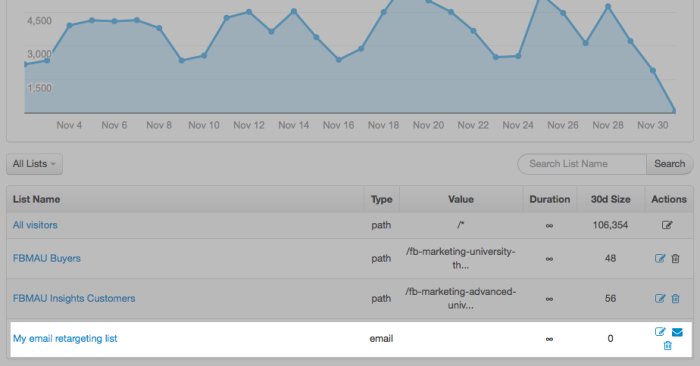 Click that icon to get your special email tag (if the field is blank, refresh the page and try again).
Copy this tag and paste it anywhere within an HTML template of your email. It will generate a 1px x 1px image that won't be visible to the recipient. When that email is opened in HTML format, the recipient will be added to your retargeting list.
You will need this list to be developed before you can start running ads targeting those who opened your emails. But when you're ready to target these people, do the following…
To start creating a new campaignThe campaign is the foundation of your Facebook ad. This is where you'll set an advertising objective, which defines what you want your ad to achieve. More, hover over "Launch new campaign" and select either "News Feed Retargeting" or "Facebook Retargeting."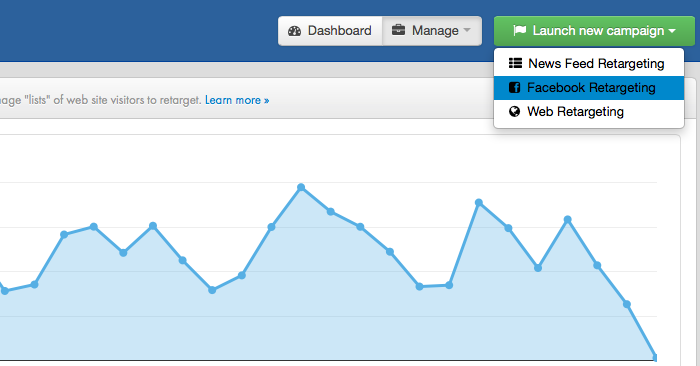 We won't cover the entire campaign and ad creation process in this tutorial. What we want to focus on today is in Section 2 of campaign creation (TARGETING: WHAT AUDIENCE DO YOU WANT TO REACH?).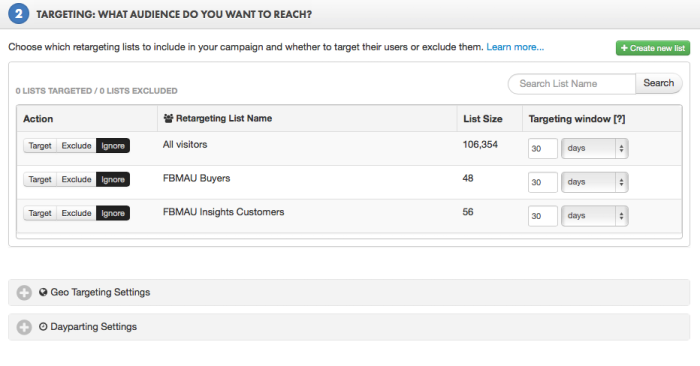 This is where you determine whom you want to target, exclude or ignore. Find the retargeting list you created that represents your email list, and set it to "Target."